If you love a nice slice of banana bread for breakfast, we have a new tasty recipe for you: plantain bread with walnuts and raisins.
It's a fun spin on the classic banana loaf made with ripe tropical plantains. It's fruity, nutty, and wholesome — a real delight!
Preparing this plantain bread is super easy. Just mix the dry ingredients with blended ripe plantains, maple syrup, and vegetable oil.
Sprinkle the batter with toasted walnuts and soft raisins, pour into a tin, and let the oven take care of the rest.
In no time, you'll have a lovely breakfast loaf that's as tasty as healthy.
Unlike other banana bread recipes, ours is vegan and sugar-free, prepared without eggs, dairy, and refined white sugar.
Instead, we relied on plantains for binding and sweetness, baking powder and baking soda for leavening, oil and oat milk for richness and moisture.
Also, we used a combo of cornmeal and wholewheat flour instead of plain white flour for extra fibres, colour, and flavour.
So far, we only used ripe plantains in this tropical porridge, but after trying them in these vegan muffins, we were so impressed with the results we decided to make a loaf cake with them.
Plantains, also known as green bananas or cooking bananas, are a staple Caribbean food. The over-ripe, blackened fruit is rich in sugars and starches, making it the perfect choice for vegan bakes.
What we like about using plantains instead of bananas is that they give a much subtler banana flavour to the cake.
This way, you can taste more the other ingredients. So, after the first bite, you'll immediately savour the walnuts, raisins, and the soothing spice blend of cinnamon, nutmeg, and cloves.
But if you want to experiment with different flavour combinations, check out this almond, date, and chocolate banana bread or this pear and coconut yogurt loaf for inspiration.
And if you want to try plantains in another awesome breakfast recipe, use them in our delicious vegan plantain waffles.
Happy baking!
Ingredients
| | |
| --- | --- |
| Wholemeal Flour | 170 g |
| Cornmeal | 80 g |
| Baking Powder | 3 tsp |
| Baking Soda | 1 tsp |
| Ground Cinnamon | 1 tsp |
| Ground Nutmeg | 1/2 tsp |
| Ground Cloves | 1/2 tsp |
| Very Ripe Plantains | 400 g |
| Lemon Juice | 1 tbsp |
| Vegetable Oil (e.v.o. oil or rapeseed oil) | 60 mL |
| Maple Syrup | 50 mL |
| Oat Milk | 80 mL |
| Raisins | 50 g |
| Walnuts | 50 g |
Step 1
Add wholemeal flour, cornmeal, baking powder, baking soda, spices, and a pinch of salt to a bowl.
Mix well to ensure the baking powder is evenly distributed.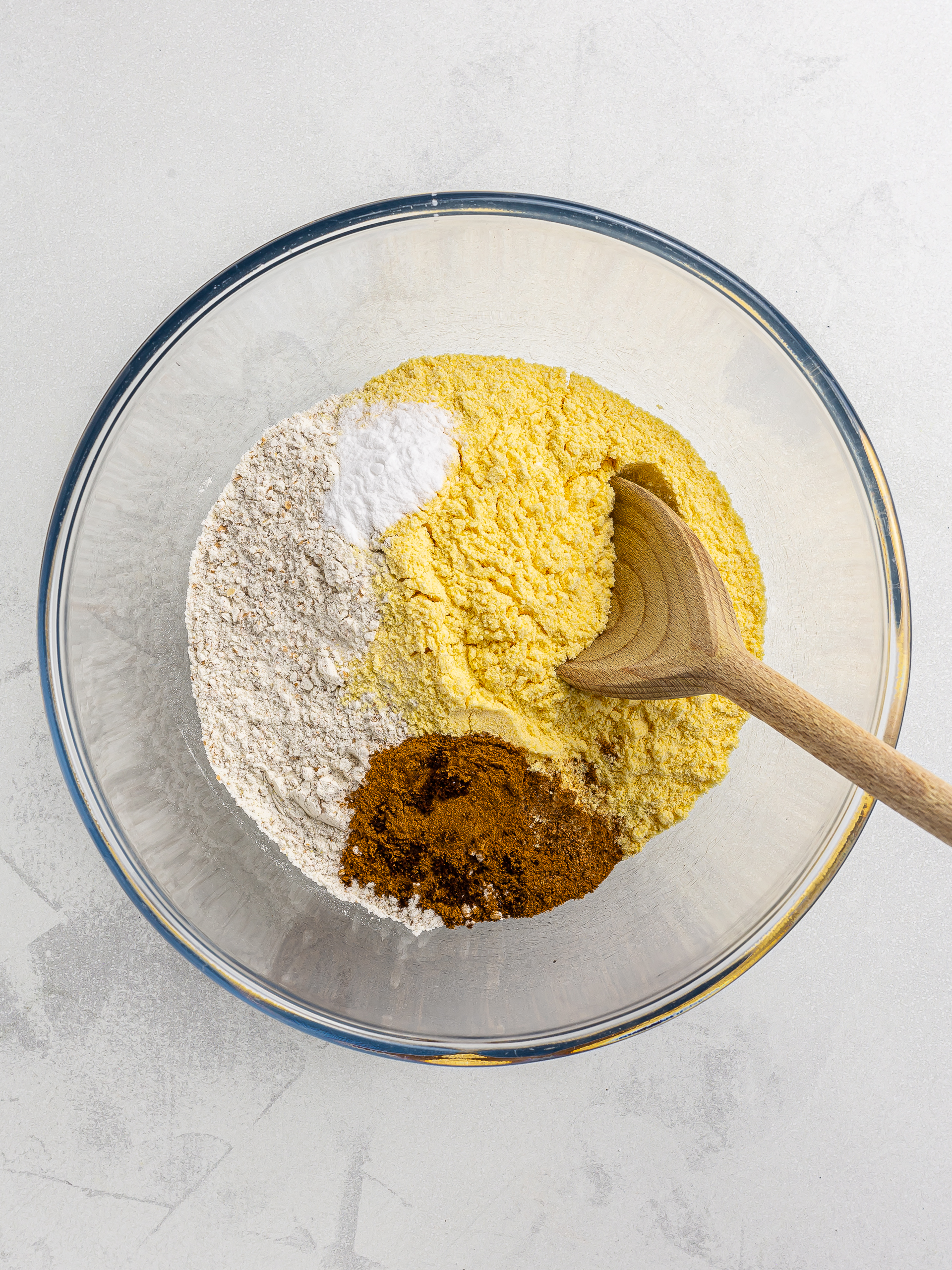 Step 2
Blitz the ripe plantains with lemon juice and then add the mash to the bowl, followed by oil, maple syrup, and oat milk.
Work the ingredients with an electric mixer or a spoon until they come together into a smooth cake batter.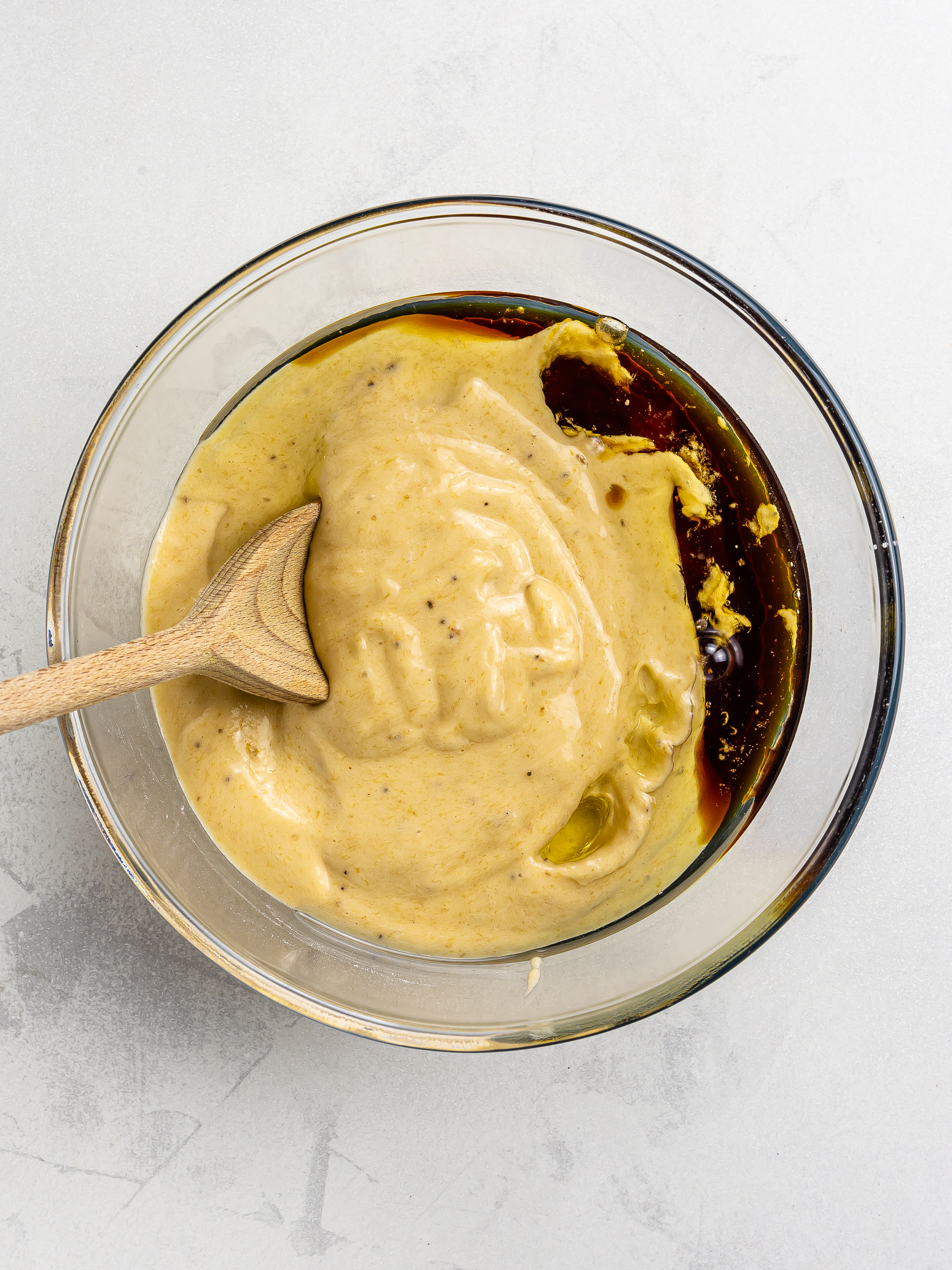 Step 3
Now, incorporate the raisins and chopped walnuts.
If you have time, we recommend toasting the walnut pieces in the oven at 170°C (340°F) for 10 minutes. They will stay crunchier when baked and give the bread a lovely roasted flavour.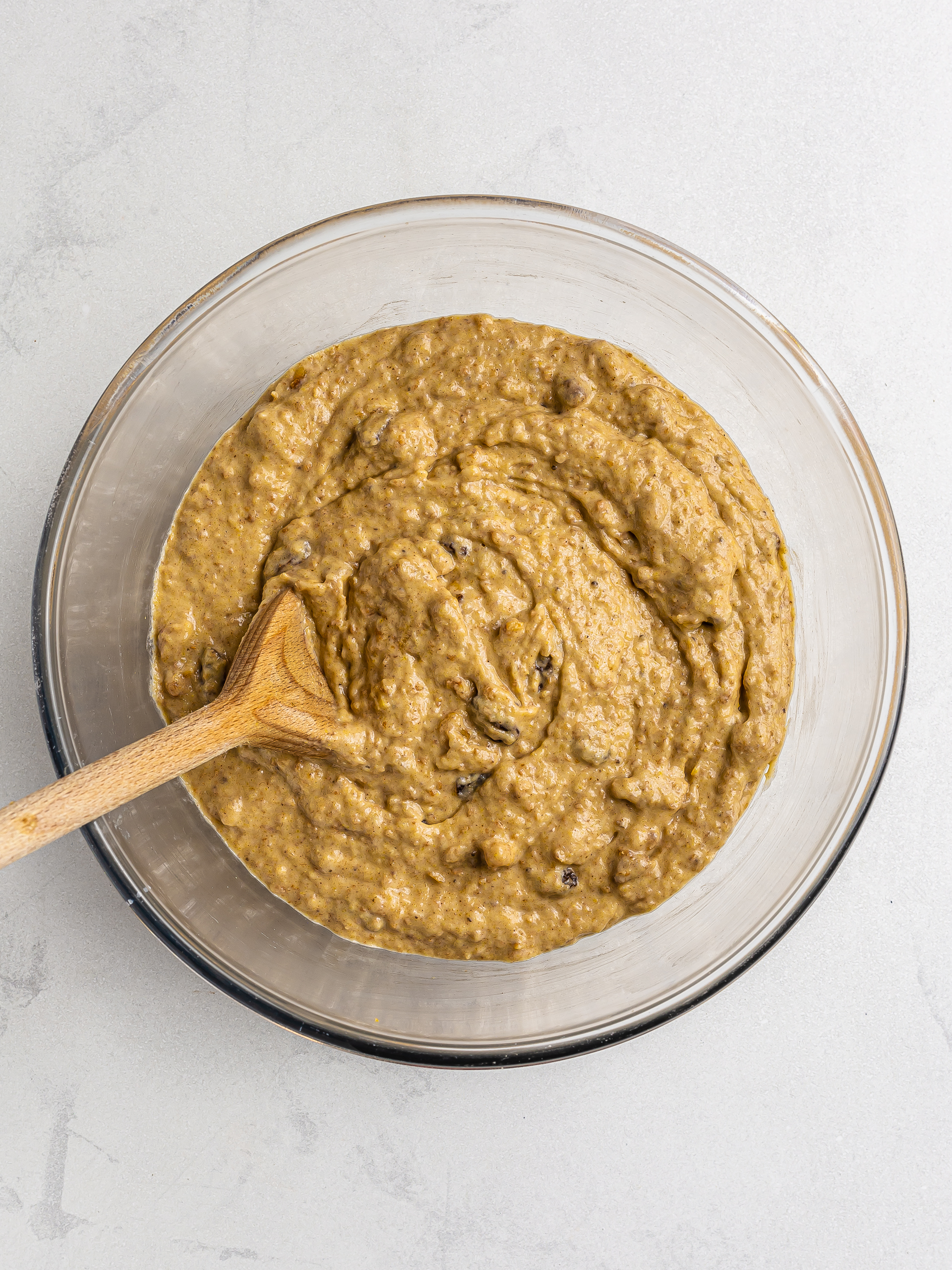 Step 4
Grease a 21cm x 11cm (8 x 4 inches) loaf tin with oil or line it with baking paper.
Then, pour in the batter and level it with a spatula.
You can now optionally garnish the bread with thinly sliced plantain.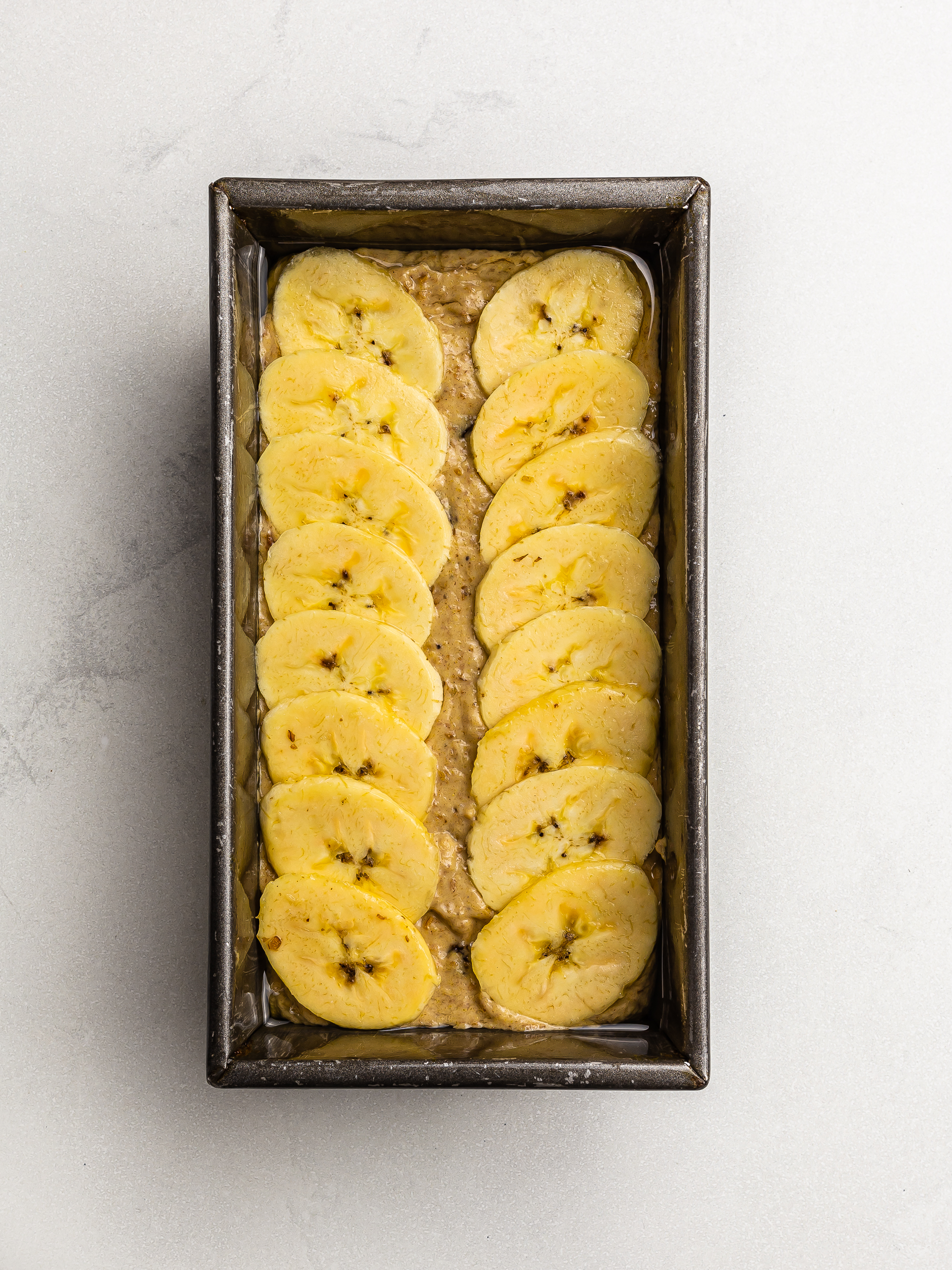 Step 5
Bake the plantain bread at 185°C (365°F) for 50 minutes.
The cake is ready when a skewer inserted in the centre comes out clean.
Transfer the vegan plantain bread onto a wire rack to cool down completely before slicing it and serving it.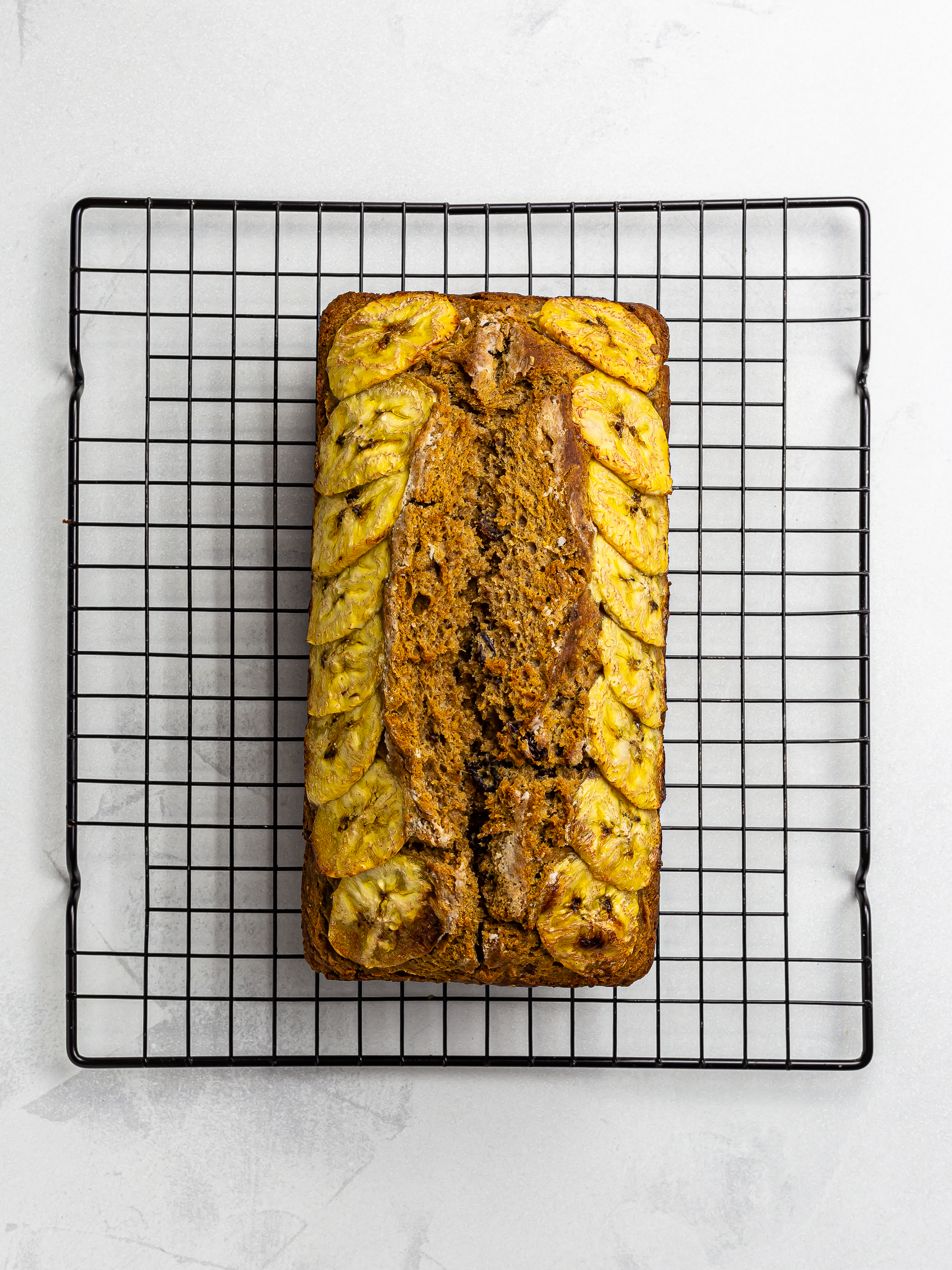 Tips
You can swap walnuts with pecans or cashews and raisins with currants or dark chocolate chips.

Before baking the cake, run a greased knife lengthwise in the middle of the batter; this will help the bread rise evenly and have a cute plumcake-like crack in the middle.