In this article, we'll share 9 vegan backpacking lunch ideas to help you prepare some delicious food for your next hiking adventure.
If you love hiking but are tired of pre-packaged food that tastes like cardboard, then you landed on the right article.
Instead of giving you a list of pre-made snacks you can buy at the supermarket, we'll show you how to make more satisfying meals yourself.
The backpack recipes below are ideal if:
you enjoy "backpack cooking" using a gas stove or fire while you camp in the backcountry;

you prefer batch-cooking your hiking meals at home and carry them with you in your backpack.
How can these recipes be so versatile? It's because we are only using plant-based ingredients that are easy to carry and keep well for days once cooked, even at room temperature.
Keep on reading to learn more about backpacking meal preparation. Or skip straight to the recipes using this table of content.
What makes a good backcountry camping meal
Ideal backpacking meals are nutritious, easy to carry and keep well for days outside the fridge.
We like to divide backpacking and hiking meals into two categories:
those you buy, like dehydrated or freeze-dried foods;

those you make yourself.
We prefer to make backpacking meals ourselves because freeze-drying and dehydration remove most nutrients from foods. These nutrients are essential to keep you healthy while hiking.
Out of the meals you can prepare yourself, you have those you make on the spot (using a stove or campfire) or those you cook at home and pack for travel.
Preparing your own backpacking lunches means you'll eat more nourishing food, avoid unnecessary plastic-wrapped products, and save money.
Cooking food on the spot is ideal if you enjoy your food hot. But sometimes carrying the extra appliances can be a hassle—especially if you like to travel light.
That's why if we are hiking for less than five days, we like to batch-cook some portable and nutritious vegan meals and carry them with us.
Why vegan meals are ideal for backpacking
Whether or not you are on a vegan diet, packing plant-based food in your backpack has one fundamental advantage: it keeps well at room temperature for longer periods.
Animal products, like meat and fresh dairy, must be eaten the same day or be kept in the fridge.
Would you eat a chicken sandwich that it's been out of the fridge for three days? No, right?
But what about one made with chickpeas and tofu? It's got the same amount of proteins (if not more), but you won't risk getting food-poisoned.
So unless you are carrying a mini-fridge during your hiking or camping adventures, making your meals with plant-based ingredients is the way to go.
Do you need a stove to enjoy good food while hiking?
Cooking on a campfire or gas stove is great. There's a certain beauty in cooking outdoor, and hot food certainly keeps those growling tummies happy!
But if you don't want to pack the extra weight while hiking, you can still enjoy heart-warming and comforting food.
All you have to do is find some suitable hiking recipes (like the ones we suggest below), prepare the meals at home, and store them properly!
Next: some tips on how to store food while backpacking.
How to store food while backpacking
Generally speaking, the best way to store meals in your backpack is with a food-grade, air-tight container.
The best containers are food-grade boxes with a lid that you can secure through clips and a good quality rubber seal that keeps air outside and liquids inside.
Alternatively, vacuum-sealed bags work great too.
But here's the thing:
The type of food you pack will determine the best container to use.
Solid/dry food can go in normal plastic bags, while juicy or saucy meals are better suited for a solid food-grade box.
For example, it's ok to store energy balls in a plastic sachet. Even if you accidentally stomp on your bag, the energy balls will get squashed, but the damage to your clothes and gear in your backpack will be minimal.
A seasoned salad or pasta salad? Well, you don't want to put that one in a loose bag!
But it's not just about food consistency. The "when" you think you'll have that food also plays a part.
Even for something like energy balls, if you plan to eat them over multiple days, then using a proper air-tight container will help preserve the quality of the food.
Of course, an air-tight container offers little help if you open it every 30 minutes to grab a snack!
That's why it's useful to separate your meals into single portions. This way, when you open a container, you'll finish everything inside, and you won't expose the rest of the food to the air.
So, remember:
Use air-tight containers and store your meals in mono-portions to minimise air exposure.
9 Easy backpacking lunch ideas
Ok, now that you know a little more about what makes good hiking food and how to store it, let's take a look at these backpacking lunch ideas.
Getting energy and good nutrients at lunch is important, especially if you have been walking for hours.
So here are some recipes that are nutritious, easy to prepare, and long-lasting. Perfect hiking-meal material!
Smashed Chickpea Salad Sandwich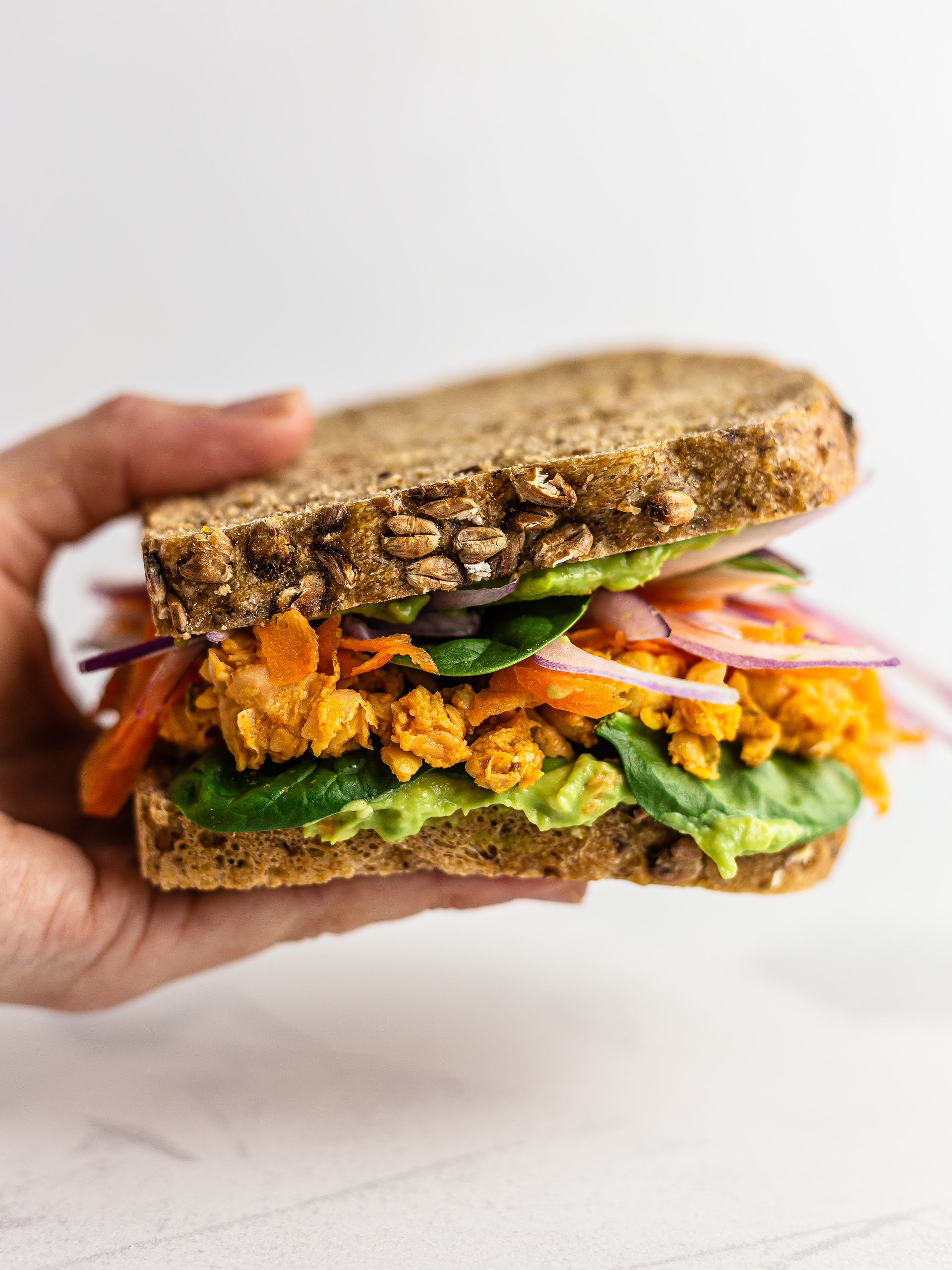 First on the list, a wholesome sandwich with chickpeas, tahini, avocado, and lots of other healthy plant-based ingredients.
It makes such a great backpacking lunch because it's ready in under 10 minutes, it's super practical to store in your bag, and it's very nutritious.
In fact, a single sandwich will give you:
20% RDI of carbs

30% RDI of proteins

40% RDI of fibres
Plus, you'll get so many precious vitamins from all those veggies.
Grilled Peach Walnuts and Blueberries Salad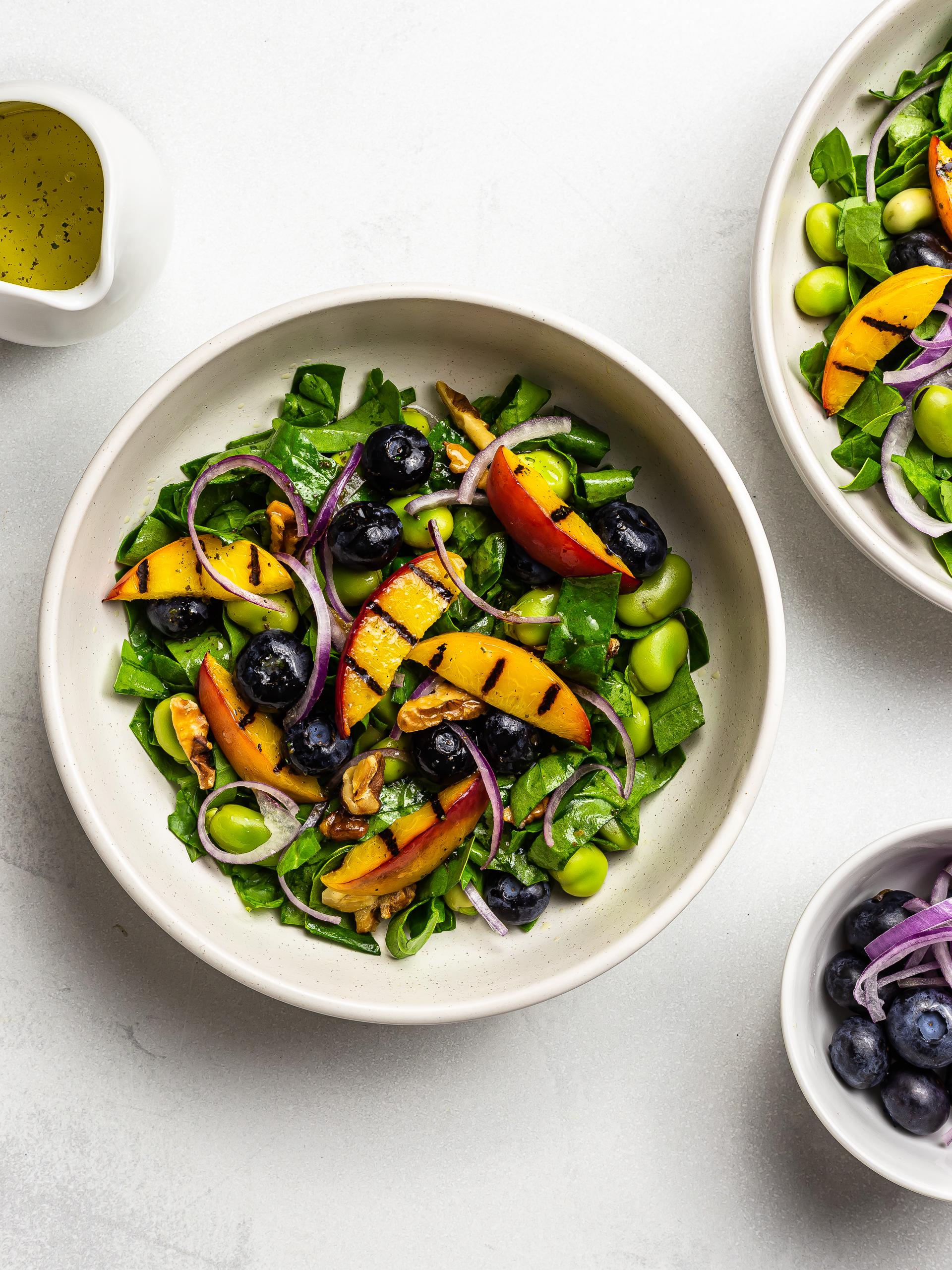 Salads tend to be a little boring. Well, not this one!
Grilled peaches, crunchy walnuts, juicy blueberries, and fava beans. All served on a bed of fresh spinach with a sprinkle of onions. This is one salad worthy of your backpack!
Apart for the stunning contrast you get from these ingredients, our favourite part are the grilled peaches. Have you ever tried them? There's something truly remarkable about them that words can't do proper justice to.
Green Pea Hummus Wrap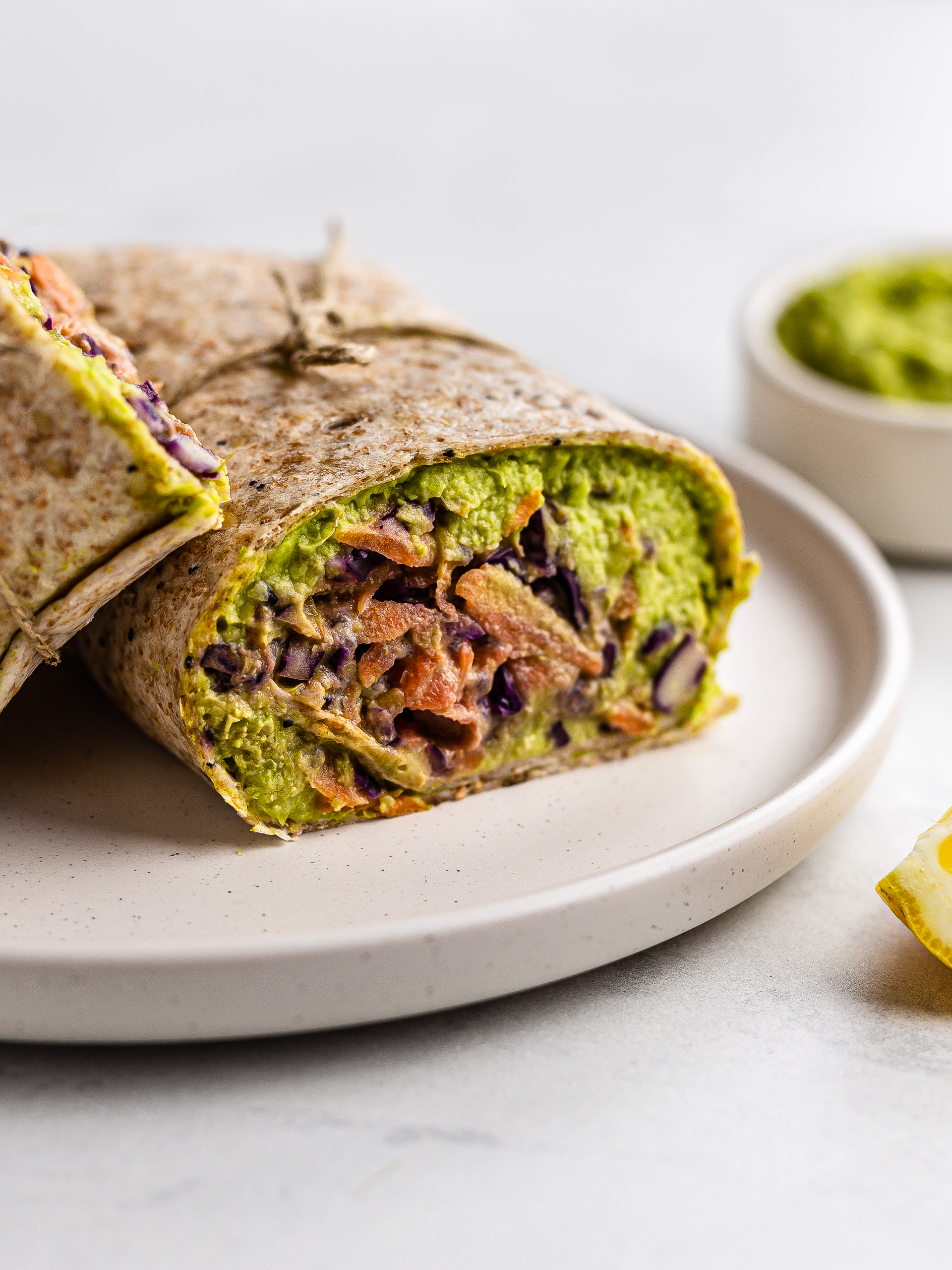 Here's another easy-to-pack meal that is perfect for a hiking lunch and comes with lots of plant-based proteins.
We made this vegan wrap extra juicy with green pea hummus and a crunchy coleslaw. Simple yet effective!
We even added some chia seeds for added proteins and used a wholemeal wrap for extra fibres.
Fibres are your number one friend while exploring the backcountry, as they help slow down the release of energy and keep you energised for longer.
Cauliflower Falafels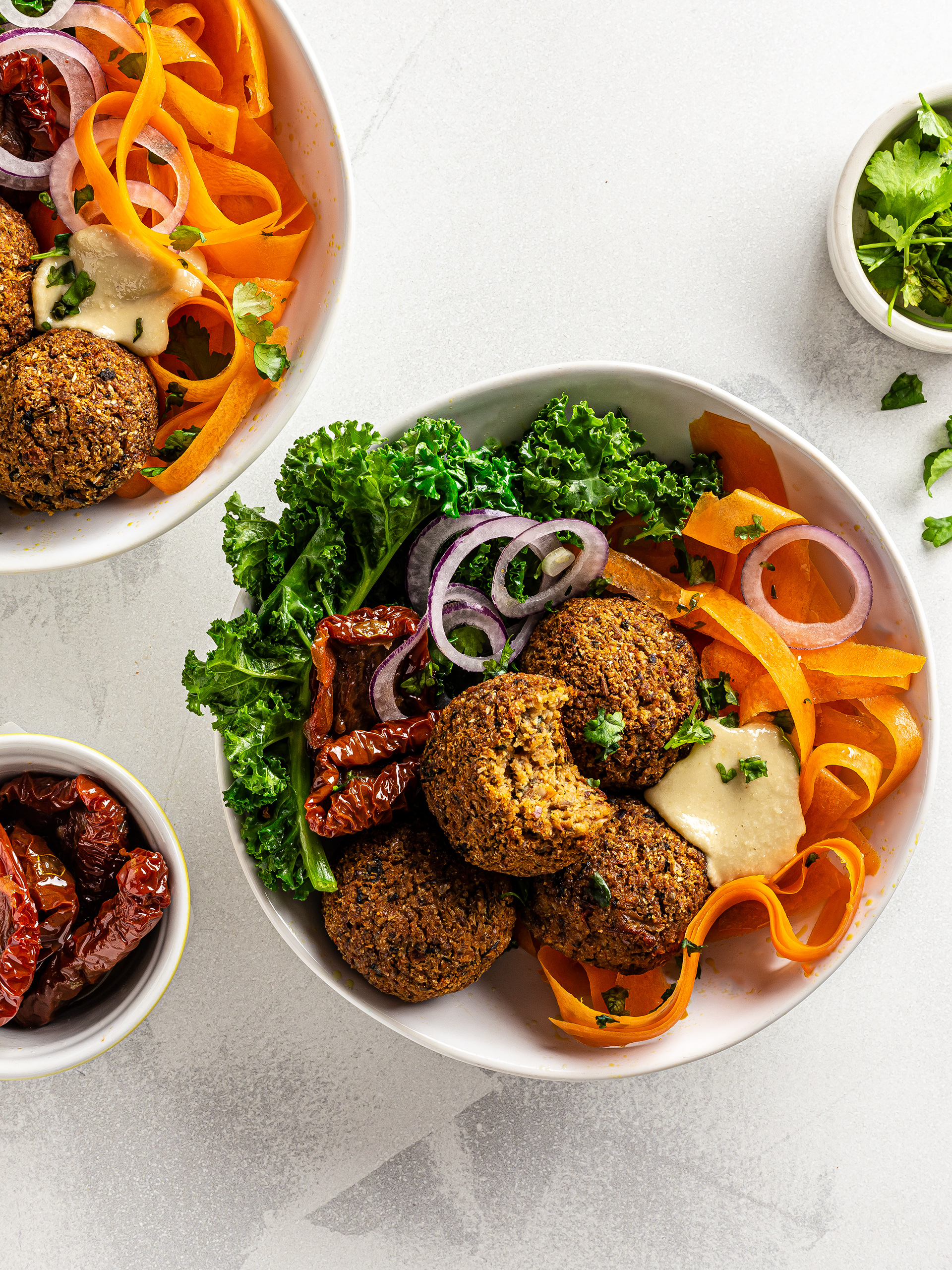 One of the easiest things to carry with you while backpacking are energy balls.
But not all "energy balls" are the sweet type! These falafels punch far above their weight, with lots of proteins and fibres in such a tiny package.
If you stuff a handful of them in a pita, you'll get all the nutrients and energy you need until later in the evening.
Spicy Lentil Burger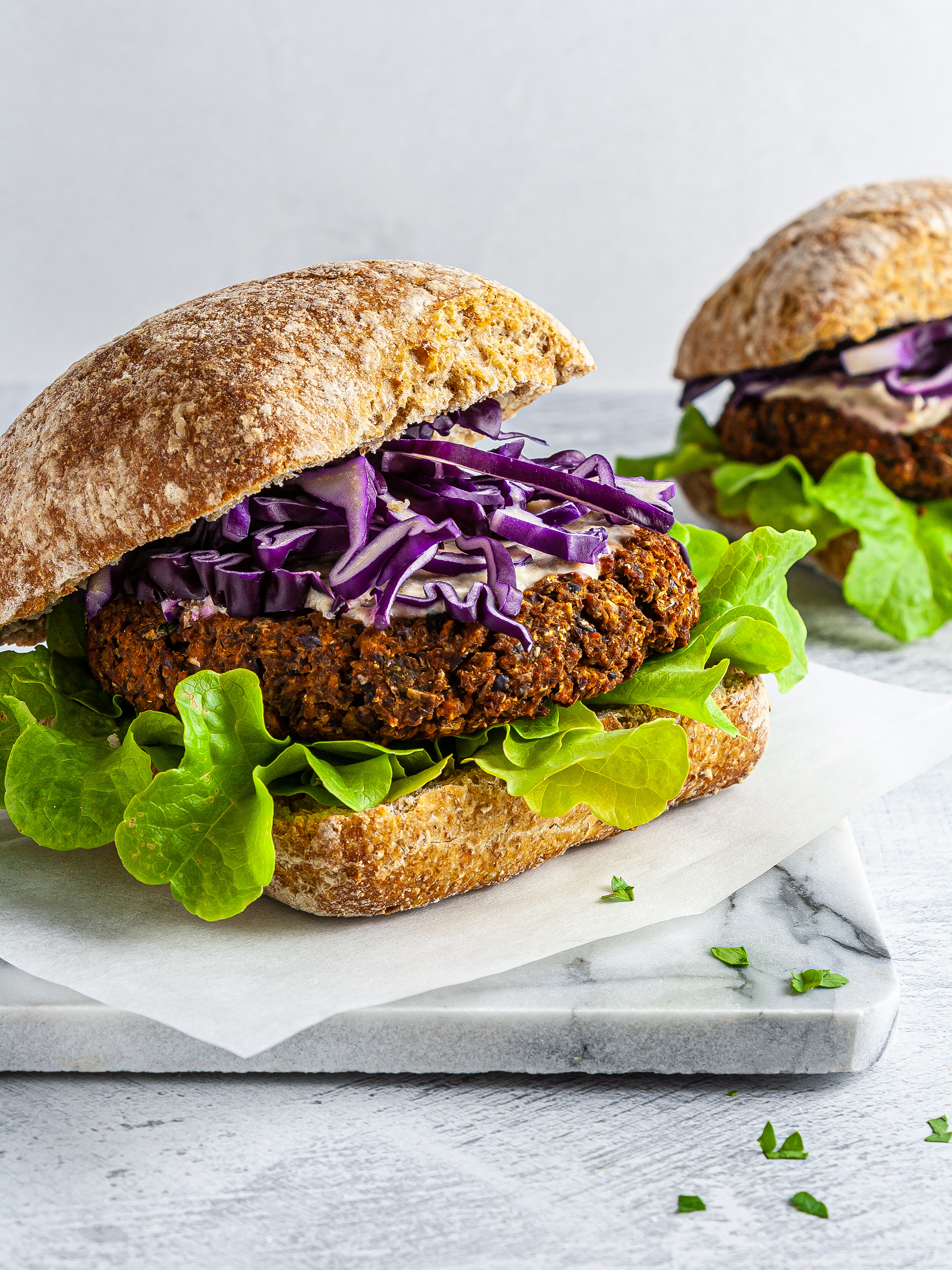 When you know you'll need an extra push to get you back on the road, go for this vegan burger with lentils and black beans.
It's super meaty, and we made it extra flavourful with a fine selection of spices.
We used oat flour instead of wheat to bind the ingredients together, so the recipe is also gluten-free!
Feel free to skip the dressing if you feel it's going to get messy in your backpack. But what we suggest instead, is to wrap the burgers in cling film and foil. This way, you can keep the burgers juicy without compromising your belongings.
Roasted Buckwheat and Tenderstem Broccoli Salad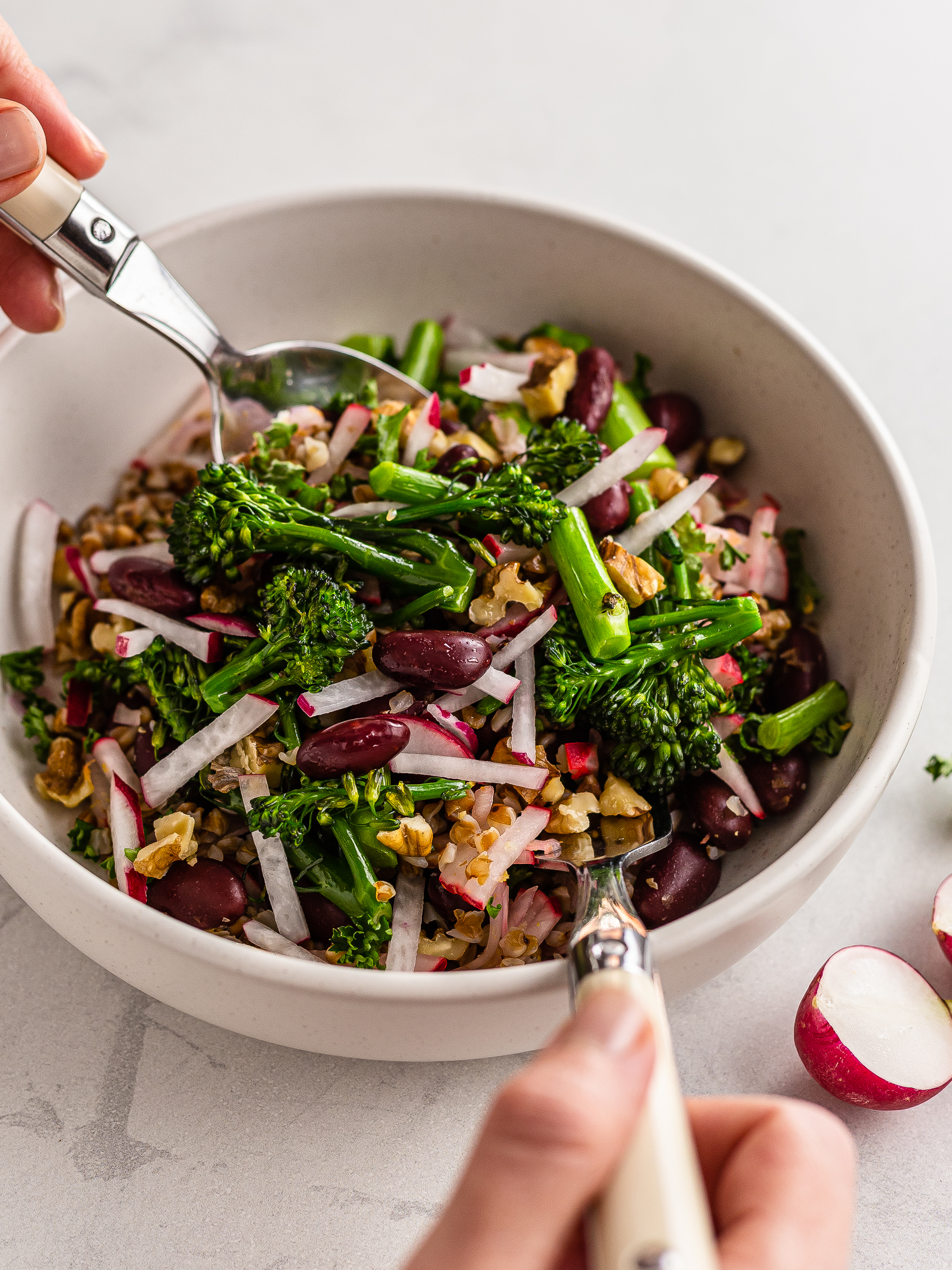 Here's another super-salad that brings together tenderstem broccoli, red kidney beans, and crunchy walnuts on a bed of earthy roasted buckwheat.
If you never had tenderstem broccoli, then ask yourself:
Do I like the broccoli florets more than the stem?

Do I like asparagus?
If you answered yes to both of the above, then you'll drool all over tenderstem broccoli and never go back to regular ones.
Harissa Pasta Salad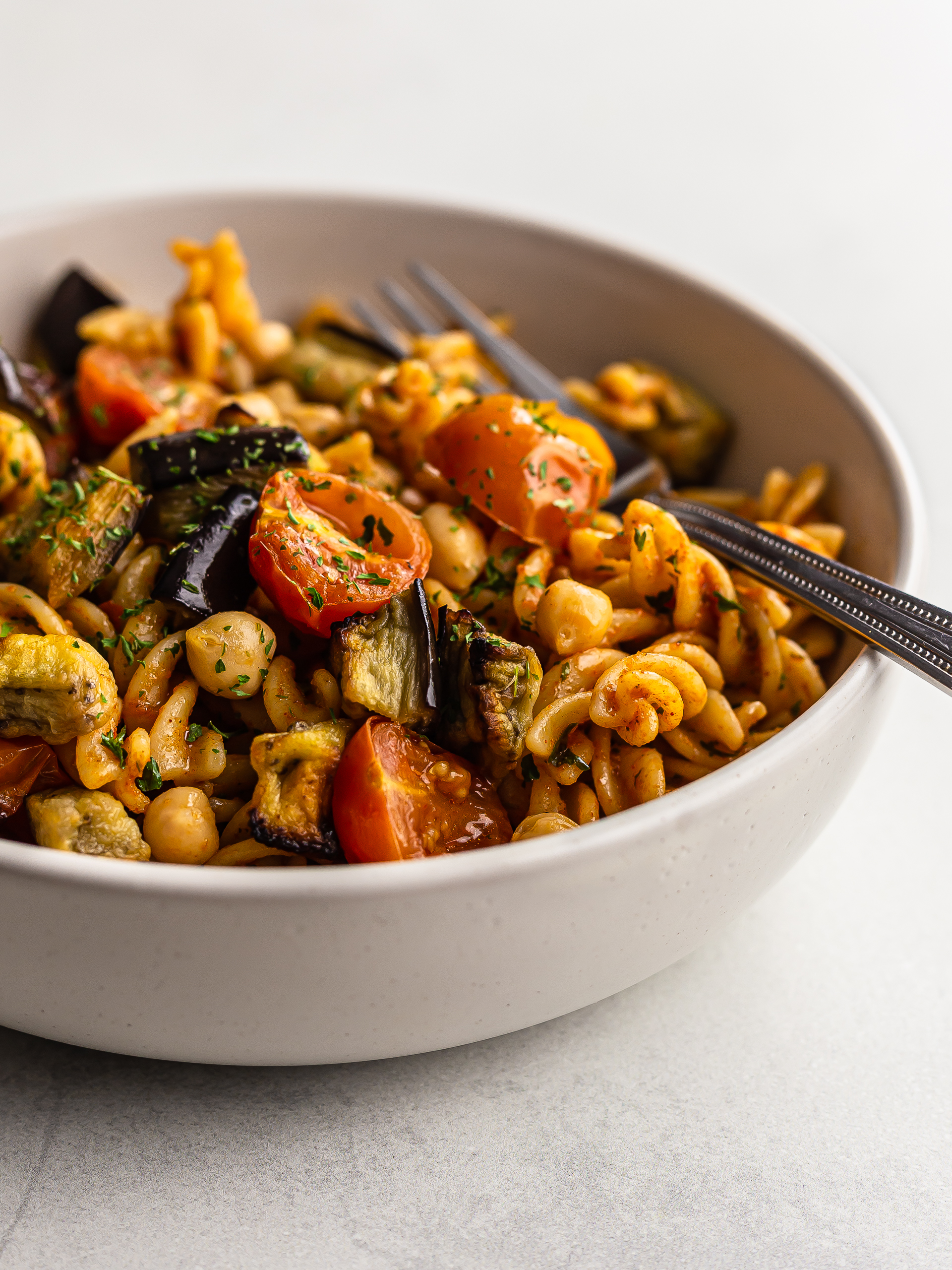 No list of lunch backpacking ideas would be complete without pasta salads.
The beauty of a pasta salad is that you are meant to eat it cold. That by itself makes it an ideal candidate for a hiking lunch.
And when you factor in all the amazing ingredients you can add to pasta, then you are talking big boy/girl game.
Now, not all pastas can be "pasta salads". Carbonara is off the table, for example.
When it comes to pasta salads, it's all about selecting dry ingredients and keep "sauciness" to a minimum. And of course, use short pasta; spaghetti are not allowed. Otherwise, your pasta will turn into a brick as it gets cold. Useful to fend off curious bears, maybe. But not so much for eating.
Summer veggies like cherry tomatoes, courgettes, and aubergines are all great ingredients here. That's what we used in this recipe. And to spice things up, we added in some spicy harissa paste. We think you'll love it.
Vegan Jackfruit Po' Boy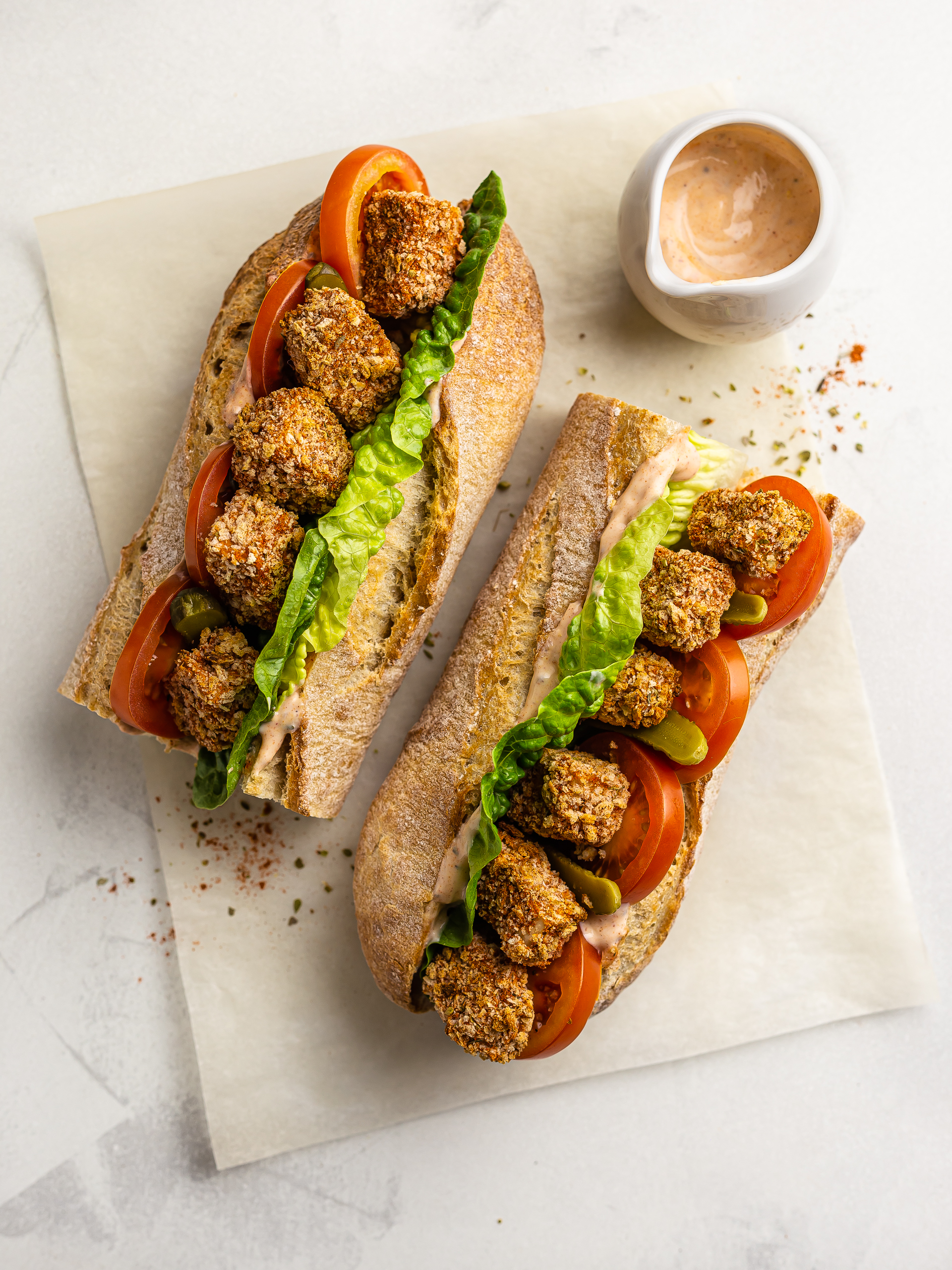 If you hail from Louisiana, I bet you are getting hungry now!
By replacing shrimps with jackfruit, we turned the classic Po' boy sandwich in a backpacking friendly meal. This delicious wrap can happily rest in an air-tight container, tucked away in you backpack for a few days. No need to worry about fish going bad!
Although, we think it won't make it past the first lunch break.
Vegan Mushroom "Meatballs"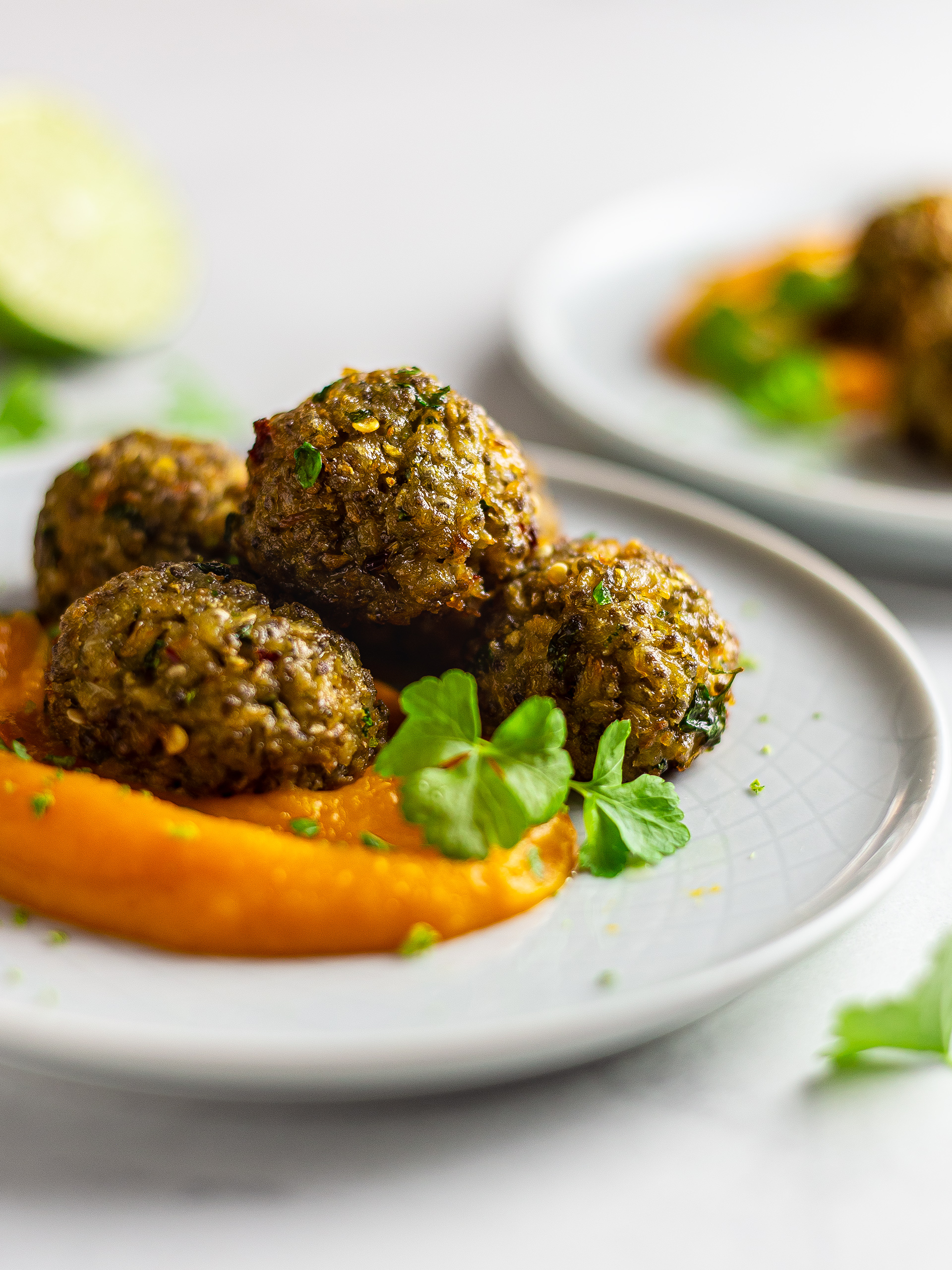 Last but not least, here is an alternative to our vegan falafels we saw earlier. This time, we took on the quintessential backpacking meal: dry meatballs.
But instead of using mince, we opted for mushrooms. And not any mushrooms!
Whenever we want to replace meat with mushrooms, there's only one contender:
King oyster mushrooms.
We simply adore these guys. They are super meaty, they release very little to no water when cooked (great for backpacking, as they won't turn soggy when stored), and are so incredibly flavourful.
Make as many as you can carry!
More backpacking recipes
We have so many more recipes that could fit the list, and finding them using our recipe search engine is so very easy. You can find them based on nutritional parameters, diets, allergies, and many more criteria. It's free to use, so give it a go.
Hiking and backpacking is a wonderful thing. Marta and I love it so very much.
We are always looking for an excuse to grab our tent, our backpacks and just go. In fact, as I write this, we are getting ready to hike 100 miles along The Cotswolds Way, in England. Exciting!
I hope these backpacking and hiking recipes will serve you well on your journeys, keeping you and your loved ones fed and happy.