Are you're looking for a crunchy snack to nibble on? Would you like to try a healthy alternative to classic fried potato crisps? Look no more!
We have an easy and tasty recipe for you: air-fryer plantain chips. They're light and crispy — ready in as little as 10 minutes. Let's do it!
If savoury crisps made out of fruit sound unusual, frying green plantain chips is actually among the most common ways of preparing this tropical fruit.
Also known as cooking bananas or green bananas, plantains are a staple food in Africa, the Caribbean islands, and South America.
They're bigger than a regular banana, and you can find them as unripe green fruit or ripe yellow fruit.
Green plantain is firm, starchy, and neutral in flavour, perfect for cooking and preparing savoury recipes like these plantain chips or seasoned plantain croutons.
The ripe fruit instead is great eaten raw, baked, or used in desserts.
Plantain chips are so popular that you can find them under so many different names in different areas: chifles in Peru and Ecuador, mariquitas in Cuba, platanitos in Colombia, tajadas in Honduras, and even as upperi in south India Kerala.
For this recipe, you'll need green plantains, which you should be able to find at your local Caribbean food store. After slicing them into thin chips, all you have to do is season them and cook them.
But instead of deep-frying them like in the traditional way, you can bake the chips or air-fry them for an oil-free recipe.
The air-fryer is practically made for baking crispy chips with no need for oil, so it was our first choice for this recipe.
Just make sure you arrange the chips flat in the machine basket without overlapping them, so they'll get crispy and won't stick to one another.
Skipping the oil means your plantains chips are truly healthy. We used salt and black pepper for extra flavour, but you can also go for bolder spices like paprika, thyme, rosemary, or chilli powder.
As green plantains are rich in starch, the chips will taste almost like potato crisps or even crackers. Yet, one 40g serving has only 130 calories and zero fats. Awesome!
And what better way to enjoy these homemade crisps than dunking them in a healthy dip? We love them with guacamole and beet hummus, but we can't resist nibbling them straight from the bag too!
Our you could also enjoy these healthy banana chips the African way, as a crunchy side to this vegan Nigerian Jollof rice or Nigerian mixed salad with beans!
Ingredients
| | |
| --- | --- |
| Medium Green Plantains | 2 |
| Salt | to taste |
| Black Pepper | to taste |
Step 1
Set the airy-fryer to 200°C (400°F).
Score the skin of the green plantains with a knife and then peel it off.
Then, thinly slice the plantains using a mandoline slicer or a sharp knife.
Ensure the chips are no more than 2mm thick, or they won't crisp up as nicely.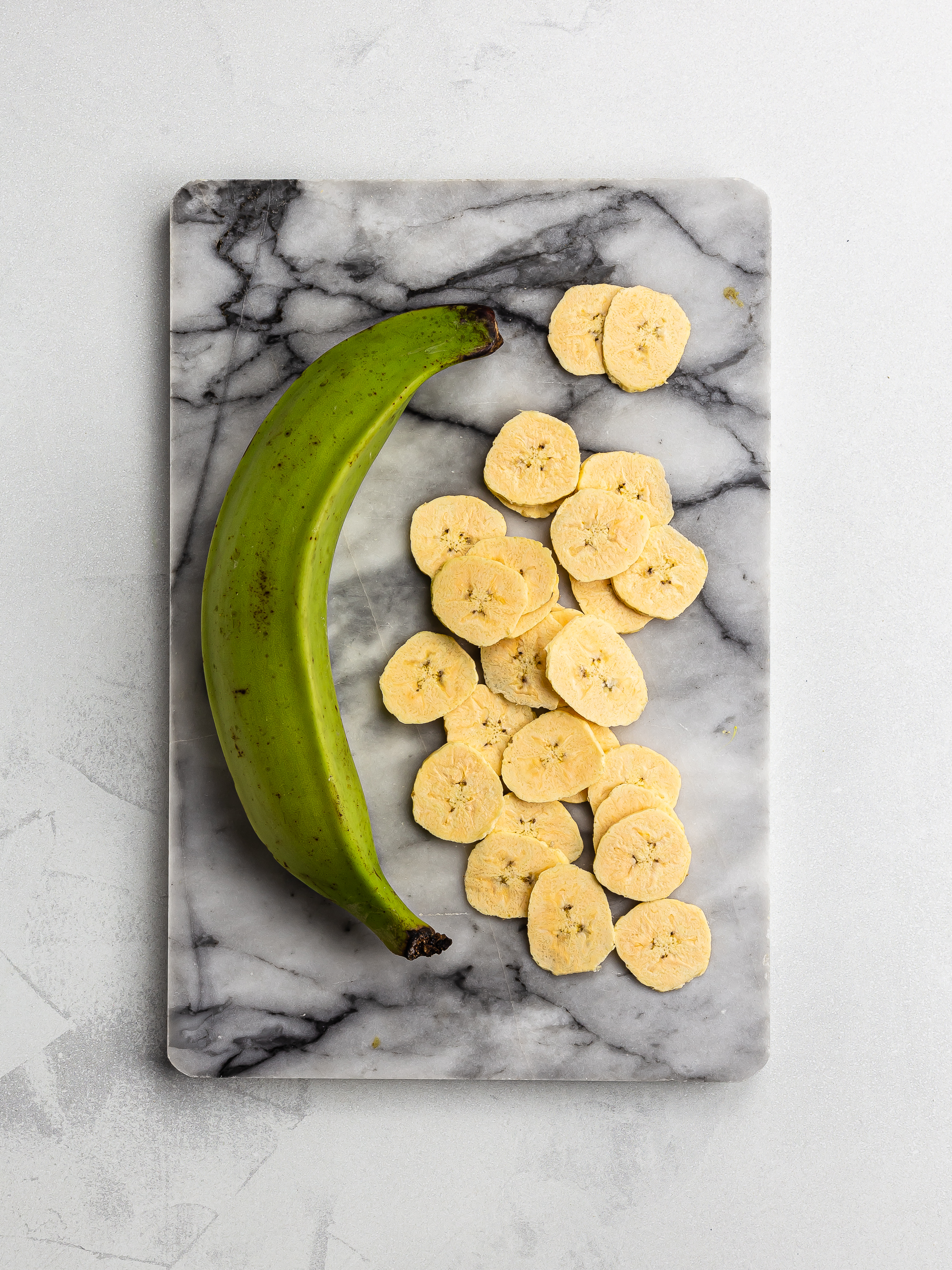 Step 2
Now, it's time for the salt and pepper seasoning.
Before you start, keep in mind that the salt will slowly draw the moisture out of the chips, making them slightly wet. This means the chips will get a bit soggy and won't crisp up too well.
To avoid this, we recommend salting the chips in batches and cooking them right away.
Ok, add the chips to a bowl, season them with salt and pepper to taste, and toss them well until they're evenly coated.
Step 3
Now, add the prepared chips to the air-fryer basket.
If you can, avoid overlapping the chips too much, or they will get stuck to one another and won't cook evenly. So, we recommend cooking them in batches.
Now, air-fry the plantain chips for 5-8 minutes.
After the first 5 minutes of cooking time, shake the chips in the basket to loosen up those that might be stuck at the bottom and remove those that look dry and crispy.
Then, keep cooking the other chips, checking them every 1 minute to make sure they don't burn.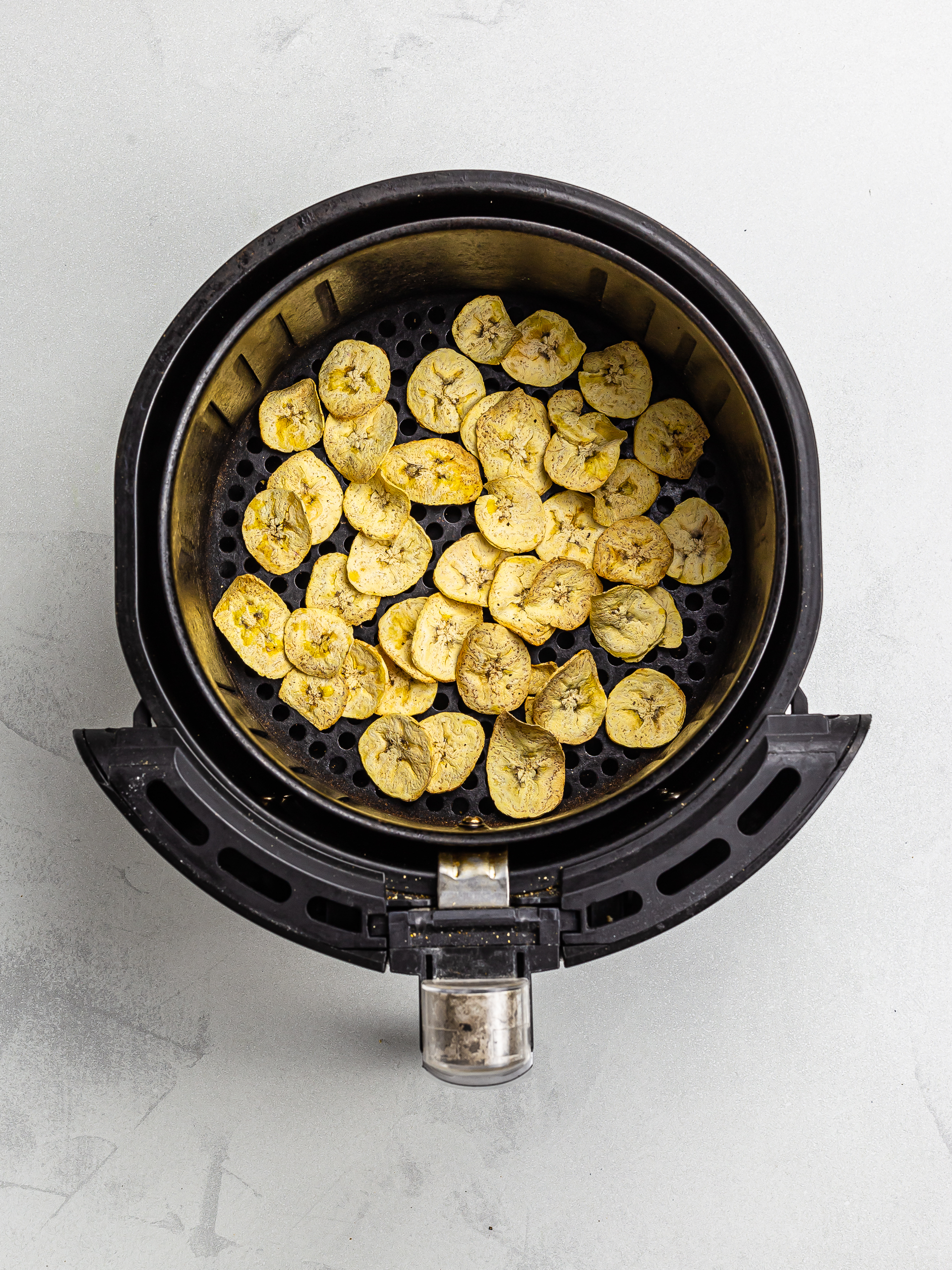 Step 4
Transfer the cooked plantain chips on a wire rack to let them cool down completely; as they cool down, they'll also get crunchier.
Enjoy your homemade chips with a creamy dip like guacamole, black bean dip, or our beetroot hummus.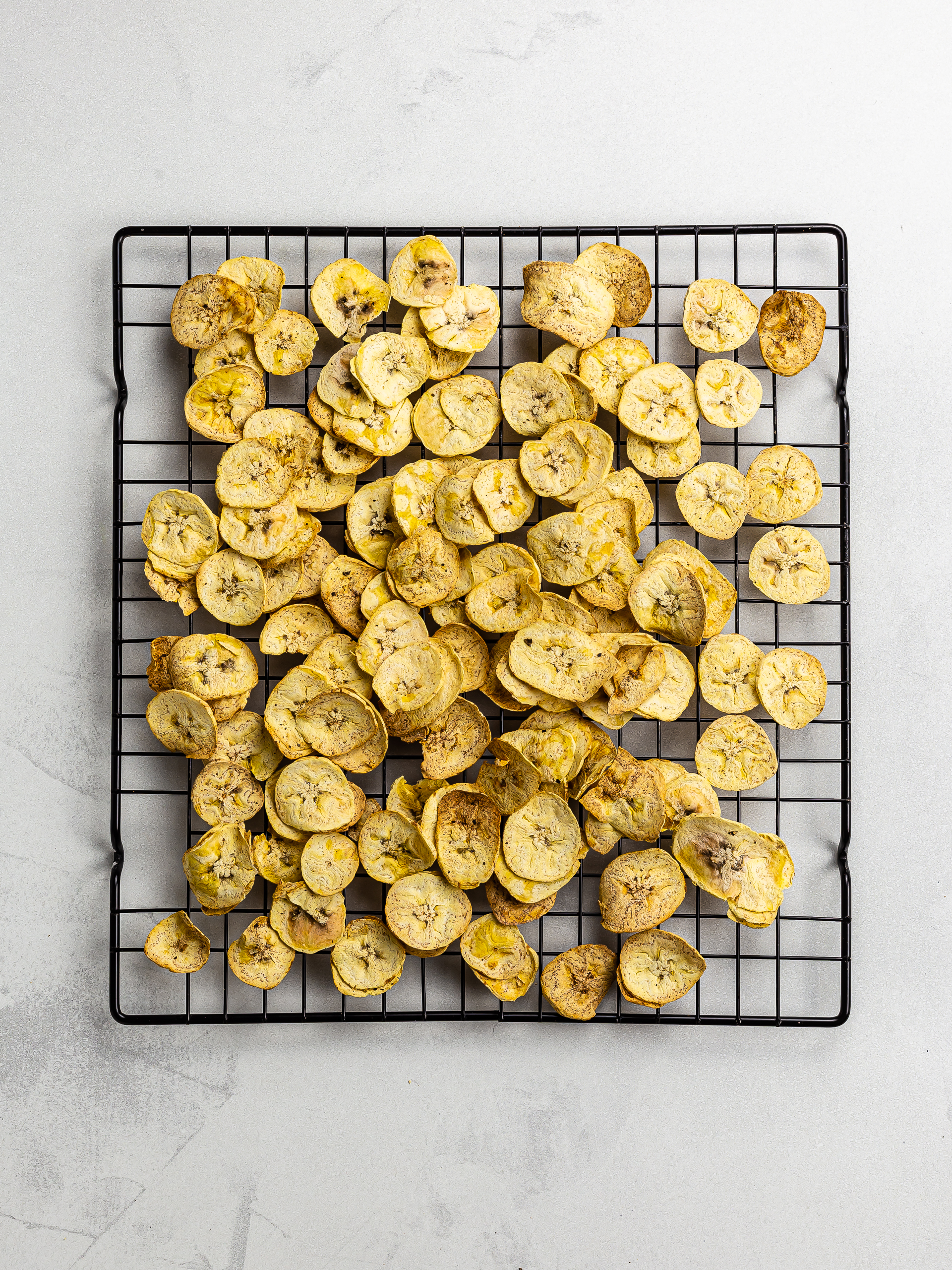 Tips
You can season the plantain chips with chilli powder, paprika, ground thyme or rosemary for extra flavour.

The chips taste best on the same day; you can store any leftovers in a paper bag for 2-3 days, but they will lose a bit of their crunchiness.