Indian cuisine is probably one of our favourites as it's packed with spicy dishes, curries, and unique flavours combinations. We already experimented with many delicious curry recipes, and we wanted to try something different.
So today, we'll show you how to make beetroot poriyal, a stir-fried side dish that belongs to the South Indian Tamil traditions.
This quick and easy recipe is prepared with grated beets sautéed with red onions, green chillies, and mustard seeds. Black beans and dry coconut complete this dish with extra texture and flavour.
While the classic recipe uses freshly grated coconut, we opted for the desiccated one which is easy to find all year long. And it's also fun to sprinkle it on this dish before serving it.
This fast stir-fry is also incredibly healthy. Each serving has only 150 calories and yet packs 9g of fibres, covering almost 40% of your recommended daily intake for this nutrient.
Beans and beets are a great source of fibres, but they also provide vitamins and minerals. In particular, beets contain nitrates, special compounds that help regulate blood pressure, thus protecting you from heart diseases.
Now, enough with the talking, it's time to cook some delicious poriyal!
Frequently Asked Questions
Can I use cooked beetroots?

For this recipe, you can use either raw or cooked beets.

Cooked beets are quite handy as they come already peeled and boiled. All you have to do is to grate them and add them to the skillet with the onions as we did for raw beets.

However, the cooking time will be much shorter and there's no need to add water to the vegetables. Just sizzle them for 5 minutes without the lid.

If, instead, you choose raw beets, follow our recipe as above.
What goes well with poriyal?

According to the South Indian culinary traditions, poriyal often accompanies curries or stews, like sambar or rasam.

This side dish can also be served with basmati rice - we recommend brown rice for extra fibres - or flatbreads like naan or chapati.

If you're looking for a tasty recipe to serve with this beetroot side dish, try our sweet potato vindaloo or mushroom curry. We also have a gluten-free variation of the classic chapati here.
Which type of mustard seeds should I use?

Mustard seeds come in many variations, but yellow and brown seeds are the ones most commonly used in recipes.

Brown mustard seeds are spicier, while the yellow ones are milder.

For this recipe, you can use either the yellow or the brown ones or a combination of them.
Can I make this stir-fry without coconut?

Coconut is one the staples in the Tamil cuisine and is used to prepare the classic poriyal recipe.

However, if you don't fancy the flavour of coconut or want to keep fats to a minimum, just omit the grated coconut in the last step.

Try swapping it with nutritional yeast for extra flavour and nutrition, or tip in some lemon zest.
Which type of beans are used in the Indian poriyal?

In the classic recipe, vegetables are stir-fried with urad dal, which is a type of black, rounded lentil.

This legume is quite similar to the mung bean, and it also comes under the names mungo beans, urid beans, or black gram.

We had some trouble finding this exact variety of lentils at our local store, so we opted for black turtle beans, which look alike.

Other alternatives include:

- Brown Lentils

- Green Lentils

- Red Kidney Beans

- Yellow Split Peas
Ingredients
| | |
| --- | --- |
| Rapeseed Oil | 1 tbsp |
| Mustard Seeds (Yellow or Brown) | 1 tsp |
| Red Onions | 1 |
| Green Chillies | 4 |
| Cumin Seeds | 1 tsp |
| Raw Beetroots | 300 g |
| Cooked Black Beans | 240 g |
| Lemon | 1/2 |
| Desiccated Coconut | 1 tbsp |
Step 1
In a skillet, heat the vegetable oil and add the mustard seeds. When they start to pop, stir in chopped red onions, sliced chillies, and cumin seeds.
Sizzle the ingredients for 3-5 minutes or until the onions turn soft and translucent.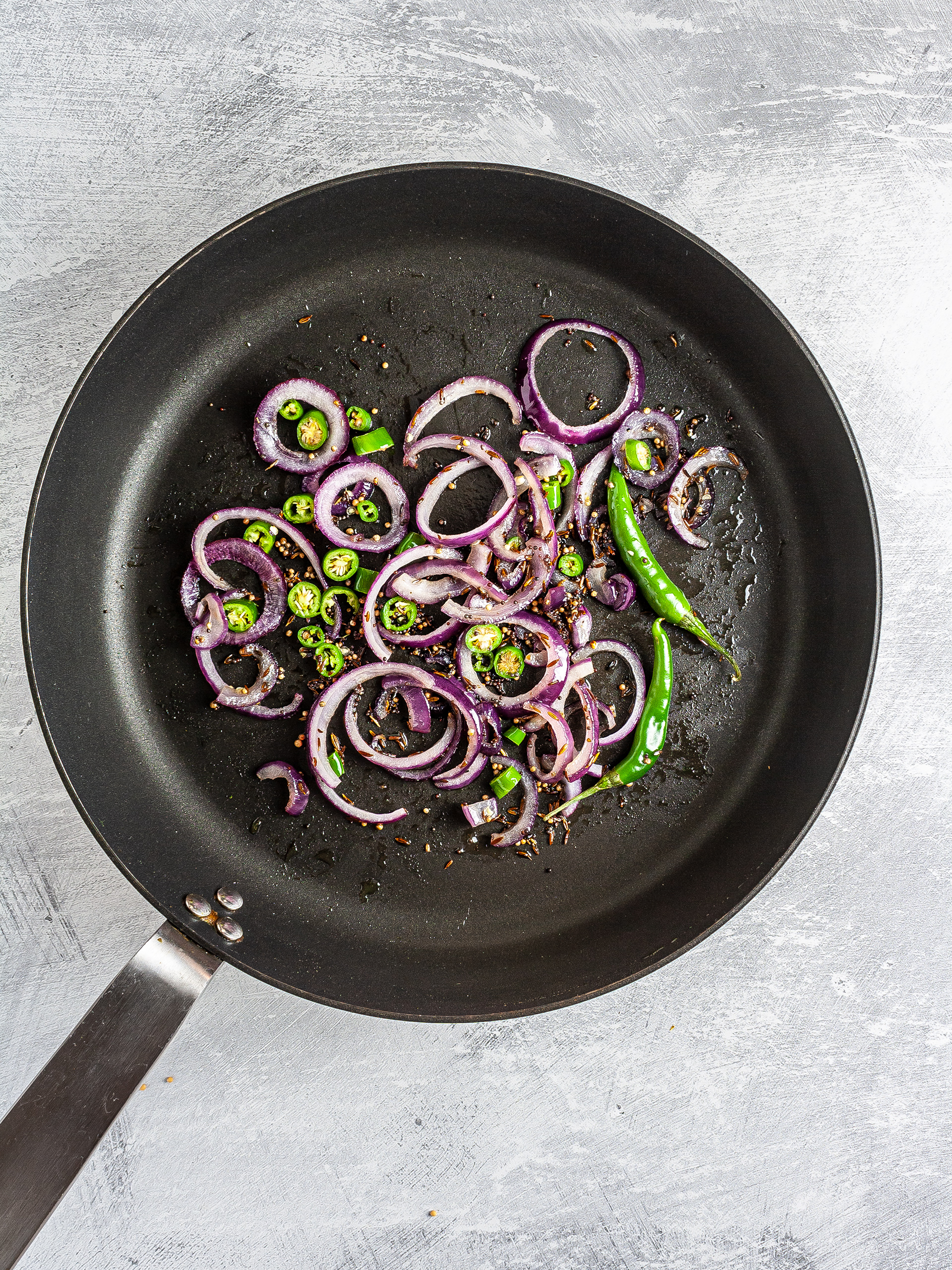 Step 2
Now, add grated beetroots and black beans to the onion mix.
Check our FAQ below for more tips on the best types of beets and beans.
Add a splash of water and cook the poriyal, covered, for 10minutes.
Then, stir-fry the vegetables for a further 5 minutes without the lid to allow any water to reduce.
Season with salt and pepper to taste.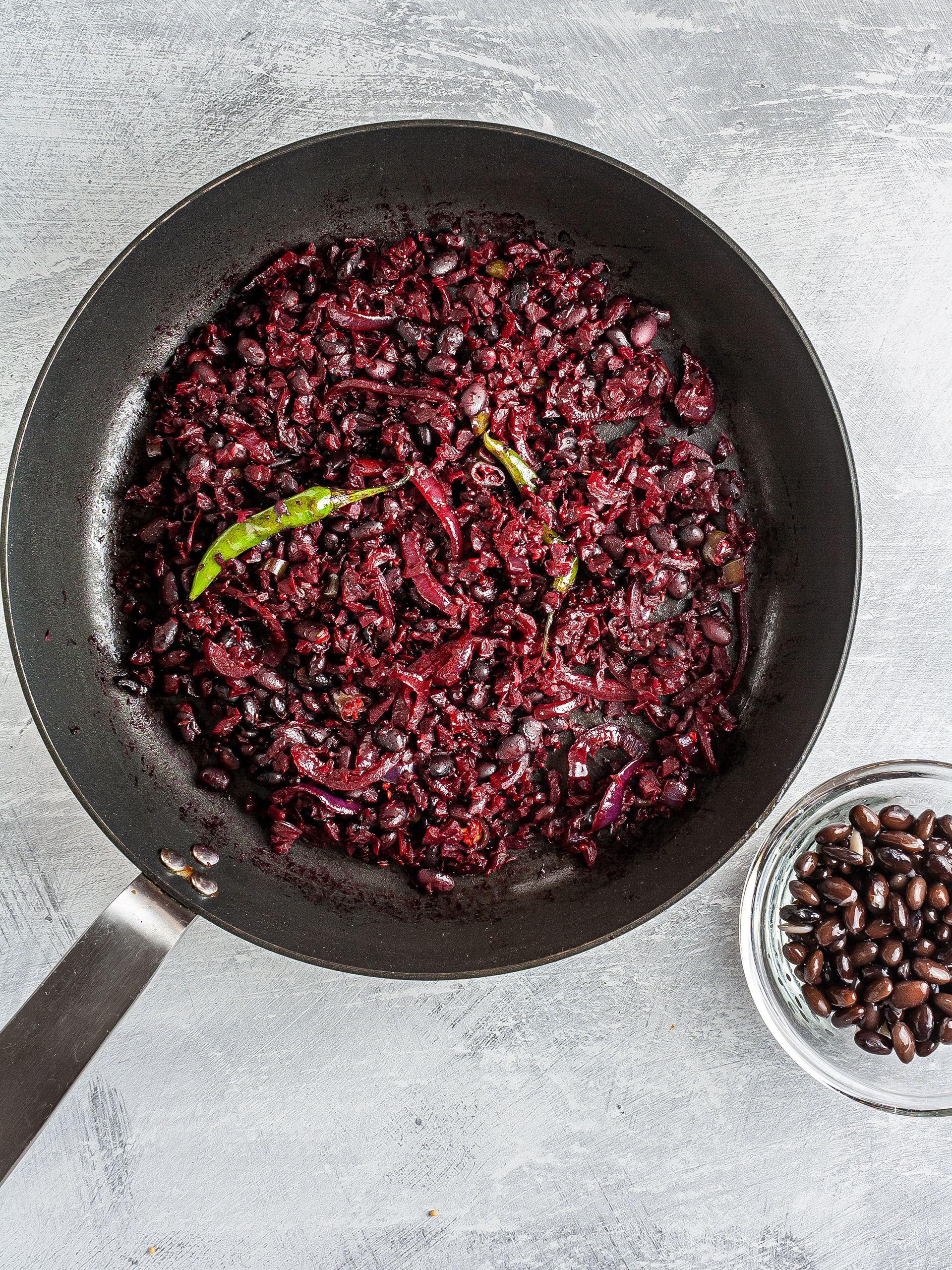 Step 3
Remove the pan from the heat, and, before serving, squeeze in the lemon and add dried coconut.
Divide the sautéed beetroots among bowls, garnish with fresh coriander, and serve with flatbread or rice.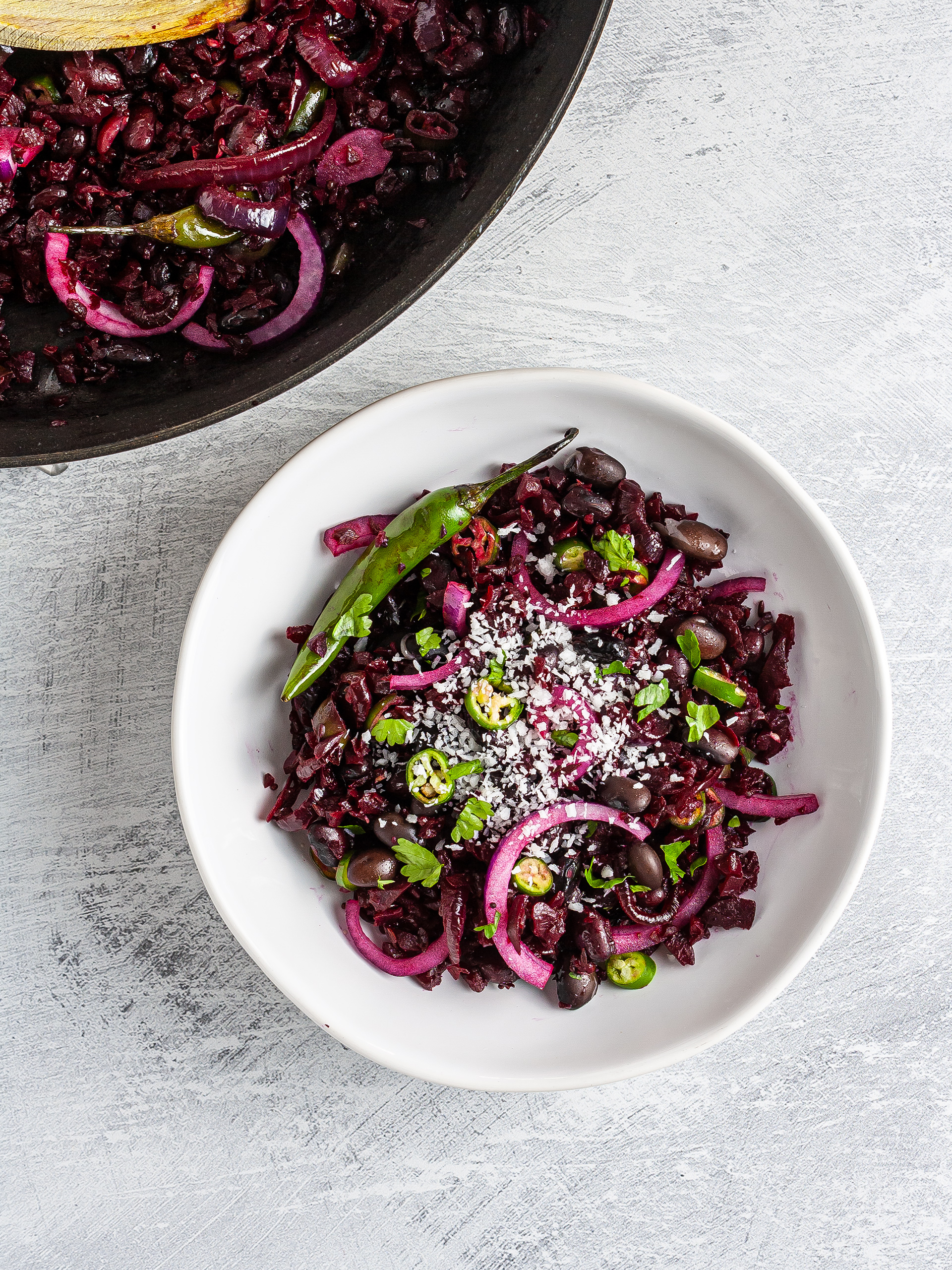 Tips
For a traditional Tamil-style poriyal, add a few curry leaves to the fried beetroots.