This delicious crispy cauliflower rice is a quick and easy-to-make salad recipe perfect for meal prepping a healthy lunch box. Thanks to the addition of beetroots, lentils, and grapes, it makes a vegan and gluten-free balanced meal within 500 kcal.
This pan fried cauliflower rice is great if you're trying to cut down on refined carbs or eat more vegetables. In fact, each portion provides 3 of your 5-a-day for fruit and vegs and it's balanced with proteins from lentils and seeds. Amazing!
Adding our mustard dressing will not only make this dish so delicious but it will also boost the beneficial properties of the cauliflower. In fact, crushed mustard seeds in the wholegrain mustard activate the health-promoting compounds found in cruciferous vegetables like cauliflower.
If you love healthy recipes like this, make sure to subscribe to our newsletter and you'll get our newest recipes sent right into your inbox every week, plus our free ebook!
Ingredients
Cauliflower Rice
Fresh Cauliflower

350 g

Extra Virgin Olive Oil

2 tbsp

Dressing
Maple Syrup

1 tsp

Wholegrain Mustard

1 tsp

Lemon Juice

2 tbsp

Salt

to taste

Black Pepper

1/2 tsp

Salad
Red Grapes

320 g

Cooked Beetroots

250 g

Canned Lentils (drained weight)

550 g

Seeds Mix (sunflower, pumpkin, flaxseeds)

100 g

Spring Onions Stalks

2
Step 1
To make the cauliflower rice, use a fresh (not frozen) cauliflower head: rinse it, halve it, and pull the florets.
Then, use the large holes of a box grater to grate the florets into small shreds so they'll look like white rice grains.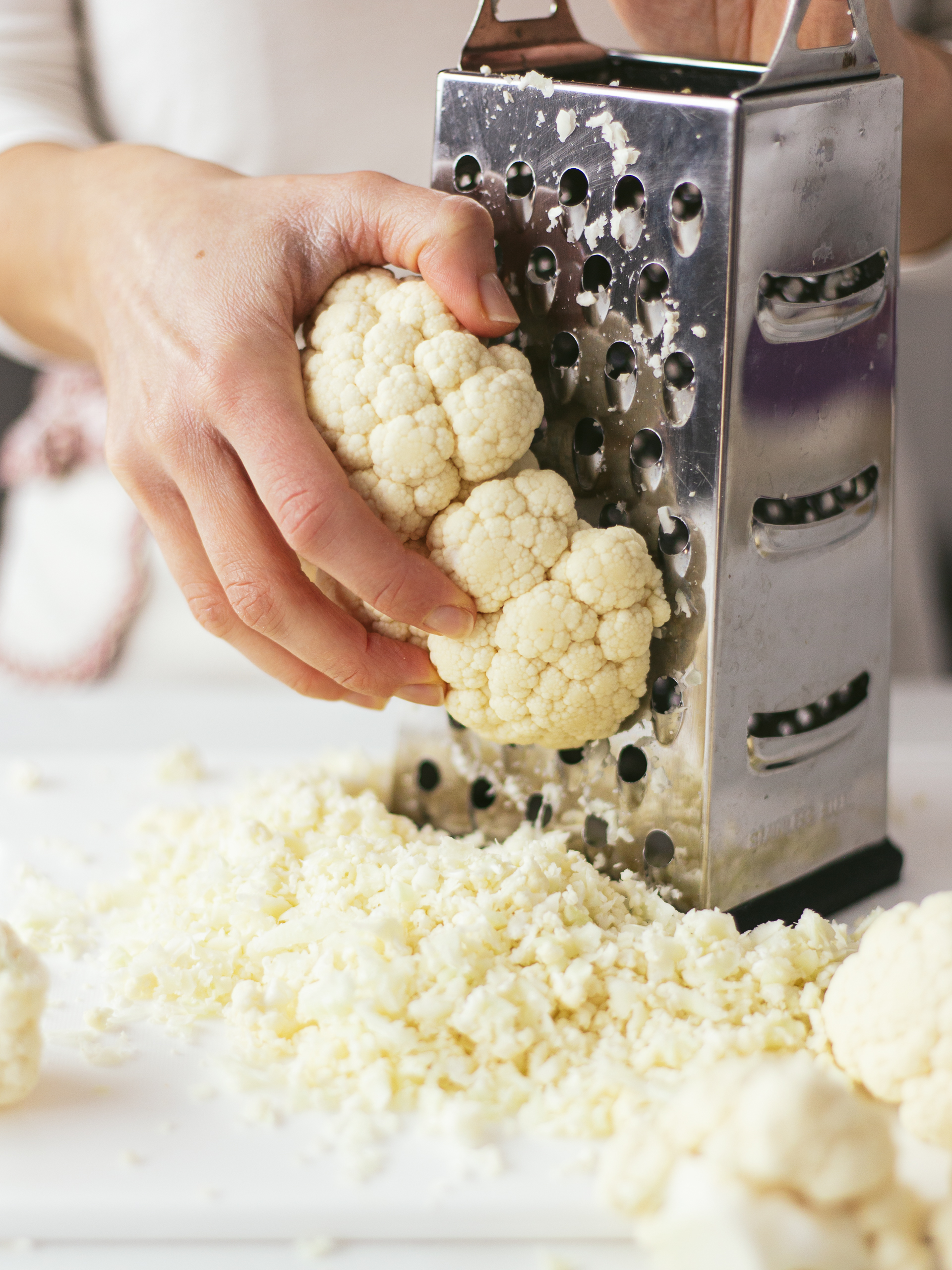 Step 2
To make the rice really crispy, you need to remove excess moisture from the grated cauliflower.
To do so, transfer the riced cauliflower onto a colander lined with a cloth (either a cheesecloth or a clean kitchen towel) or a few stacked sheets of kitchen paper.
Spread the grains out and pat them dry as much as you can.
This extra step will prevent the cauliflower rice from getting mushy and soggy when cooked.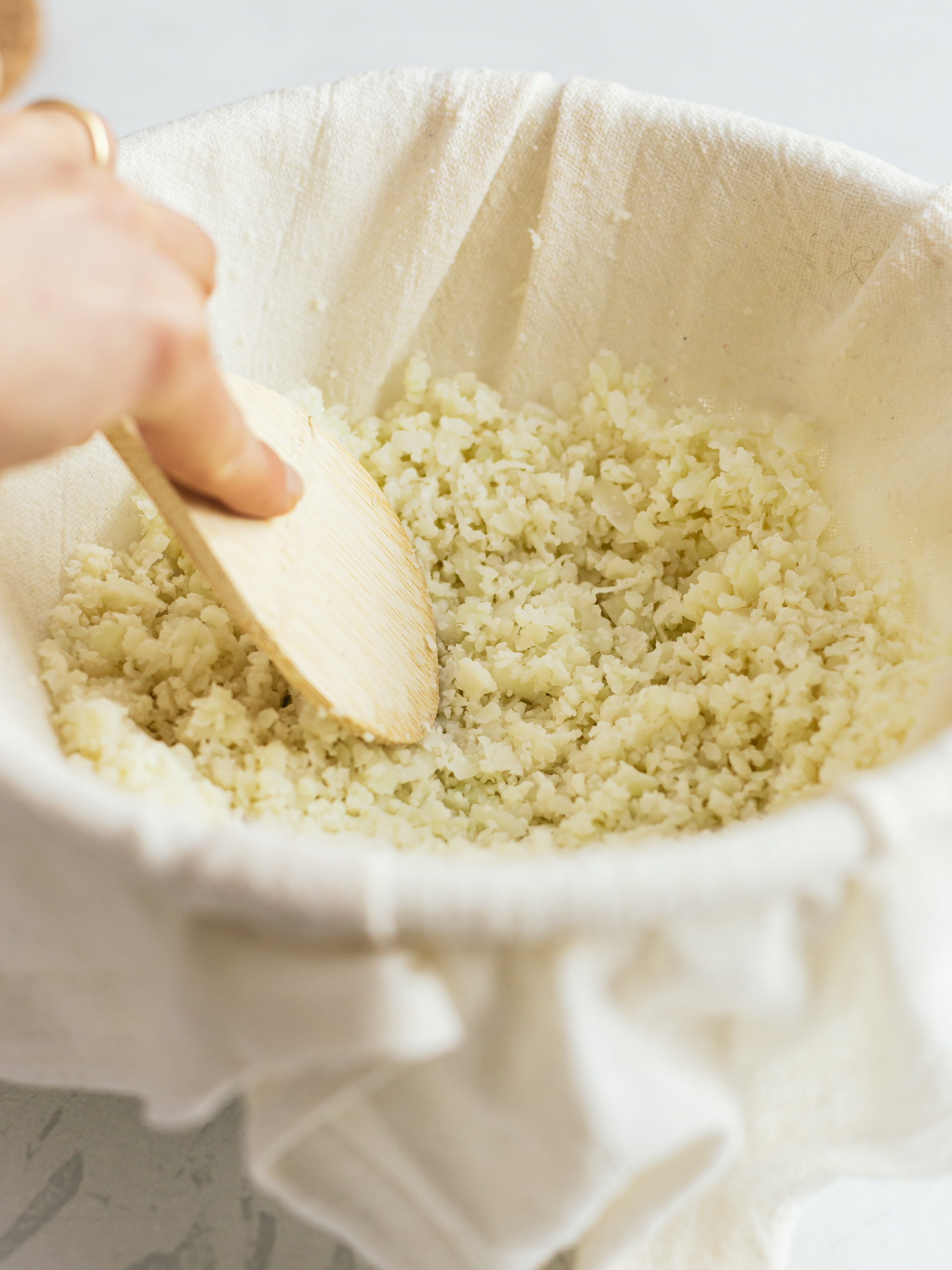 Step 3
Now, heat the extra virgin olive oil in a non-stick skillet and add the cauliflower rice.
Season the rice with salt and pepper to taste and pan-fry it for 10 minutes until lightly browned and crispy.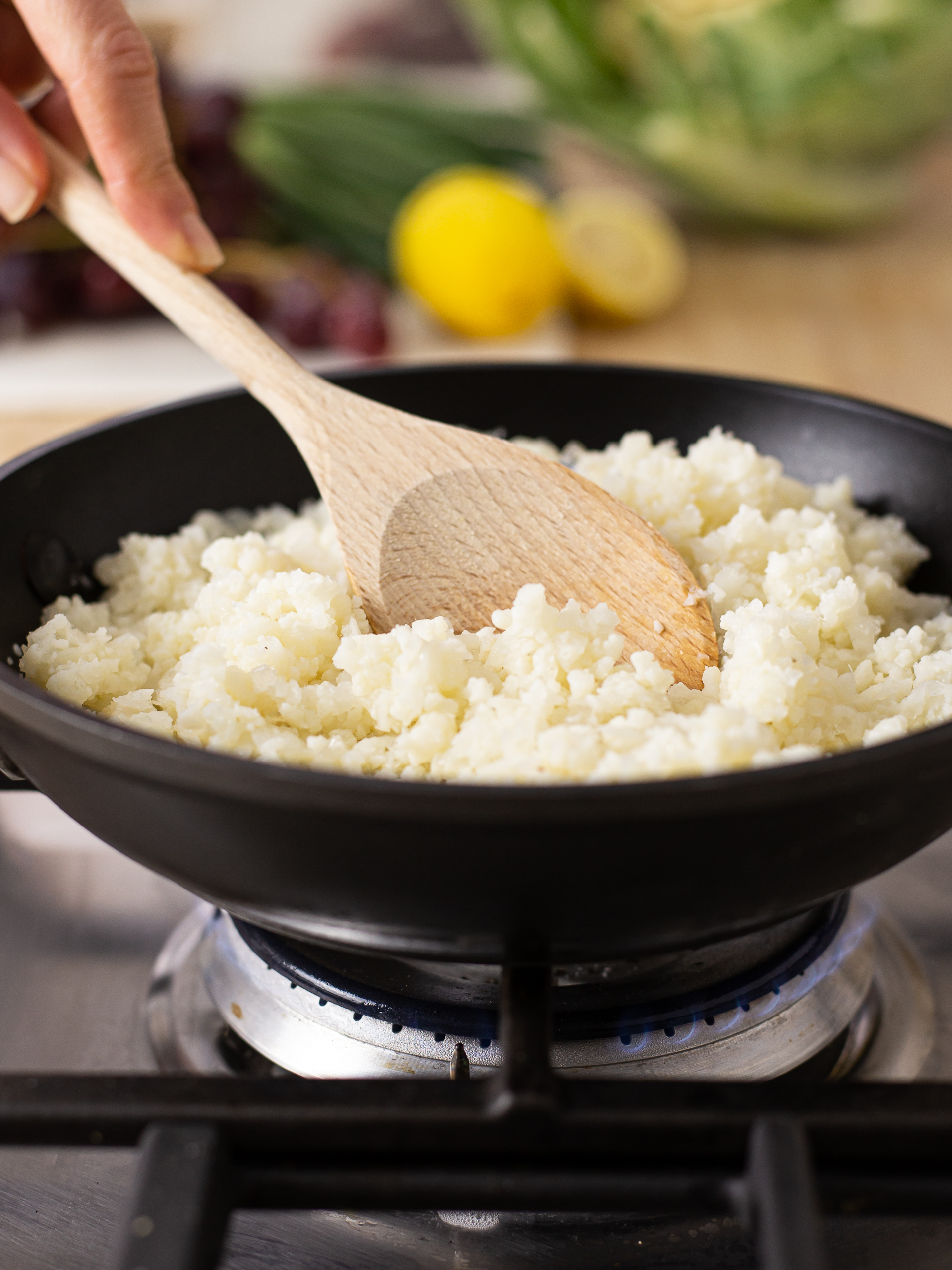 Step 4
In the meantime, prepare the other salad ingredients.
Halve or quarter the grapes and thinly slice the cooked beets.
For the dressing, combine maple syrup, mustard, lemon juice, salt and pepper in a cup.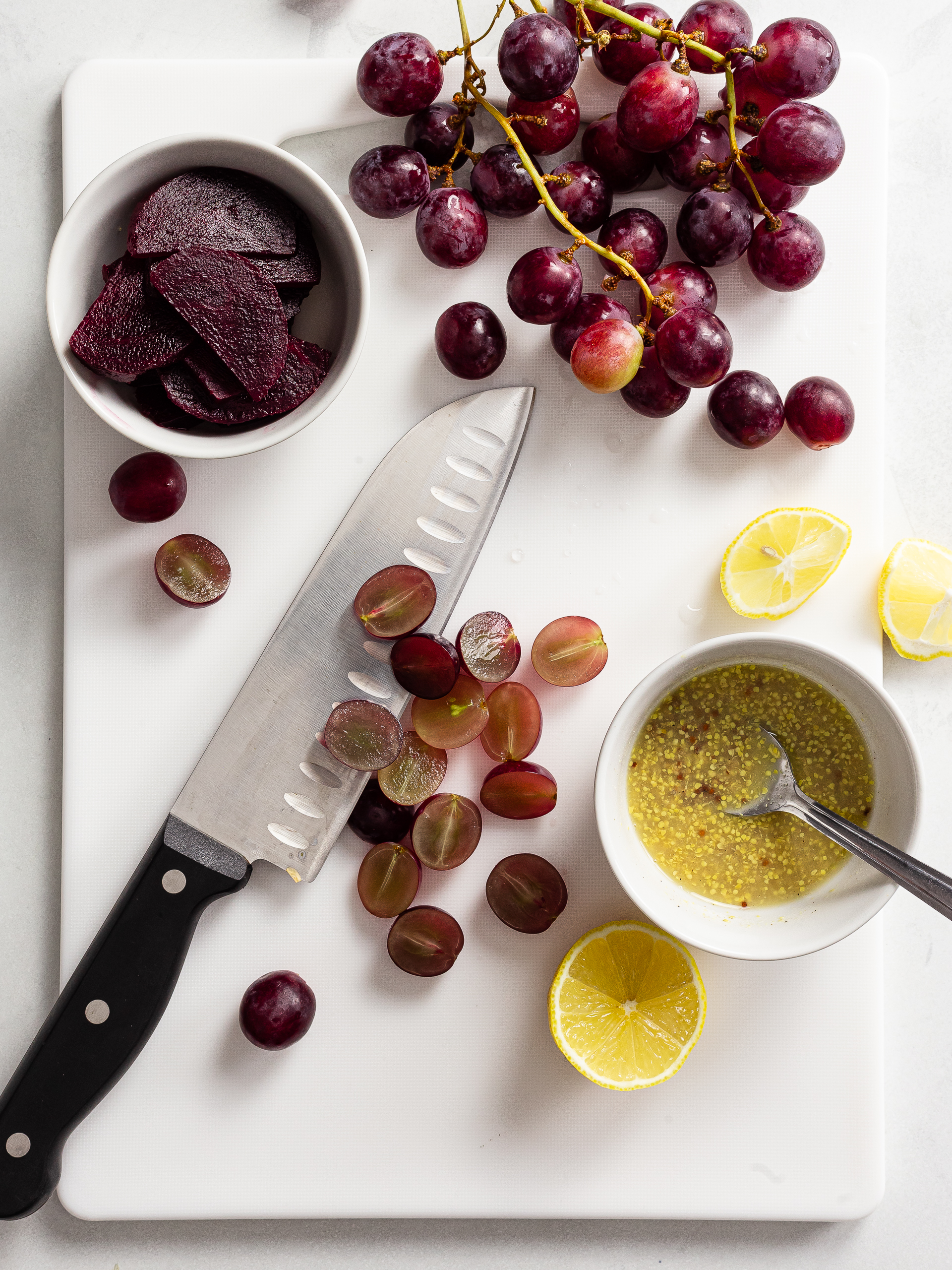 Step 5
Divide the crispy cauliflower rice, drained canned lentils, beets, and grapes among salad bowls.
Drizzle the salad with the mustard dressing and garnish with seeds, thinly sliced spring onions, and lemon zest.
Enjoy your healthy and tasty crispy cauliflower rice salad!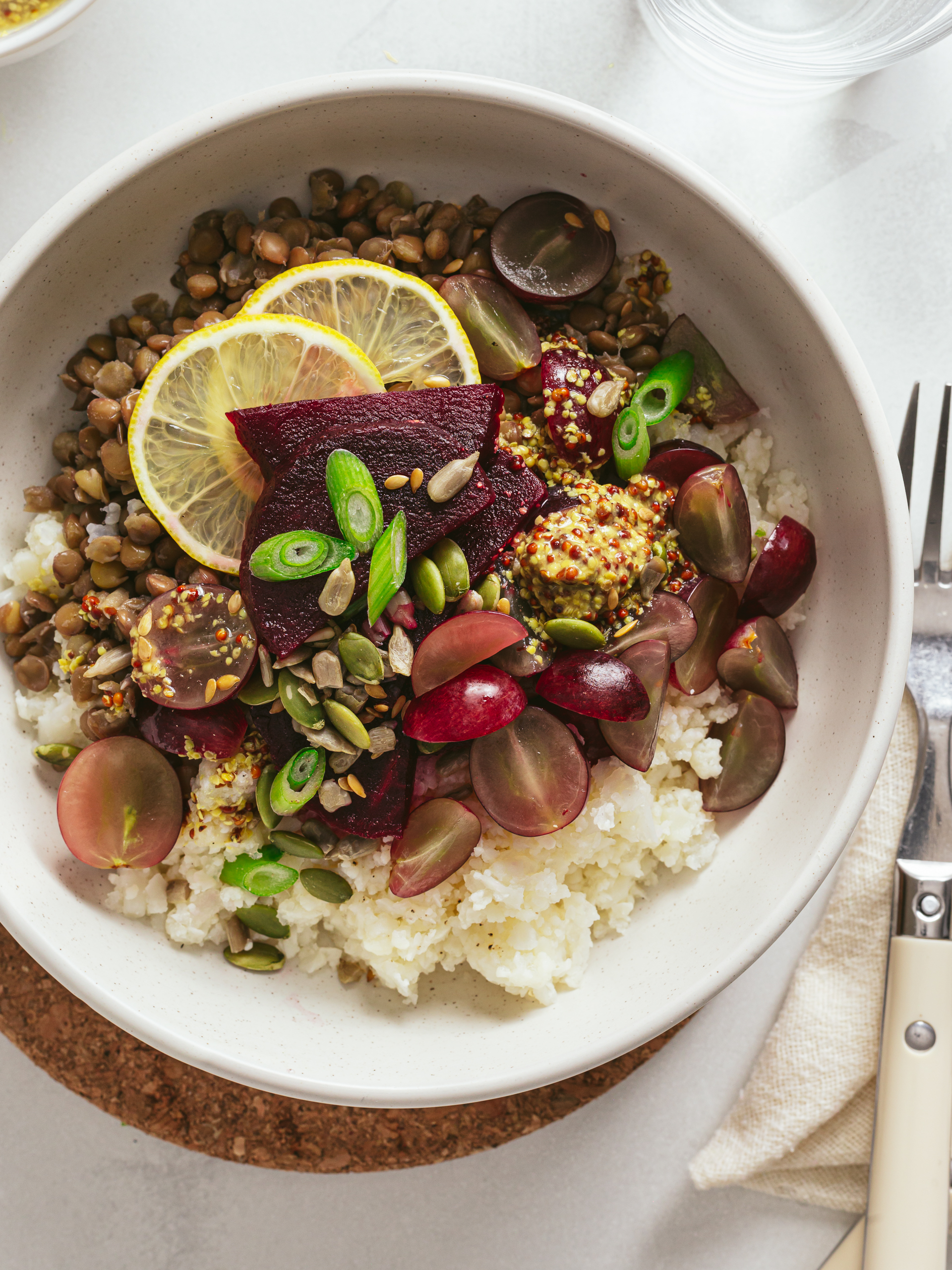 Tips
Instead of a grater, you can use a food processor to make the cauliflower rice. Simply add the florets to your blender and pulse them in 4-5 short bursts until ground into rice-like bits.