Today we'll show you how to make a wholesome green smoothie with ingredients that are often used in Japanese cuisine. We will use matcha, kiwi, pear, spinach, and soy yoghurt.
Kiwis, although they take their name from the New Zealand flightless bird, are actually a native Asian fruit and frequently used in Japanese dishes[1]. We love them because they are naturally sweet, they have a marvellous green tone, and they have plenty of health benefits[2].
To keep carbs in control, we opted for yoghurt instead of bananas as a base for our smoothie. And to keep the recipe vegan, we used soy yoghurt. A good non-vegan alternative that will give this drink an even stronger boost of proteins is greek yoghurt.
Then there's matcha. Our beloved matcha. We rave about it whenever we can, and Marta wrote a very in-depth article explaining the benefits of matcha's vs coffee's caffeine.
Finally, we used pears and spinach. Spinach is so ridiculously healthy we should be eating it in our sleep. Pears are naturally sweet and delicious. Both are much loved in Japan, although their pear variety (Nashi) is a bit different from the Western ones (Yonashi).
Put all these gorgeous ingredients together for a glass of pure raw health. Here is a quick nutritional profile summary.
A glass of this smoothie will give you 177 calories, 28% RDI of fibres, 18% RDI of proteins, and only 8% RDI of carbs.
It's also packed with vitamin C and iron, thanks to the combo kiwi-spinach, which also features in our ultimate iron smoothie recipe. Awesome!
Frequently Asked Questions
How to use matcha green tea powder in smoothies?

Adding matcha powder to smoothies is a great way to give them a strong energy boost. Matcha is, after all, an excellent stimulant, with much better properties than coffee. But how do you add the powder to smoothies?

You can either add as it is or brew it first. The method you use will depend on the ingredients in your smoothie.

If your smoothie consists of "dry", non-juicy ingredients, like spinach, apples, or pears, you'll need to add some liquids to get a creamy drink. You would usually use some form of milk here or even water for a lighter smoothie.

What you can do instead is make matcha tea, (or matcha latte), cool it in the fridge, and then add it to the smoothie. Brewing matcha is great because the heat will help the powder release more of its beneficial properties.

If your smoothie recipe uses creamy ingredients instead (like banana, or yogurt) adding matcha tea or latte will likely over-dilute the smoothie. What you can do here is use the powder as is — just add it to the blender and blitz extra well.
How to remove bits from smoothies without a centrifuge?

Do you get lots of bits in your smoothie? This problem arises when making smoothies with dry and fibrous ingredients, like pears or spinach. If your blender is not strong enough, it may struggle to make a creamy smoothie and leave you with lots of bits.

First of all, there's nothing wrong with those bits. They are the fibrous part of the veggies and fruits, and they contain most of the nutrients that are good for you.

But if you want to get a creamier smoothie without buying a super-powerful blender or centrifuge, you can follow these two simple tips:

Add more liquids to your smoothie. The dry ingredients may get stuck on the side of your blender, making it hard for the blades to catch them. With more liquids, the ingredients flow around freely, and the blades can do their job better

You can turn any smoothie into a clear and bitless drink, without using a centrifuge. All you need is a cheesecloth, but any thin piece of fabric will do. Pour the smoothie into the cheesecloth and squeeze the clear liquid out. You'll get a beautiful clear drink, but you'll lose all the good fibres. Not good! To mitigate this, take the pulp and lay it flat over a baking tray. Cook it a low temperature in the oven until it dries out. Then add it to yogurts as granola.
What other ingredients can I use to make a Japanese-style smoothie?

Our smoothie recipe above contains kiwis, pears, spinach, and matcha. All these ingredients feature in many Japanese recipes and are a staple eat in Japan. Are you craving for more? Check out this list of foods you can use to make a Nippon smoothie:

Pitted cherries

Persimmon (Kaki)

Orange

Kumquat

Watermelon

Peach

Grapes

Check out our watermelon smoothie or grapes smoothie for inspiration!
Ingredients
| | |
| --- | --- |
| Ripe Pears | 1 |
| Fresh Spinach | 80 g |
| Ripe Kiwi Fruit | 2 |
| Soy Yogurt | 250 g |
| Matcha Powder | 1 tsp |
Step 1
Rinse well the pears and, keeping the skin on, core them and roughly chop them into chunks.
Then, add them to a food processor along with spinach and peeled kiwi, and give all a quick blitz.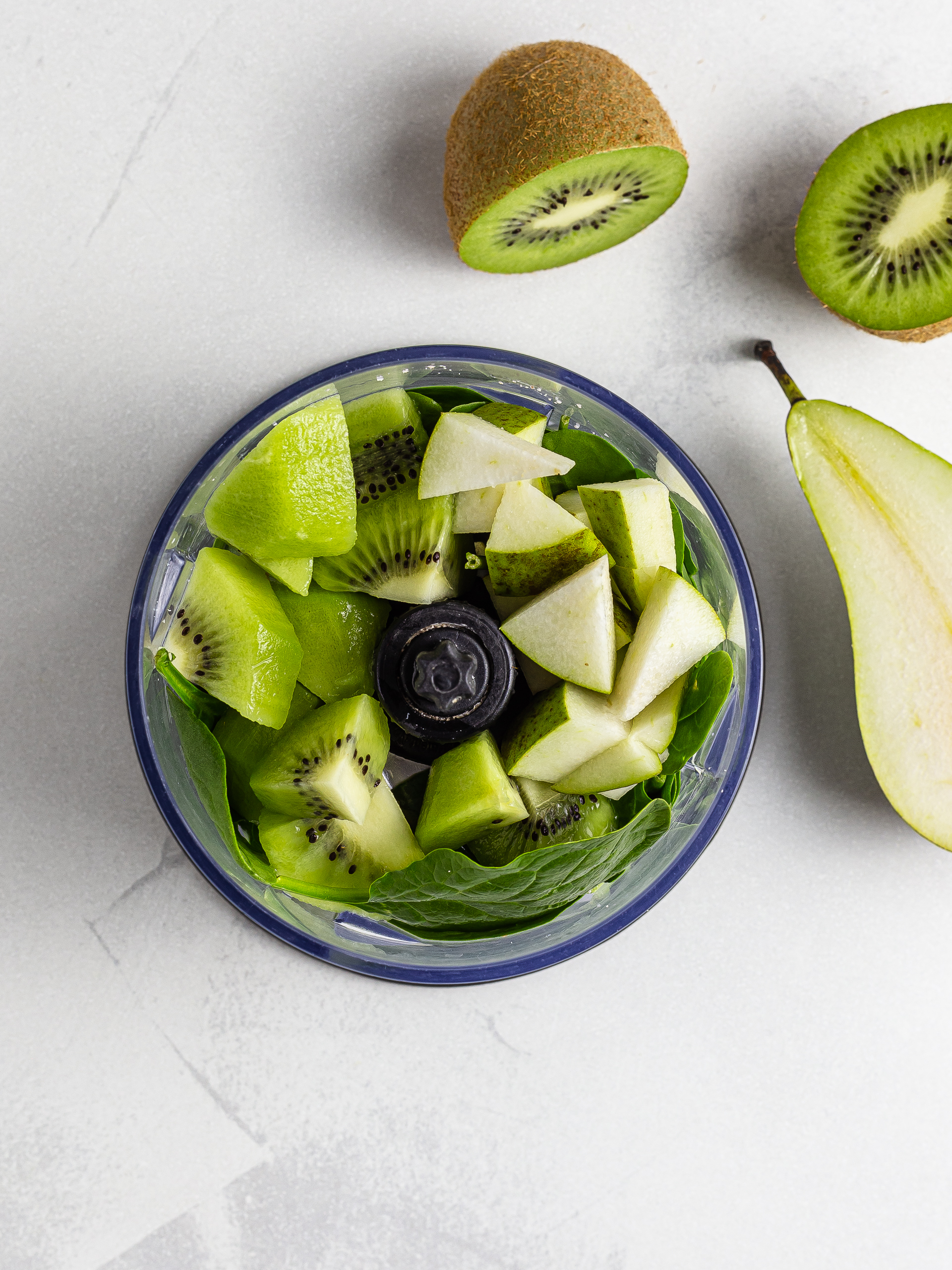 Step 2
Next, add the soy yogurt and matcha powder and blend the ingredients into a creamy smoothie.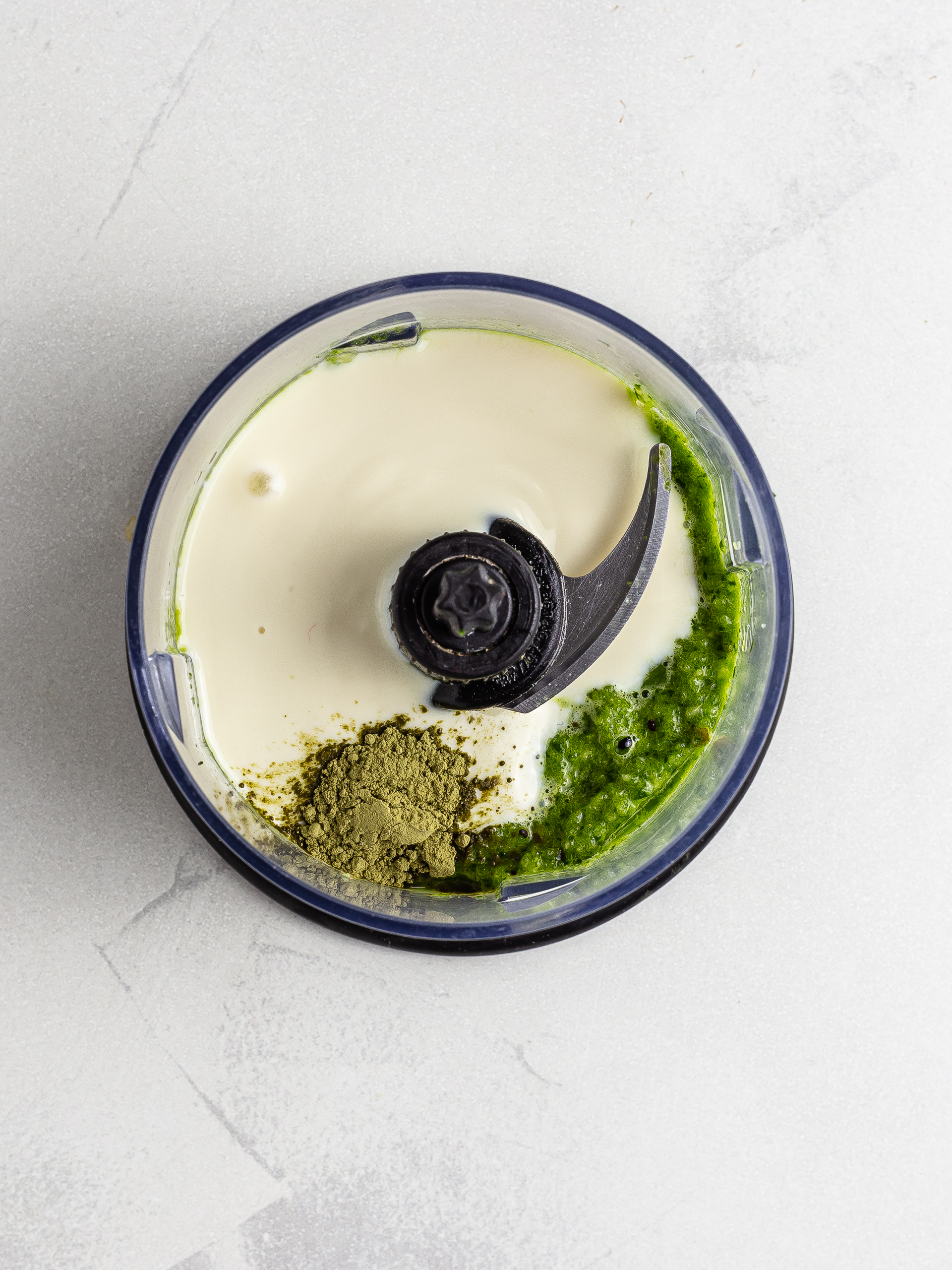 Step 3
Enjoy the smoothie right away or store in a tight seal bottle in the fridge for up to three days.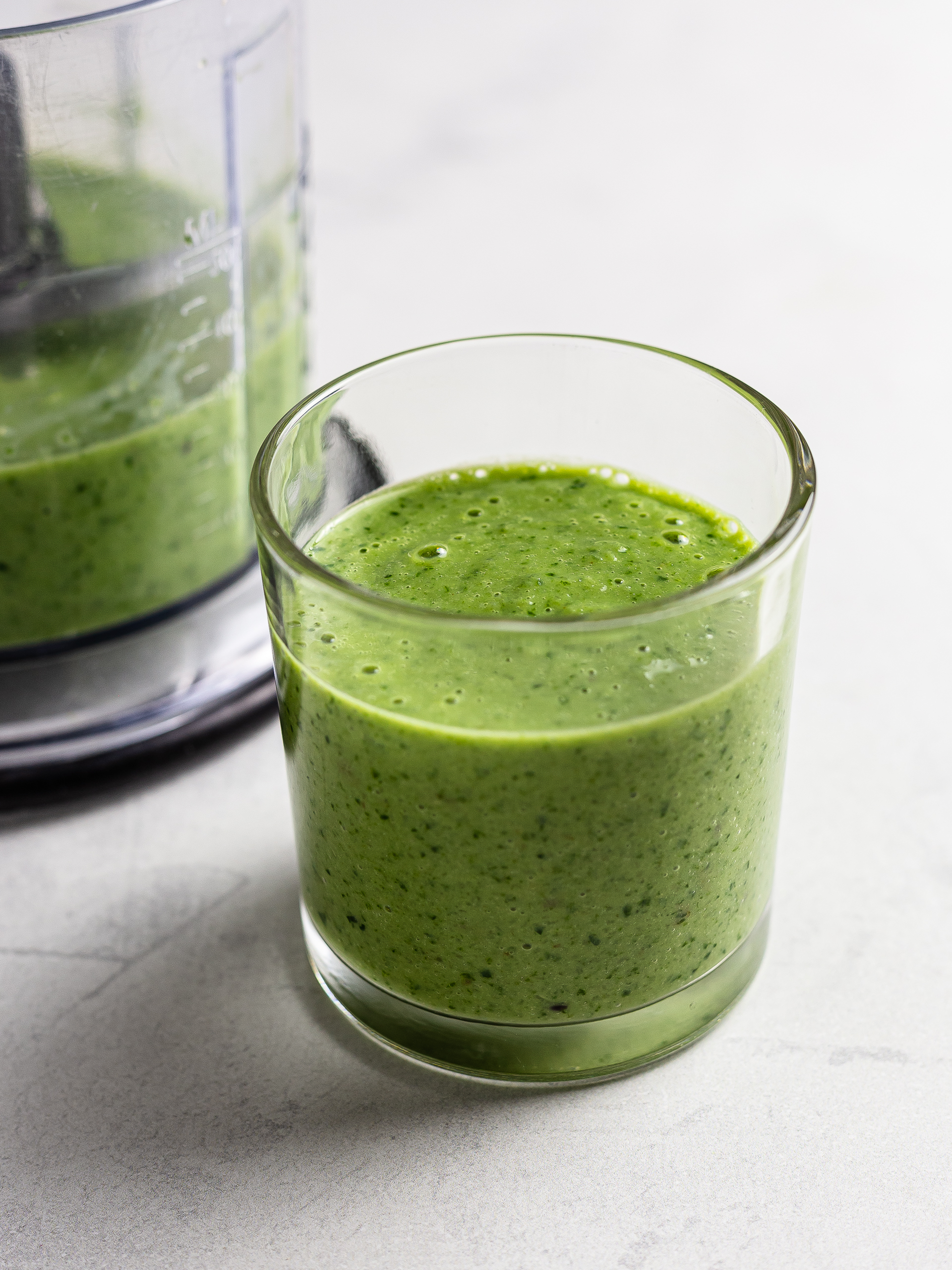 Tips
Add 1/2 tsp of spirulina powder for a deep green tone and a boost of nutrients and antioxidants.

You can swap pears with apples like granny smith or golden delicious, and spinach with other greens like kale or watercress.