Chicken nuggets! No, wait. Better than that. Vegan Lentil Nuggets! Yay! These tiny bites are super crunchy, super healthy, and a breeze to make. Inside there are just a handful of simple, plant-based ingredients: lentils, spinach, tofu, and panko breadcrumbs.
We wanted to give you a good tasting vegan nugget that could stand up to the classic crispy snack. To do that, we thought the texture was going to be important. So we tuned the ingredients until we got that firm-to-the-bite consistency you get from traditional nuggets.
Then we thought, what's the point of eating vegan food if it's not super healthy? We oven-baked these veggie nuggets instead of frying them, and we cut out all unnecessary fats to make them as lean as possible.
Good nuggets, vegan or otherwise, need a dipping sauce. A good one. If you have a favourite one in mind, go for that! If not, here are some of our sauce recipes we think you'd like:
Apart from having a cute green heart, these lentil nuggets will give you a good chunk of the nutrients you need from a balanced meal. That's because they have carbs, proteins, fibres and vitamins—all from plant-based sources. You can check the nutrition tab above to discover more, or jump right below and start having some fun!
The default ingredients make 12 nuggets and each patty has 110 calories. As a serving suggestion, we recommend three nuggets per person.
Frequently Asked Questions
How can I make these nuggets gluten-free?

Although we used flour and breadcrumbs in this lentil nuggets recipe, you can also make it gluten-free if you like.

To do so, swap the wholemeal flour used in the filling with a no-gluten alternative such as oat, almond, or coconut flour, or cornmeal.

For the gluten-free coating instead, make a batter using flaxseeds and water. Mix 20g (0.7 oz) of ground flaxseeds and 50ml (1.76 fl oz) of water and leave them to soak for 10 minutes in the fridge. The seeds will form a thick, gel-like mixture, called "flax-egg".

Finally, swap classic breadcrumbs with the gluten-free alternative or make a delicious low-carb "breadcrumb" mix with nuts and seeds. Blitz almonds and pumpkin seeds in a food processor until finely ground and use them to coat the nuggets.

For more tips, check out our gluten-free seafood arancini recipe.
Can I make nuggets without oil?

Absolutely! Instead of deep-frying the nuggets, you can bake them in the oven at 220°C (425°F) for 30 minutes, flipping them halfway through baking time. For an extra crunchy result, lightly brush the baking tray with vegetable oil.

Alternatively, you can cook the nuggets in the air-fryer. It will make them incredibly crispy in half the time, no oil required.
Can I freeze these nuggets?

Although they're best enjoyed right away, you can also freeze these nuggets.

Transfer any uncooked or cooked lentil patties in a freezer-friendly container and store them for up to three months.

When you're ready to have them, transfer the frozen nuggets onto a baking tray and cook them until they are hot and crispy.

To bring back some of the crunchiness, you can brush them with some vegetable oil before placing them in the oven.
Ingredients
Coating
Water

60 mL

White Flour

50 g

Panko Breadcrumbs

120 g

Paprika

1 tsp

Filling
Brown Lentils (canned/cooked)

200 g

Firm Tofu

150 g

Medium Red Onion

1/2

Garlic Clove

1

Fresh Spinach

80 g

Wholemeal Flour

100 g

Chilli Flakes

1 tsp
Step 1
Drain well the green lentils and tightly squeeze the tofu block to remove excess water.
Then, transfer the lentils and tofu to a food processor along with onions, garlic, and fresh spinach. Blitz all into a smooth paste.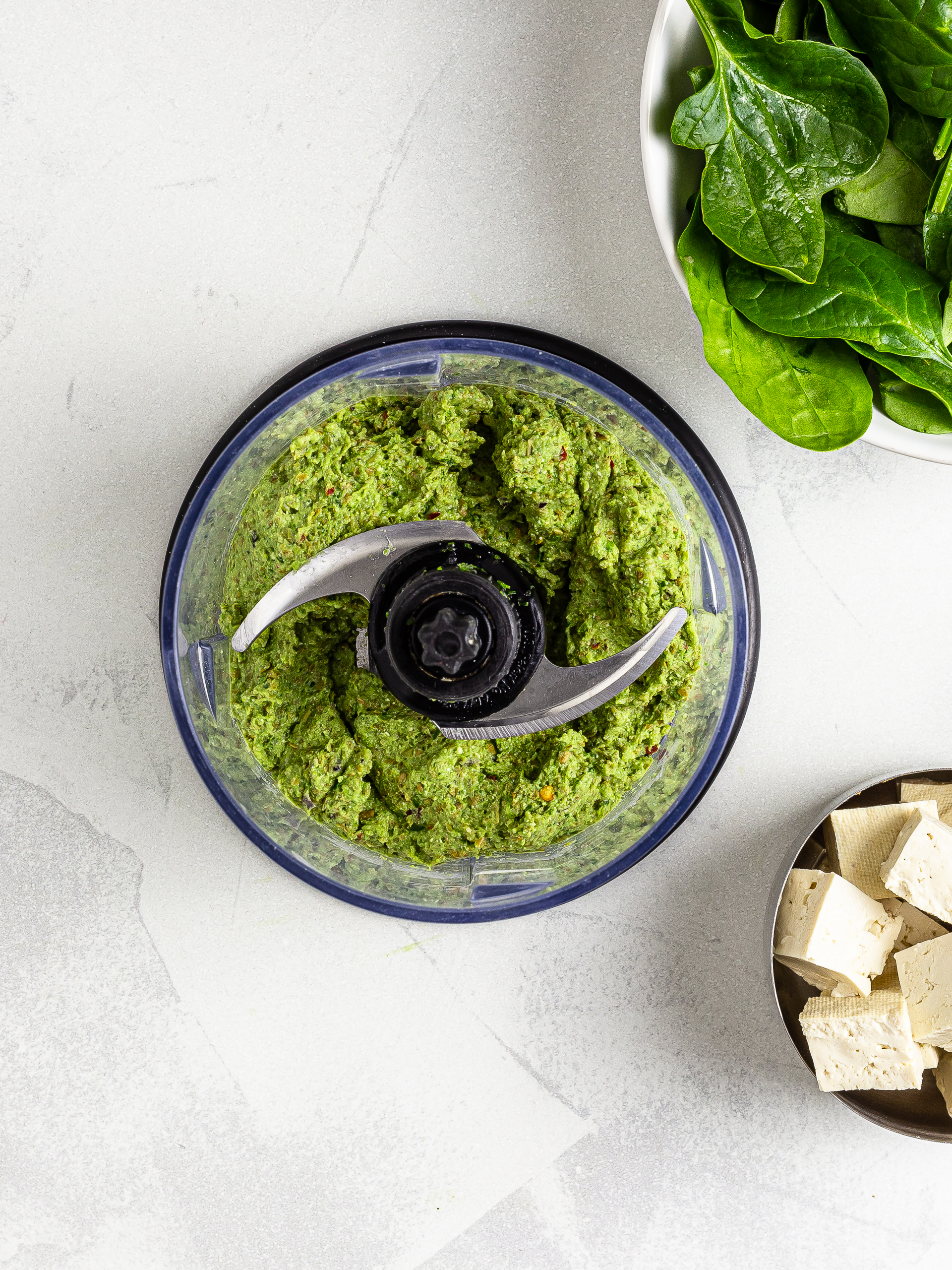 Step 2
Next, transfer the lentil mix to a bowl and tip in the wholemeal flour, chilli flakes, and a few pinches of salt.
Combine the ingredients until they come together into a compact and pliable dough.
When pressed together, the dough should hold its shape. If instead, it's too dry and crumbly, add a splash of water, or if too sticky, tip in some flour and mix again.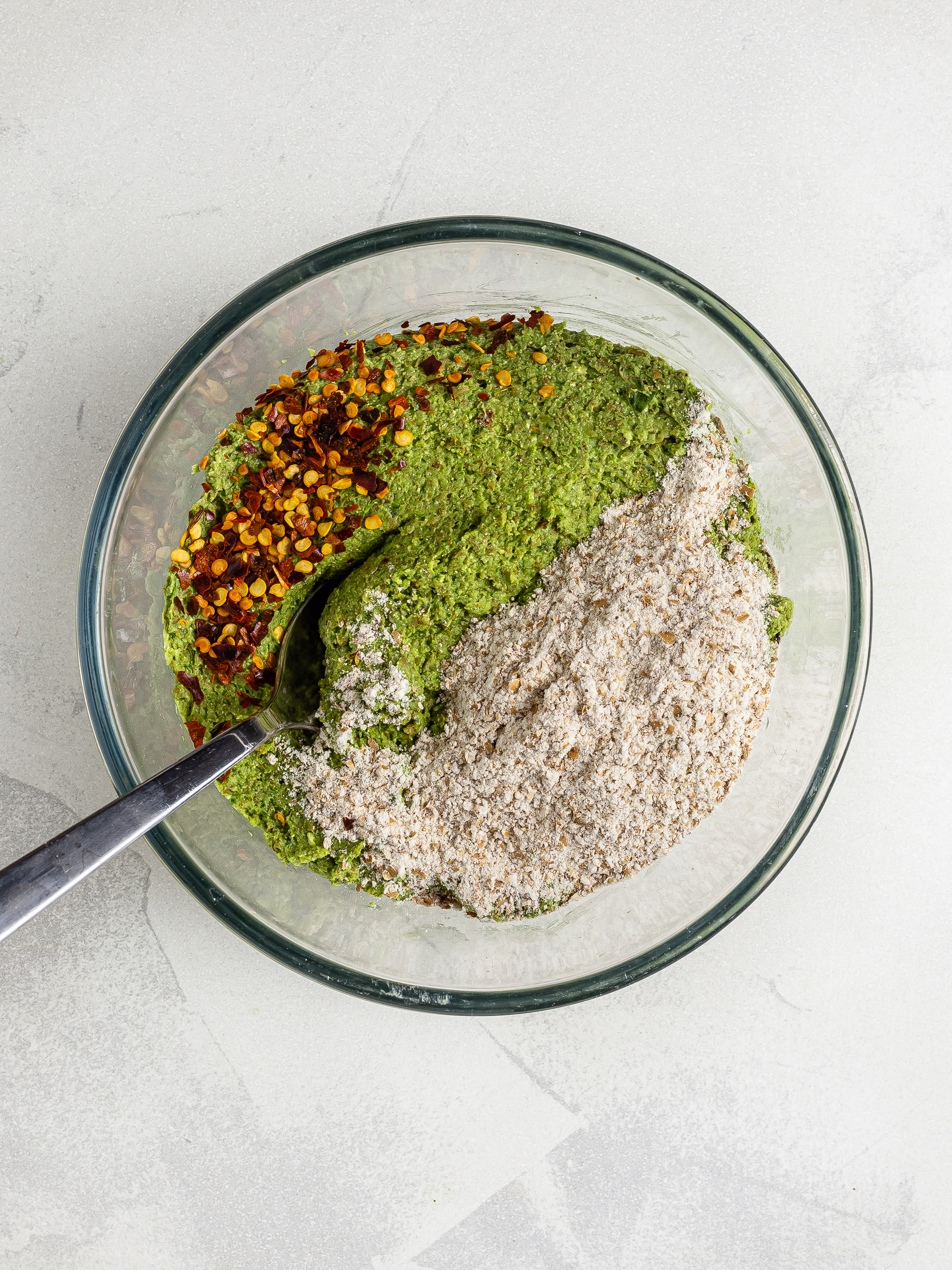 Step 3
To shape each nugget, pinch off about 45g (1.5oz) of dough, roll it into a ball, and then flatten it in between your palms.
Repeat this step until you have used all the lentil mixture and then keep the patties in the fridge while you prepare the coating.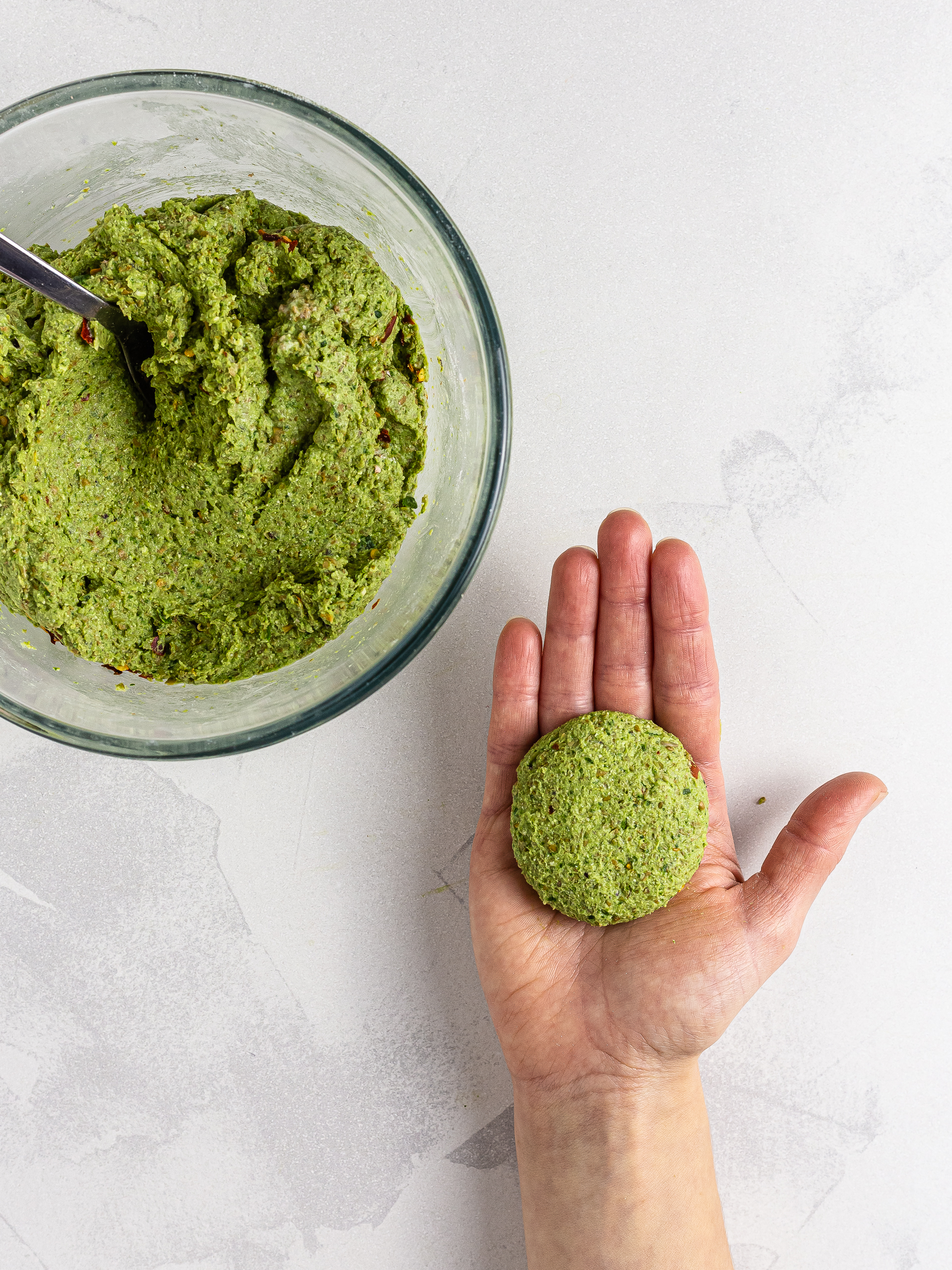 Step 4
Combine the water with white flour in a bowl into a smooth and dense batter.
In another bowl, mix the panko breadcrumbs with paprika, black pepper, and salt.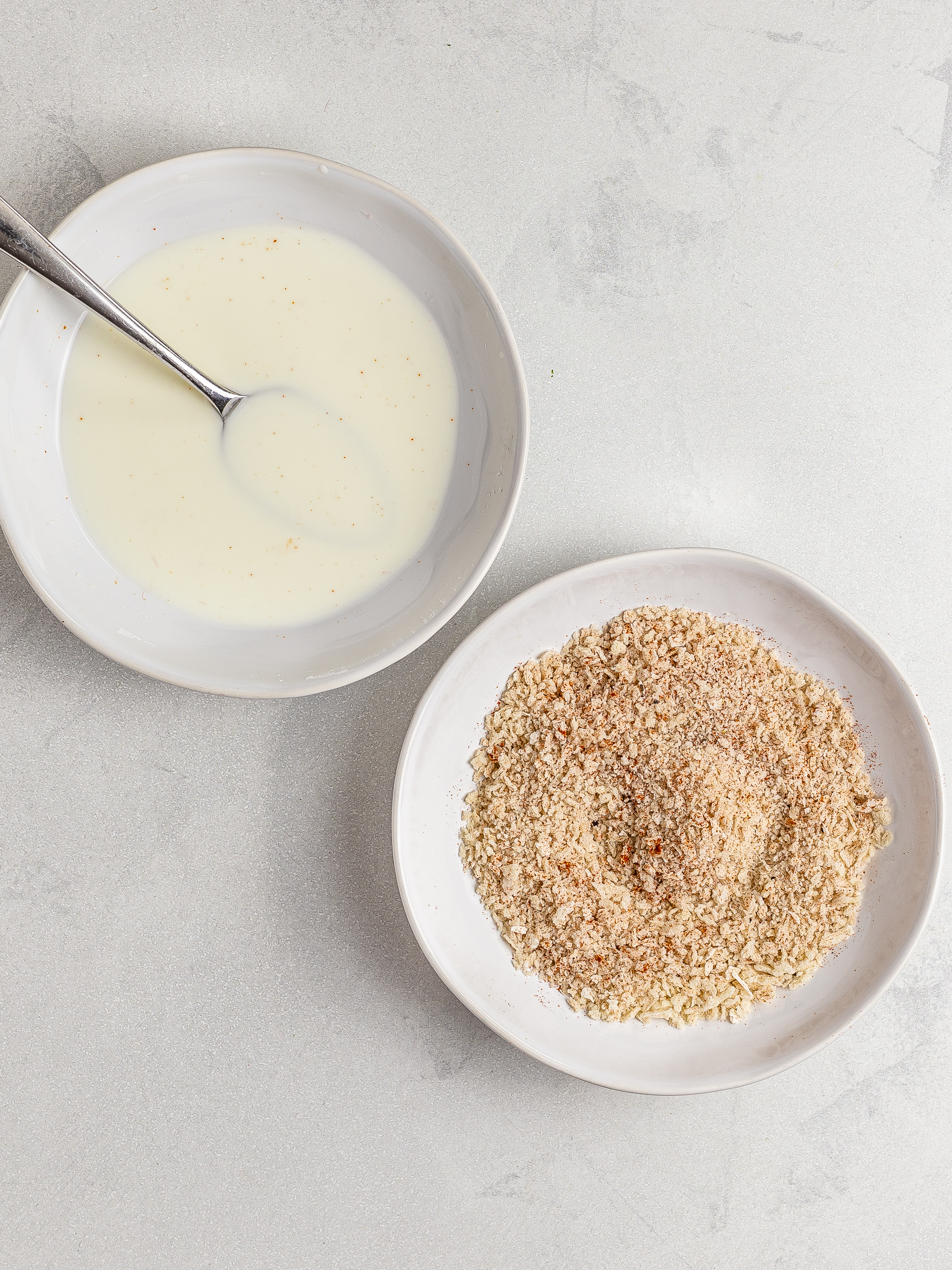 Step 5
Now, dip each nugget in the liquid batter and then roll it in the breadcrumbs mix until it's evenly coated.
Repeat this step until you have coated all the patties.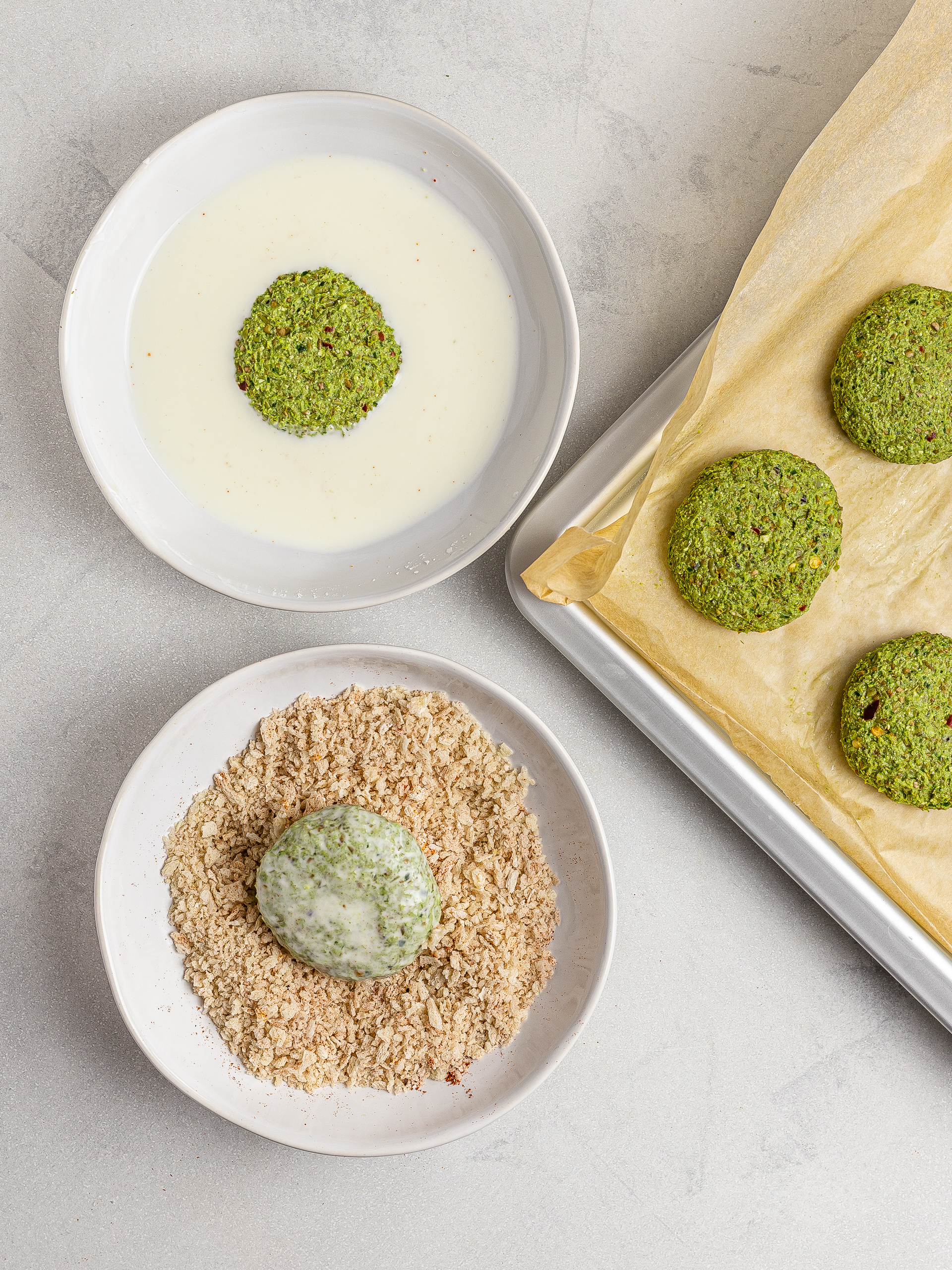 Step 6
Transfer the nuggets onto a baking tray lined with parchment paper.
You can optionally brush the base of each patty with vegetable oil for extra crispiness.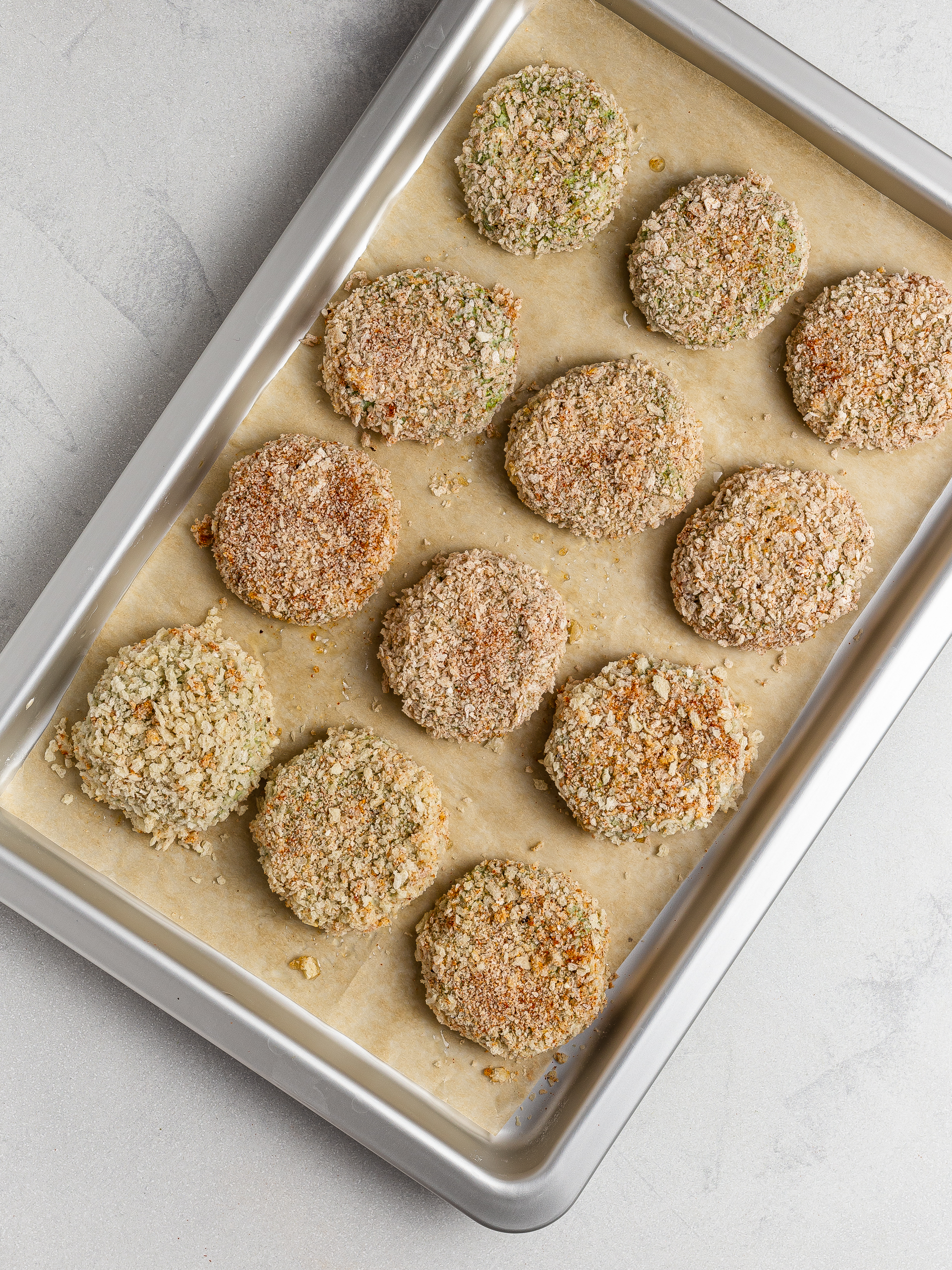 Step 7
Finally, bake the spinach lentil nuggets for 30 minutes at 220°C (425°F) for static ovens or at 200°C (390°F) for fan ovens.
Flip them halfway through cooking time to make sure they get crispy on both sides.
Once ready, transfer them onto a wire rack to keep them from getting soggy.
Tips
You can spice up these nuggets even more with cayenne pepper, turmeric, and cumin seeds.