Love matcha? Love muffins? You're in luck! Today we'll show you how to make vegan matcha muffins with raspberries. The recipe is super simple and stress-free, ready in only 35 minutes!
To make our green tea muffins super healthy, we prepared them with no butter, no eggs, and no refined sugars. Instead, we used only wholesome plant-based ingredients. We replaced butter with a little bit of oil, used dairy-free yoghurt instead of eggs, and maple syrup instead of white sugar.
To give a little boost of fibres to these matcha muffins, we used wholemeal flour instead of plain flour. If you have been with us for a while now, you know how much we love designing recipes rich in fibres. Fibre-rich foods are extremely beneficial to your health, whether you are on a weight-loss diet, weight-management program, and even if you have diabetes.
But of all the things you could put in a muffin, why green tea powder? Excellent question! Think of matcha powder as a healthy replacement for coffee. Just like coffee, matcha will boost you with energy. But instead of causing stress, it induces a calm sense of focus. In short, matcha wakes you up without stressing you out. Remarkable, right? You can learn about what makes matcha so special here.
So thanks to the power of matcha, these vegan muffins become a nutritious and portable energy bite that you can take with you during the day.
A generous muffin will give you 245 calories, 20% RDI of fibres, and only 4% RDI of saturated fats. Plus you'll get all the amazing antioxidants of matcha[1]. An excellent start to a healthy day!
And if you'd like to try more matcha bake ideas next, check out these matcha chocolate chip cookies, matcha sponge cake, and mochi flour matcha cookies!
Frequently Asked Questions
How can I make these muffins gluten-free?

To make these vegan matcha muffins also gluten-free, you will have to replace wheat flour with a suitable alternative. Good options are almond flour, coconut flour, or oat flour/oatmeal.

We have a few gluten-free muffins and cupcakes recipes — tried and tested. Here are three of them:
Can I make muffins without oil?

When making vegan muffins, we can't rely on the binding properties of butter and eggs. Using vegetable oil is a simple solution, but it's not the only one.

Here are a few alternatives to oil you can use in these vegan matcha muffins, with related recipes as an example:
What can I use instead of maple syrup?

We used maple syrup in our matcha muffins as a replacement to refined sugars. We recommend you use some form of sweetener in this recipe, as matcha is quite bitter.

If you don't want to use maple syrup, you could use honey.

Note about honey: most vegans don't consider honey suitable for the vegan diet, as it is an animal by-product. We think honey is amazing and essential to keep nature (and therefore all of us) alive. The more bees out there, the better. But for the sake of inclusion and strictness on Foodaciously, we don't classify our recipes that use honey as vegan.

Alternatively, you can use our favourite keto sweetener: erythritol. Replace the maple syrup in our recipe with 150g (5.3 oz) of erythritol. Use more milk if you feel the dough is too hard.

Using ripe bananas is another way to add natural sweetness to sugar-free muffins.

Finally, you could go back to use regular sugar. We don't recommend it, as refined sugars are bad for you. But if you are out of options and are usually diligent with your sugar consumption, you can make this recipe replacing the 80g (2.8 oz) of maple syrup with 100 g (3.5 oz) of sugar and an additional 1 tbsp of almond milk.
Ingredients
| | |
| --- | --- |
| Wholemeal Flour | 280 g |
| Starch (Potato or Corn) | 20 g |
| Baking Powder | 10 g |
| Baking Soda | 1/4 tsp |
| Matcha Powder | 10 g |
| Soy Yogurt | 180 g |
| Almond Milk | 150 mL |
| Maple Syrup | 80 g |
| Canola Oil | 70 mL |
| Raspberries | 100 g |
Step 1
In a mixing bowl, combine wholemeal flour with sifted starch, baking powder, baking soda, and matcha powder.
Give all a good stir to make sure the baking powder is well distributed.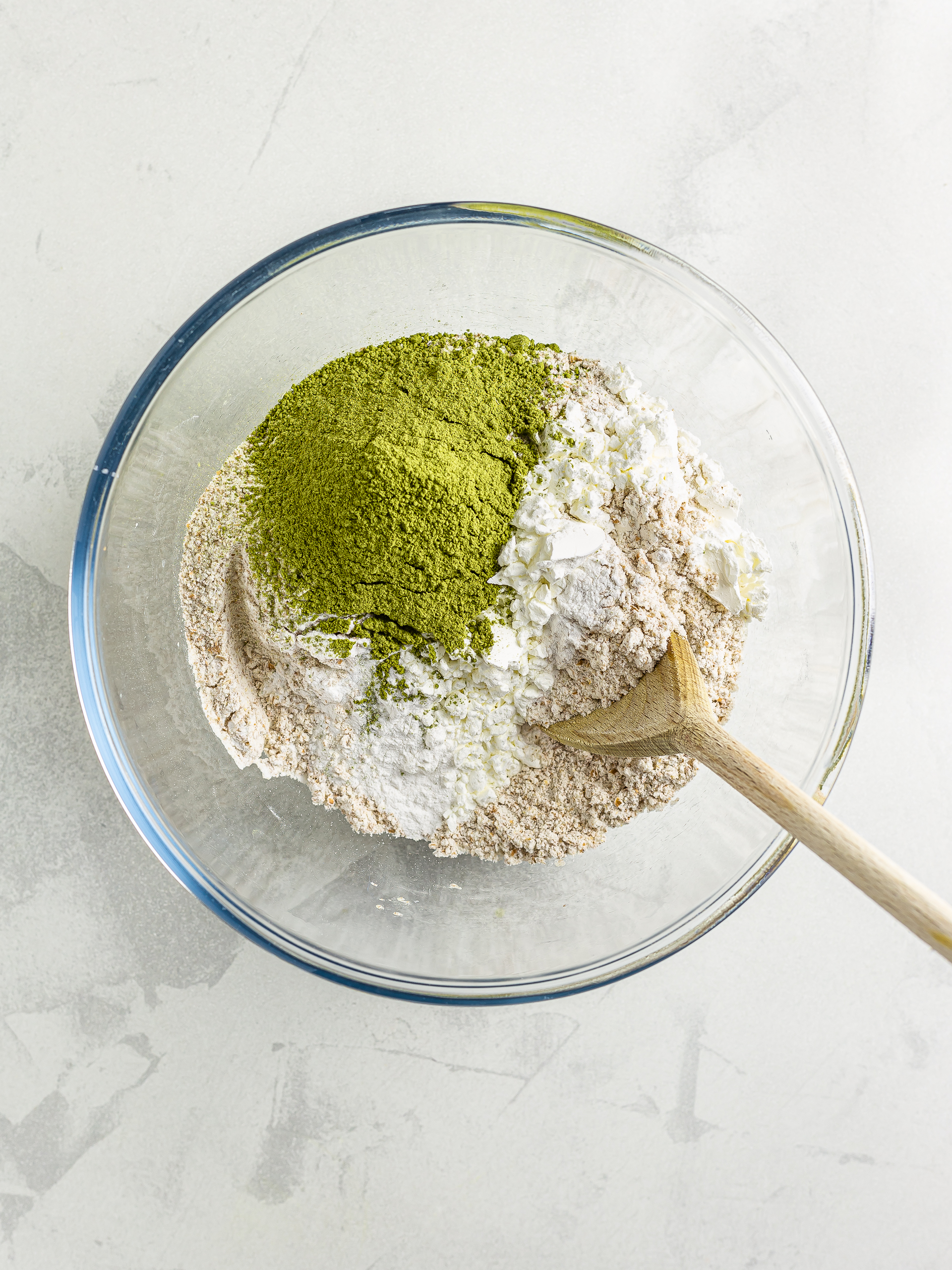 Step 2
Then, incorporate the soy yogurt, almond milk, maple syrup, and canola oil.
Work the ingredients until they come together into a smooth, slightly runny batter.
You can use a stand or hand mixer, or just a wooden spoon to mix the muffin batter.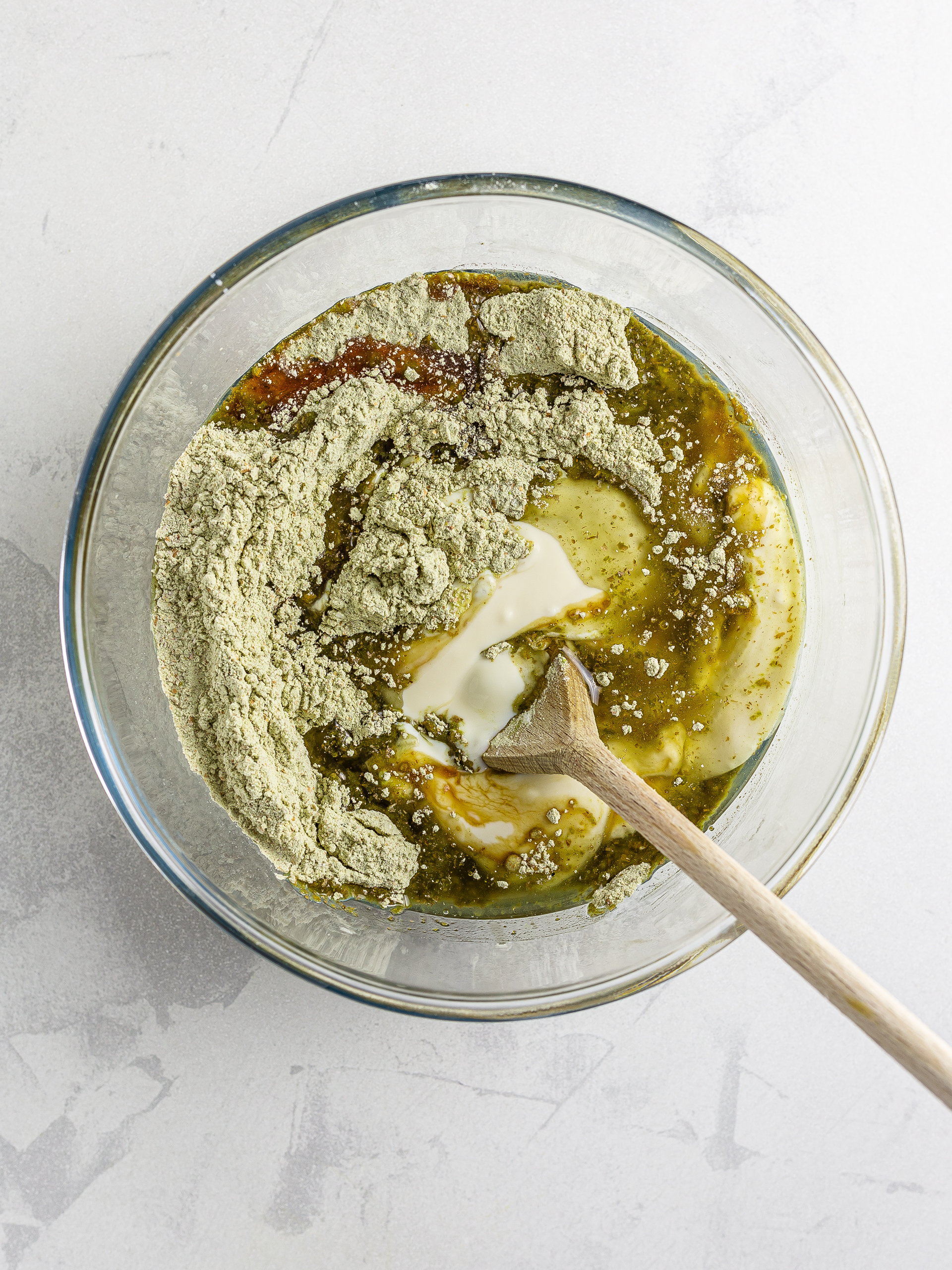 Step 3
Now, grease a muffin tray with a little vegetable oil or line it with muffin cases.
Then, pour the green tea batter into each case or tray cup, filling it to the top.
Garnish each muffin with whole raspberries, rinsed and patted dry.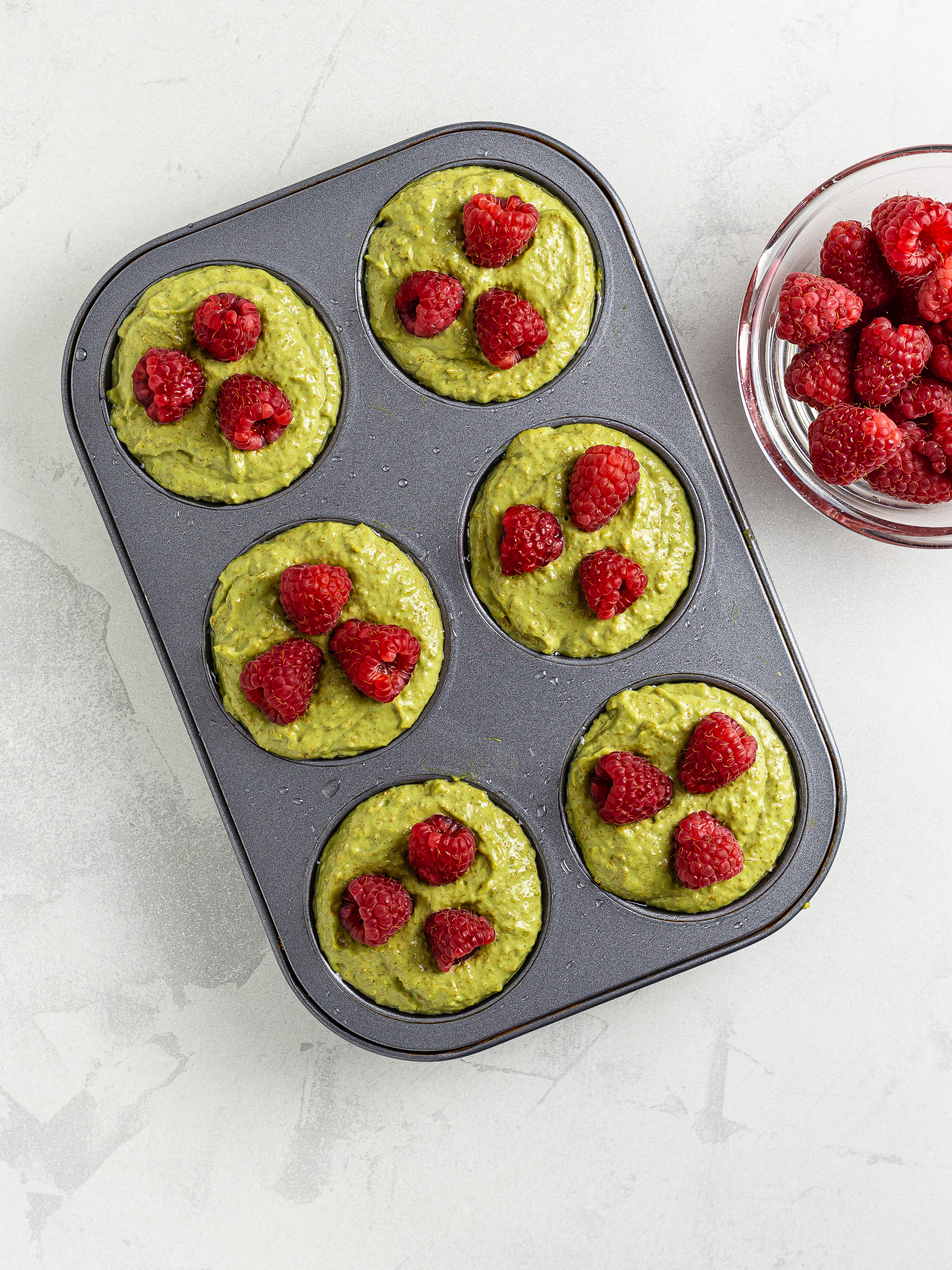 Step 4
Bake the matcha muffins for 25 min at 200°C (390°F) for static ovens or at 180°C (355°F) for fan ovens.
At the end of the cooking time, check if the muffins are ready by inserting a skewer in the centre. If it comes out clean, remove them from the oven, or if not, keep baking them for 5 more minutes and check again.
Finally, transfer the muffins onto a wire rack and leave them to cool down completely before serving.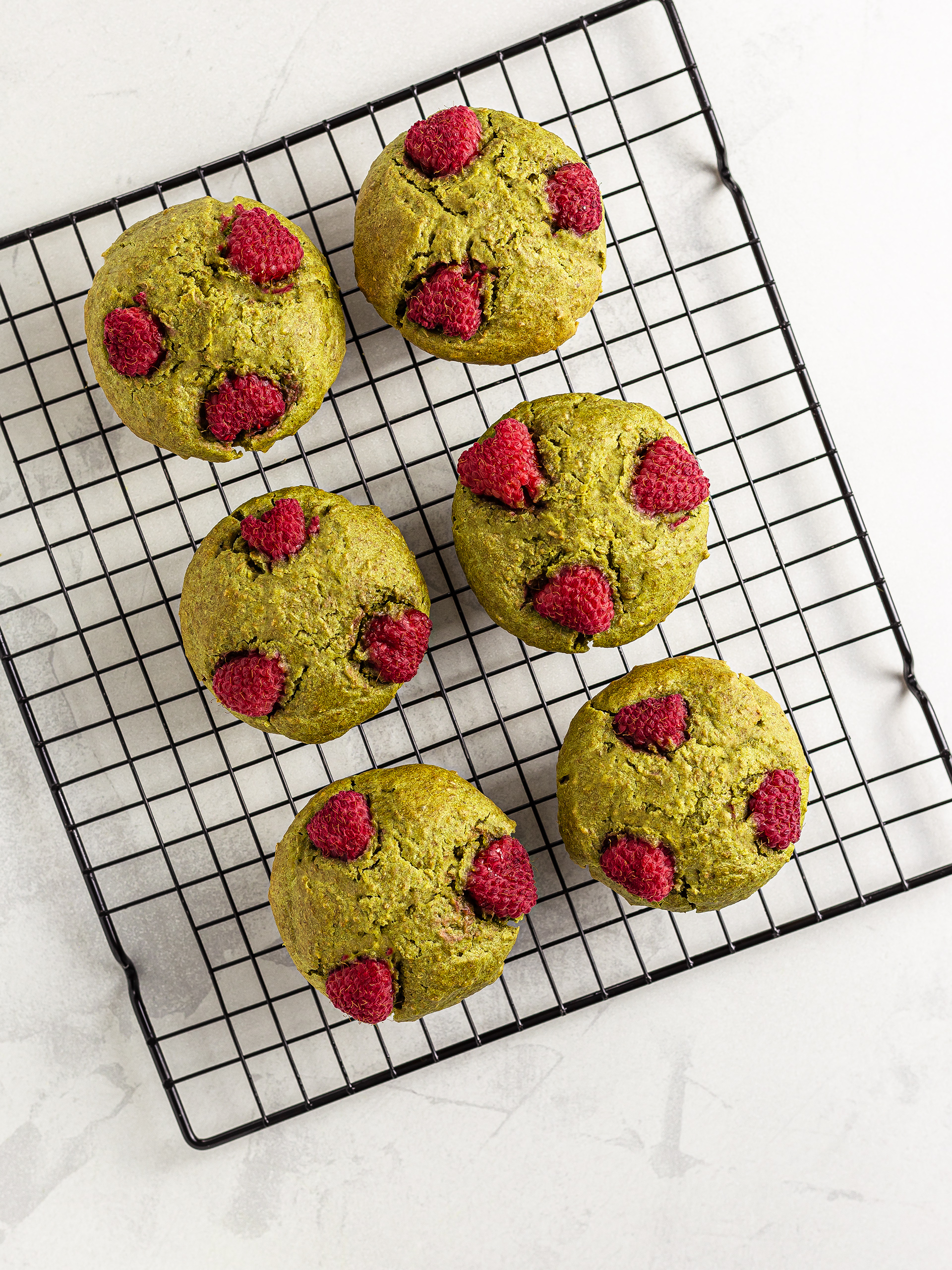 Tips
You can use frozen raspberries if you like. There's no need to thaw them, simply add them to the matcha batter or use them to garnish the muffins before baking.

If you're allergic to soy, you can swap soy yogurt with coconut or almond milk yogurt.

We used almond milk, but you can choose any plant-based milk you like, like soy, oat, hemp, or coconut.

Store these vegan muffins in an airtight container for up to 4 days.