Not everyone knows that fish cakes date back to ancient Chinese folktales thousands of years ago. Now they are well known worldwide and enjoyed in many regional variations. What we love about them is that they have a crisp and crumb texture and a soft heart.
In this recipe, we propose a healthy variation, where we bake the fish cakes in the oven instead of frying them. Moreover, we used a gluten-free and egg-free coating, so that those with food allergies can also enjoy these oven-baked fish cakes.
The coating consists of a mix of nuts and seeds, potato starch, and cornflour. As an egg replacement, we used flaxseeds mixed with water. If you don't have gluten or egg intolerance, feel free to replace these ingredients with eggs and breadcrumbs.
The result is pretty satisfying, as these gluten-free fish cakes are loaded with proteins, and have very little saturated fats. Imagine that a single patty will have around 35% of your RDI for proteins!
Ready in only 45 minutes, these fish cakes make a great main for your family when paired with oven-baked potatoes. They are also the ideal party snack, tasty both hot and cold, and suitable for people on a diet or folks with most food allergies.
Frequently Asked Questions
How to make keto fish cakes?

To make these fish cakes keto, we have to modify the ingredient list and get rid of excess carbs.

The biggest carbs-source in the recipe are potatoes. We use potatoes mixed with fish to get a compact and creamy patty. We can achieve the same using a keto-friendly ingredient, like cream cheese. To do this, swap all the potatoes with 1/3 the amount of cream cheese. So if the recipe calls for 100 g of potatoes, use around 30 g of cream cheese.

The next source of carbs is cornmeal and potato starch. You can get rid of cornmeal by using more of the nuts and seeds mix, and replace potato starch for arrowroot starch. The latter starch has more than six times fewer carbs than potato starch.

The second requirement of keto recipes is the abundancy of fats, possibly unsaturated. Our gluten-free fish cakes are an excellent source of healthy fats, given both by the fish and the nuts and seeds mix. So nothing to do here.
What can I serve this fish cakes with?

Thanks to the delicate flavour of fish, you can pair these crispy patties with a variety of side dishes. Oven-baked potatoes are an obvious choice, but there's more.

Here is a list of dishes and recipes that you can serve fish cakes with:
Ingredients
Coating
Ground Flaxseeds

10 g

Water

30 mL

Cornmeal

45 g

Almonds

40 g

Pumpkin Seeds

30 g

Potato Starch

20 g

Fish Cakes
Potatoes

380 g

Cod

300 g

Soy Milk

120 mL

Bay Leaves (optional)

2

Fresh Parsley

2 tbsp

Lemon

1
Step 1
Add peeled and diced potatoes to a saucepan and cover with water. Bring to a boil and simmer for 10 minutes (1). When the potatoes can be easily poked through with a fork, drain them and set aside.
Meanwhile, cook the cod fillets in a skillet with soy milk and bay leaves until soft (2). Then, remove the fish draining any excess liquid and set it aside.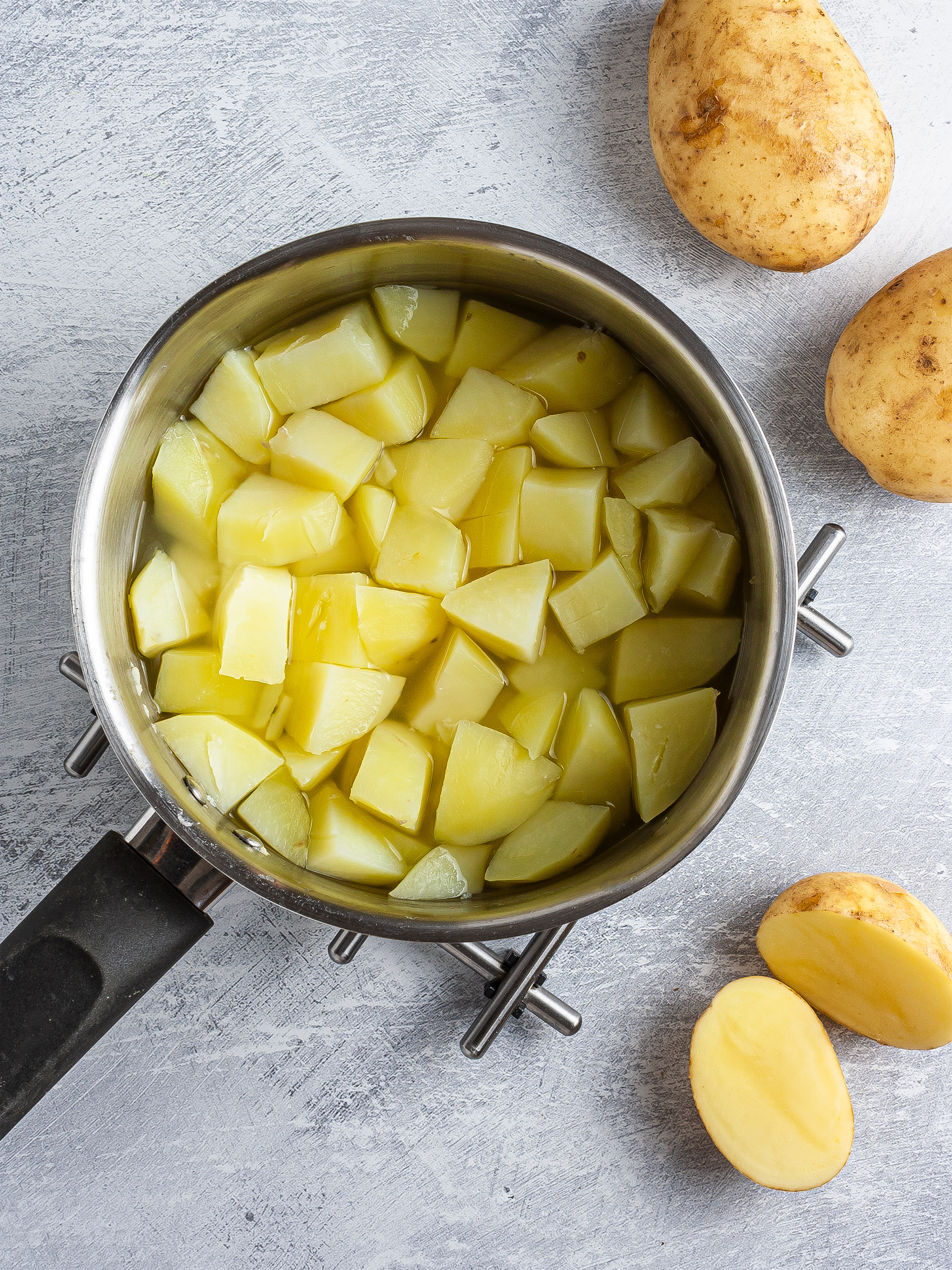 1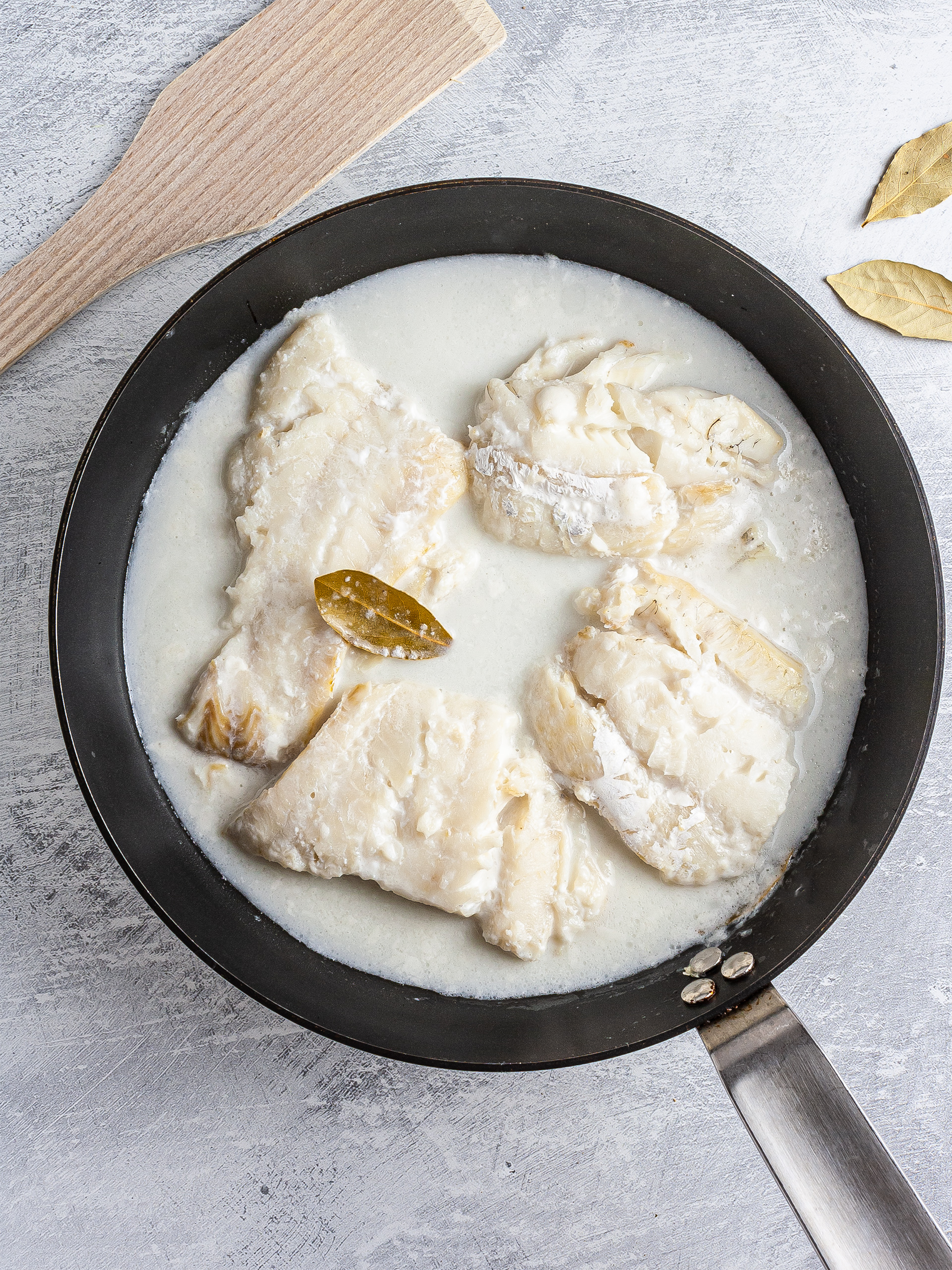 2
Step 2
In a mixing bowl, combine the cooked potatoes and white fish with lemon zest and parsley.
Mash and flake the ingredients with a fork and then season with salt and pepper to taste.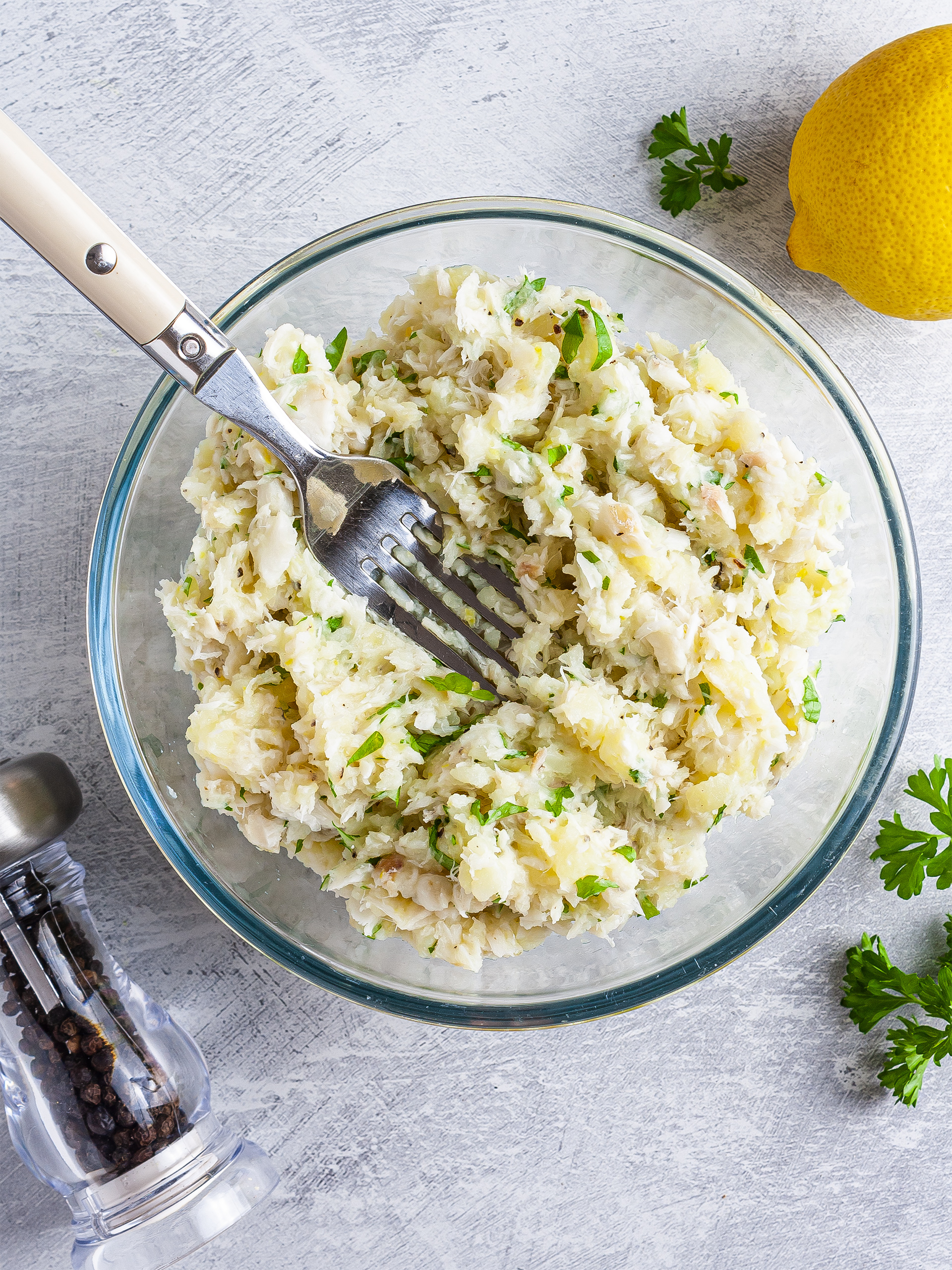 Step 3
Divide the fish mixture according to the number of servings and shape each portion into a cake.
Keep the potato patties in the fridge while you get the coating ingredients ready.
Step 4
Combine the ground flaxseeds with water to make a "flax-egg".
In a food processor, blitz the cornflour, almonds, and pumpkin seeds into a coarse mix.
Then, put the potato starch, flax-egg, and gluten-free crumbs into separate bowls.
Roll each fishcake first in the starch, then the flax mixture, and finally the ground nuts.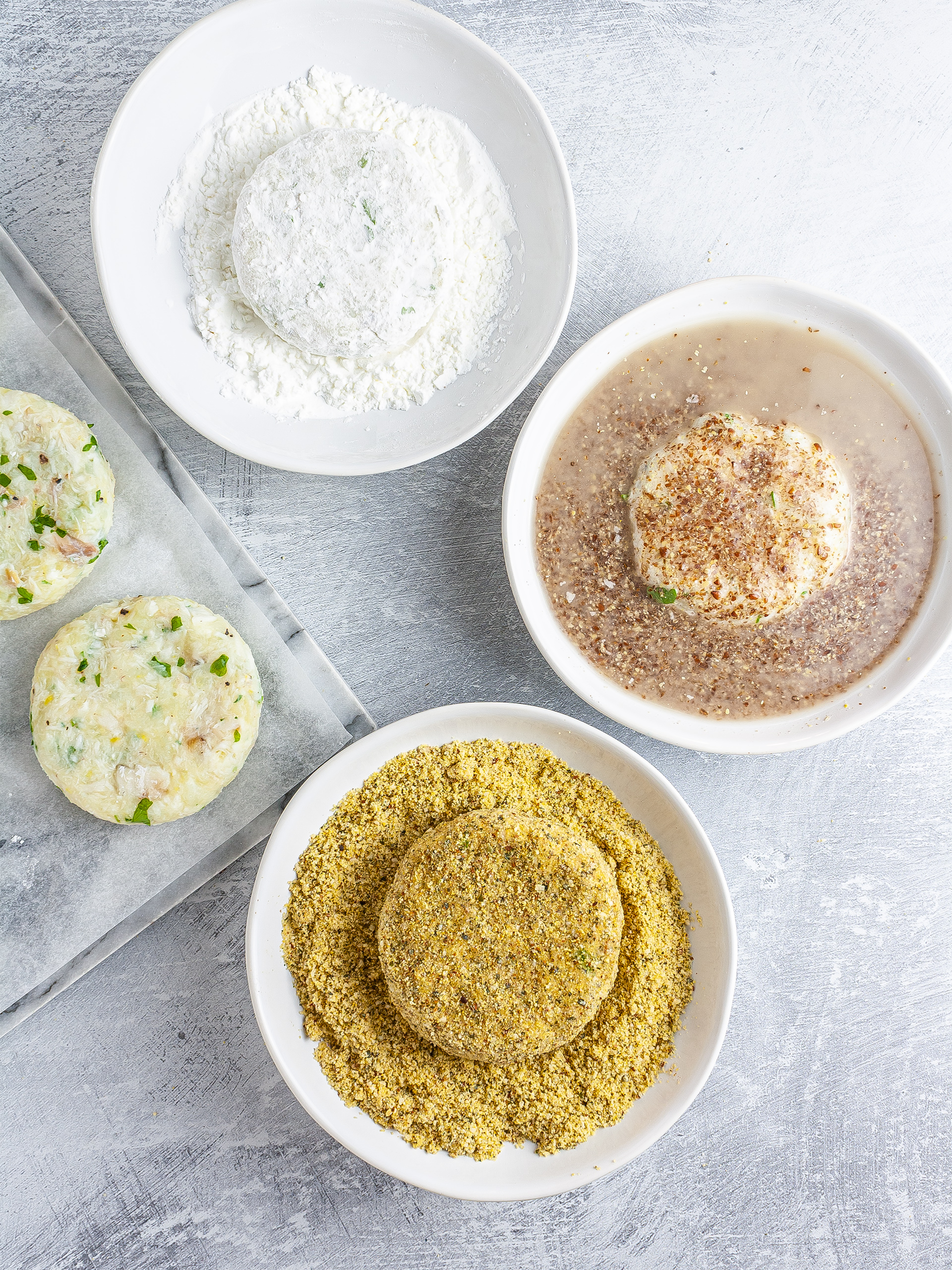 Step 5
Bake the coated fish cakes at 220°C (430°F) over a baking tray lined with parchment paper for 25 minutes or until crispy.
Serve with lemon wedges and a side salad, or check out our FAQ below for tasty ideas.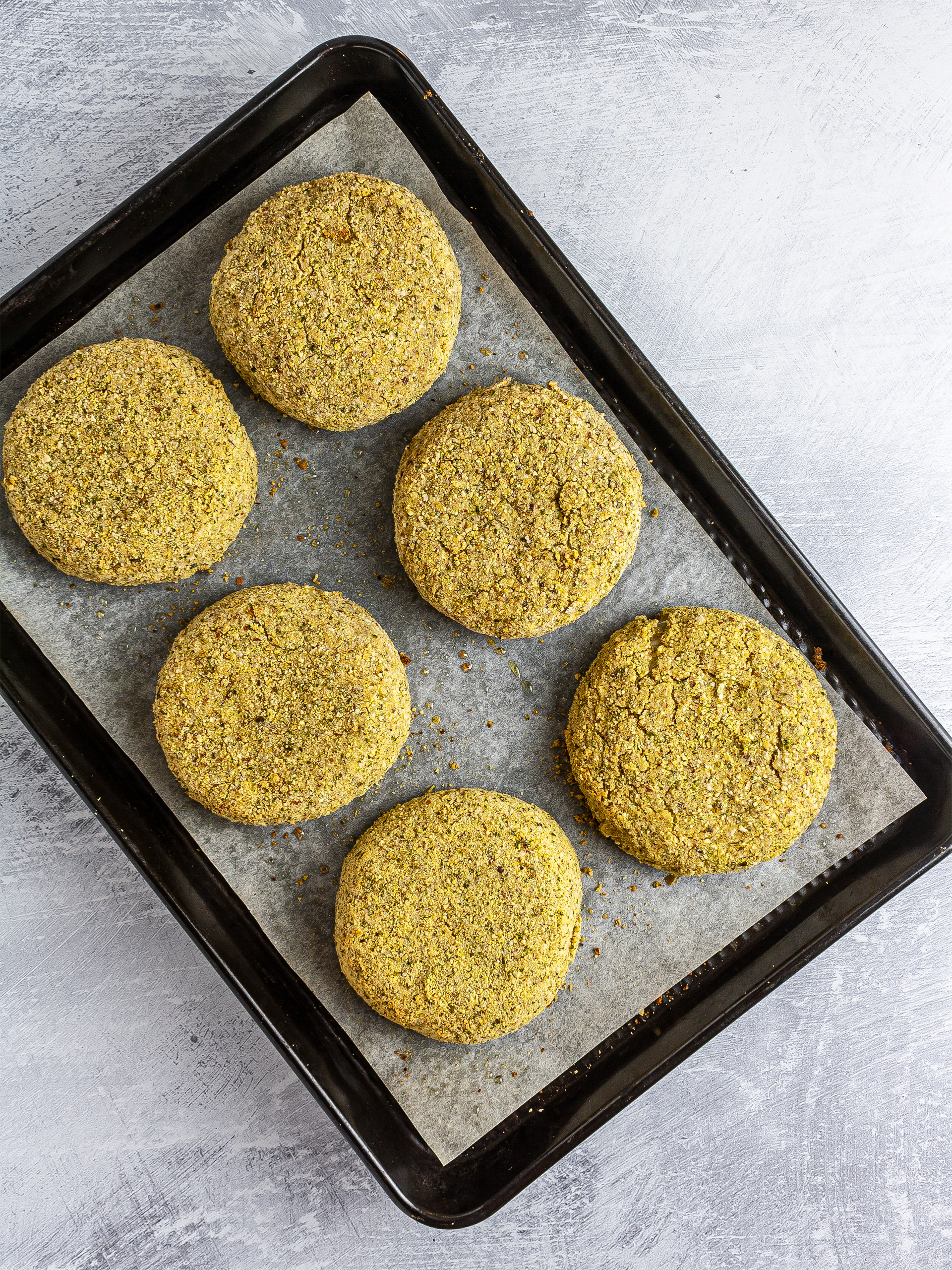 Tips
To make the fish cakes even crunchier, you can repeat the coating step a second time.

You can brush the wheat-free patties with little vegetable oil for a crispier finish.

Using an air fryer is the best method to cook the fishcakes without oil while retaining a lovely crispiness.