This roasted pumpkin quinoa salad is a healthy vegan salad that brings together some of the best superfoods into one amazing dish. It bursts with tons of nutrients, but also colour and flavour!
More than a simple salad, this quinoa bowl is a fully balanced meal — it's filling, satisfying, and so good for you. So, what makes it so great?
We packed each bowl with a healthy mix of quinoa for proteins and complex carbs, roasted pumpkin and greens for fibres and vitamins, and crunchy almonds for good fats.
And we rounded it all up with our special turmeric seasoning for a total health boost!
The new star of superfoods, golden turmeric has powerful health-giving properties in just a 1/4 teaspoon a day. So, go ahead and toss it with pumpkin chunks before roasting them!
Using quinoa in this pumpkin salad means you won't need any other grain, making it an ideal recipe for folks on a gluten-free diet.
Quinoa is technically a seed, but it's used like a cereal grain, perfect for filling buddha bowls like this pumpkin quinoa bowl.
And it's also great for preparing other recipes like quinoa protein oatmeal, crunchy quinoa granola, and even grain-free quinoa flatbread!
Ok, now, time to gather the ingredients and prepare this healthy quinoa salad with caramelised roasted pumpkin.
And if you double up the recipe, you'll have enough to pack your lunch box for the next few days. Super!
Ingredients
| | |
| --- | --- |
| Pumpkin (or butternut squash) | 300 g |
| Brussel Sprouts | 240 g |
| Extra Virgin Olive Oil | 1 tbsp |
| Maple Syrup | 1 tsp |
| Ground Turmeric | 1/2 tsp |
| Ground Cinnamon | 1/2 tsp |
| Ground Cumin | 1/4 tsp |
| Ground Cardamom (optional) | 2 pinch |
| Raw Quinoa | 80 g |
| Bay Leaf | 1 |
| Water | 250 mL |
| Watercress (or spinach or rocket) | 160 g |
| Lemon Juice | 1 tbsp |
| Almonds (flaked or chopped) | 50 g |
| Dried Cranberries (sweetened) | 40 g |
Step 1
Peel and deseed the pumpkin (or butternut squash), then cut it into thick chunks or sticks.
Add them to a roasting tray lined with baking paper and season with half of the oil plus maple syrup, spices, and salt and pepper to taste (1).
Toss well and roast the pumpkin in the oven at 210°C (410°F) for 15 minutes.
Then, trim the Brussels sprouts, halve them, and add them to the tray with the roasted pumpkin (2).
Return to the oven and cook for 15 more minutes.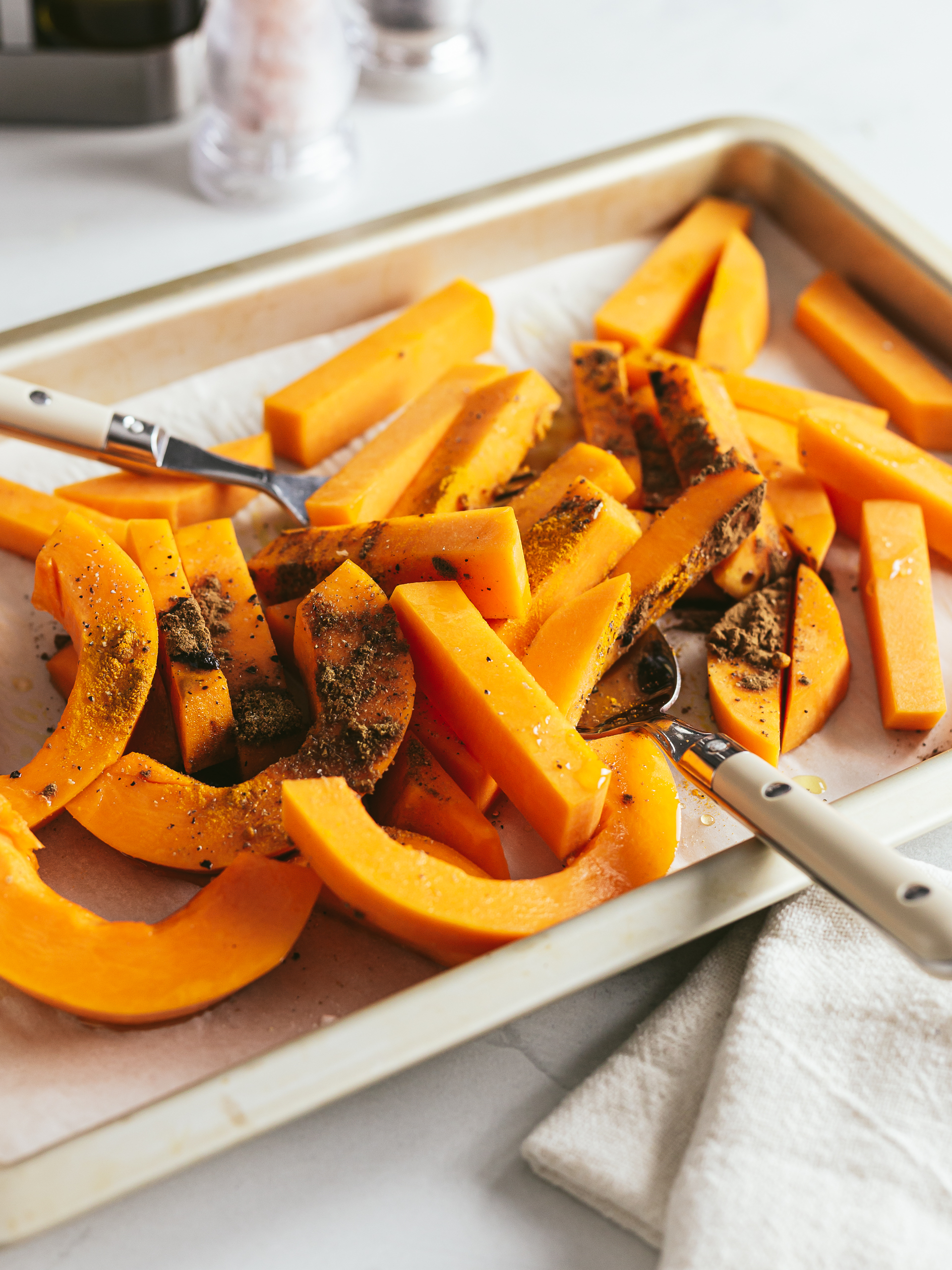 1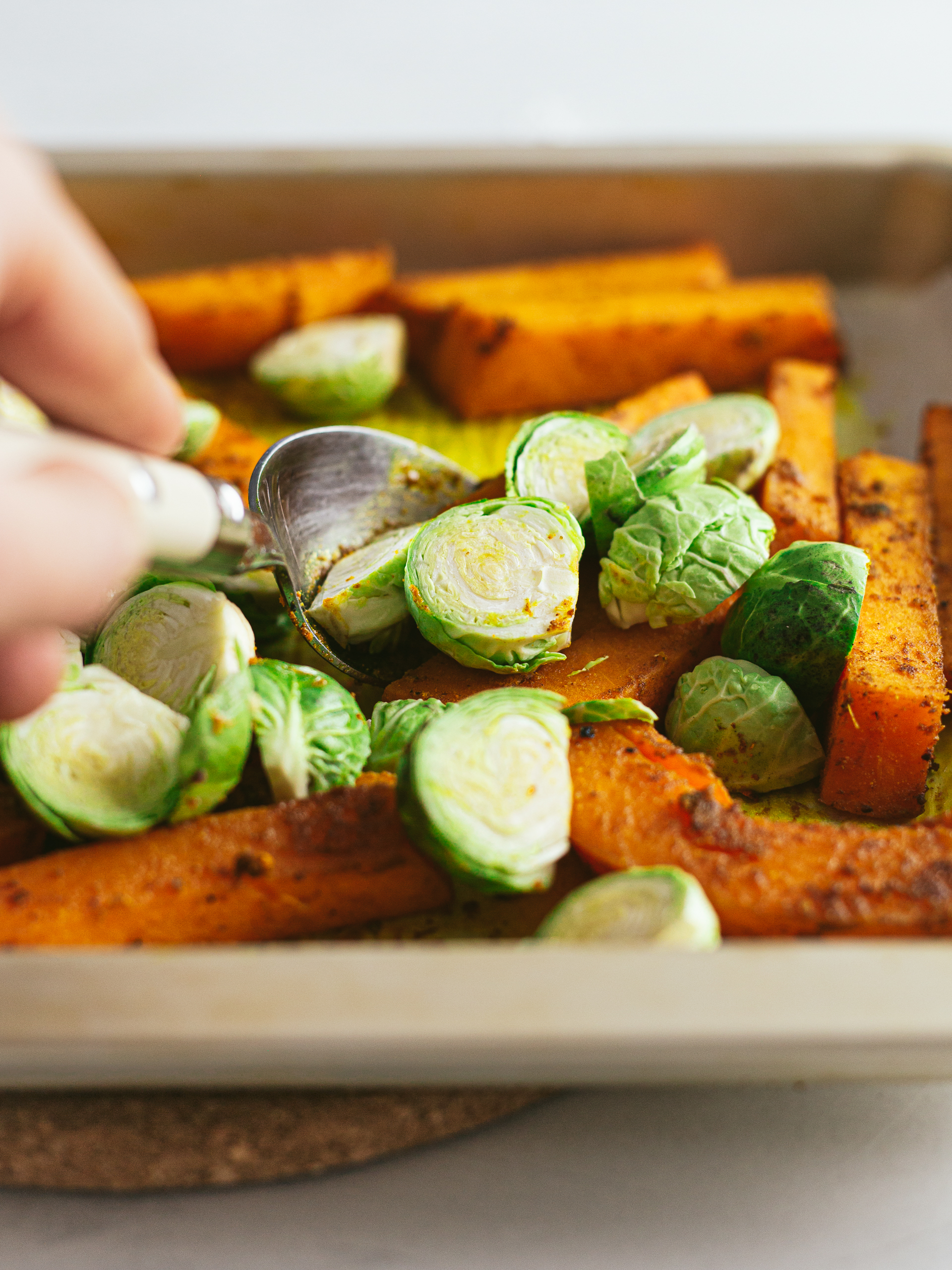 2
Step 2
In the meantime, let's cook the quinoa for the salad.
Rinse and drain the raw quinoa and add it to a pot along with the bay leaves for extra flavour.
Cover the quinoa with the given amount of water and bring it to a boil.
Simmer the quinoa covered for 15 minutes until the grains are soft and fluffy, and all the water has been absorbed.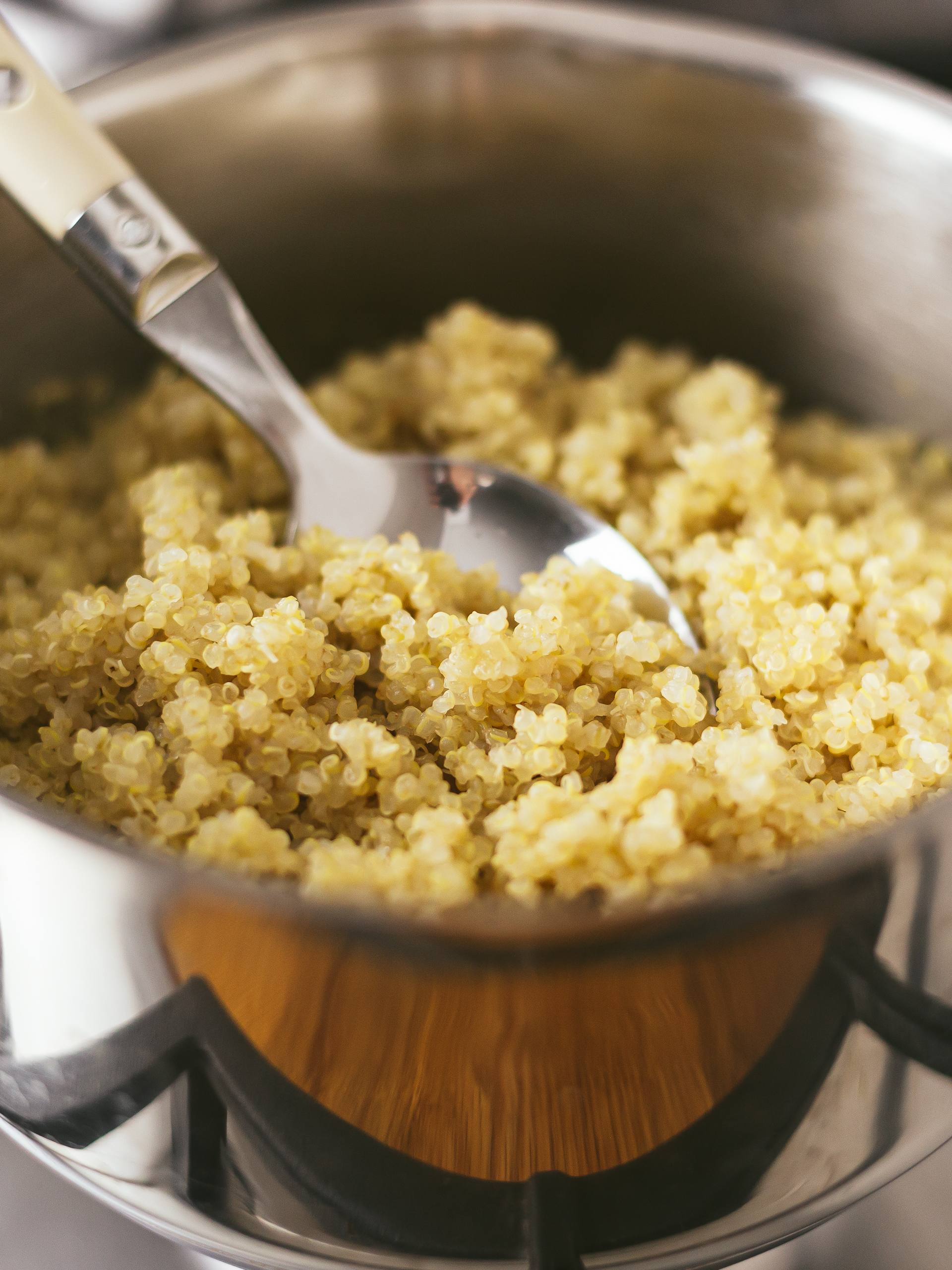 Step 3
Now, assemble each serving bowl with watercress salad, cooked quinoa, roasted pumpkin and Brussels sprouts.
Drizzle with lemon juice and the remaining oil, and sprinkle with toasted almonds and dried cranberries.
Your super healthy pumpkin quinoa salad is ready. Enjoy!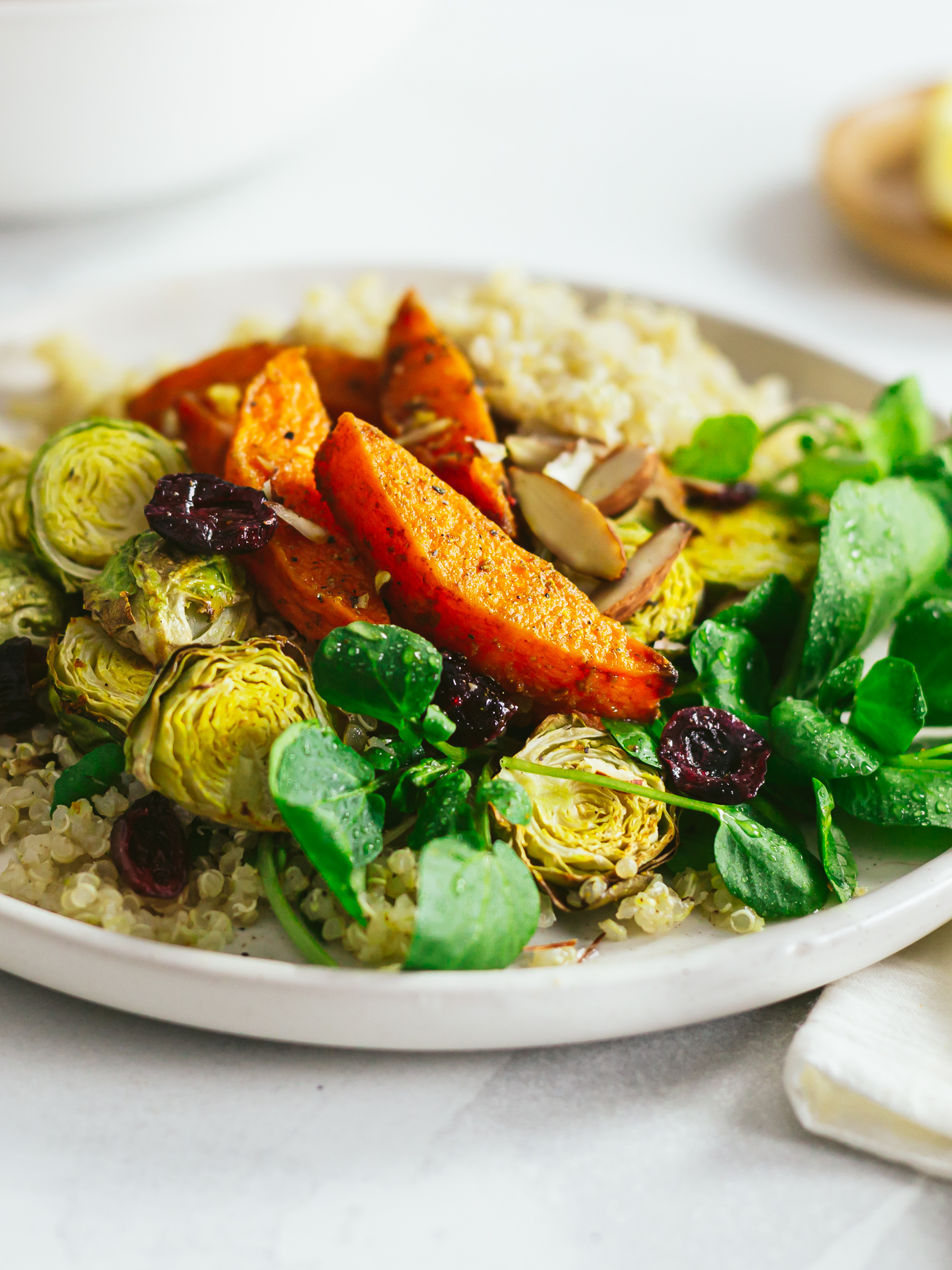 Tips
For a nut-free alternative, you can use toasted pumpkin seeds or sesame seeds instead of almonds.

You can replace cranberries with other dried fruit like Goji berries, sultanas, or dried blueberries.

Store this vegan pumpkin salad in an airtight container in the fridge for up to 3 days and enjoy it warm or cold.