Kale is one of the most nutrient-dense food on the planet, and it's so easy to add it to your daily diet[1]. You can blitz it into a smoothie, add it to a soup, or bake it into chips. Today, we want to show you how you can use it raw to make a quick spicy kale and edamame salad.
We combined shredded curly kale with chewy barley, green soybeans, and buttery avocado. Then, we tossed it all with a sweet and spicy dressing made with chilli flakes, lemon juice and maple syrup. So yummy!
The secret to using kale raw in salads is removing the hard stems and massaging the leaves with a sour dressing for a few minutes. This way, they will soften, and it will be much easier for you to chew and digest them. You'll be able to enjoy all the benefits of eating this green veggie raw.
Kale belongs to the cruciferous family, like cabbage and broccoli. It's so rich in nutrients that just two handfuls cover your daily needs for vitamin A, C, and K[2]. Plus, you'll get a nice boost of precious antioxidants helping you fight disease-causing free radicals.
We turned this lunch salad into a fully-balanced vegan meal adding a serving of grains, healthy fats, and proteins. Pearl barley provide slow-digesting carbs that will keep you full for longer; avocado packs heart-healthy unsaturated fats, and edamame beans complement the meal with plant-based proteins.
Great warm or cold, this kale salad is perfect for your weekly meal prepping, and it's ready in just 30 minutes. Each bowl comes in under 500 calories, covers 70% RDI of fibres, half of your RDI for proteins, and less than 20% RDI of carbs. Awesome!
Ingredients
Dressing
Lemon Juice

1 tbsp

Extra Virgin Olive Oil

1 tbsp

Apple Cider Vinegar

1 tbsp

Chilli Flakes

1/2 tsp

Maple Syrup (or Honey)

1 tsp

Salad
Pearl Barley

120 g

Curly Kale (stems removed)

100 g

Avocado

1/2

Red Onions

1/2

Frozen Edamame Beans

200 g
Step 1
Rinse the barley, add it to a pot followed by a pinch of salt, and cover it with water.
Bring the water to a boil over medium heat and cook the barley for 15 minutes.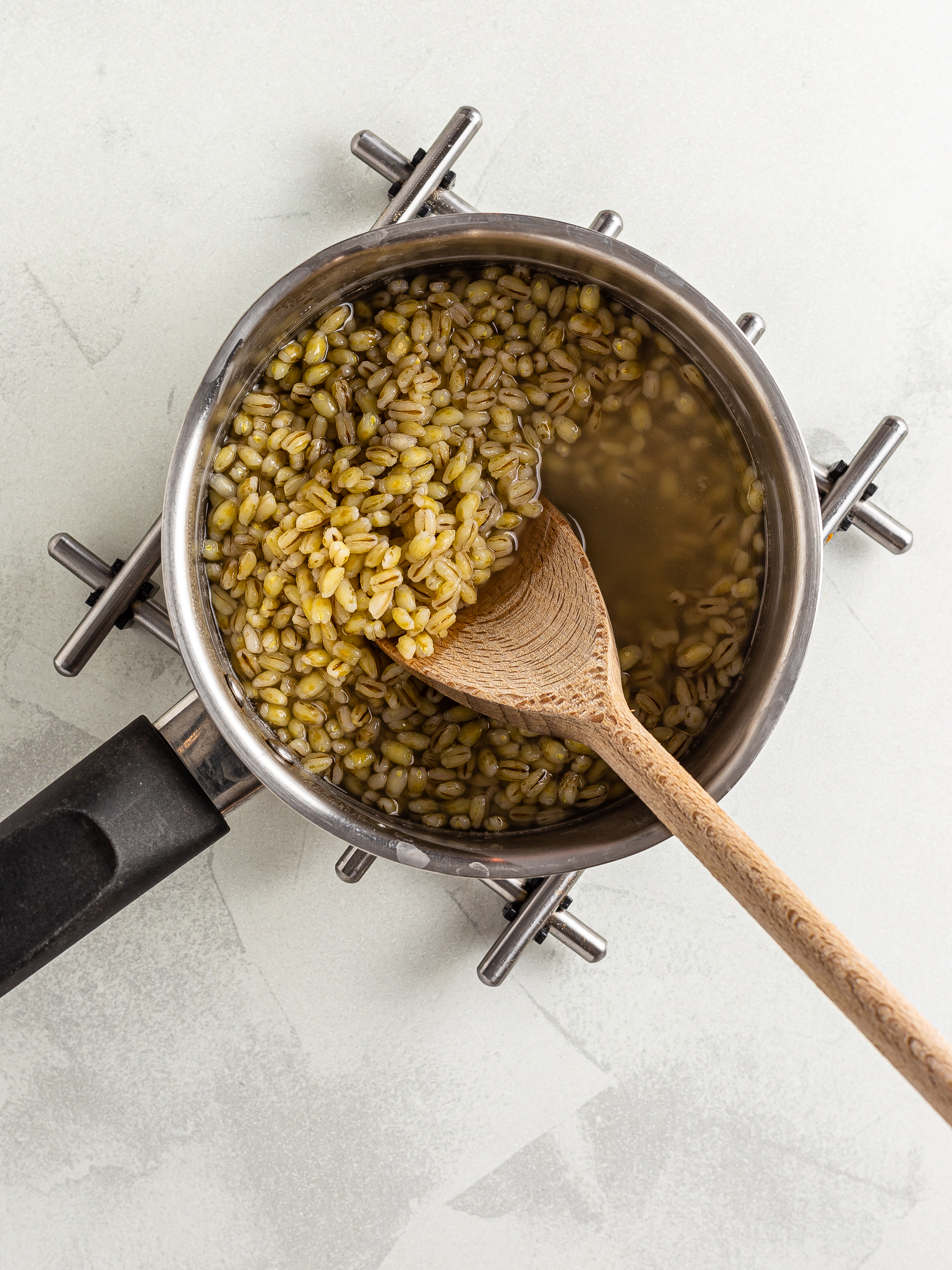 Step 2
Then, add the frozen edamame beans to the pot with barley and cook all for 5 more minutes.
Once the grains are tender but still chewy, drain excess water and set the barley and cooked edamame aside.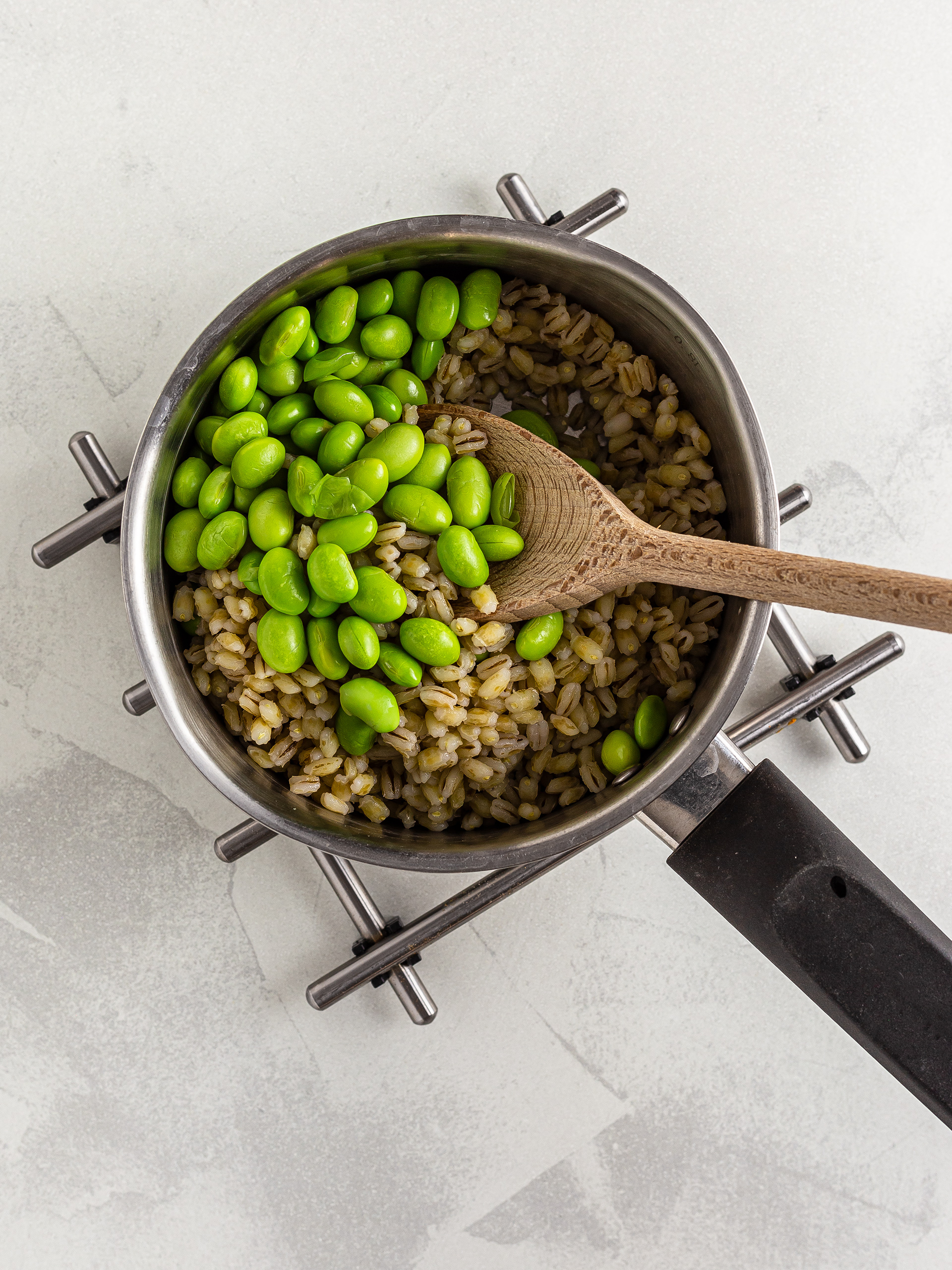 Step 3
In the meantime, add the lemon juice, extra virgin olive oil, apple cider vinegar, chilli flakes, and maple syrup in a small bowl.
Stir well until the dressing ingredients are well combined.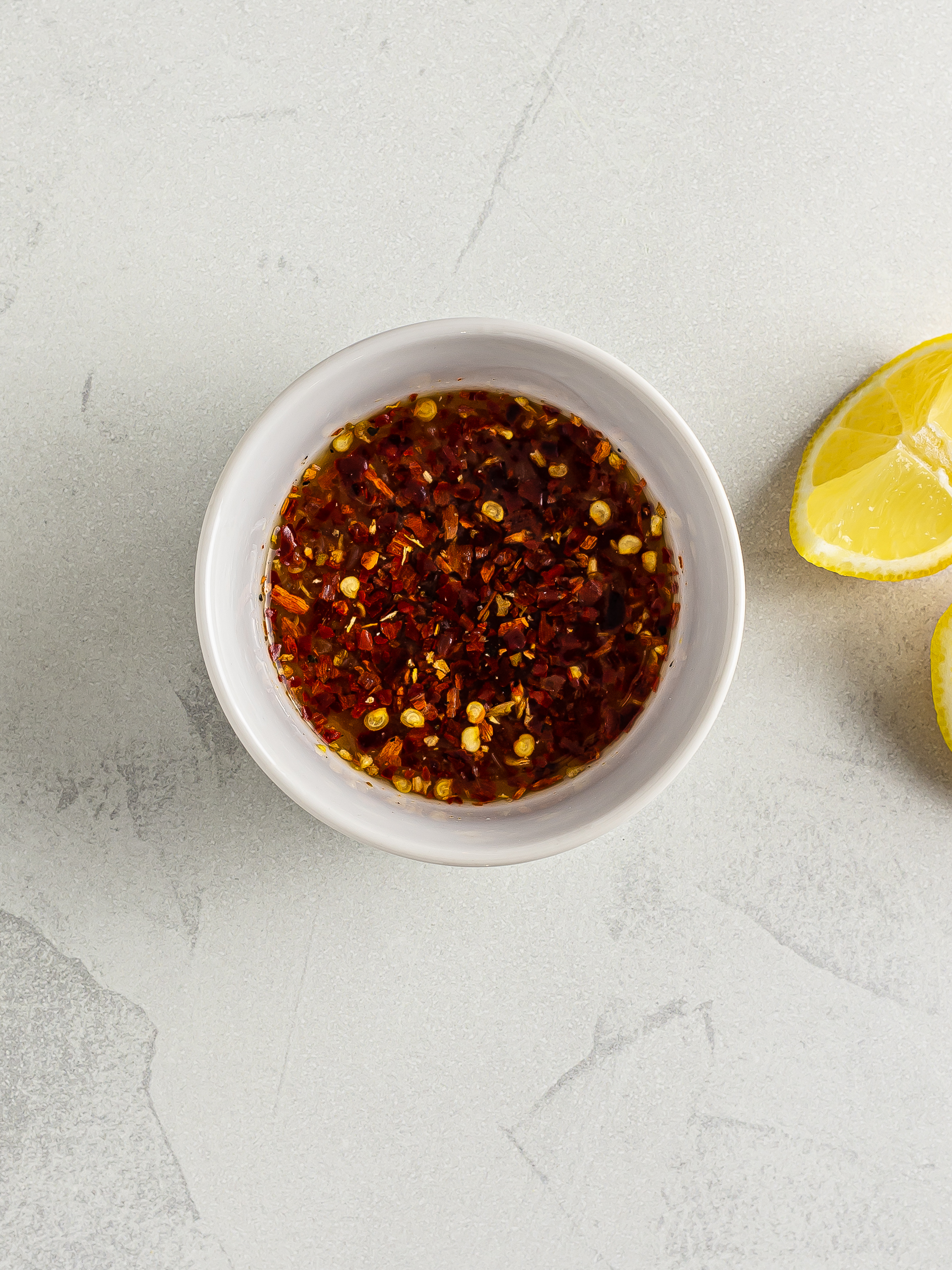 Step 4
Remove the chunky, tough stems from the kale and tear the leaves into small pieces.
Then, toss them in a bowl with half of the dressing, massaging them with your hands.
This way, the kale will soften, and it will be easier to chew and digest.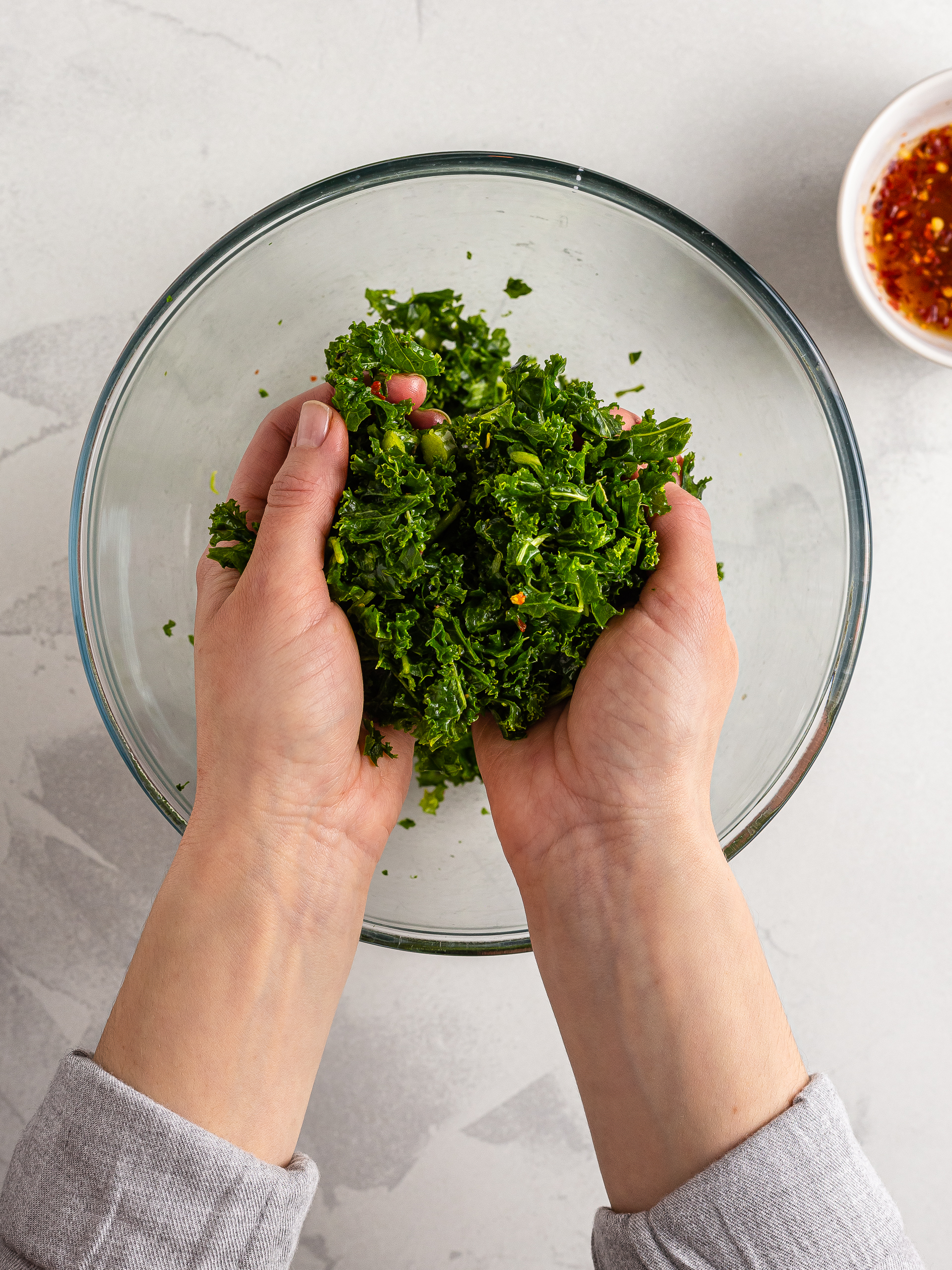 Step 5
Now, it's time to assemble the salad bowls.
Divide the drained barley, edamame, and spicy kale among bowls. Then, top them with sliced avocado and thinly chopped red onions.
Pour in the remaining dressing, season with salt and pepper to taste, and toss well.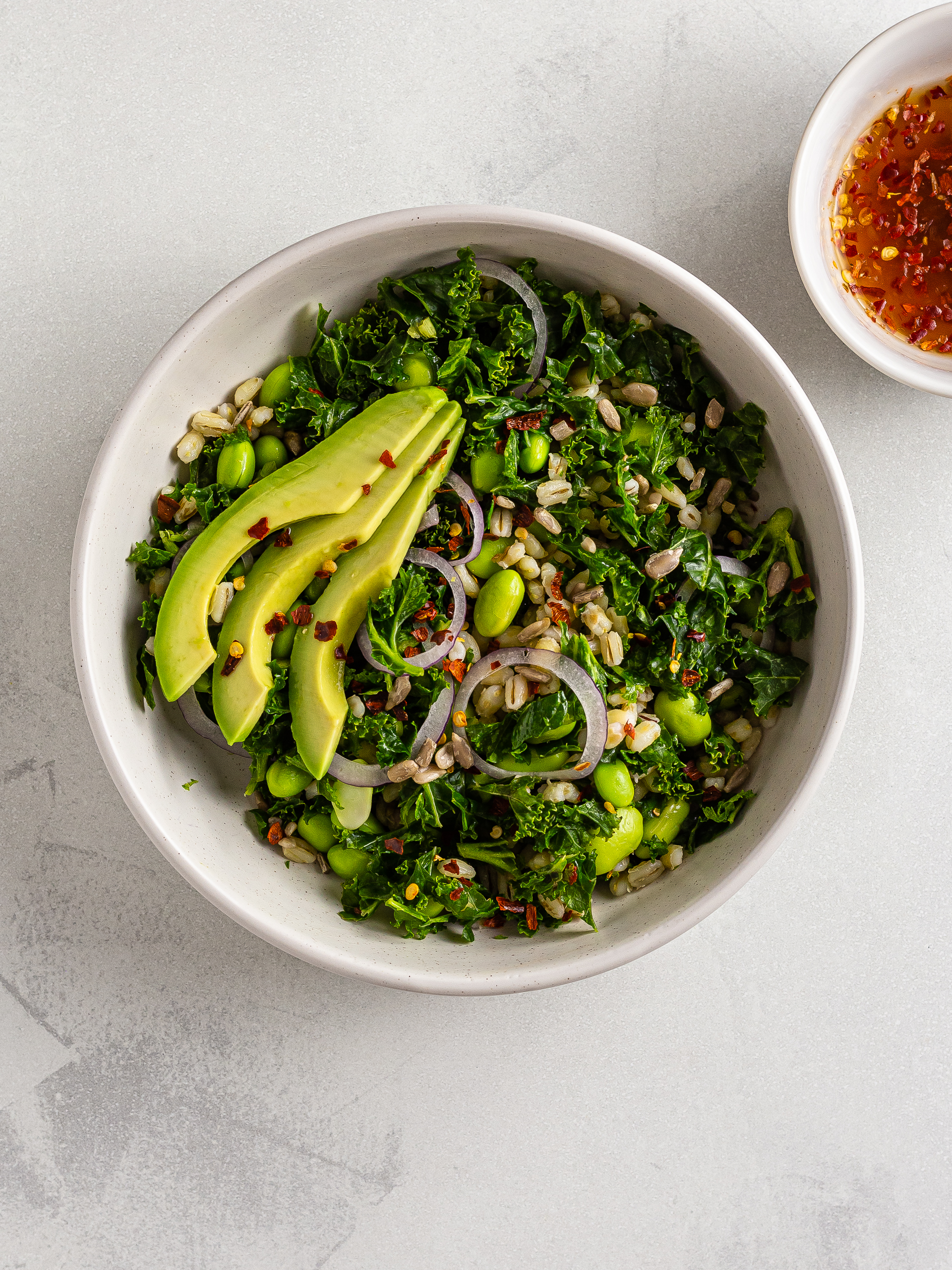 Tips
If you can't eat soy, you can swap edamame beans with fava beans, peas or chickpeas.

Cook the barley with a small handful of cumin seeds for extra flavour.

For a gluten-free option, you can substitute barely with quinoa.

You can top up each salad bowl with one tablespoon of toasted almonds, walnuts, or pumpkin seeds.

Store the salad in the fridge in an airtight container for up to 4 days.