Today we want to show you how to make oven-baked vegan kibbeh balls, a healthier version of the classic meatballs from the Middle East. They're crispy on the outside and soft on the inside, with a wonderful spiced veggie filling. We're sure you'll love them!
Our kibbeh balls consist of an outer layer of bulgur paste wrapped around a tasty chickpea filling. We made the coating with soaked bulgur wheat blended with chickpeas and flour, and the stuffing with chickpeas pan-fried with onions, walnuts, parsley, and dates. Then, we seasoned it all with an aromatic blend of allspice, cinnamon, and cumin.
If you have never made kibbeh balls before, we'll explain step-by-step how to mould them, fill them, and seal them, giving them their characteristic torpedo shape. All that is left to do then is bake them in the oven until crusty and golden. So yummy!
Classic kibbeh is a very popular dish in the Middle East, especially in Lebanon and Syria, and the word kibbeh means "ball" in Arabic. The base ingredients include bulgur wheat, ground lamb, onions, spices, and sometimes pine nuts. They are pounded together into a paste which can be used in many ways: layered in a casserole, eaten raw with tomatoes, or turned into balls. The balls can be either added to a vegetable soup or deep-fried liked croquettes.
Our recipe is inspired by the fried version of the kibbeh, known as kibbeh mahshi. However, instead of using ground meat in the coating and filling like in the classic recipe, we opted for chickpeas to make it vegan. Also, we decided to oven-bake the balls rather than fry them to keep the fats low.
A generous serving of three kibbeh balls provides 24% RDI of proteins, 35% RDI of fibres, and only 15% RDI of fats, all in less than 350 calories. These balls are great as an appetizer dipped in hummus, tahini sauce, or sumac sauce. You can also add them to a salad bowl and make a balanced meal out of it. We love to pack them with a broccoli tabbouleh or tangerine salad for a tasty lunch box!
Ingredients
Kibbeh Filling
Red Onions

1/2

Walnuts

20 g

Canned Chickpeas

110 g

Fresh Parsley

2 tbsp

Pitted Dates

20 g

Kibbeh Shell
Fine Bulgur Wheat

160 g

Water

300 mL

Canned Chickpeas

160 g

Extra Virgin Olive Oil

2 tbsp

Plain Flour

30 g

Spice Mix
Allspice

1 tsp

Ground Cinnamon

1 tsp

Ground Cumin

1 tsp
Step 1
Add the bulgur wheat to a bowl and cover it with the given water.
Let it soak at room temperature for 15 minutes until it puffs up.
If your bulgur is not very fine, you can blitz it in a food processor until ground.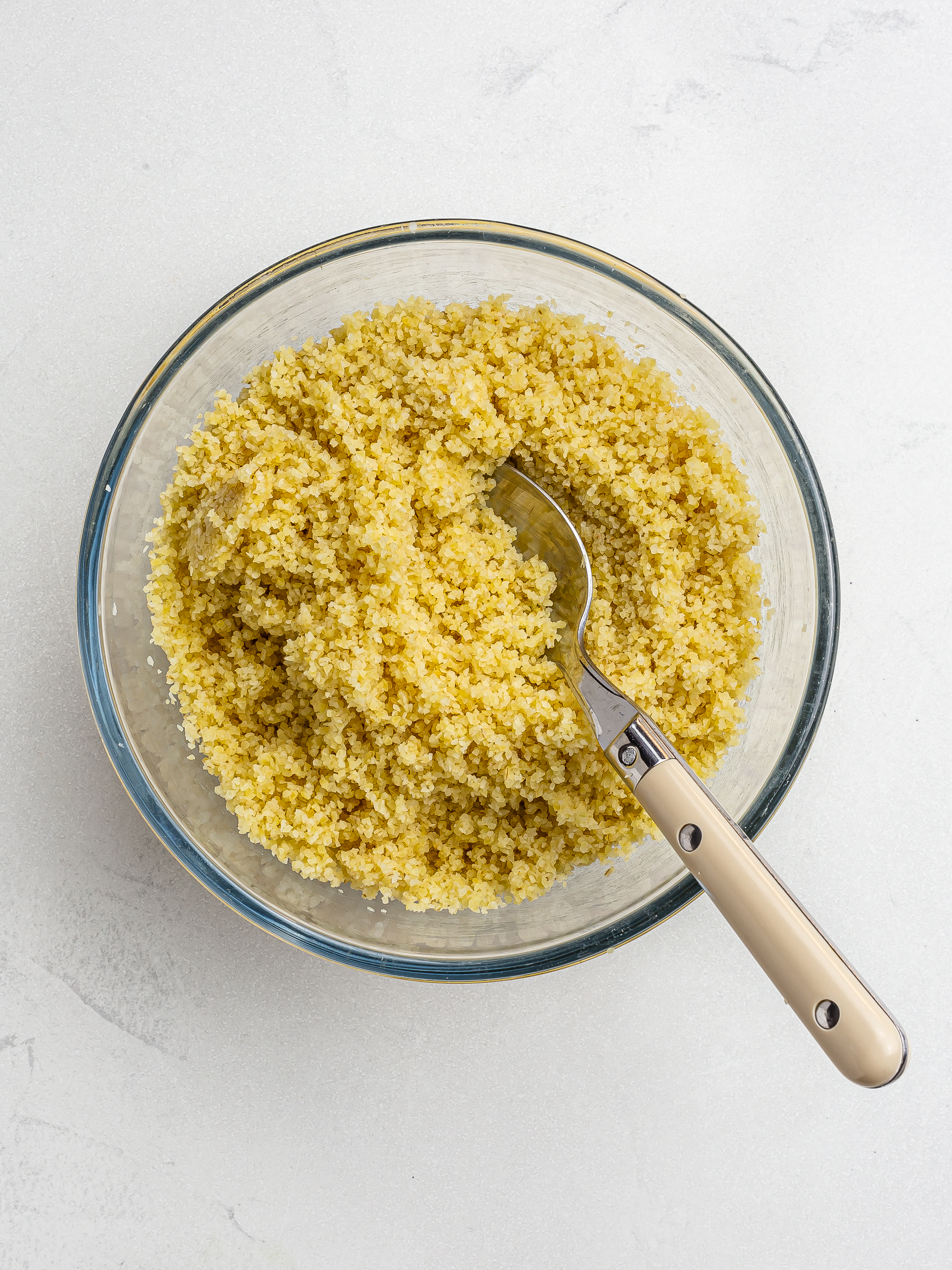 Step 2
Meanwhile, let's prepare the filling.
Add finely chopped onions and walnuts to a skillet followed by half of the spice mix and the canned chickpeas.
Add a splash of water and sizzle all for 5 minutes while stirring.
Next, season with salt and pepper, remove the pan from the heat and tip in chopped parsley and dates.
Then, set the filling aside to cool down.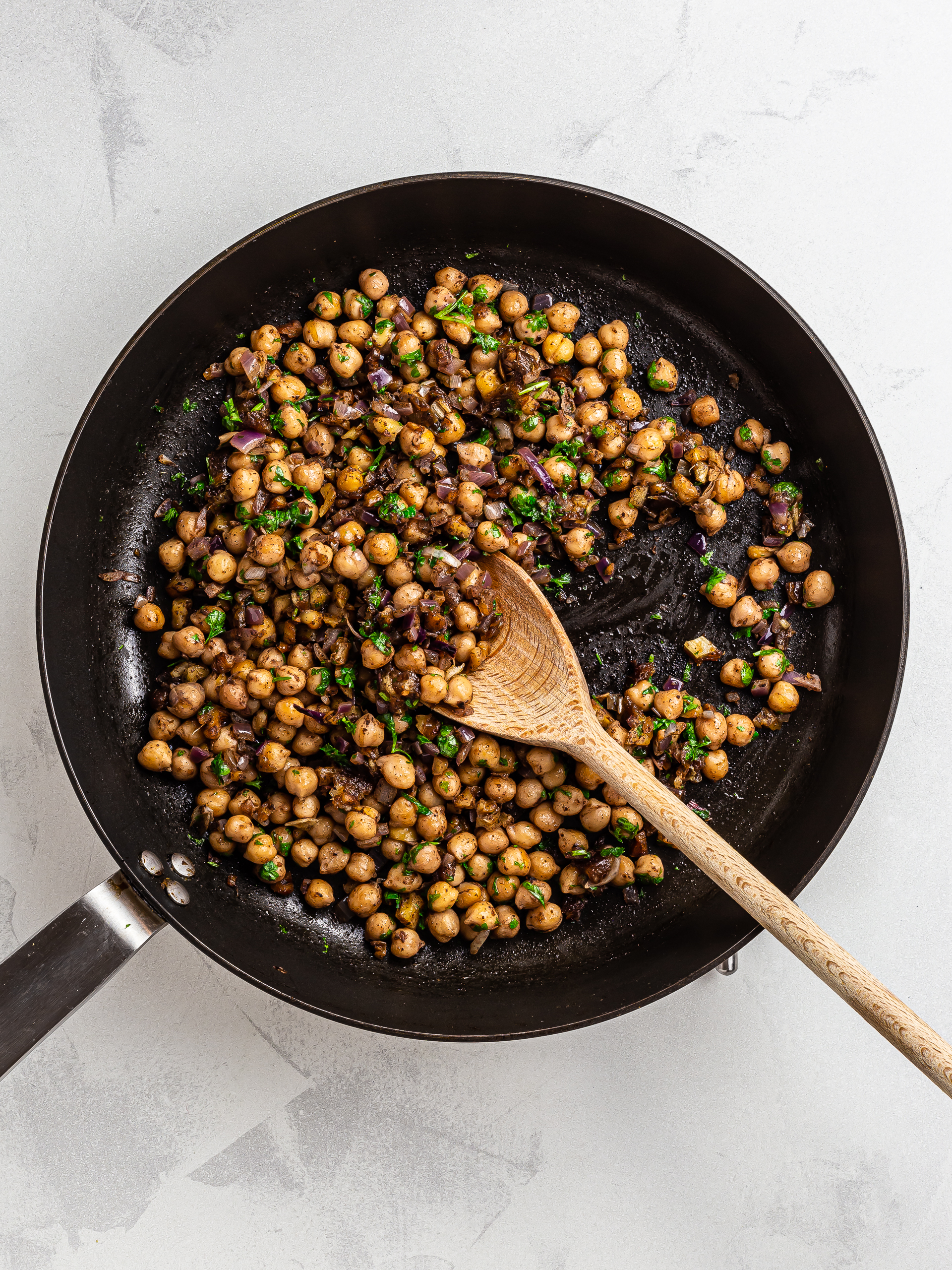 Step 3
Now, transfer the soaked bulgur to a food processor, followed by canned chickpeas, olive oil, flour, and half of the spice mix.
Blitz all for a few minutes scraping the sides of the blender a few times between pulses.
You should have a smooth paste-like dough that holds its shape when pressed together.
We'll use it to make the kibbeh ball shell; let it set and harden in the fridge for at least 15 minutes as it will be easier to handle and mould.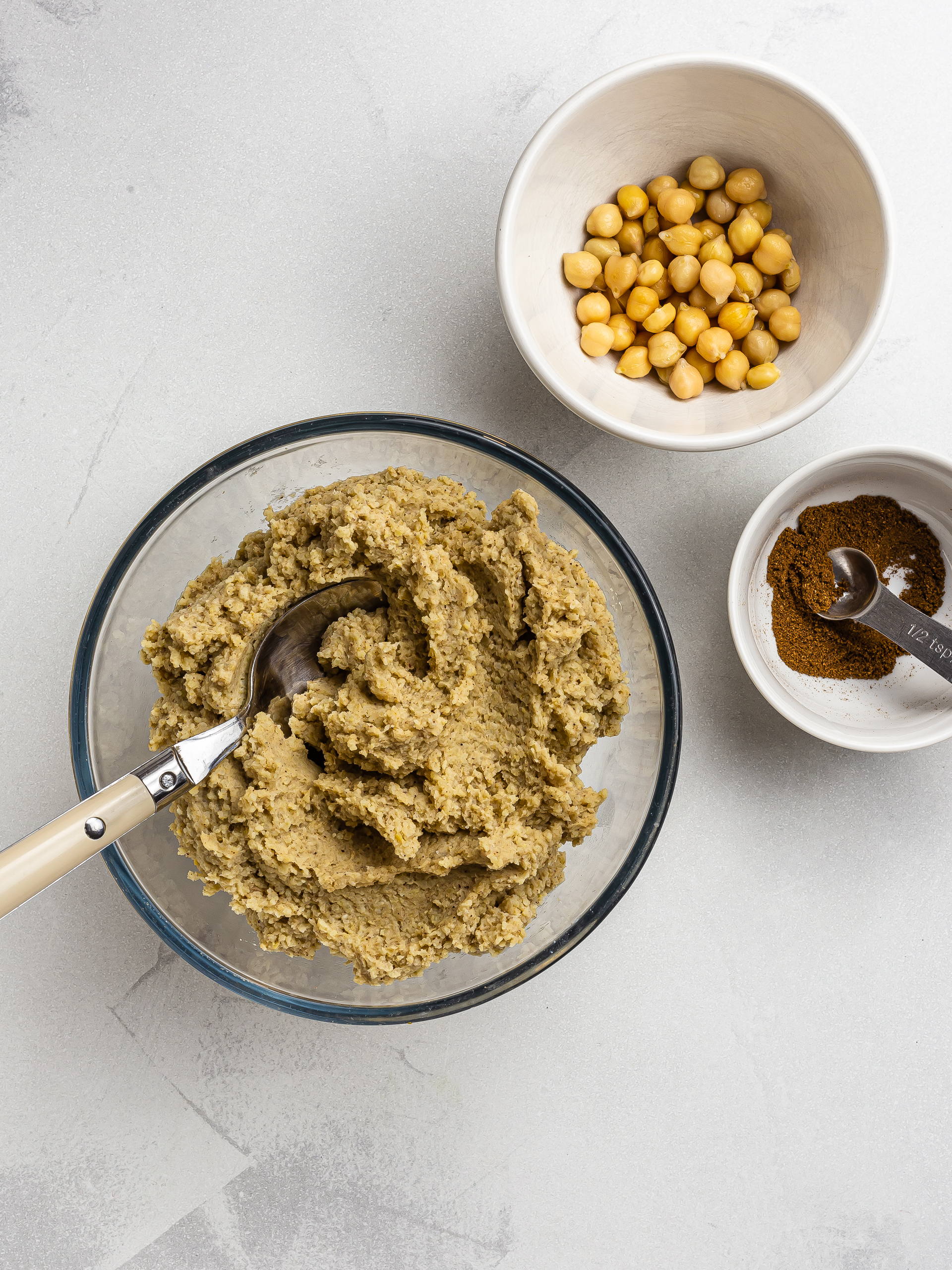 Step 4
Now, let's make the kibbeh balls.
Grease your hands with a little oil and take a small handful of dough (about 50g/1.7oz).
Roll it into a ball, roughly the size of a large walnut.
Then, poke the ball with your thumb or index finger and wiggle it around to make a hole (1).
Next, fill the hole with two teaspoons of filling (2).
Seal the hole by pinching the dough together over the filling.
Now, you can roll it back into a ball or give it its characteristic torpedo shape.
To do so, place the dough ball on a worktop and roll it into a cylinder.
Then, lift one end and let it sit on your palm. With the other hand, roll the cylinder back and forth on the opposite end to taper it. Then, flip the cylinder and repeat on the other side until you have a torpedo shape (3).
If you have troubles with this step, you can watch our web-story video to see how we did it.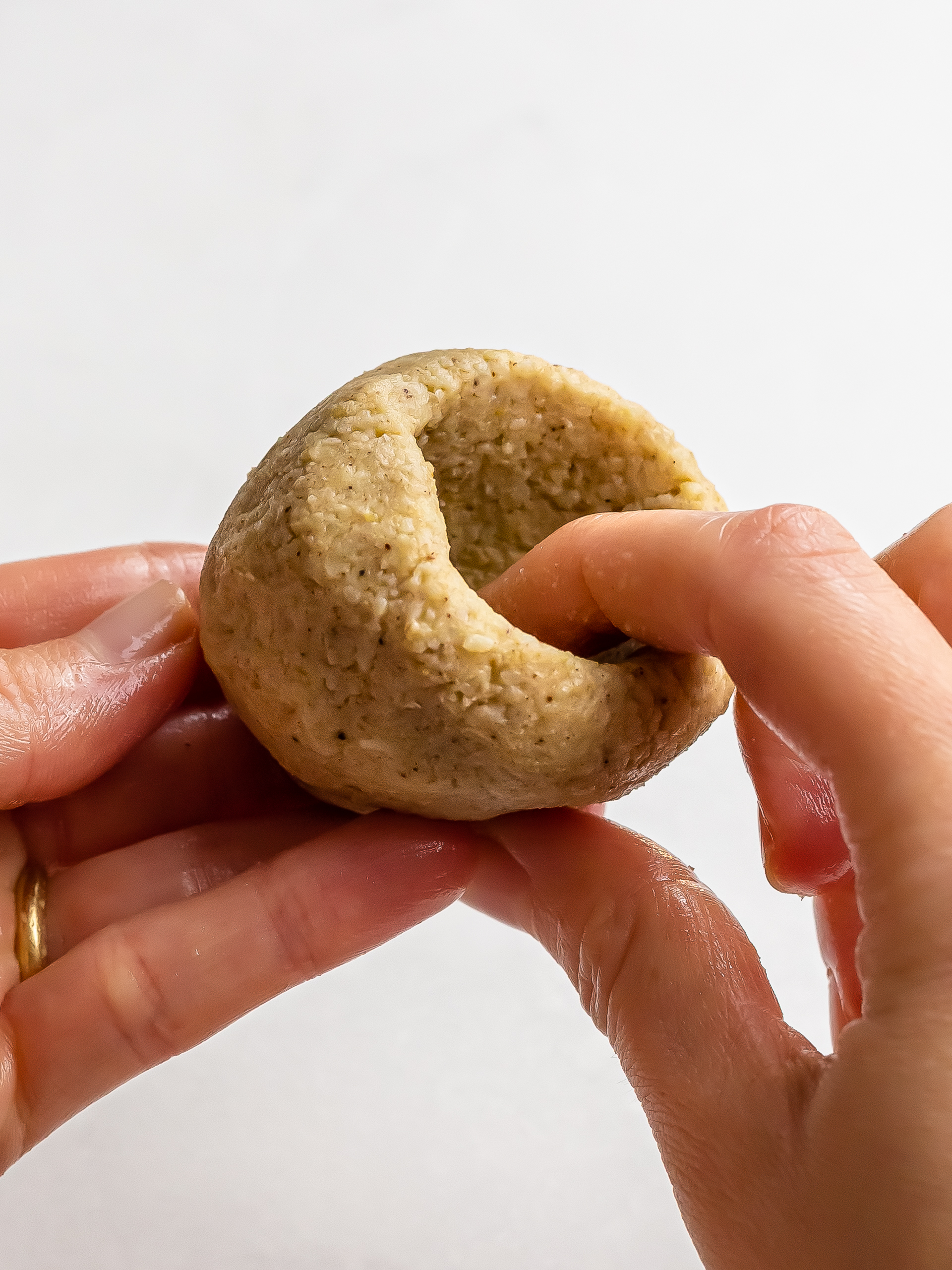 1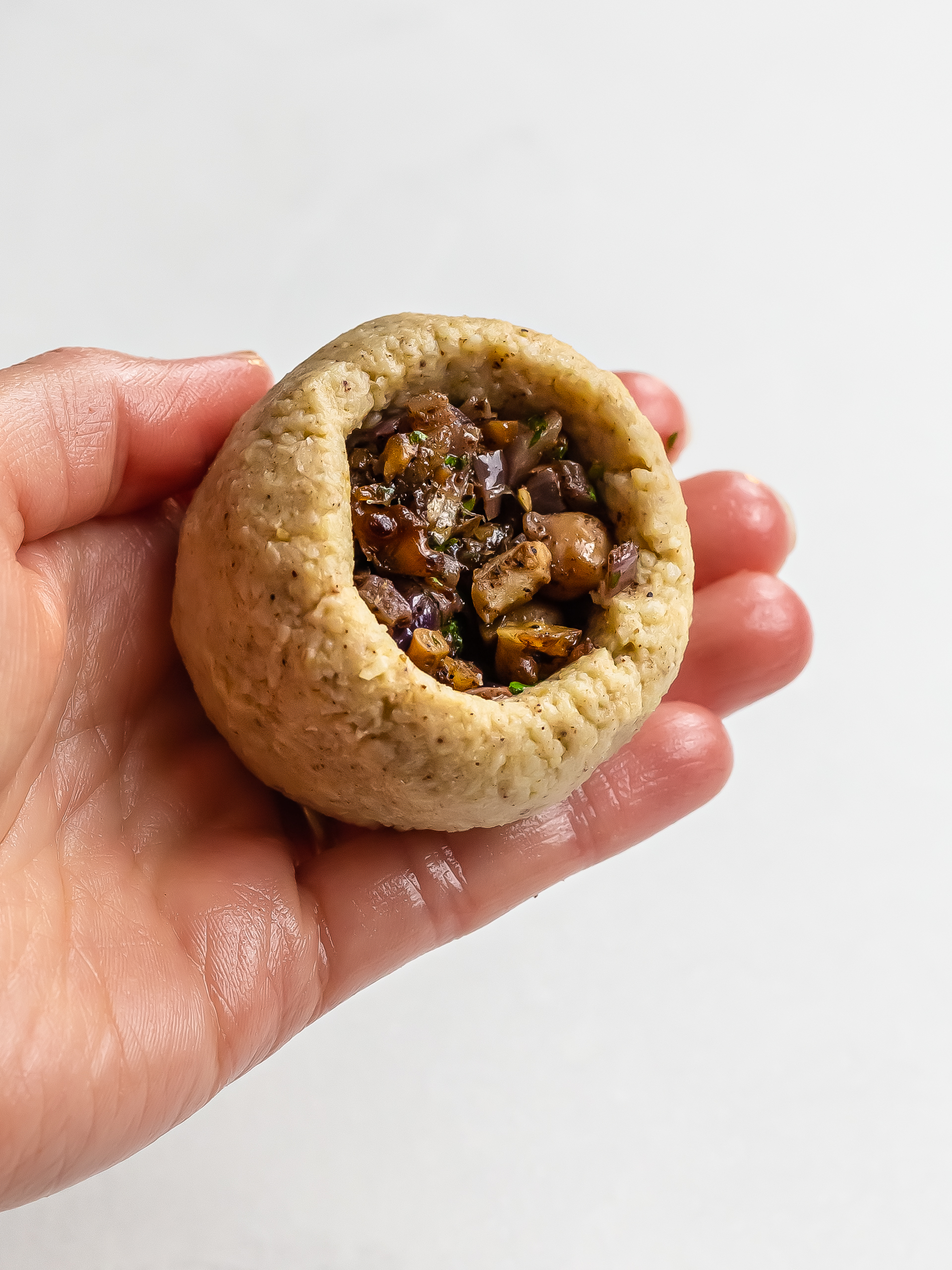 2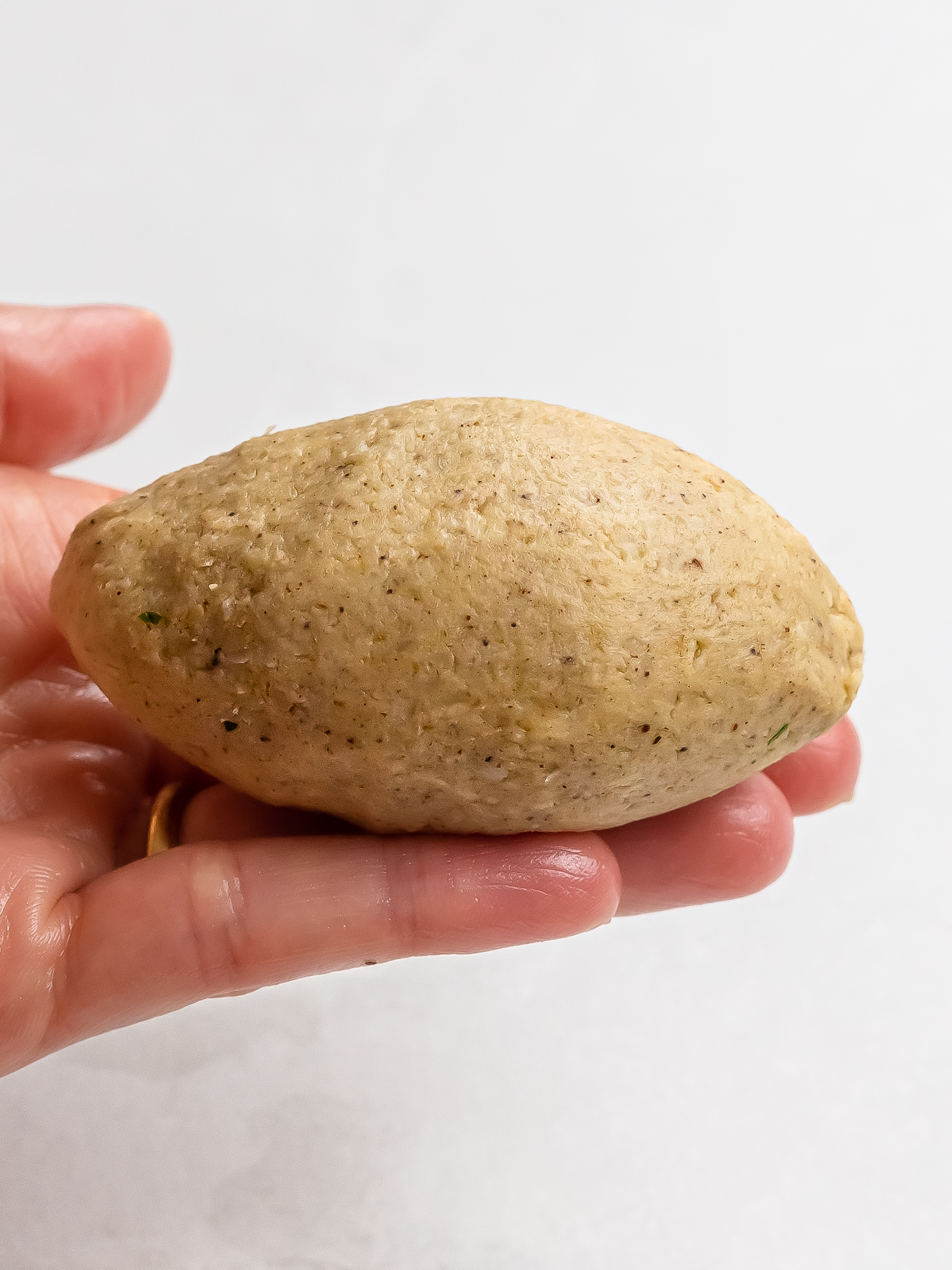 3
Step 5
Now, transfer the shaped kibbeh balls onto a baking tray lined with parchment paper.
Bake them for 25 minutes at 220°C (430°F) in static mode or 200°C (400°F) for fan mode.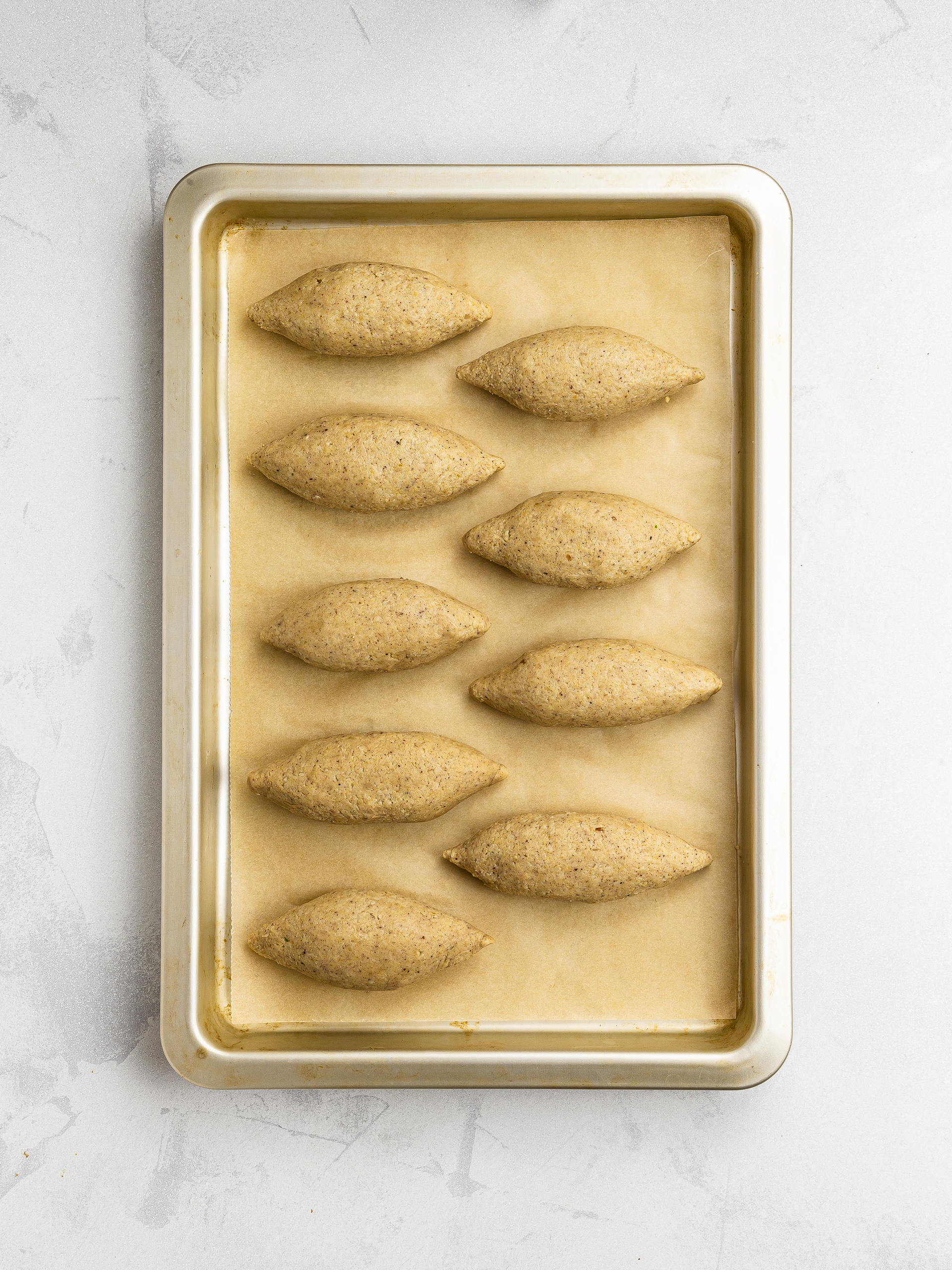 Step 6
Once they're slightly crusty and golden, take them out of the oven and serve them warm.
Enjoy them drizzled with tahini dressing and on a bed of tabbouleh salad.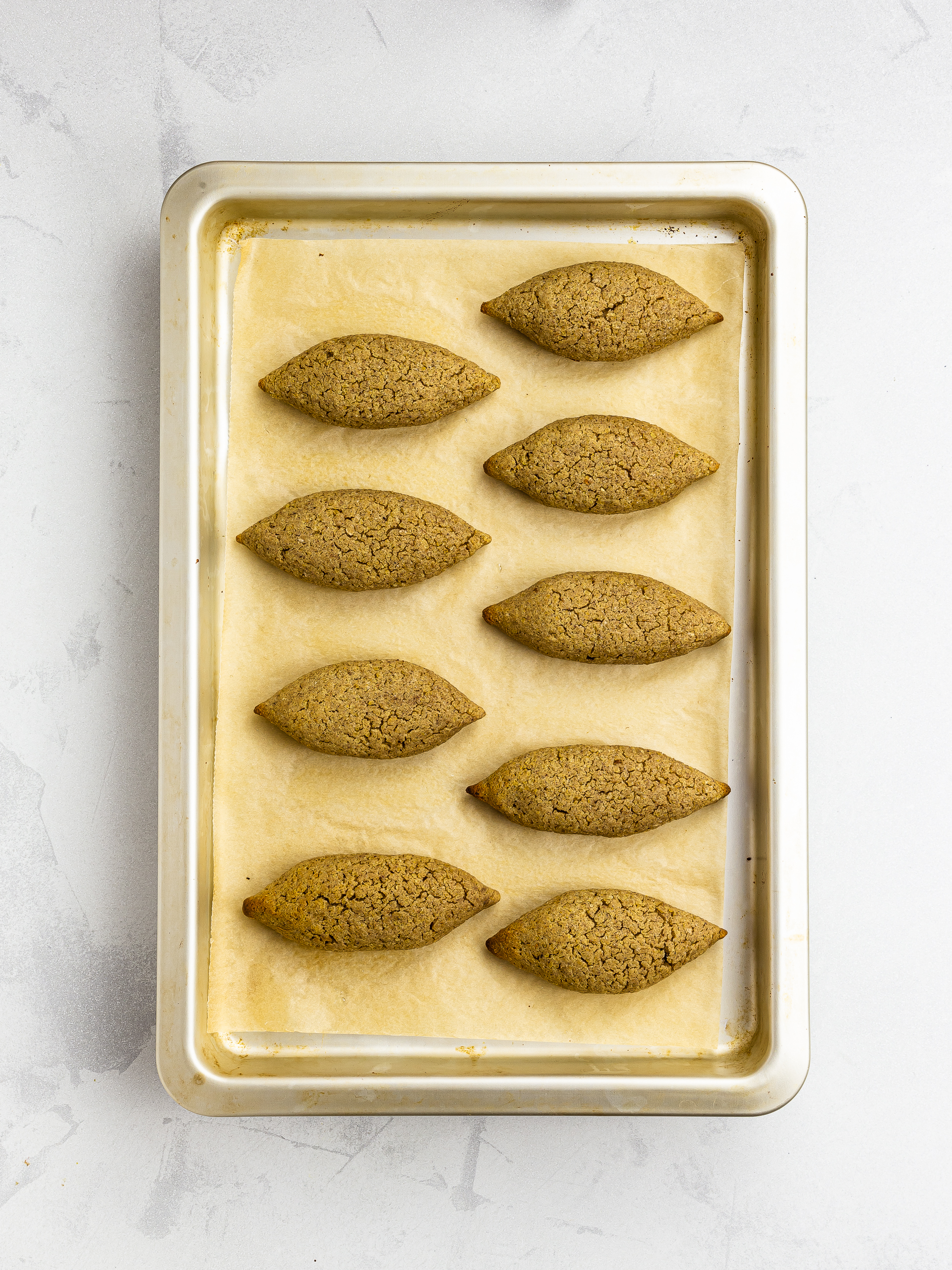 Tips
You can add ground ginger and coriander to the spice mix for extra flavour.