If you love Japanese mochi balls and are looking for a new, fun way to bake with mochi flour, you're in the right place. Today, we'll show you how to make delicious matcha mochi-filled cookies. Sounds good? Let's jump into it!
These little beauties consist of a matcha-flavoured mochi ball wrapped in a cookie dough shell. They're crusty and flaky outside, gooey and chewy inside, and bursting with bittersweet green tea notes!
The recipe uses mochi flour to make both the cookie dough shell and the mochi filling. And because this flour is milled from rice, these mochi cookies are naturally gluten-free!
Mochi flour is known as mochigomeko or mochiko in Japanese, but you can also find it as glutinous rice flour or sweet sticky rice flour. It's available online, but you can also find it at your local Asian food store.
Mochi flour is made from a special type of starchy short-grain rice, and it turns sticky and gluey (hence "glutinous") when cooked. It's what makes the famous Japanese mochi balls so deliciously chewy!
In the recipe, we'll use mochi flour to make "matcha mochi", balls of gooey mochi dough flavoured with green tea powder. Then, we'll seal them inside a shell of cookie dough and bake them.
The mochi cookie dough is not only gluten-free but also vegan and optionally sugar-free, as we used only plant-based ingredients plus sugar-free sweetener erythritol.
Once you bake these matcha mochi cookies, the outer cookie crust turns wonderfully crumbly and crinkled, while the green tea mochi filling stays soft and gooey. A real delight!
And the filling is at its gooiest when still warm. So, we recommend enjoying these matcha cookies shortly after they come out of the oven!
And if you liked this recipe, here are more mochi flour baking ideas you can try next: choc chip mochi muffins, mochi banana bread, and chocolate mochi brownies. All delicious!
Ingredients
Matcha Mochi Filling
Glutinous Rice Flour (aka mochi flour or sweet rice flour)

85 g

Green Tea Matcha Powder

1 tbsp

Icing sugar (or sugar-free erythritol)

30 g

Water

140 mL

Mochi Cookie Dough
Glutinous Rice Flour (aka mochi flour or sweet rice flour)

120 g

Baking Powder

1/2 tsp

Starch (cornflour, potato or arrowroot starch)

30 g

Sugar (or sugar-free erythritol)

90 g

Coconut Oil (softened at room temperature)

60 g

Plant-Based Milk (oat, soy, or coconut drink)

100 mL
Step 1
Start by making the mochi cookie dough, which you'll use to wrap the soft matcha mochi filling.
Make sure you're using glutinous rice flour, also known as sweet rice flour or mochi flour (from mochiko in Japanese).
Mix mochi flour with baking powder, sifted starch, and caster sugar in a bowl.
To make the mochi cookie dough sugar-free, you can swap sugar with zero-calorie sweetener erythritol.
Next, add the coconut oil, softened at room temperature, and rub it into the rice flour with your fingertips to make a crumbly, sandy mix.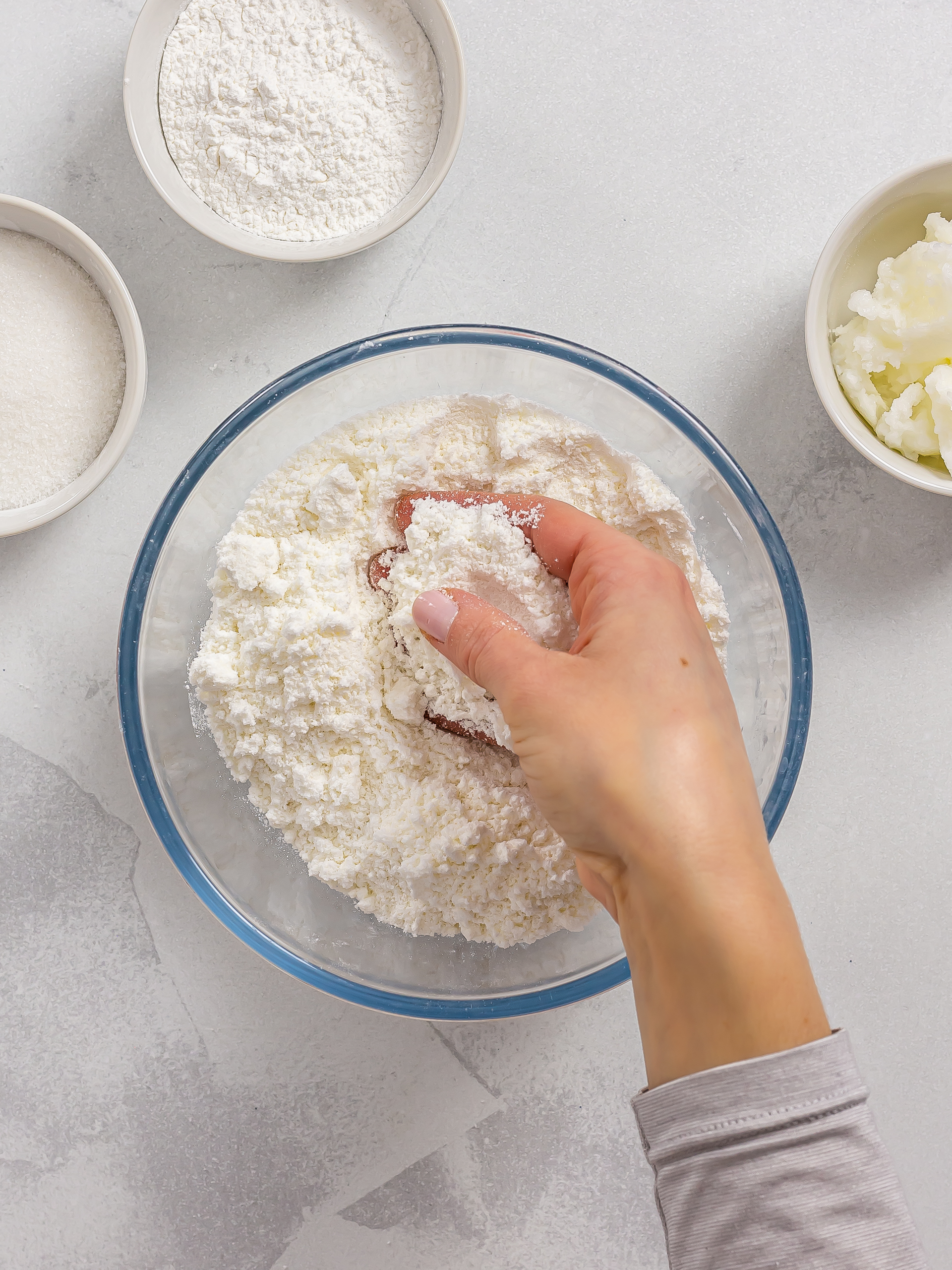 Step 2
Add in the plant-based milk and mix until the ingredients come together into a dough.
Then, knead it onto your worktop until it's smooth, pliable, and uniform.
The mochi cookie dough should hold together when pressed, but it's okay if it crumbles a little when you knead it.
Now, roll it into a ball, wrap it in cling film and let it chill in the fridge while you prepare the filling.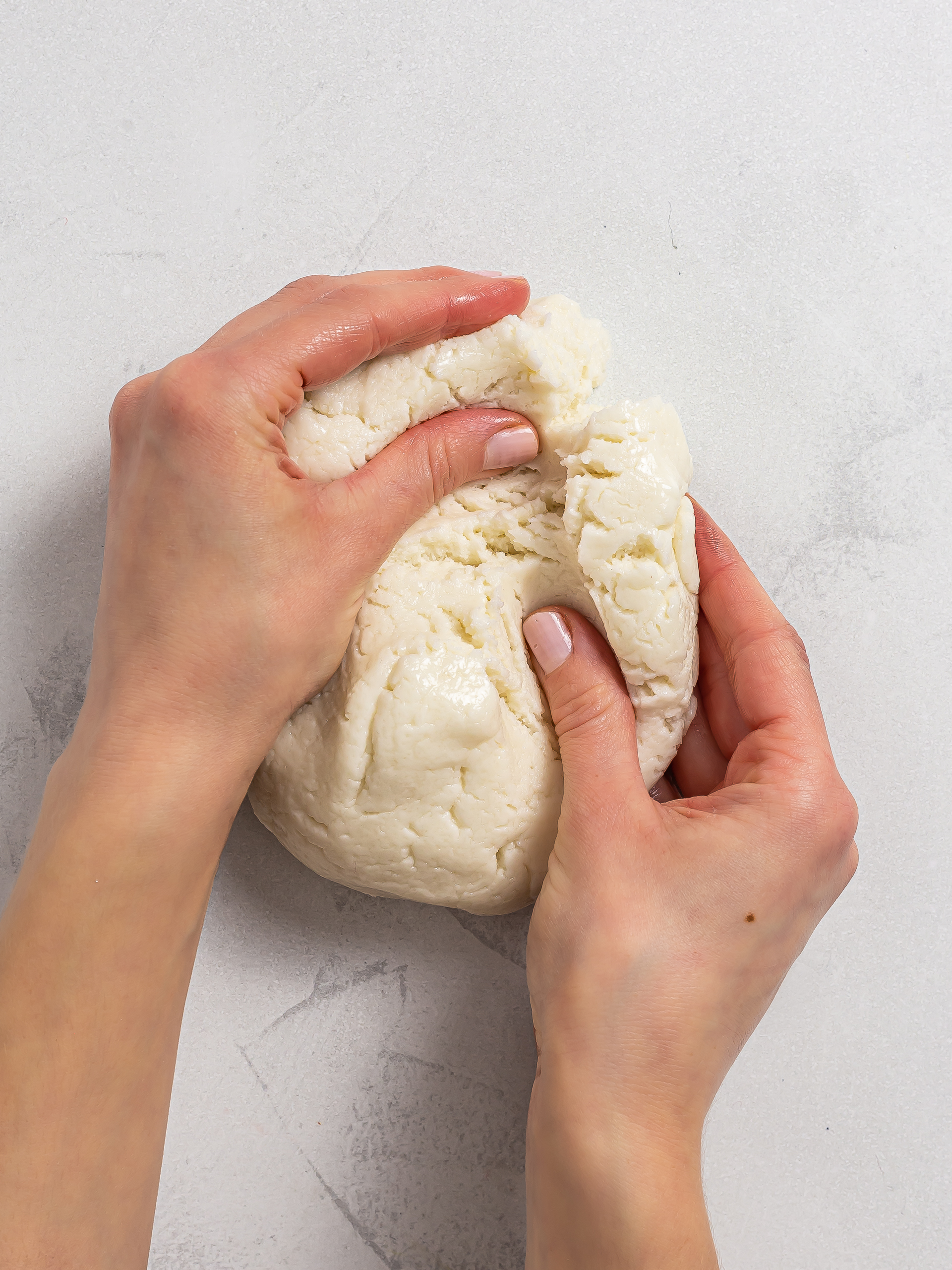 Step 3
To make the matcha-flavoured mochi filling, we'll show you the stovetop method; for the microwave option, check the tips below.
Mix glutinous rice flour with icing sugar and matcha powder in a pot.
Then, pour in the water and whisk well to dissolve any lumps.
Again, you can use erythritol instead of sugar (1:1 ratio) for a sugar-free option: blitz it first in a food processor until it's pulverised and looks like icing sugar.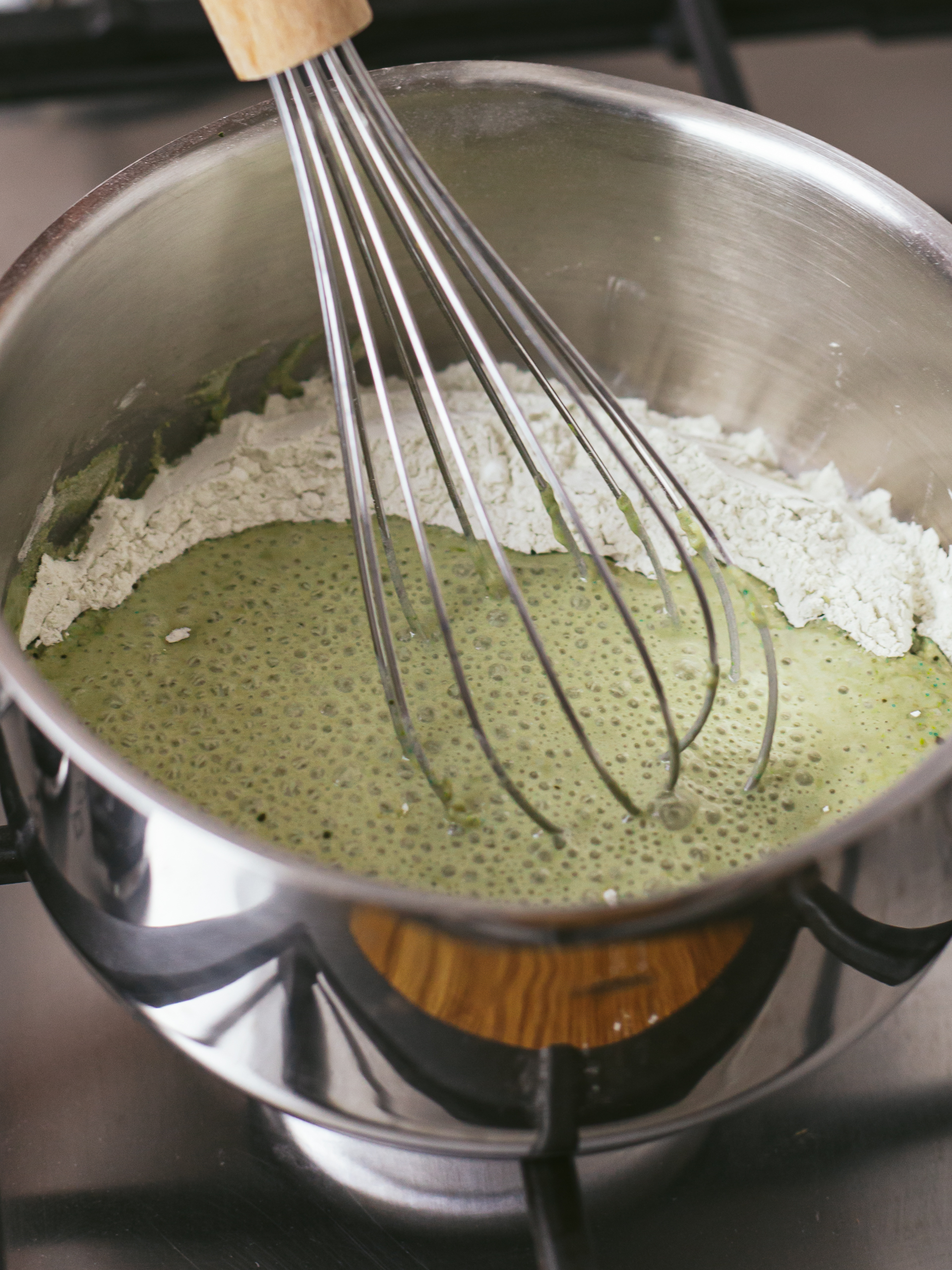 Step 4
Heat the green tea mochi mixture over low heat, stirring it continuously with a spoon.
As soon as it starts to thicken and form lumps, cook it for 4-5 more minutes, stirring it vigorously.
The dough will be very sticky, gloppy, and hard to stir but keep at it for the whole time to ensure it won't stick to the pot and burn.
By the end of cooking time, the mochi dough should be smooth, gooey, and stretchy.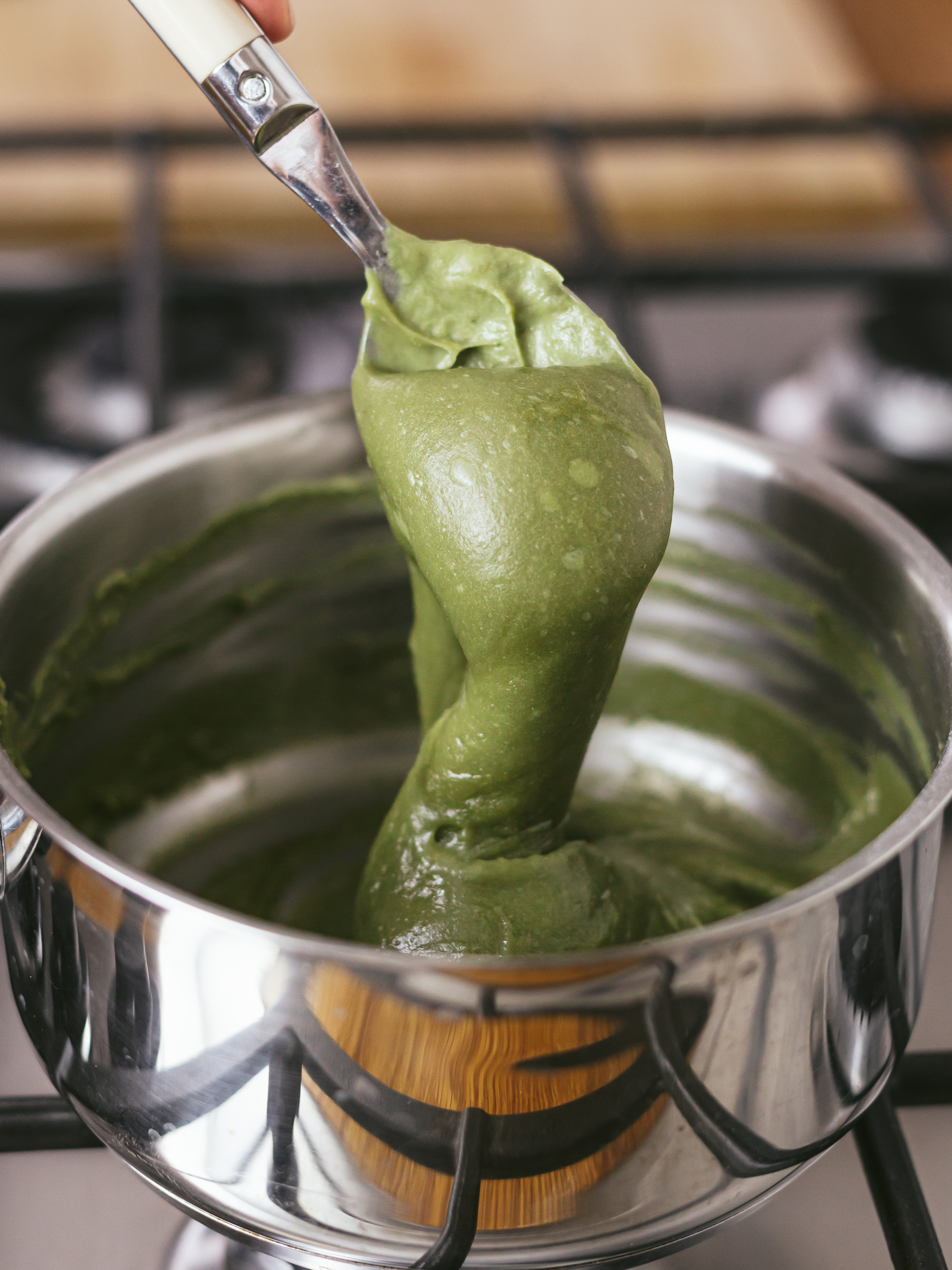 Step 5
Now, dust your worktop (or a sheet of baking paper) with starch and transfer the hot matcha mochi dough onto it, scooping it with a spoon.
Then, dust the dough with a little more starch.
The starch makes the mochi dough less sticky and easier to handle.
Dust your hands with starch and divide the mochi dough into 20 g (0.7 oz) pieces, one per cookie — 12 for the default ingredients.
Shape each piece into a mochi ball by stretching the sides of the dough and pressing them together at the top.
Then, cover the prepared matcha mochi balls with cling film so they won't dry out.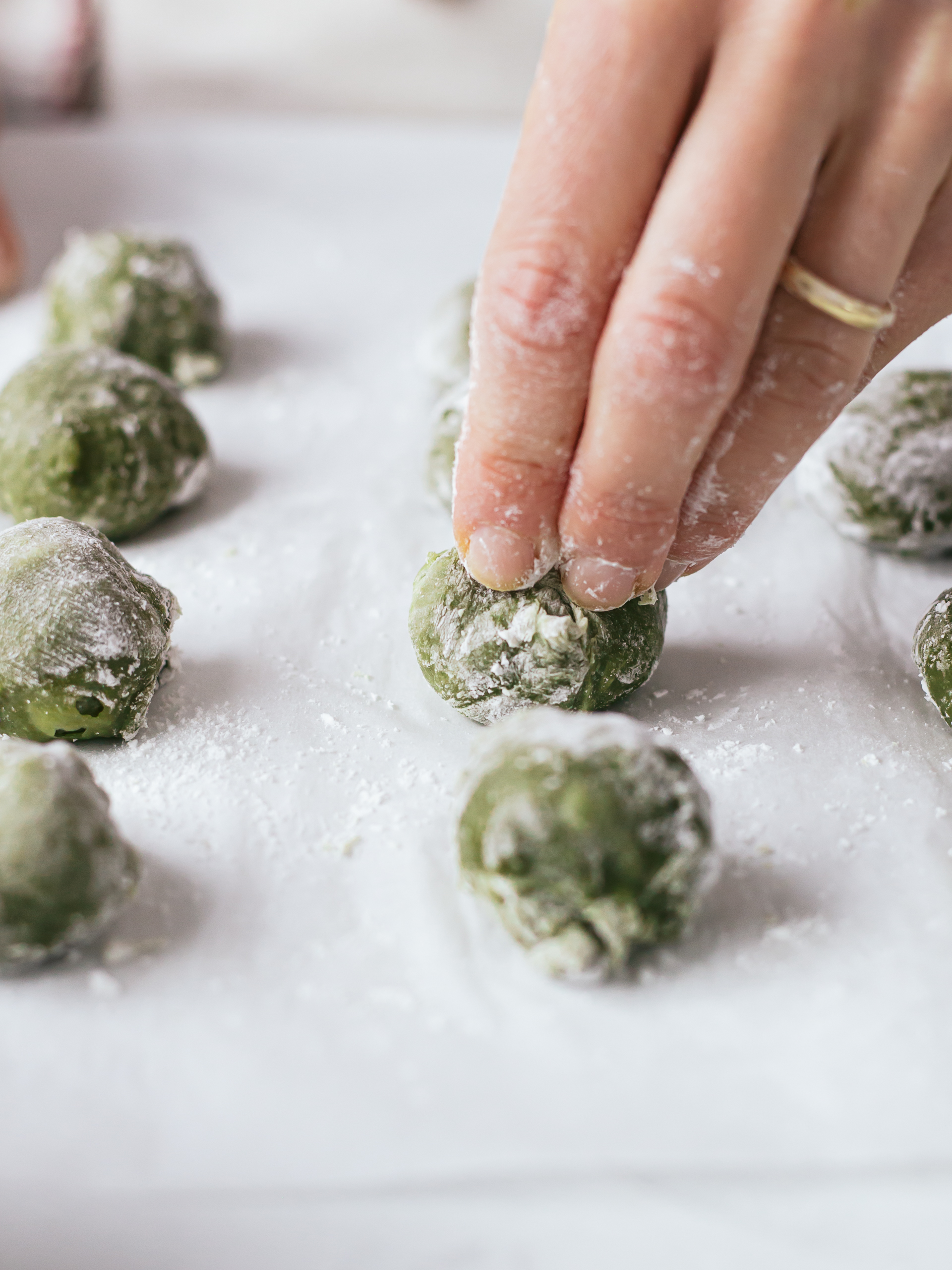 Step 6
Now, assemble the matcha mochi-filled cookies.
Remove the mochi cookie dough from the fridge and divide it into 40 g (1.4 oz) pieces — 12 for the default ingredients.
Work with one dough piece at a time, keeping the others wrapped in cling film in the fridge.
Roll the mochi cookie dough piece into a ball and flatten it into a disc, making it thinner on the edges (as they will overlap when you fold them over the mochi filling).
Then, place one matcha mochi ball in the centre of the cookie disc.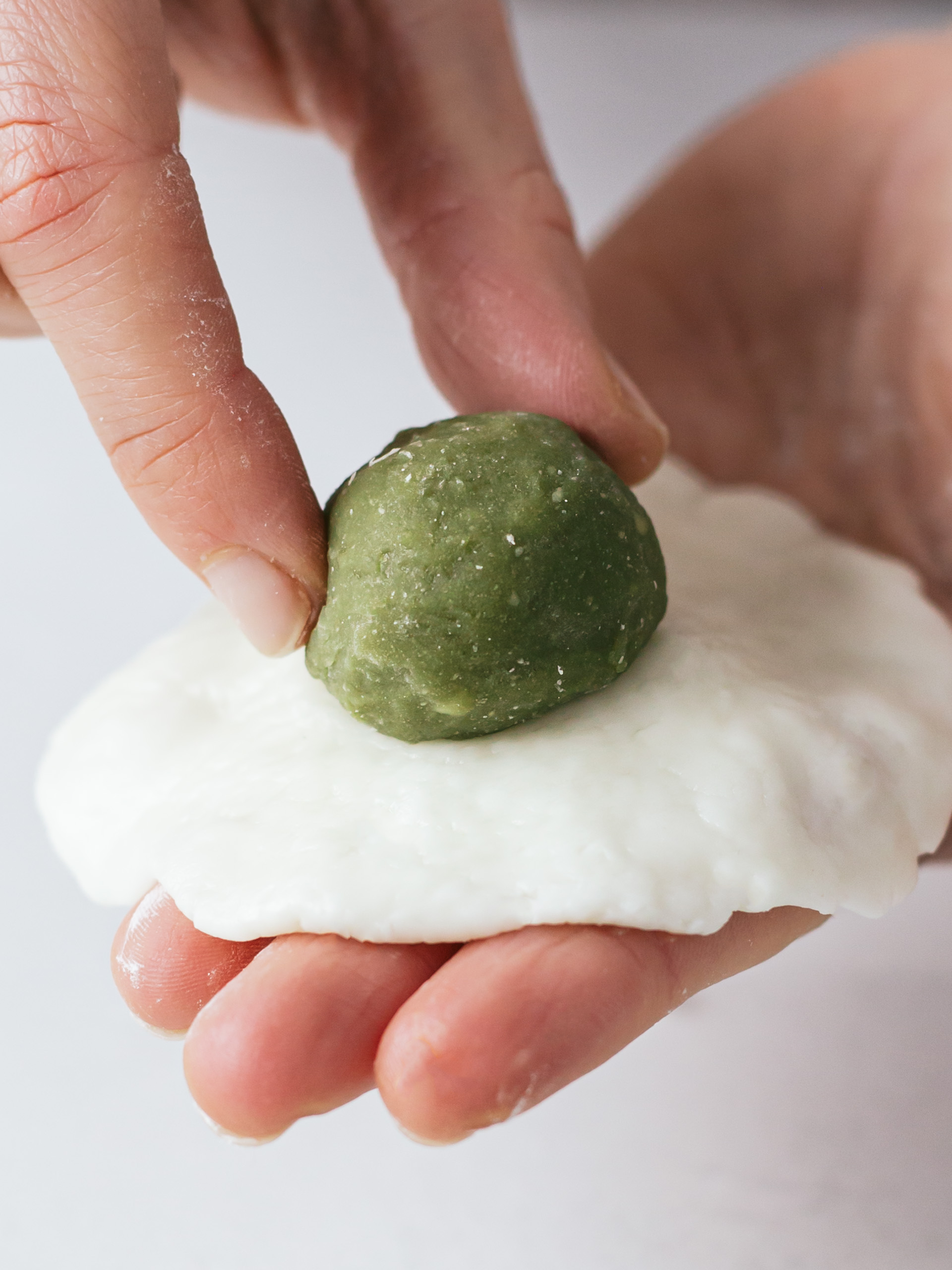 Step 7
Hold the mochi cookie disc in your hand and fold the dough edges over the mochi filling, sealing them at the top as you would for a dumpling.
Don't worry if the cookie dough cracks a little while you fold it; just pinch it together and smooth it out with your fingertips.
Once sealed, roll the mochi-stuffed cookie between your palms until you have a smooth ball without cracks and creases.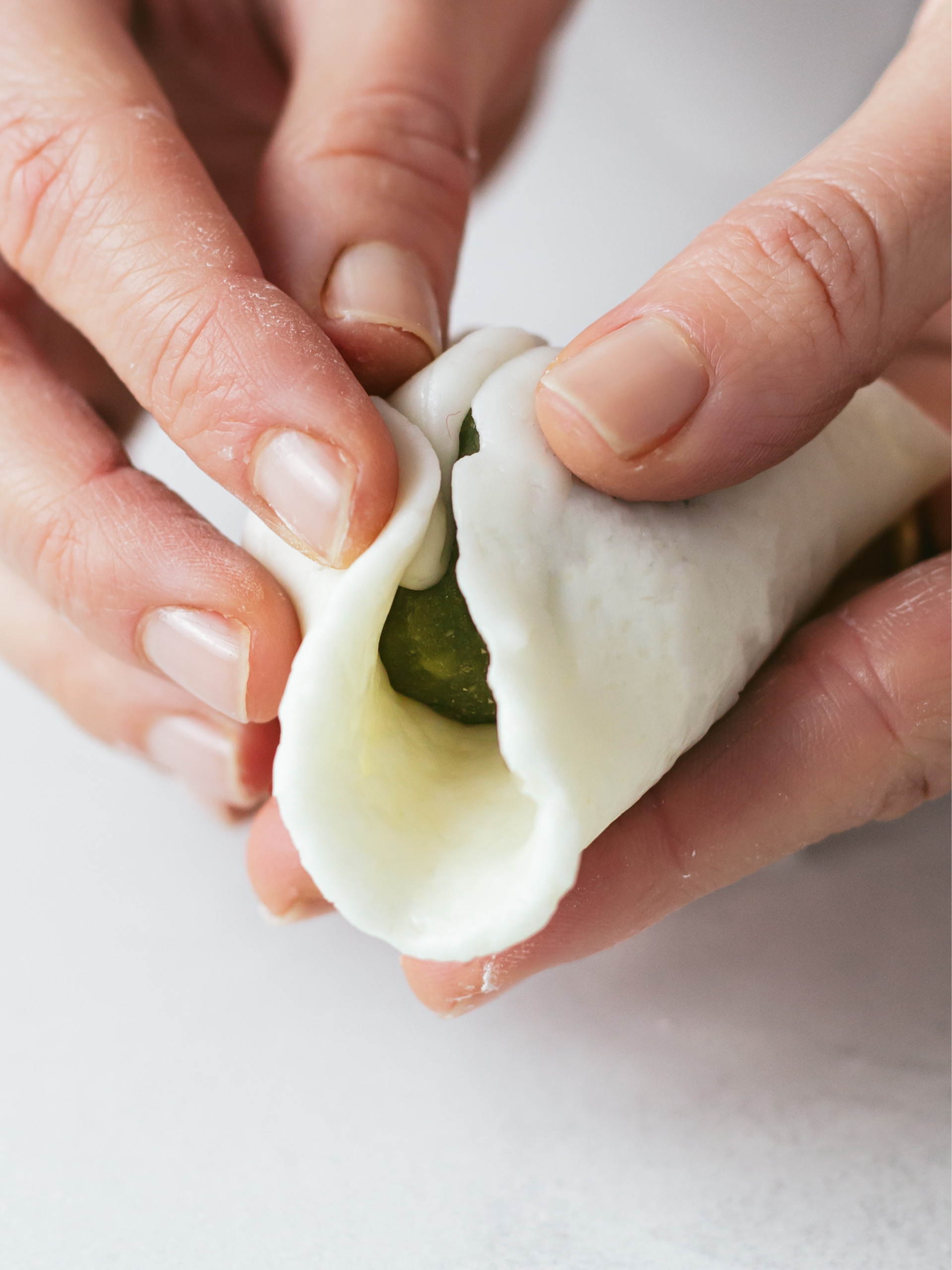 Step 8
Place the prepared mochi cookies on a tray lined with baking paper and keep them covered with cling film in the fridge while you preheat the oven to 180°C (355°F).
This way, they will hold their shape better when baking.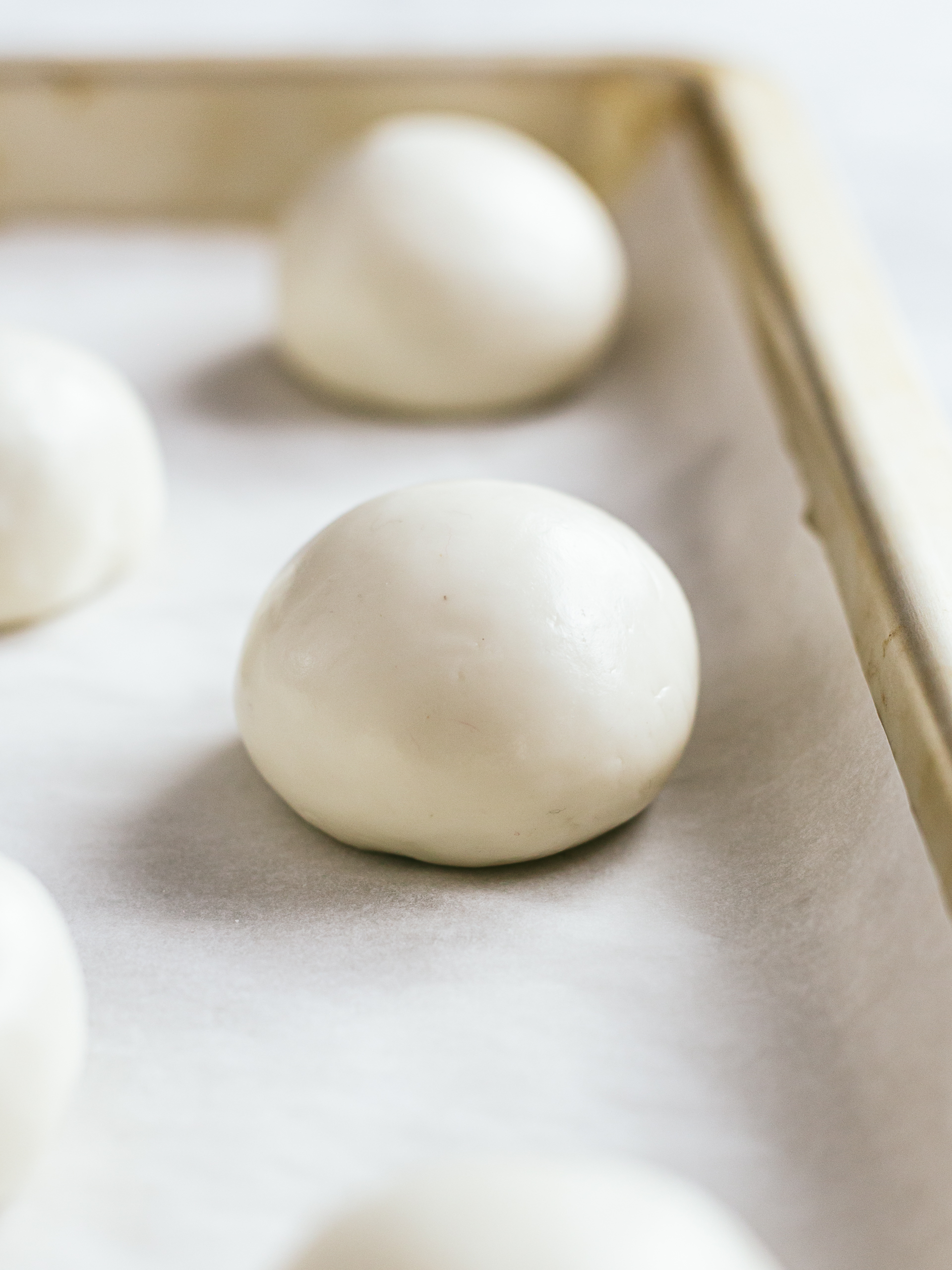 Step 9
Bake the green tea mochi cookies for 15-18 minutes until they're golden and lightly crusty.
You'll notice the mochi filling will inflate during cooking, forming little cracks on the cookies' surface; that's normal, don't worry.
The cookies will deflate as soon as you remove them from the oven, and you'll have cute crinkle-style mochi cookies.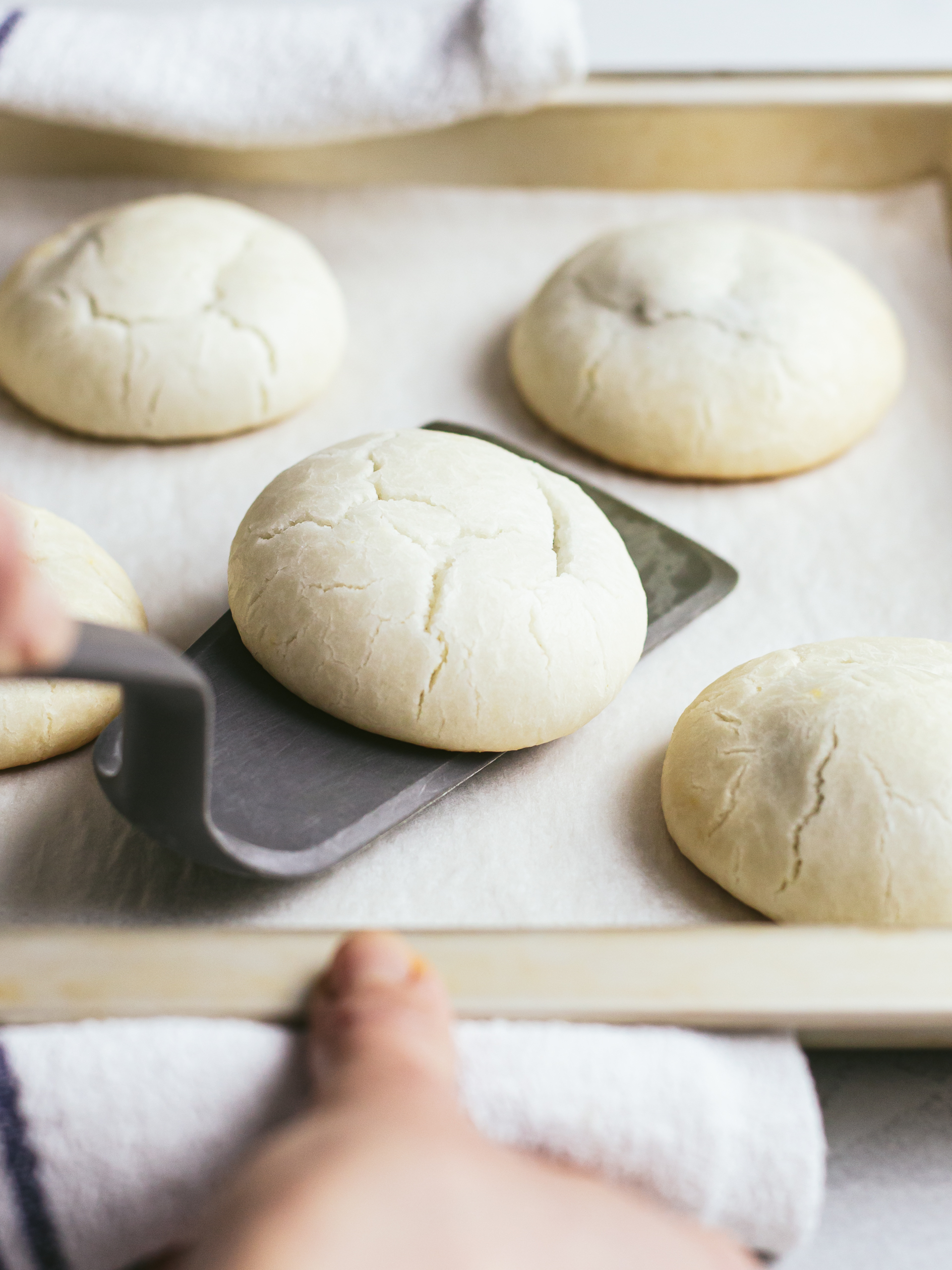 Step 10
Once ready, transfer the mochi cookies onto a wire rack to cool down a little and crisp up.
These mochi cookies are at their best when still warm, as the matcha mochi filling will be super gooey.
So, we recommend enjoying them while they're still soft and warm from the oven.
And once the cookies have cooled down, you can easily re-heat them in the oven, microwave or toaster.
Savour these gluten-free, vegan matcha mochi cookies with a classic cup of green tea — or pair them with this foamy matcha chai latte or refreshing matcha lemonade!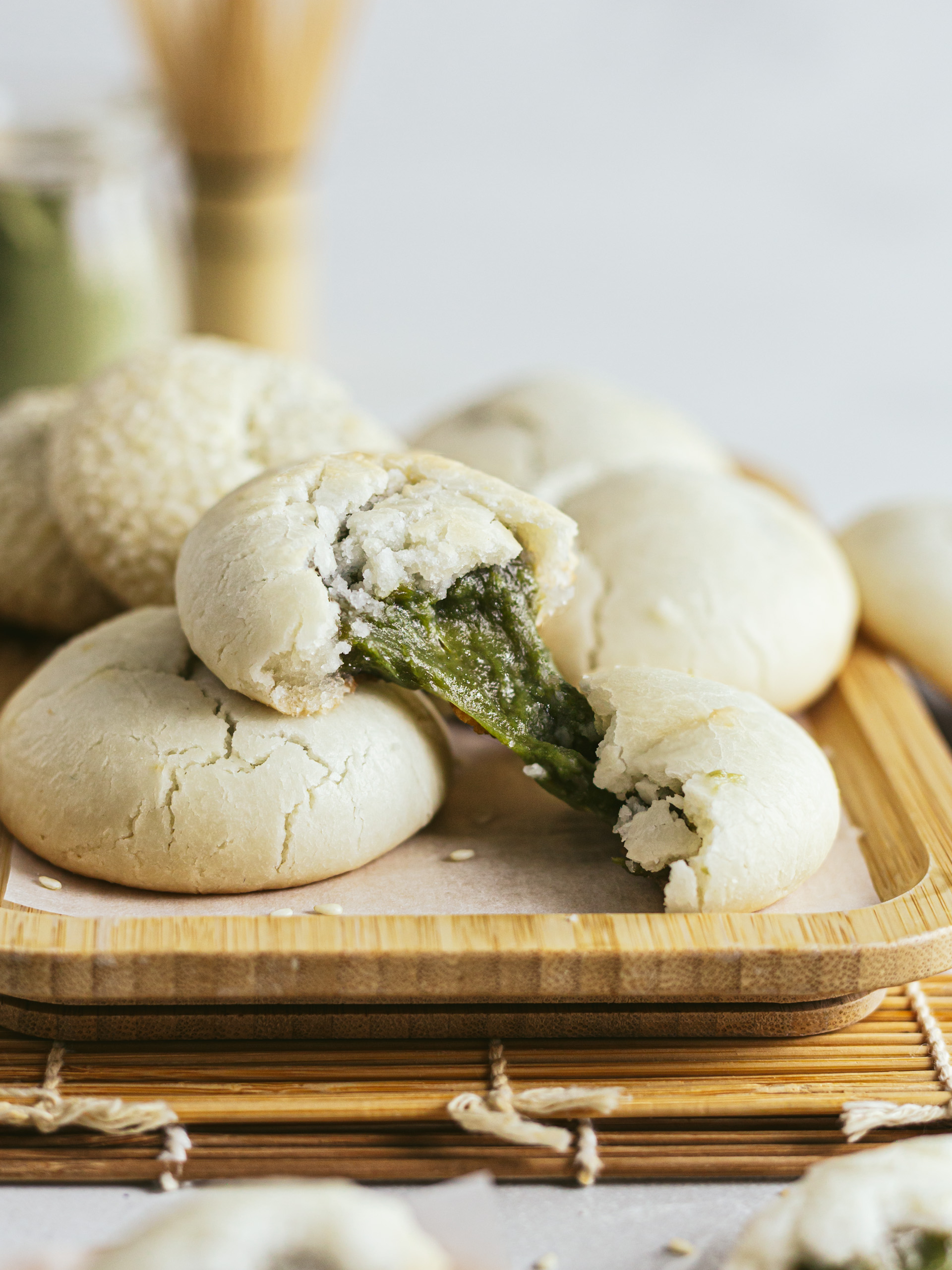 Tips
Microwave option for matcha mochi filling:

1. Combine glutinous rice flour with matcha, icing sugar, and water into a smooth batter in a microwave-safe bowl.

2. Cover the bowl with cling film and microwave the mochi batter for one minute at medium-high power. Then, use a wet spoon to stir the mochi mixture.

3. Repeat step 2 two or three more times until you have a smooth and stretchy dough.

You can coat the mochi cookies with sesame seeds for a crustier and tastier cookie dough shell. To do it, roll the shaped cookie balls over sesame seeds in a shallow bowl before baking them.

Store these mochi cookies in an air-tight container for 3-4 days. To freeze, pack the matcha cookies into a freezer-safe container or re-sealable bag, leaving space in between to prevent sticking. When ready to eat, heat the mochi cookies in the microwave, oven, or toaster.