For today's recipe, we want to show you how to make delicious vegan "fish" cakes with a wonderful Thai spin. They are as tasty as nutritious as the classic ones, made with simple and wholesome ingredients.
While many no-fish cake recipes use chickpeas, we opted for cannellini beans instead. They have a light cream colour, which makes them look pretty much like white fish once mashed. Also, cannellini have a more subtle flavour than chickpeas, making our Thai ingredients combo shine. Plus, they're as packed with proteins and fibres as chickpeas, so you won't miss any precious nutrients.
Once we sorted the texture and colour of our "fish" cakes, it was time to tackle the "fishy" flavour. How did we do it? With nori sheets. Nori is a seaweed with a briny taste, like seawater, which makes us think about fish. Perfect for this recipe! Moreover, nori provides a plant-based source of omega-3, iodine, iron, and calcium, making it a valuable vegan alternative to fish.
To make our vegan fish patties even more flavourful, we added a Thai-inspired mix of lemongrass, ginger, chillies, coriander, and lime. They bring these cakes to an all-new level! So, we recommend you don't skip any of these ingredients if you can find them. Finally, we breaded the bean patties with a light breadcrumb coating, which you can swap with almond flour or cornmeal if you're on a gluten-free diet.
Instead of frying our "fish" cakes, we baked them in the oven until crusty and golden to keep the fats low. As a result, each patty has just 145 calories, and it provides 15% RDI of proteins and 18% RDI of fibres, all with just 5% RDI of fats. So, a serving of two cakes will cover your nutrient needs for a meal without adding too many fats, exactly what we need in a balanced vegan diet.
The best way to enjoy our cannellini "fish" cakes is to pair them with other delicious Thai dishes, such as our vegan nasi goreng, green bean pilaf rice, and papaya salad. And if you want to round up a Thai-themed dinner, serve them with our green curry puffs as an appetiser and our green pandan jelly as a dessert. Your guests will love it!
Ingredients
| | |
| --- | --- |
| Cannellini Beans | 360 g |
| Garlic Cloves | 2 |
| Grated Ginger Root | 1 tbsp |
| Miso Paste | 2 tsp |
| Nori Sheets (torn into flakes) | 2 |
| Chopped Fresh Coriander | 2 tbsp |
| Chopped Red Chillies (Bird's Eye) | 2 |
| Lemon Grass Stalk (thinly chopped) | 1/2 |
| Extra Virgin Olive Oil | 2 tbsp |
| Juiced Lime | 1 |
| Breadcrumbs | 40 g |
| Wholemeal Flour (as needed for thickness) | to taste |
Step 1
Rinse the canned beans and drain them on a colander; make sure you remove excess water, or the "fish dough" will be too soggy.
Next, blitz the beans in a food processor to make a chunky paste and transfer it into a bowl.
Tip in minced garlic, grated ginger root, miso paste, nori sheets torn into small flakes, chopped coriander, chillies, and lemongrass.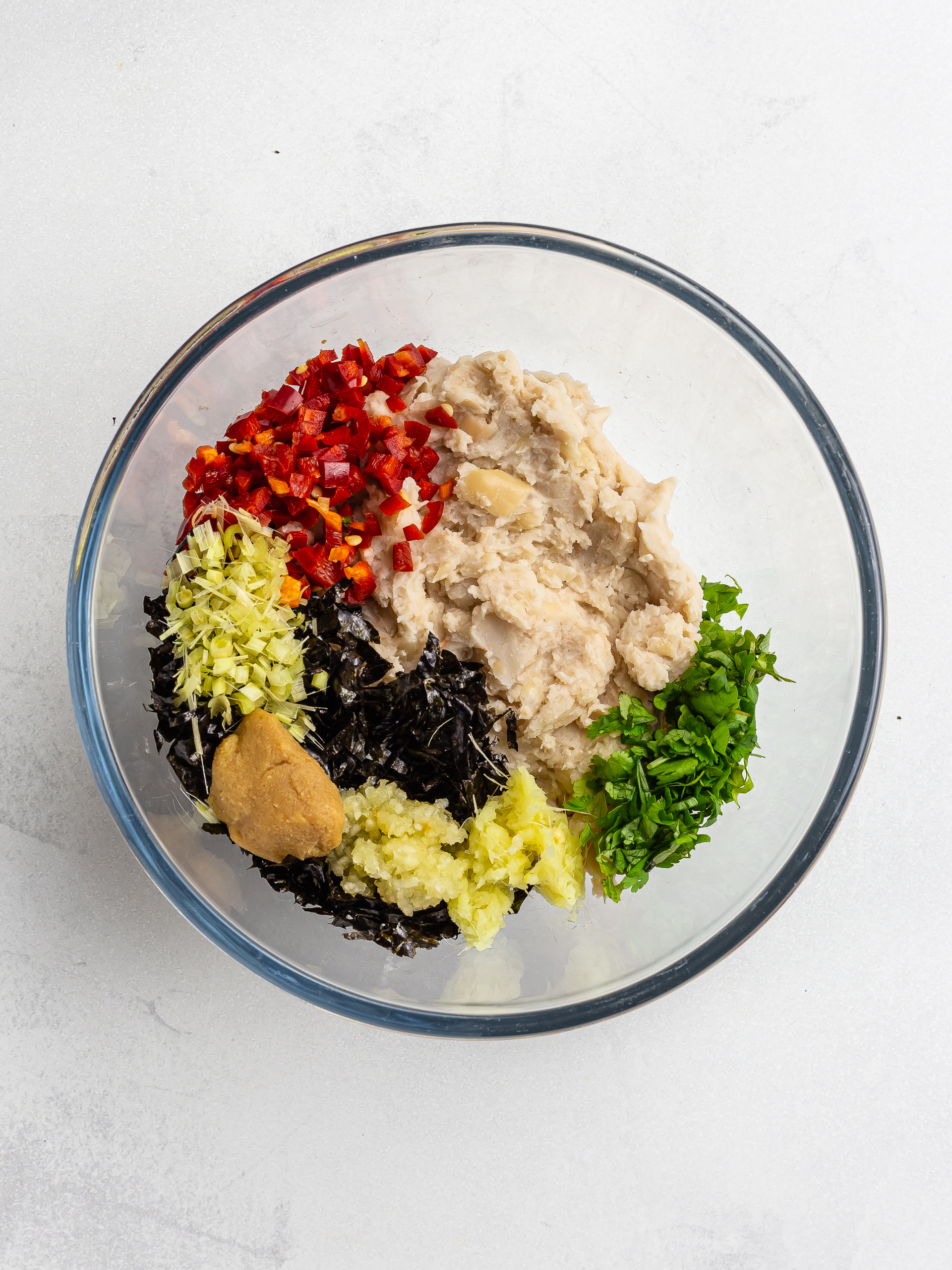 Step 2
Pour in the olive oil and lime juice, and season with salt and pepper to taste.
Mix all for a few minutes until you have a uniform dough.
It should be slightly moist and sticky but pliable enough to shape the patties. If the mixture feels too wet, then incorporate in a bit of wholemeal flour or oat flour as needed.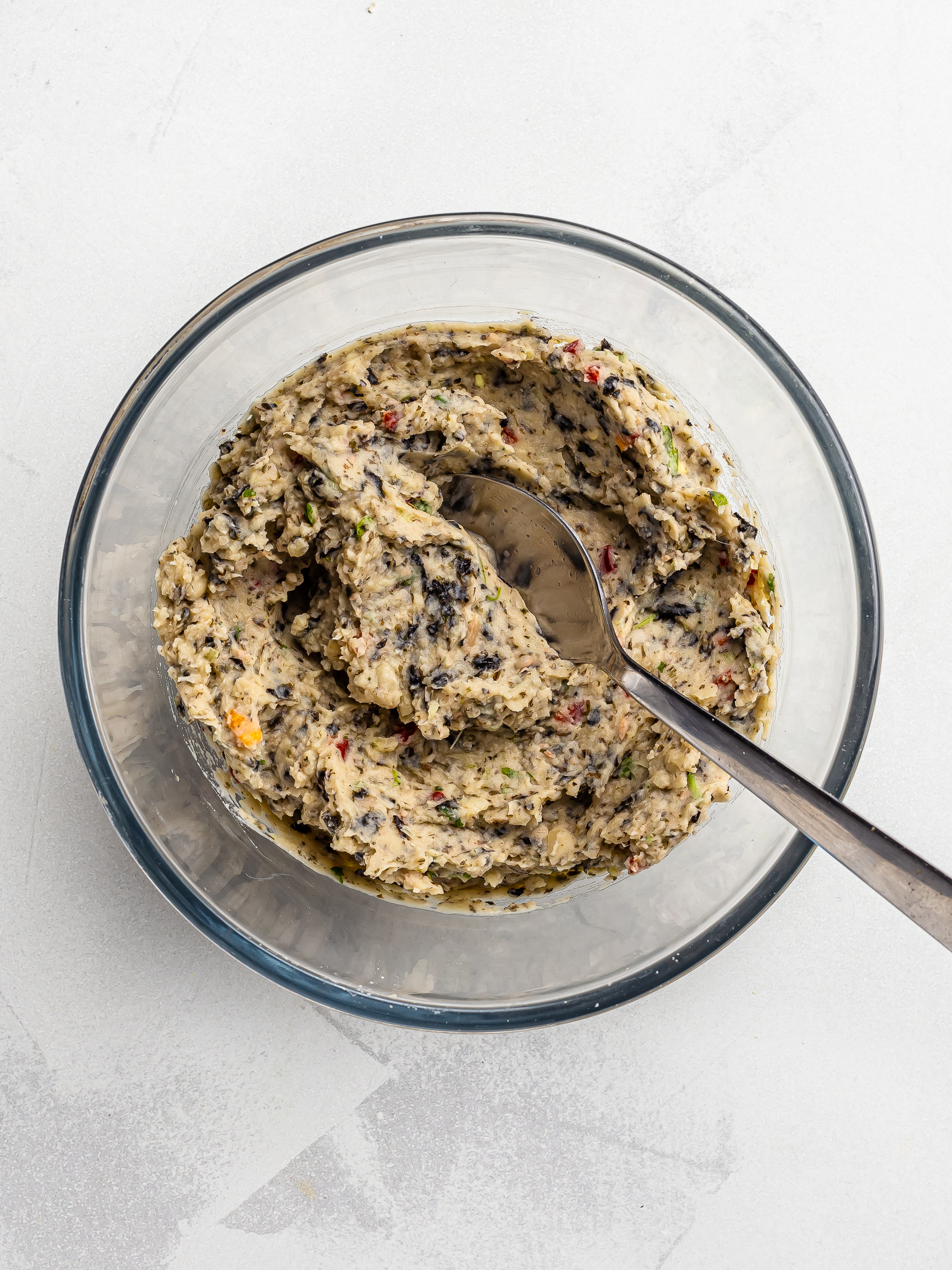 Step 3
Spread the breadcrumbs onto a flat plate.
To shape each "fish" cake, take a handful of the mixture, roll into a ball, and flatten it into a patty (1).
Then, press it onto the breadcrumbs, flip it, and coat the other side (2).
You can optionally dip the patties in a "flax egg" or flour batter before coating them with the breadcrumbs if you want a thicker coating. Check our tips below for instructions on how to do it.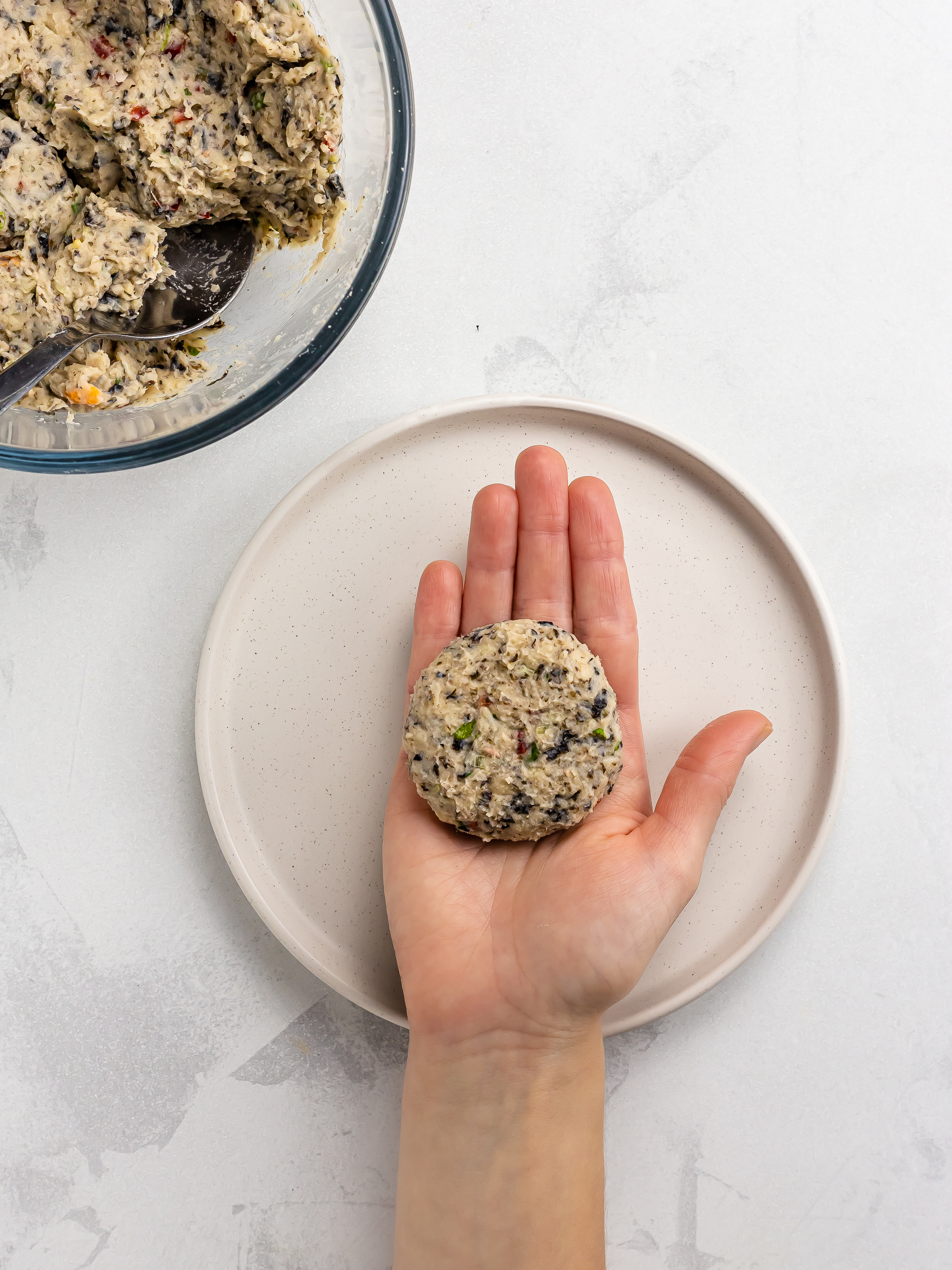 1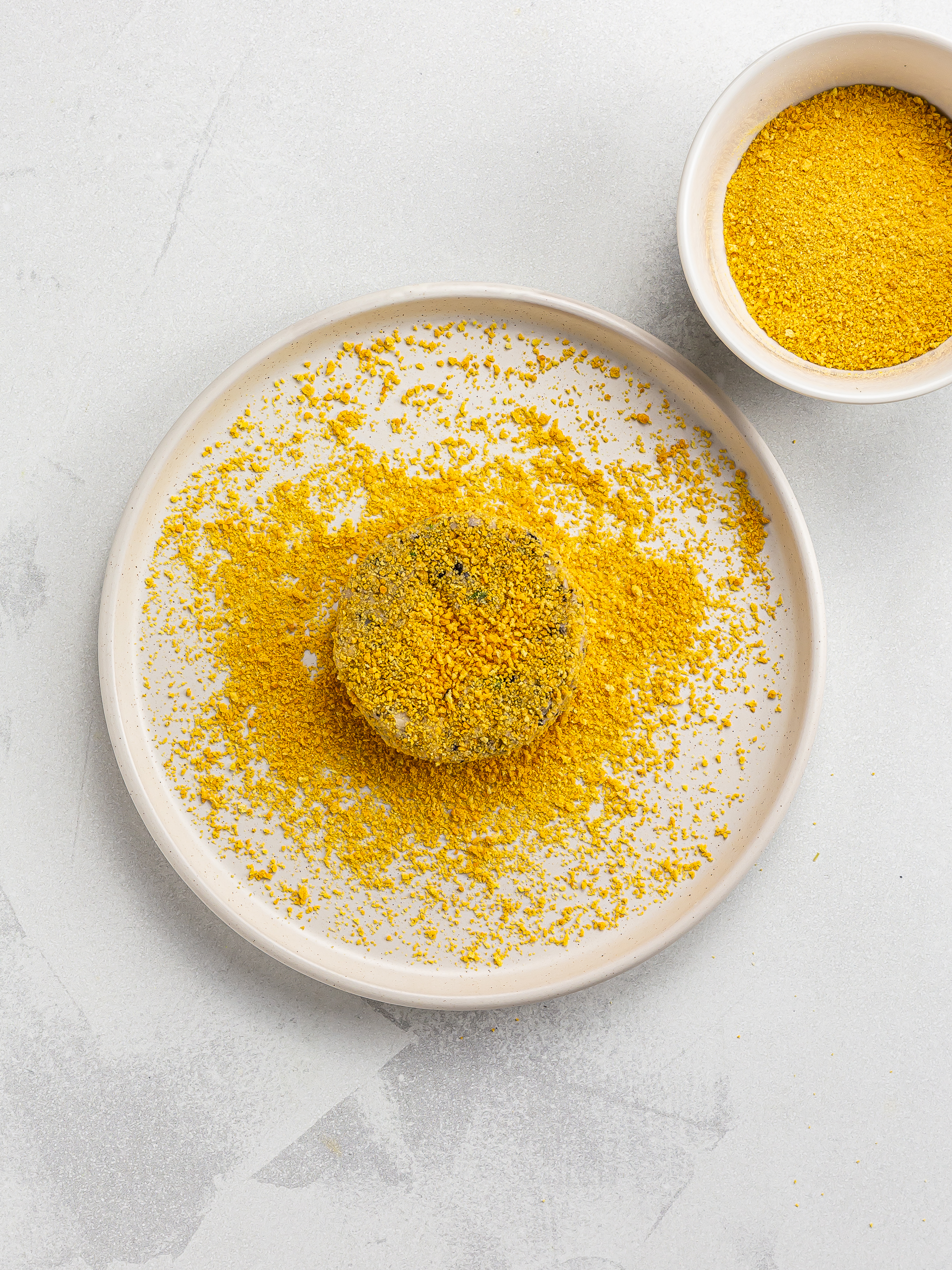 2
Step 4
Place the prepared patties on a baking tray lined with parchment paper and bake them at 200°C (400°F) for 30 minutes until the coating is crusty and golden.
Serve these delicious vegan Thai fish cakes while warm, topped with chilli sauce, vegan mayo, or our Asian chilli jam.
They're perfect with a bowl of sticky rice or Thai pilaf and a green salad.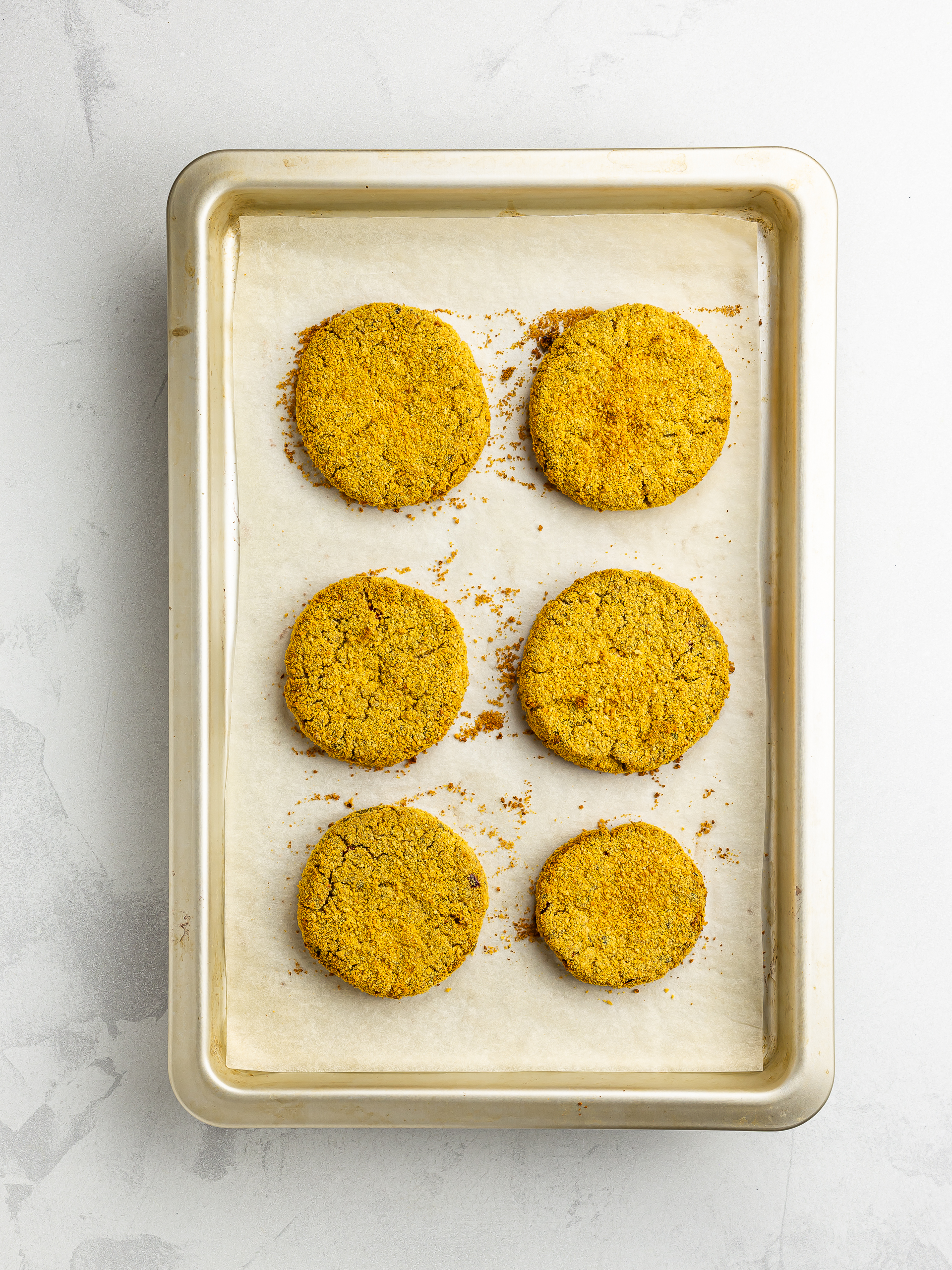 Tips
You can swap fresh ginger, garlic, and chillies with the dried ones, using 1/2 teaspoon of ground ginger, 1 teaspoon of garlic powder, and 1/2 teaspoon of chilli powder.

For a crunchier and thicker coating, you can first dip the patties in a vegan egg or a flour batter and then coat them with breadcrumbs. To do so, mix one tablespoon of ground flaxseeds with three tablespoons of water, and let the mixture thicken in the fridge for 15 minutes. Alternatively, make a batter with 30g (1 oz) of flour and 50ml (1.8 fl oz) of water, whisking it in a bowl until smooth.