This bubbly beetroot latte is the perfect drink to help you unwind and stock up on precious antioxidants. It pairs the comforting feel of a hot drink with the healing benefits of this purple root. So, make yourself a big mug of this pink latte, and enjoy it!
To make vegan beet latte, you only need plant-based oat milk (or similar), blended beetroots, spicy cardamom, and maple syrup. Gently heat the ingredients in a pot and enjoy the latte hot. For extra points, you can use a frother and top it with a bubbly foam. We'll show you how below.
Preparing a hot drink with beets has been a revelation for us, as we normally use this root in raw smoothies or lemonades. We opted for already-cooked beets, which are cheap and easy to find at the supermarket all year long. You can also go with raw beets when they're in season, use ready-made beet juice or beet powder. You can check our tips below for suggestions on how to use each of these options.
Beets give this latte a gorgeous pink hue and add a unique, earthy flavour. But not everyone likes the bittersweet taste of beetroots. The trick is to balance the beets with another strong flavour. We opted for cardamom spice because of its sweet and fruity notes.
This beet latte is not only super cute but also good for you. It's low in fats, vegan, and sugar-free, lightly sweetened with a dash of maple syrup. Moreover, beetroots help lower blood pressure[1] and fight nasty free radicals; they also support the natural detoxifying processes carried out by the liver and digestive tract[2], helping you feel at your best.
We hope you'll enjoy this recipe. If you're in the mood for more superfood drinks like this one, give our spirulina latte, turmeric hot chocolate, and green tea chai-spiced latte a try!
Ingredients
| | |
| --- | --- |
| Cooked Beetroots | 1 |
| Oat Milk | 500 mL |
| Ground Cardamom (optional) | 1 pinch |
| Maple Syrup | 2 tsp |
Step 1
Blitz the beetroot with 100 mL of oat milk in a food processor until smooth.
If you want to use raw beets, beetroot powder, or store-bought juice, check our tips below.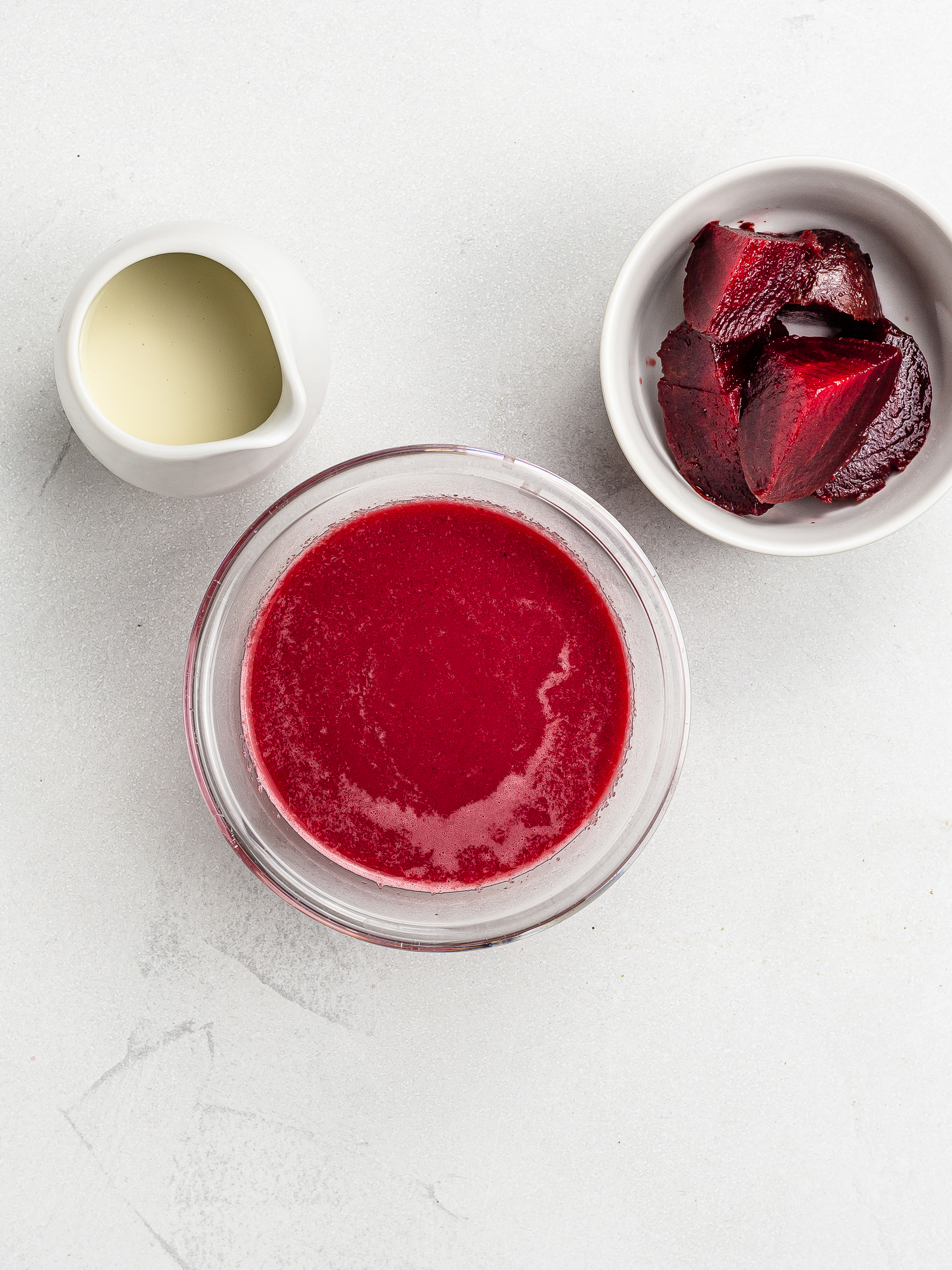 Step 2
Now, pour the remaining 400 mL of oat milk in a pot, followed by ground cardamom, maple syrup, and beetroot juice.
Bring the milk to a boil over medium heat and then remove the pot from the hob.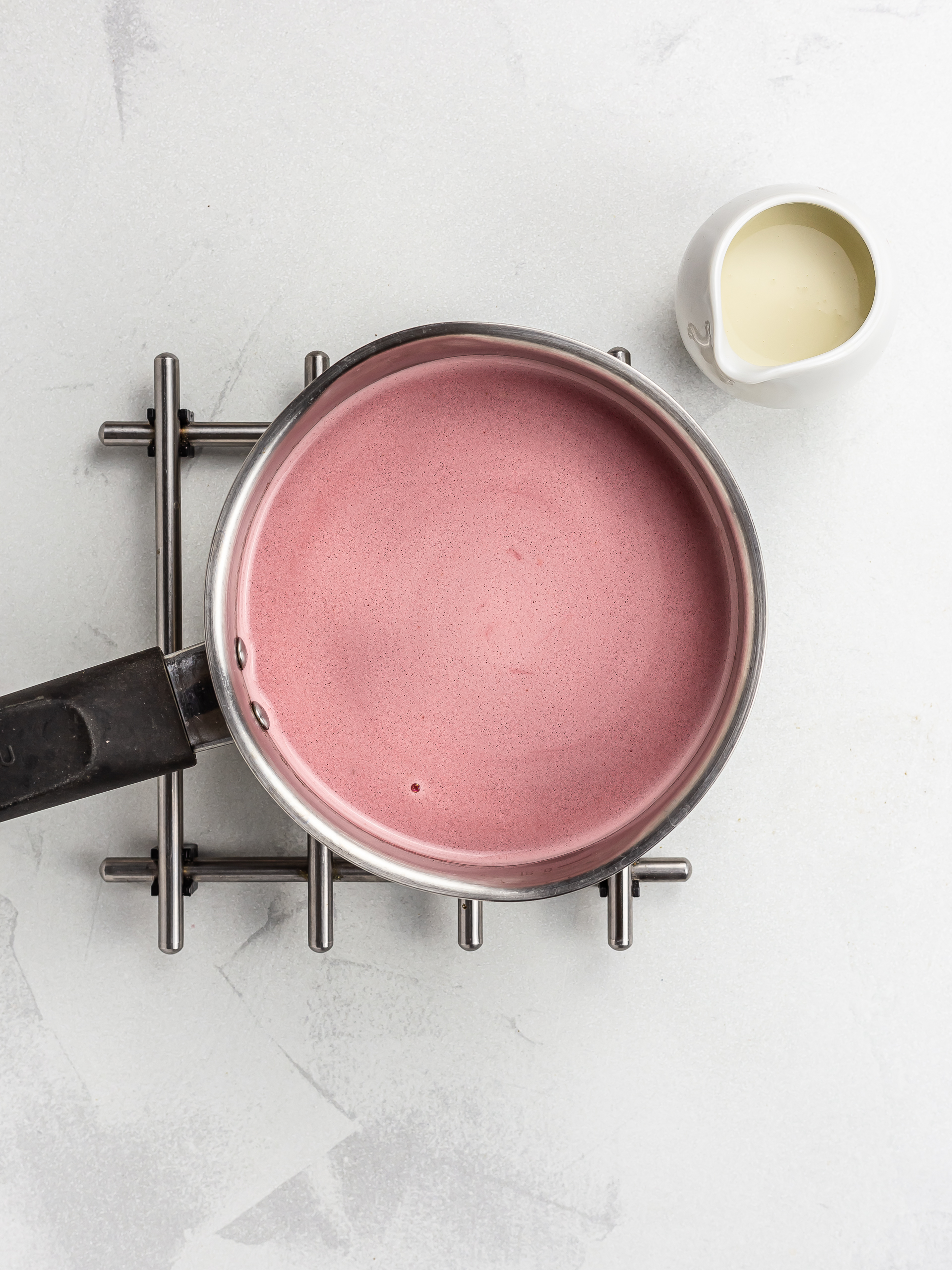 Step 3
If you want to make a foam layer for the latte, pour one-third of the hot beet milk into a jar and shake it vigorously. Alternatively, foam it with an electric hand frother.
Finally, divide the beetroot latte among mugs and pour in the prepared foam.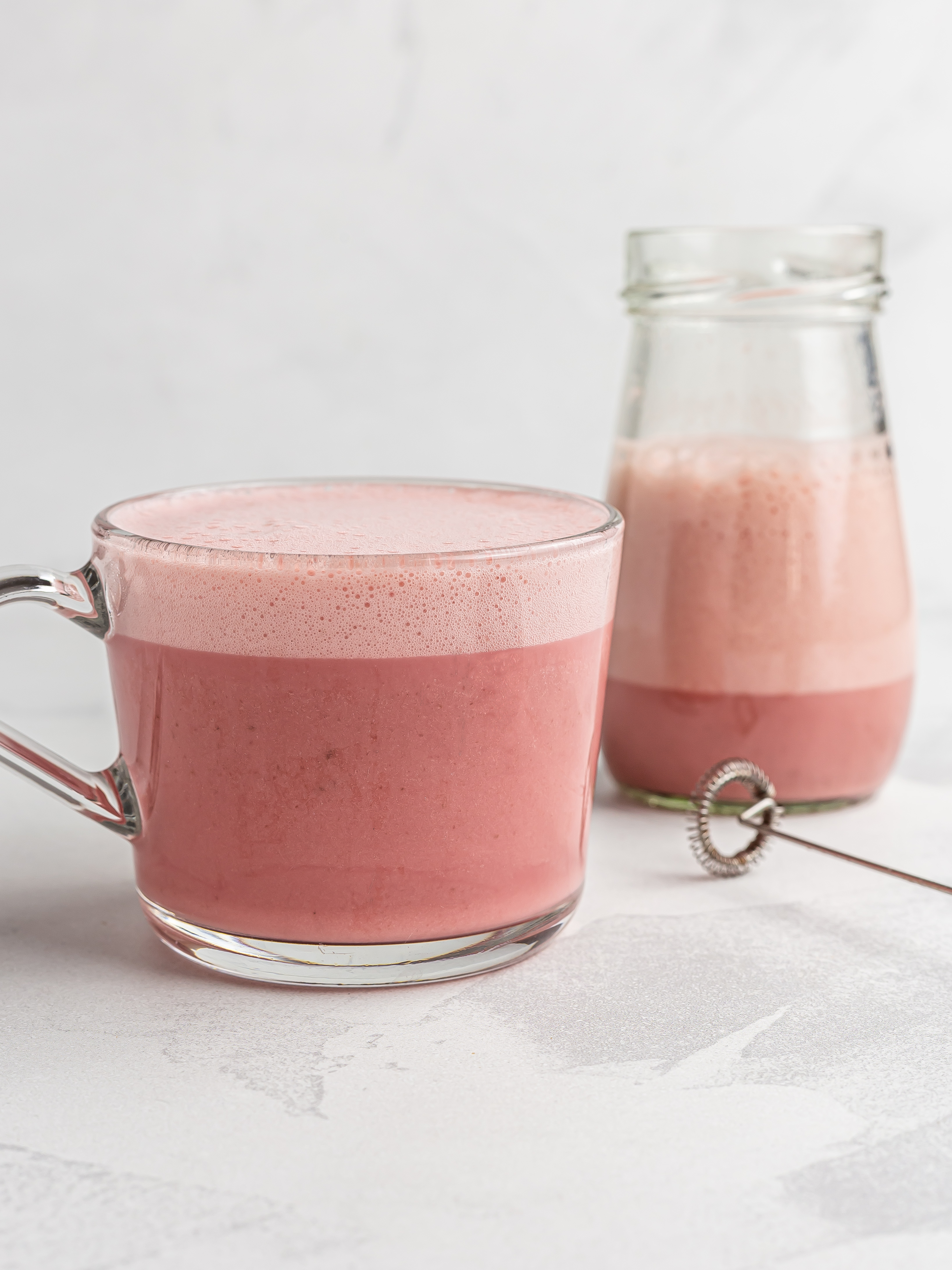 Tips
You can also make the recipe using raw beetroots, beet powder, or store-bought juice.
With raw beets: in step 1, blend the raw beets with milk and then pass the mix through a sieve.

With beet powder: skip step 1, heat the milk with 5g of beet powder per serving, whisking until completely dissolved.

With beet juice: skip step 1 and replace one-third of the milk with beet juice; then add the juice to the hot milk in step 2.