Inspired by the classic coffee and chocolate chip cookies, we gave that recipe a spin and used a healthier form of caffeine: matcha.
The result? Chewy and wholesome matcha chocolate chip cookies!
Moreover, as it is our mission, we made this recipe accessible to as many people as possible. And so these green tea cookies are vegan, gluten-free, and sugar-free. We didn't use any refined sugars, butter, eggs, or wheat. Thanks to the low-sugar and high-fibre content, they are well suited to people on a weight-loss diet.
Chewy cookies need the fat. But instead of using bad fats from animal products or refined plant-based alternatives, we used the uber-healthy fats from avocado. We also opted for 80%+ dark chocolate, to cut down on cocoa butter and added sugars.
We describe in great length why matcha is a better stimulant than coffee. In a few words, while coffee's caffeine makes you stressed and nervous, matcha's put you in a state of calm alertness. It is a fascinating topic, check out that article if you want to learn more!
The recipe is simple like all cookie recipes should be! It is ready in just 30 minutes. Unlike most cookies, though, these are loaded with health benefits: helpful antioxidants from the matcha, heart-loving fats from avocado, and gut-friendly fibres from the oats.
How do they stack against a classic cookie from a nutritional point of view? Our matcha chocolate chip cookies have 4 times fewer saturated fats, 5 times fewer sugars, and 6 times more fibres. Awesome right? The belly is happy, and the conscience is at peace. Let's jump right into the recipe below!
And if you'd like to discover more delicious ways to bake with matcha, check out these matcha mochi cookies, matcha scones, and matcha yogurt muffins next!
Frequently Asked Questions
What type of chocolate is best for these cookies?

To keep this recipe as wholesome and low sugar as we could, we used 85% dark chocolate. We recommend you opt for a bar of chocolate that has a cocoa percentage of at least 70% to enjoy all the benefits of this amazing ingredient.

However, we noticed that compared to baking chocolate or milk chocolate, the dark variety tends to melt faster and spread more. This can make your cookies look "messier", but they will be much healthier.
What can I use instead of maple?

By replacing refined white sugar with maple syrup, these wholesome, diet-friendly cookies have five times fewer sugars than the classic ones.

Maple is an excellent vegan sweetener that contains almost half the sugars compared to granulated sugar [1, 2], plus it's rich in minerals and antioxidants.

Alternatively, you can use raw honey or blended dates.

To make these green tea cookies 100% sugar-free - and thus suitable to people with diabetes - you can swap maple with stevia or erythritol. Check out these Goji berry cookies with erythritol to see how we've used it.
What can I use instead of avocado?

If you want to keep these choc chip biscuits healthy, you can replace avocados with one of the following ingredients:

Applesauce - Cooked and blended apples are a great fat alternative in baked goods, and they're low in calories too. Check out our applesauce cookies here.

Mashed sweet potatoes or pumpkin - Although unconventional, these vegetables add richness, help to bind the ingredients, and give a cute orange tone to your sweet treats. Have a look at our sweet potato apricot cookies or pumpkin chocolate loaf for inspiration.

Nut butter - Almond, cashew, and peanut butter add proteins and fibres, for even more nutrition. You'll love our coffee cookies!

Rapeseed Oil - A great alternative to butter due to its low content of saturated fats
Ingredients
| | |
| --- | --- |
| Ground Flaxseeds | 2 tbsp |
| Water | 4 tbsp |
| Ripe Avocado | 1 |
| Jumbo Oat Flakes | 250 g |
| Baking Powder | 1 tsp |
| Matcha Powder | 3 tsp |
| Maple Syrup | 65 g |
| Dark Chocolate 85% | 60 g |
Step 1
Let's start by preparing the "flax-egg". In a bowl, combine the ground flaxseeds with cold water and leave the mixture to soak for 5 minutes in the fridge until thick and gel-like.
Meanwhile, blitz the avocado in a food processor or mash it with a fork into a smooth paste.
Step 2
Grind half of the oat flakes into flour by blitzing them in your food processor.
In a mixing bowl, combine the oats, baking powder, matcha, and a pinch of salt. Give all a quick stir to distribute the baking powder evenly.
Then, incorporate the avocado, "flax-egg", and maple syrup, and work the ingredients into a compact dough.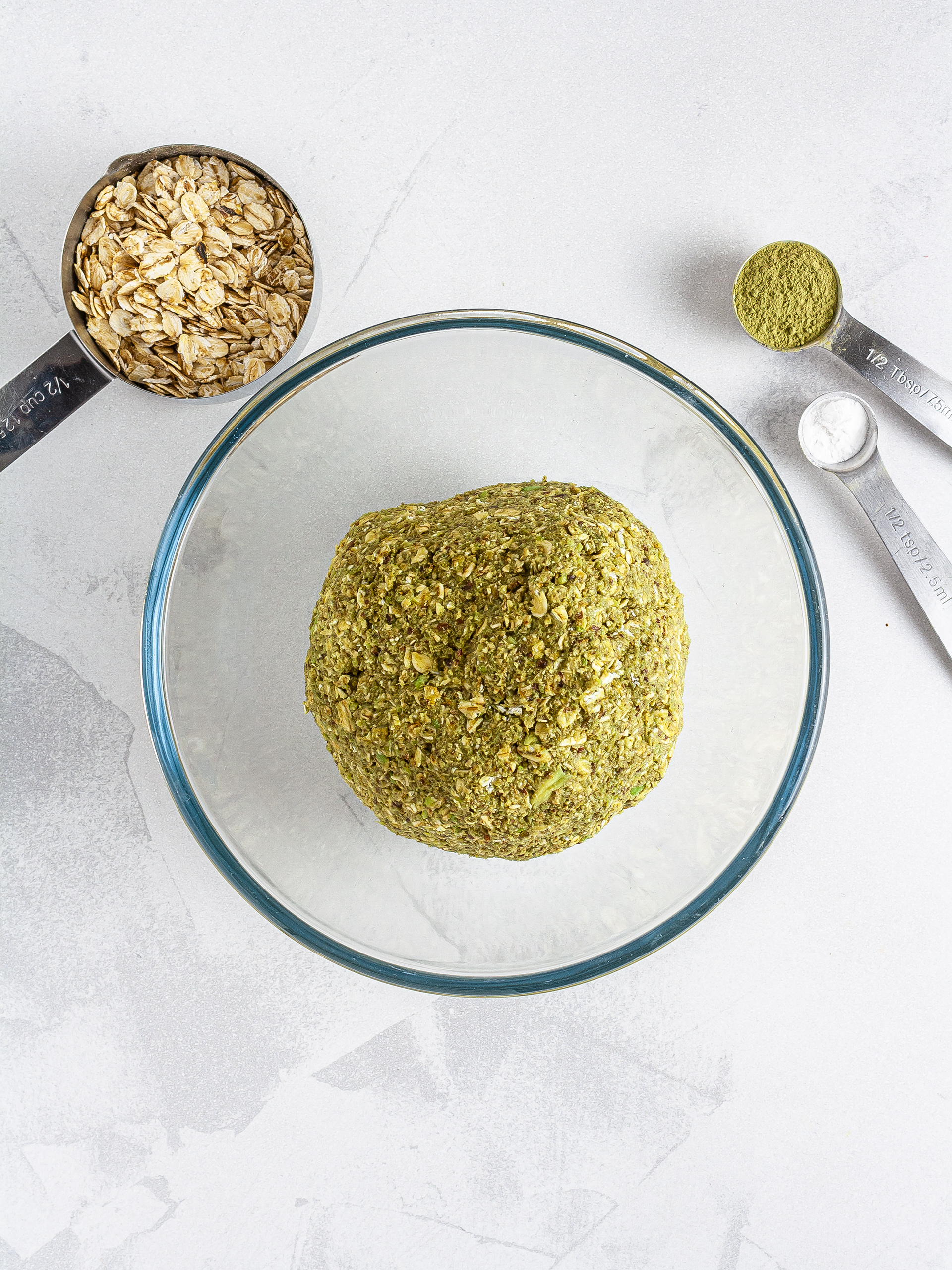 Step 3
You can use chocolate drops or chop a chocolate bar into small chunks.
Add the chips to the matcha dough, briefly knead the mixture, and then roll it into a ball.
At this point, you can refrigerate the dough for 15 minutes so that it will be easier to handle, or you can use it right away.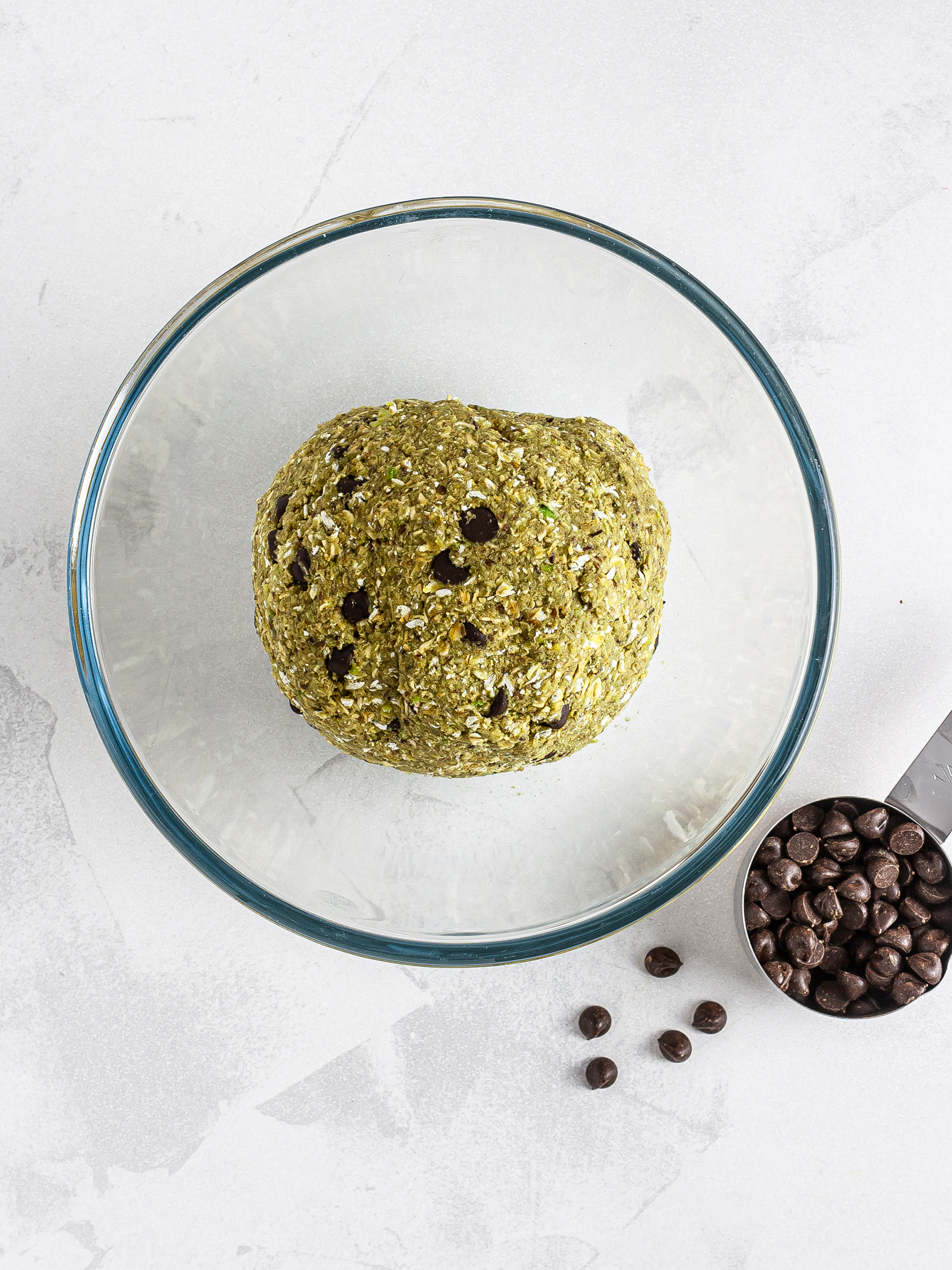 Step 4
For each cookie, pinch off a small handful of dough, roll it in between your palms, and then flatten it down on a baking tray lined with parchment paper.
Repeat this step until you have used all the dough.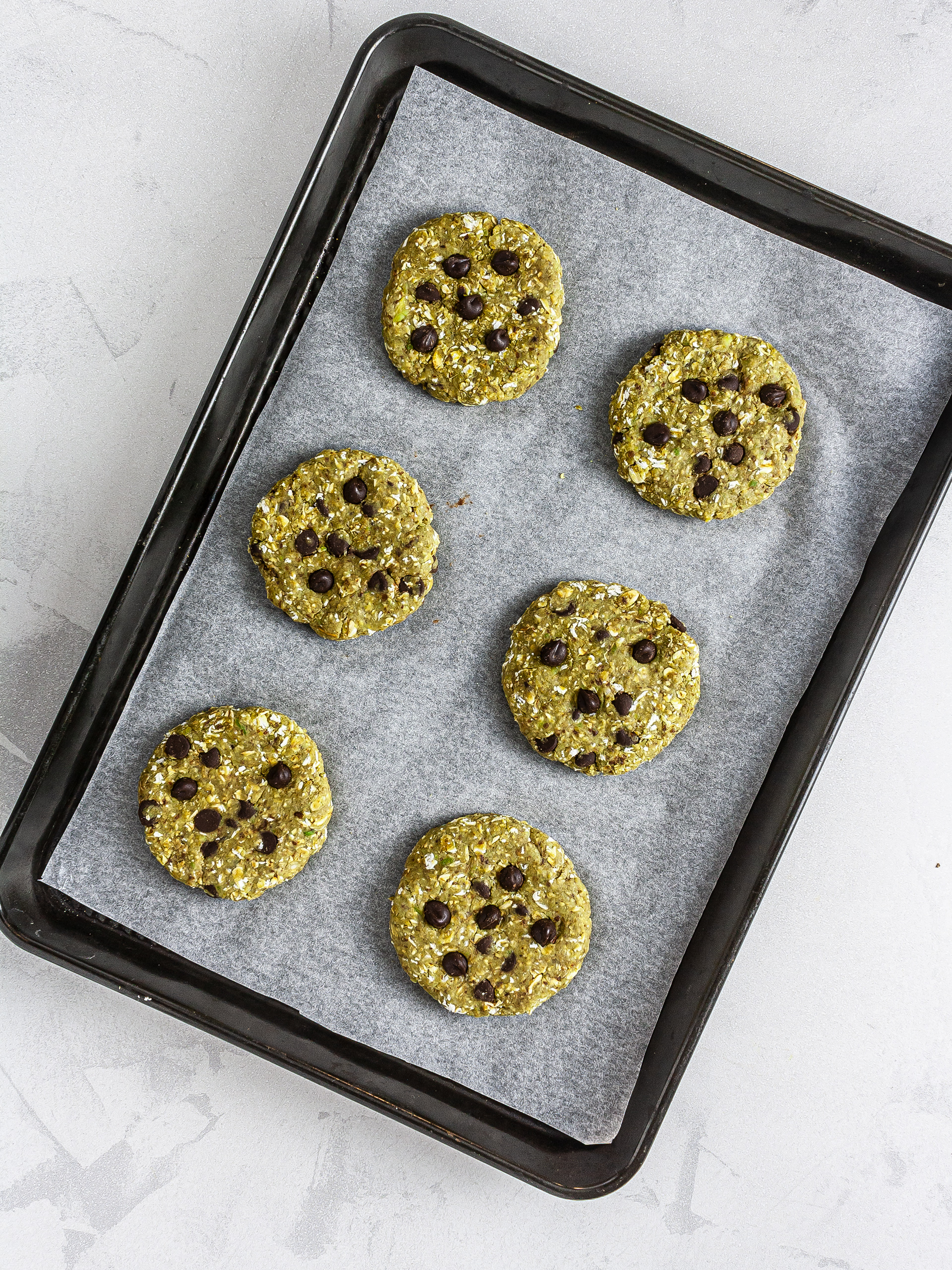 Step 5
Bake the chocolate cookies in the preheated oven for 12 minutes at 200°C (390°F) for static ovens, or at 180°C (355°F) for fan ovens.
Once ready, transfer the matcha biscuits onto a wire rack to cool down. They will harden and crisp up nicely.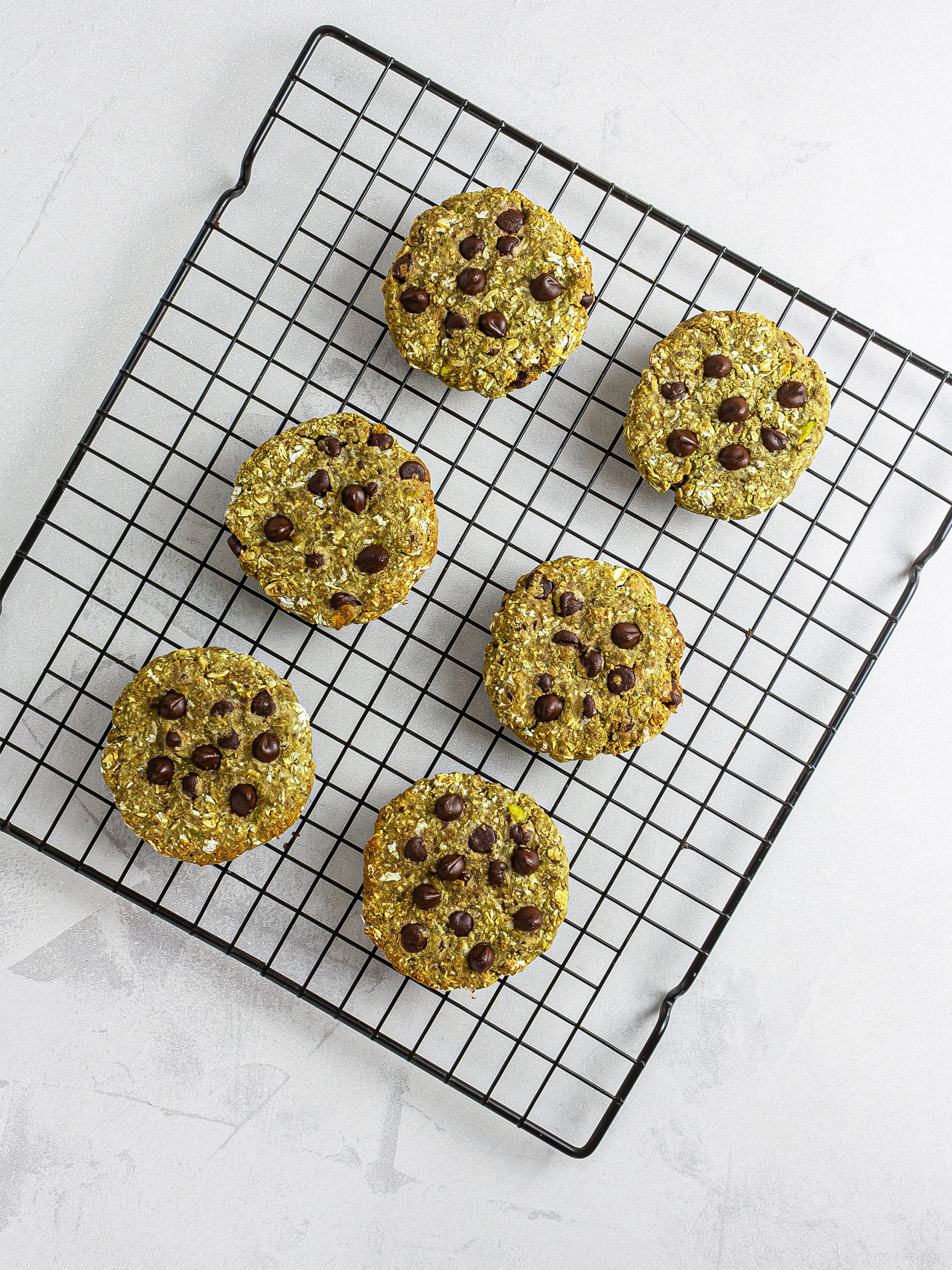 Tips
Add chopped almonds or walnuts for extra crunchiness and nutrition.

For a fast, no-baking recipe, you can use the dough to prepare energy balls. Omit the baking powder from the ingredients list, roll the dough into bite-sized balls, and keep them in the fridge in an air-tight container.