This vegan okra stew is a tasty meatless variation of the classic bamia dish from the Middle East. It's hearty and filling, perfect to warm up on a cold day or prepare a quick family dinner. We'll show you how to do it in just three simple steps!
Also known as bamieh or bamya, bamia consists of chopped okra pods stewed with tomatoes and onions. It's usually seasoned with coriander, allspice, bay leaves and rounded up with lemon juice and sugar for a sweet and sour finish.
While the classic Middle Eastern recipe includes lamb, we prepared our recipe using chickpeas instead. Chickpeas are a common ingredient in those regions and make a wonderful plant-based alternative to meat. They pack plenty of proteins and fibres, all with very little fats.
The word bamia actually means okra in Turkish; and it's also known as ochro and "ladies' fingers". It's a nutritious vegetable packed with vitamins and fibres. In particular, it contains soluble fibres that form a viscous gel able to bind to cholesterol during digestion, reducing its absorption in the gut[1]. Therefore, consuming more okra is a cheap and easy way to keep cholesterol in check and prevent heart diseases.
A bowl of this stew makes a well-balanced vegan meal that provides two of your 5-a-day for fruit and vegetables plus healthy fats from extra virgin olive oil. Each serving has less than 300 calories, and it covers 30% of your RDI of proteins and 40% RDI of fibres.
Enjoy this delicious stew with whole grain rice, couscous, or homemade flatbread.
And if you want to make a Middle Eastern-themed dinner, you can serve it alongside baba ganoush, falafels, tabbouleh, and baklava.
For other saucy stews ideas, check out this Lebanese fasolia or chilli spinach stew from Ghana.
Ingredients
| | |
| --- | --- |
| Extra Virgin Olive Oil | 1 tbsp |
| Red Onions | 1 |
| Garlic Cloves | 2 |
| Allspice | 1 tsp |
| Okra | 160 g |
| Canned Chopped Tomatoes | 400 g |
| Fresh Coriander | 2 tbsp |
| Bay Leaves (optional) | 2 |
| Canned Chickpeas | 240 g |
| Lemon | 1/2 |
| Maple Syrup or Brown Sugar (optional) | 2 tsp |
Step 1
Heat the oil in a skillet, add finely sliced onions and garlic.
Tip in allspice and sizzle all for 3-5 minutes until the onion has softened and the garlic is fragrant.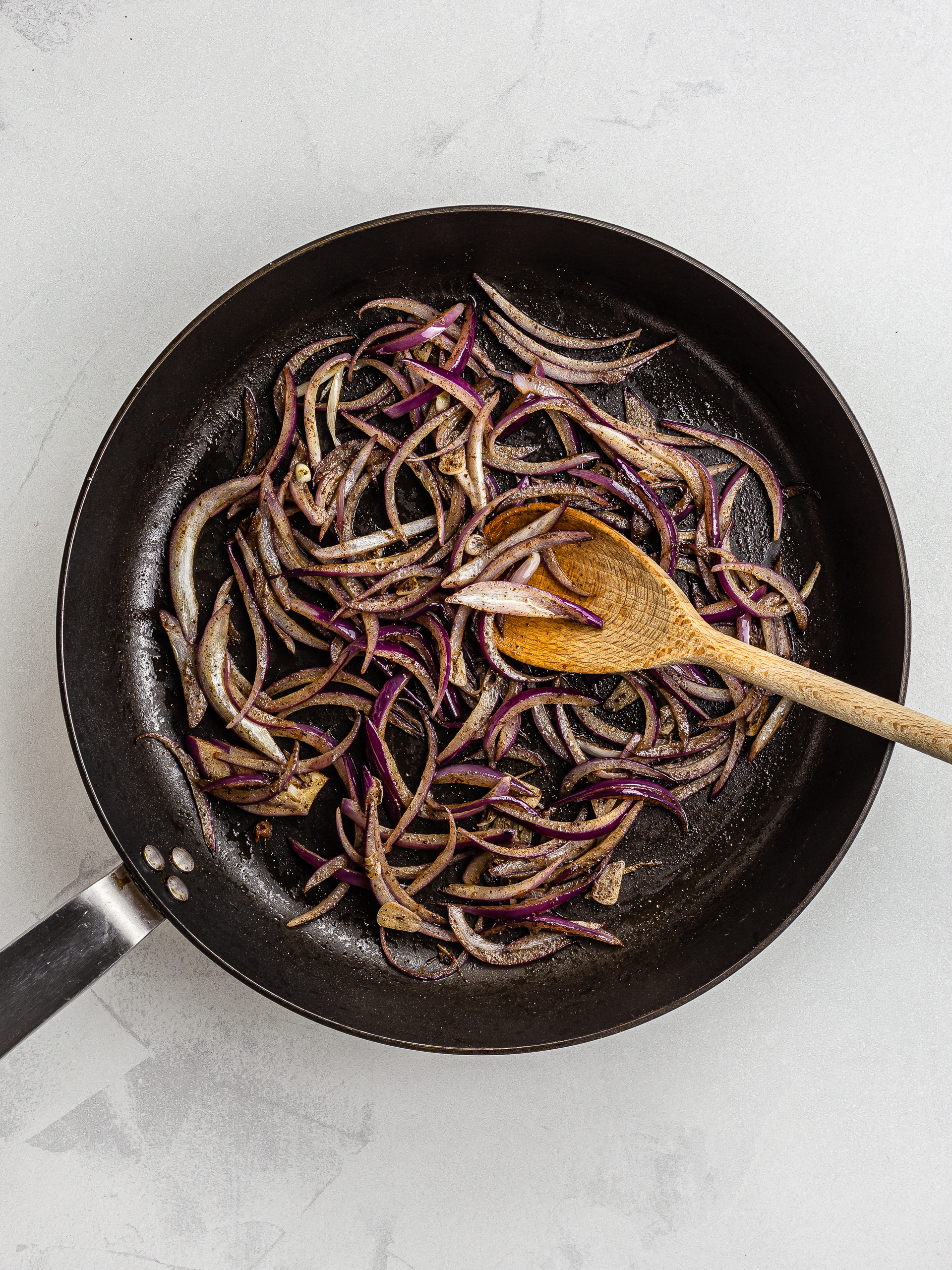 Step 2
Next, slice the okra into small chunks and add them to the skillet.
Tip in the canned tomatoes, finely chopped coriander, bay leaves, and the chickpeas with their canning water.
Bring to a boil and simmer the ingredients over low heat for 15-20 minutes.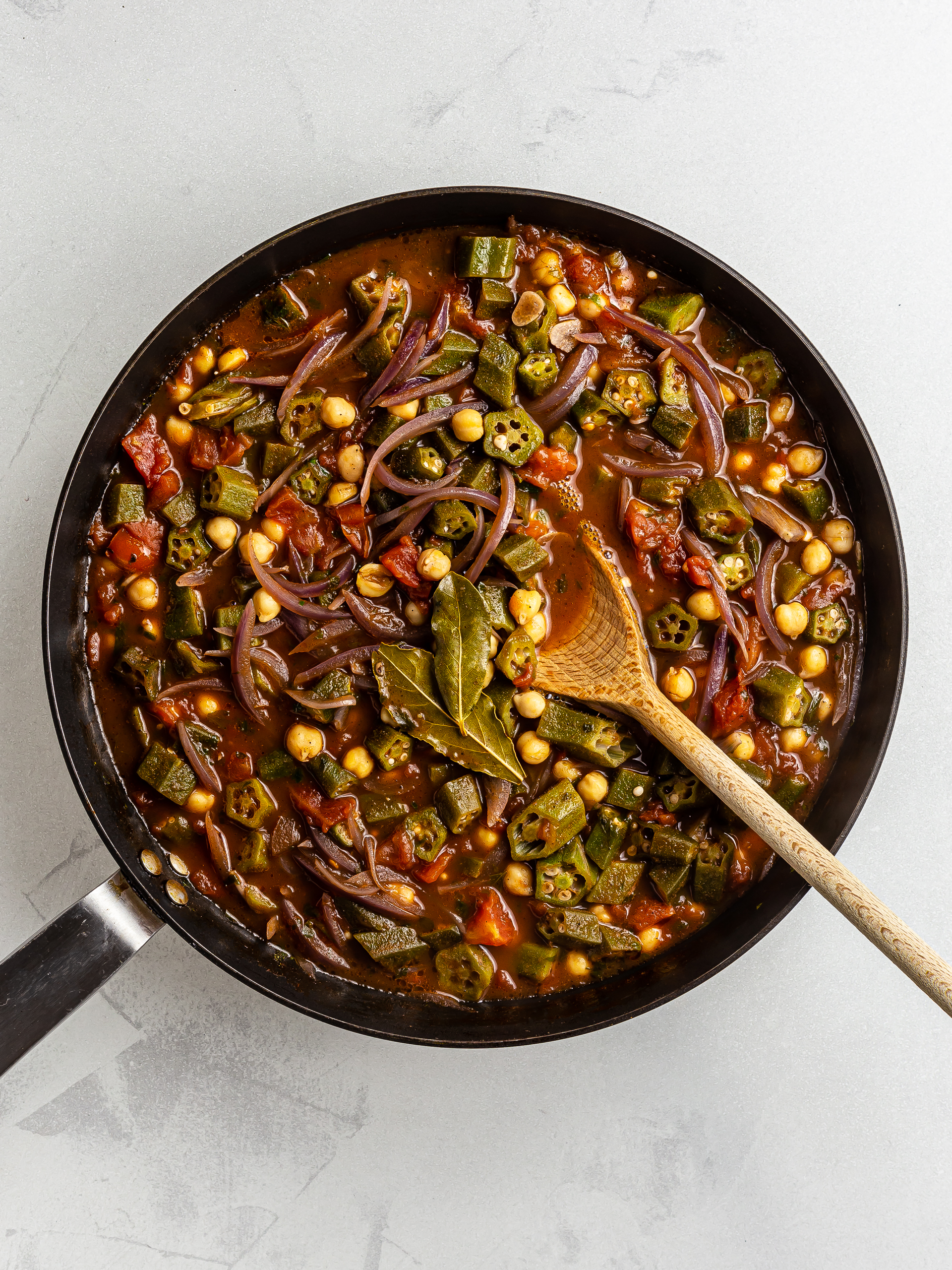 Step 3
Remove the skillet from the heat and stir in the lemon juice and maple syrup if you're using it.
Divide the okra stew among bowls and serve your delicious vegan bamia with steamed rice, couscous, or vermicelli noodles.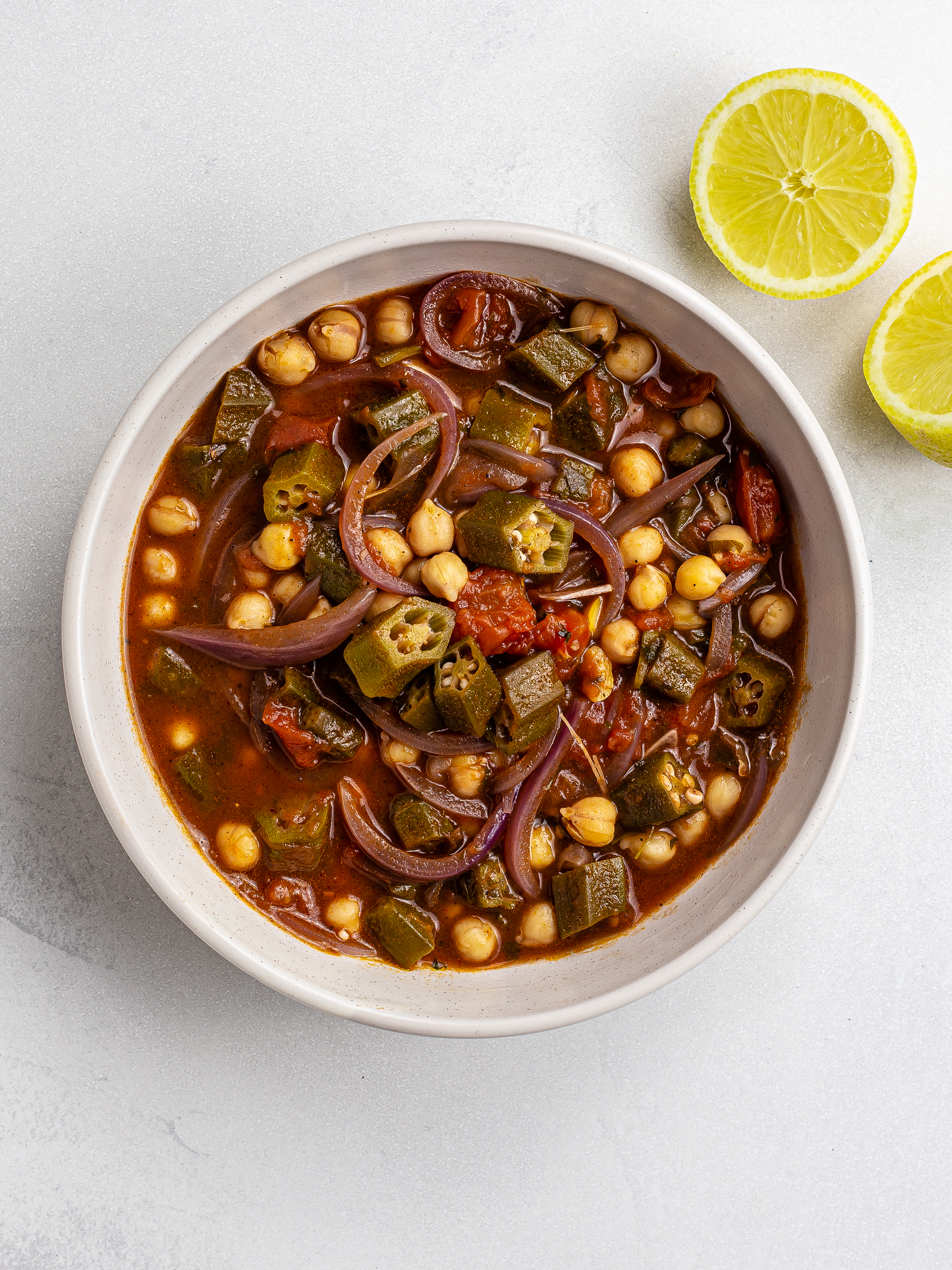 Tips
You can replace allspice with a mix of ground nutmeg, cloves, and cinnamon.

You can prepare the stew with fresh or frozen okra, and if you find them, try using baby okra pods — they're so pretty!