This jackfruit bread is a spongy loaf cake with a wonderful tropical flavour. It's a fun twist on the famous banana bread made with sweet and ripe yellow jackfruit. And it's fully vegan. Let's make it together!
If you have ever tried ripe jackfruit, we bet you loved it instantly, and if it's your first time baking with it, you'll be in for a treat.
Ripe jackfruit pods are bright yellow, juicy, meaty, and sweet. They're perfect for preparing exotic smoothies, desserts, and bakes like this jackfruit cake.
Jackfruit tastes like a wonderful cross of three delicious tropical fruits: mangos, bananas, and pineapples. It's really unique and so good!
To use yellow jackfruit in this pound cake, you must soften the fruit first.
Because the fruit flesh is quite "meaty", you won't be able to just mash it and add it to the cake batter as you would for banana bread.
Instead, you have to simmer the jackfruit in a little water before blending it until smooth. That's pretty much like making a jam!
You can read how to do this precisely in our homemade, sugar-free jackfruit jam recipe.
Once you have your jackfruit puree ready, mix it with the other cake ingredients, pour the batter into a loaf tin, and bake the bread. Easy!
Jackfruit will give a nice yellow hue to the loaf cake and a delicious tropical flavour. It tastes similar to banana bread, but it's way more flavourful!
Because jackfruit puree is naturally thick and sweet, we skipped the eggs and used very little added sugar.
We also replaced milk with tinned coconut milk and butter with vegetable oil to make this fruit loaf dairy-free and vegan.
As for where to find yellow jackfruit, your local Asian food market or store should sell the fresh fruit when in season. Alternatively, you can opt for the canned fruit, which should be available at well-stocked supermarkets or online.
If you bought a large jackfruit chunk at the market, you can read how to clean, deseed, and prepare jackfruit for this cake recipe.
Now, it's time to gather the ingredients and prepare this wonderful jackfruit loaf together!
And if you're looking for more fun and exotic sweet loaves, try this purple bread with ube, banana loaf with mochi rice flour, or braided blue pea bread. They're all utterly delicious!
Ingredients
Cake Batter
Coconut Milk (canned)

220 mL

Vegetable Oil (sunflower, coconut, or e.v. olive oil)

60 mL

Lemon Juice

1 tbsp

All-Purpose Flour

250 g

Baking Powder

3 tsp

Baking Soda

1/2 tsp

Erythritol Sweetener (or regular sugar)

80 g

Jackfruit Mash
Ripe Jackfruit

350 g

Water

140 mL
Step 1
To prepare this jackfruit bread, you need to soften and mash the jackfruit first.
We show you how to do it precisely in steps 2 and 3 of this jackfruit jam recipe.
But essentially, what you have to do is simmer diced jackfruit in the given water until soft and then blend it until it's smooth and looks like a jam.
You'll have a dense and creamy jackfruit puree, which you'll use like mashed bananas in banana bread.
Let the jackfruit mash cool down to room temperature before using it in this loaf cake.
If you made more jackfruit mash than what you need for this cake, you can use it as a base for homemade ice cream, as we did in this coconut jackfruit ice cream.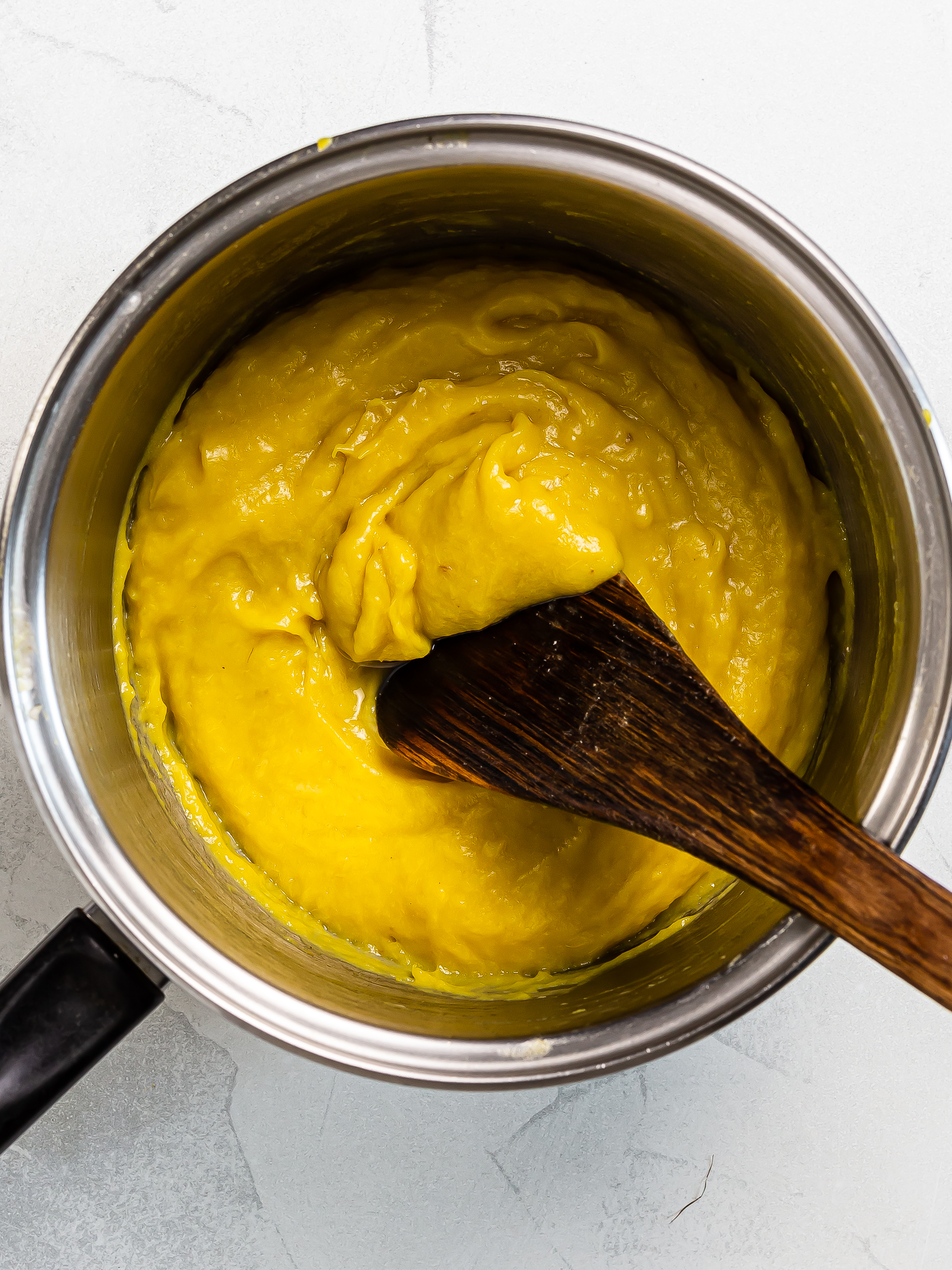 Step 2
In a bowl, whisk the coconut milk with vegetable oil, lemon juice, and the prepared jackfruit puree until smooth and uniform (1).
In another bowl, add the flour, baking powder, baking soda, and sugar (or sugar-free erythritol).
Mix well to ensure the baking powder is evenly distributed (2).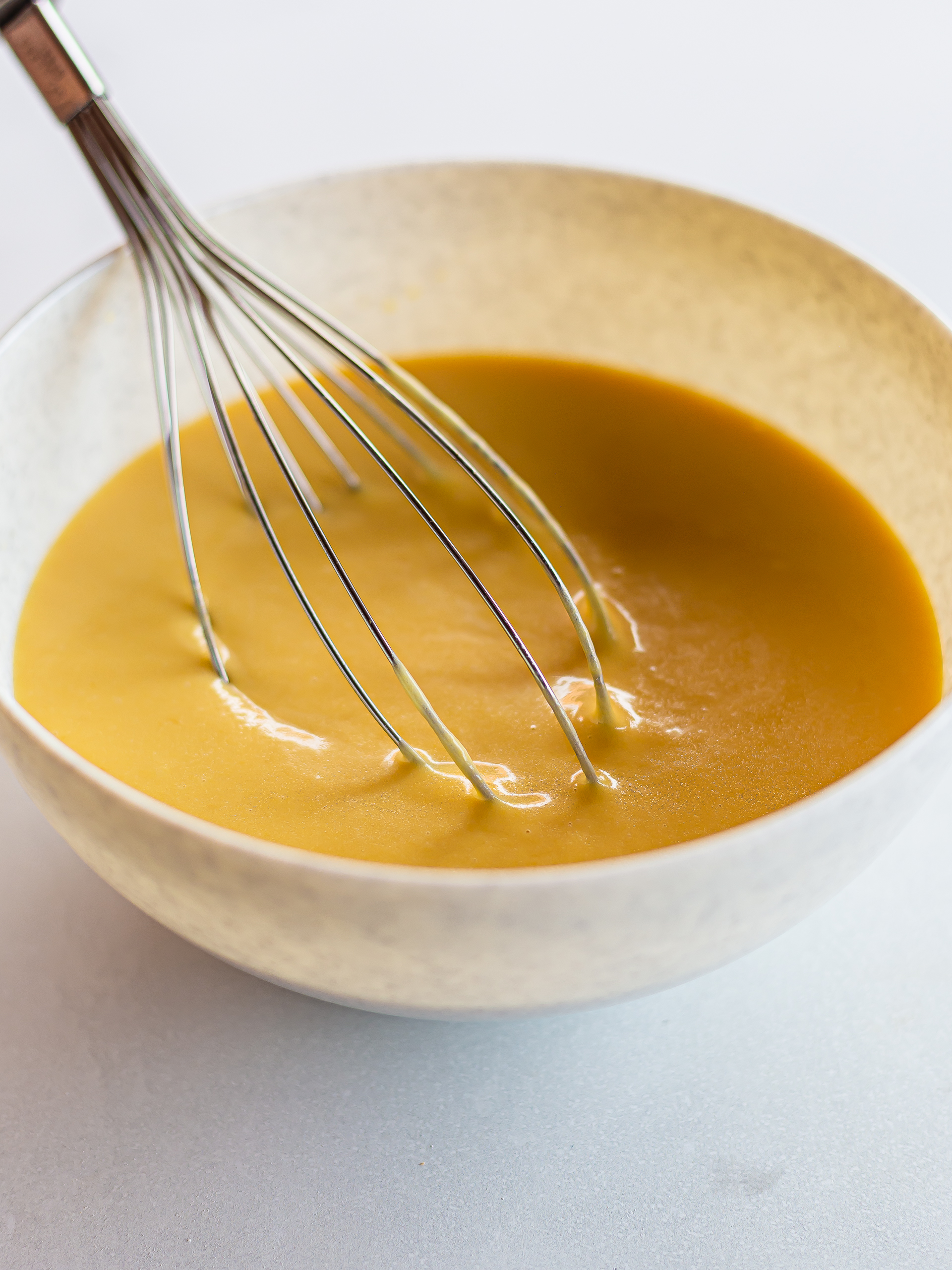 1
2
Step 3
Next, incorporate the dry ingredients into the wet ingredients whisking until combined.
You should now have a smooth and creamy yellow cake batter that's pourable but slightly thick.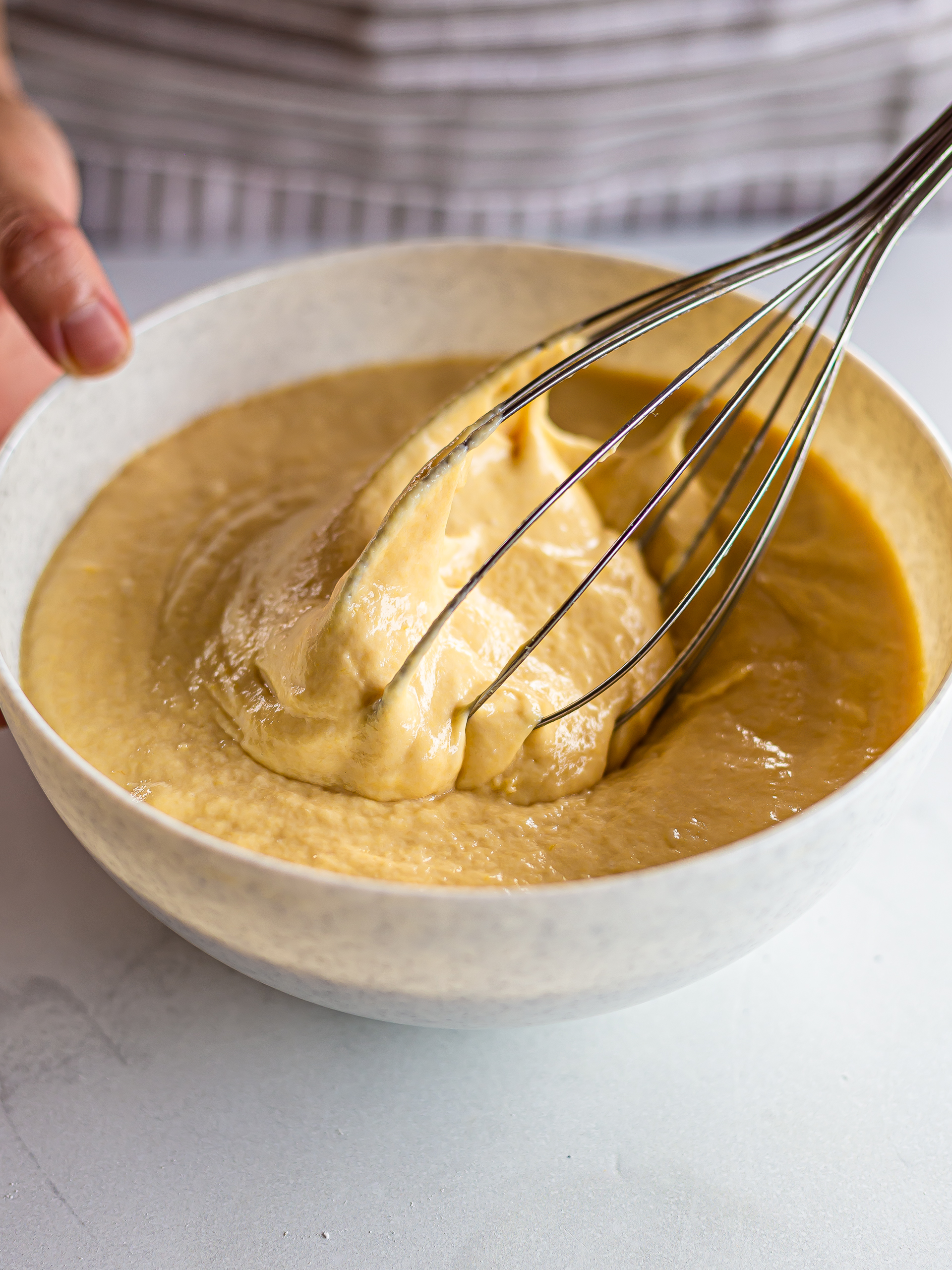 Step 4
Preheat the oven to 180°C (356°F) in static mode and lightly grease a 21cm x 11cm (8 x 4 inches) loaf tin.
Pour the jackfruit cake batter into the prepared tin and level it with a spatula.
Before baking the cake, follow the trick below to help the bread rise evenly.
In a cup, mix a pinch of starch with a little oil until you get a thick slurry.
Dip the tip of a knife in it, and then run the greased knife lengthwise in the middle of the loaf cake so as to cut a slit in the batter.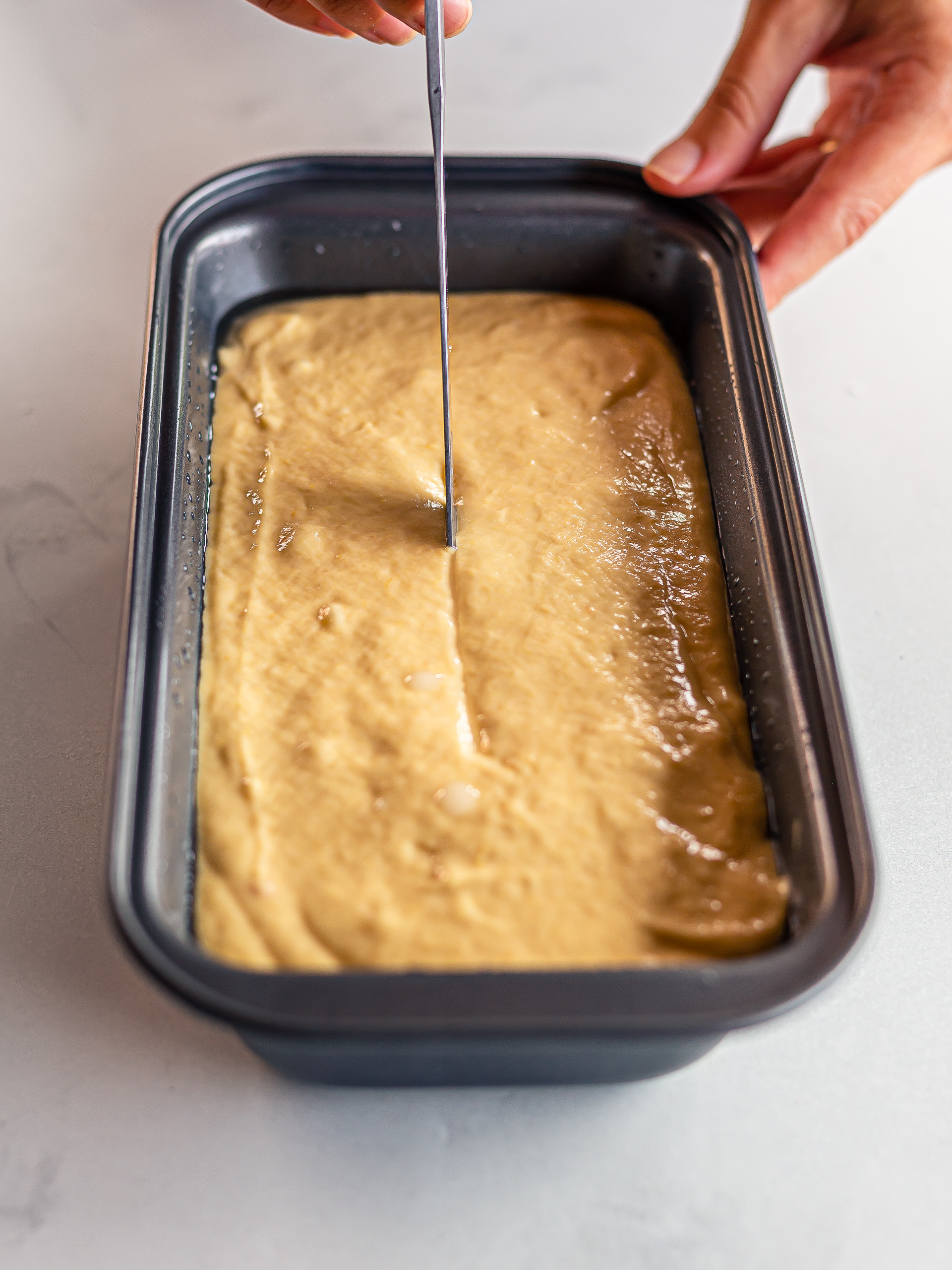 Step 5
Bake the jackfruit bread on the middle rack for 40-50 minutes.
The loaf cake is ready when a skewer inserted in the centre comes out clean without crumbs.
Remove the fruit bread from the oven, let it cool down for 5-10 minutes and then transfer it onto a rack.
Let it cool down completely before serving.
Your tropical jackfruit loaf cake is ready!
You can frost it with our sugar-free erythritol glaze; or slice it and fill it with jackfruit jam, no-sugar papaya jam, or vegan passion fruit curd.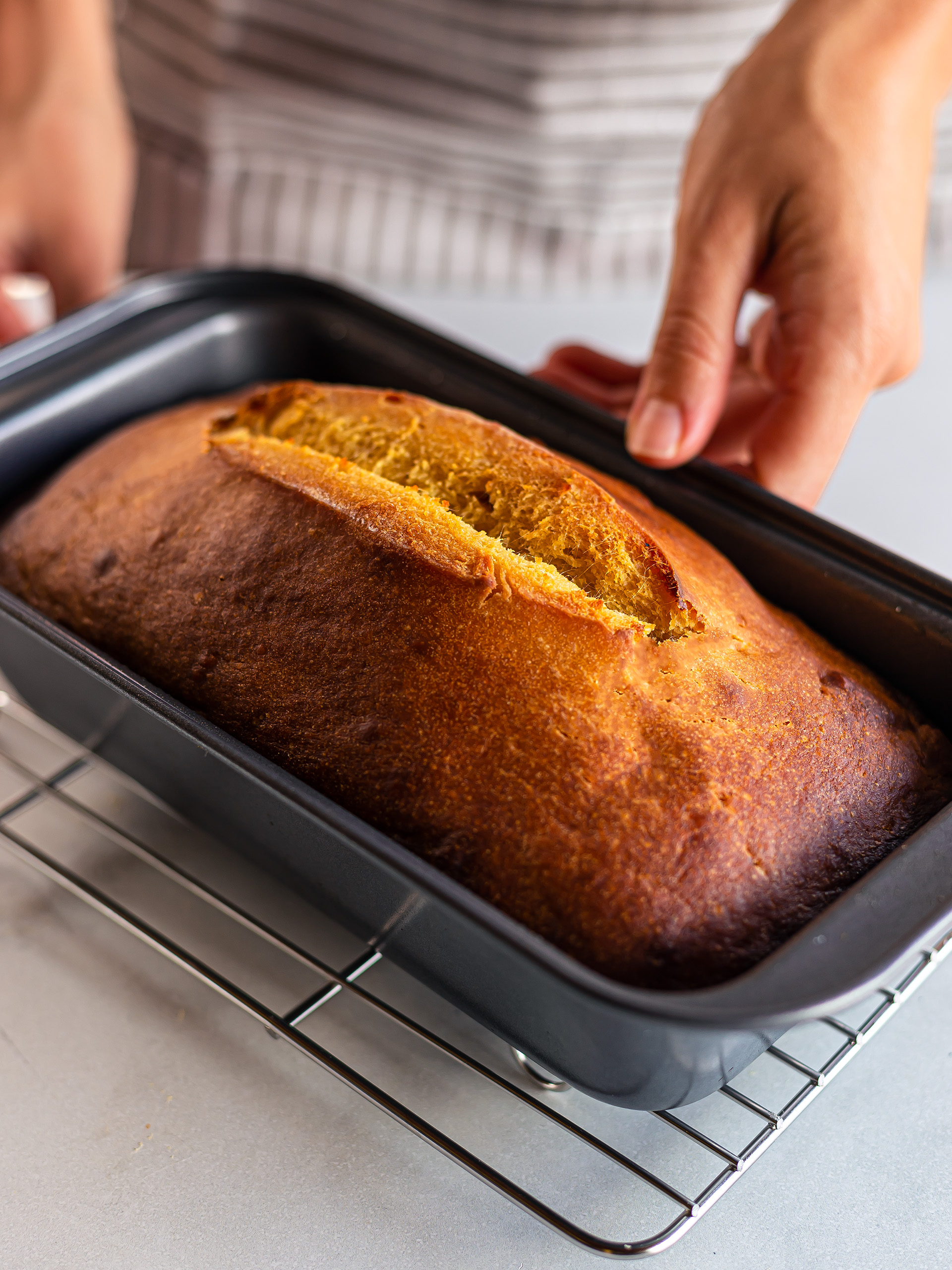 Tips
You can spice up the cake batter with a mix of ground cinnamon, cardamom, and ginger.