Wouldn't you like to bite into a soft cookie filled with pineapple jam? Such a dreamy treat does exist, thanks to the awesome Indonesians! It's called Kue Nastar (pineapple tart).
Below, we'll show you how to make vegan Kue Nastar, completely sugar-free. We'll make both the cookies and the pineapple jam from scratch. It's going to be fun!
These cookies' origin is not certain, but it's thought to come from the Netherlands or Portugal[1]. What is certain is that they are darn tasty! They aren't vegan or allergy-friendly, though, but that's where we come in.
Traditional Kue Nastar recipes contain a mix of butter, milk, eggs, and sugar. These pineapple cookies were the perfect target for us, as our mission is to make recipes allergen-free, diet-friendly, and optimally healthy.
To make the recipe vegan, dairy-free and eggless, we substituted butter with applesauce and swapped eggs with nut butter for binding. We also got rid of all refined sugars by using nothing but the naturally sweet pineapple. You will have the option to coat them with a splash of maple syrup and coconut flakes if you wish!
The result is completely vegan and sugar-free nastar cookies with half the calories, sugars, and fats. Neat, right? You can now get a bite at these colourful pineapple cookies without worries. Enjoy them!
Frequently Asked Questions
Is nanas tart the same as kue nastar?

Yes, nanas tart and kue nastar are interchangeable terms for "pineapple tart".

Nanas stands for "pineapple" in Indonesian, while nastar is just a contracted form of "nanas tart".

The term kue refers to bite-sized treats like cookies, cakes, and pies in Indonesian cuisine. Therefore, the term "kue nastar" would translate into pineapple tart cookie.

Nanas tart is a very popular sweet treat in Indonesia, usually enjoyed during the local festivities. It's also famous in Malaysia and Singapore.
Is classic kue nastar vegan?

Kue nastar is a classic Indonesian sweet treat that consists of a rich cookie dough ball filled with pineapple jam.

The traditional recipe includes eggs and butter to yield a rich, silky dough consistency, meaning these pineapple tarts are not suitable for those following a plant-based diet, or people allergic to dairy and eggs.

Here at Foodaciously, we strive to help everyone enjoy the food they love without compromise, and we turned these cute cookies into a vegan-friendly, healthy treat. We made the nanas tart dough with applesauce and nut butter instead of butter and egg yolks.
How do you make kue nastar without butter?

Although butter is a staple ingredient in the nanas tart dough, you can replace it with plant-based alternatives.

In our recipe, we used sugar-free applesauce. You can use the store-bought one or make it yourself with our quick recipe here.

Applesauce is a fantastic substitute for fats in baking. Just like butter, it binds the solids and gives a soft and chewy dough. It also adds moisture and a sweet flavour to baked goods.

We recommend using applesauce in 1:1 ratio when replacing butter. So, if a recipe calls for 100 grams (3.5 oz) of butter, use 100 grams (3.5 oz) of applesauce instead.

Besides applesauce, you could try one the following vegan butter alternatives:
Can I use canned pineapple to make the jam filling?

The classic filling for nanas tart is prepared with fresh pineapple, mashed and reduced to a jam over the hob.

If you can't find fresh pineapple, you can still make the filling using the canned alternative. Make sure you buy sugar-free canned pineapple to keep the sugars low.

Also, blitz and cook the mashed pineapple in the canning liquid for extra flavour. Then, simmer until the water has reduced. Finally, increase the amount of starch we used by 50% to get an equally thick and glossy jam.
Ingredients
Dough
All-Purpose Flour

250 g

Sugar-Free Applesauce

150 g

Nut Butter (Almond or Peanut)

35 g

Filling
Ripe Pineapple (peeled)

300 g

Ground Cloves

1 pinch

Ground Cinnamon

1 pinch

Starch (Potato or Corn)

10 g

Toppings
Maple Syrup

30 g

Desiccated Coconut

30 g
Step 1
Let's start by making the sugar-free pineapple jam.
Add peeled pineapple to a food processor followed by ground cloves and cinnamon. Then blitz all into a smooth purée.
If you want to use canned pineapple, check our FAQ section more tips and info.
Step 2
Next, transfer the pineapple purée into a pot, bring it to a boil, and simmer for 30 minutes over medium heat (1).
Make sure to stir the jam often to prevent it from sticking to the bottom and burning.
Now, whisk the starch with a bit of cold water in a bowl until it's dissolved (2).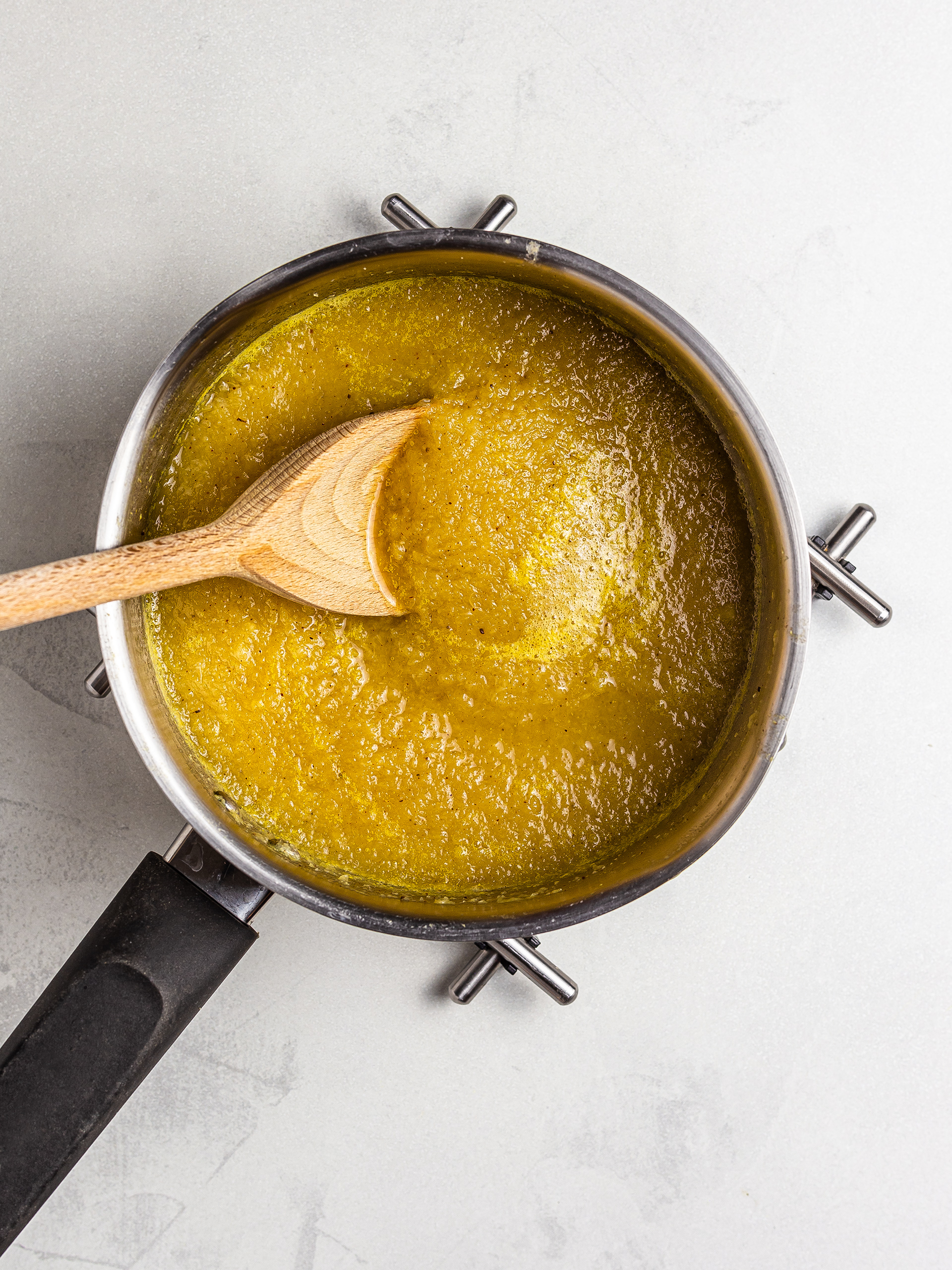 1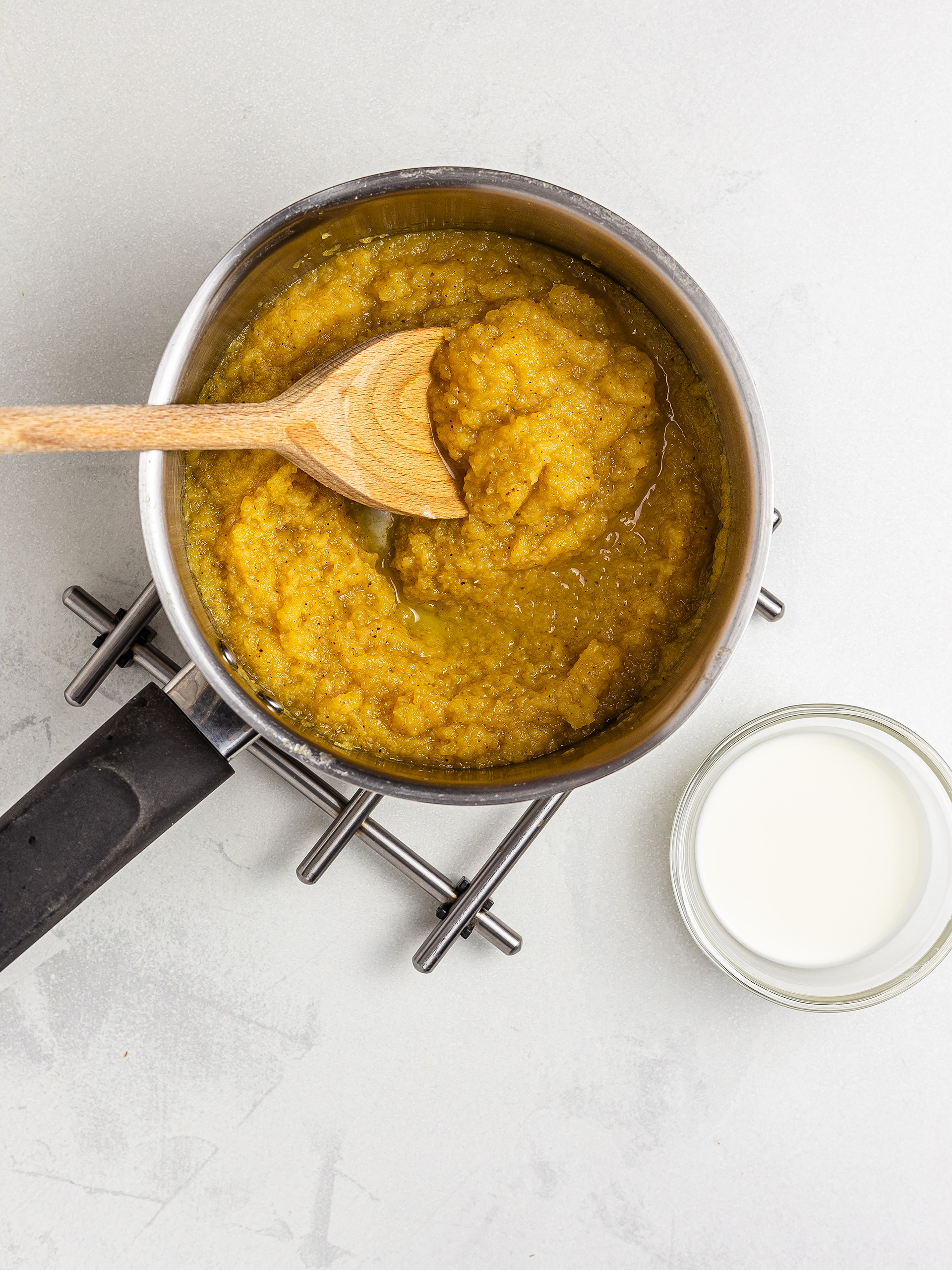 2
Step 3
Add the starch slurry to the pineapple jam and stir well with the help of a whisk to prevent lumps.
As soon as the jam starts to thicken, remove the pan from the heat, and whisk vigorously for a minute.
Once the jam looks dense and glossy, transfer it into a clean bowl.
Then, leave it to cool down and set in the fridge for at least 15 minutes while preparing the dough.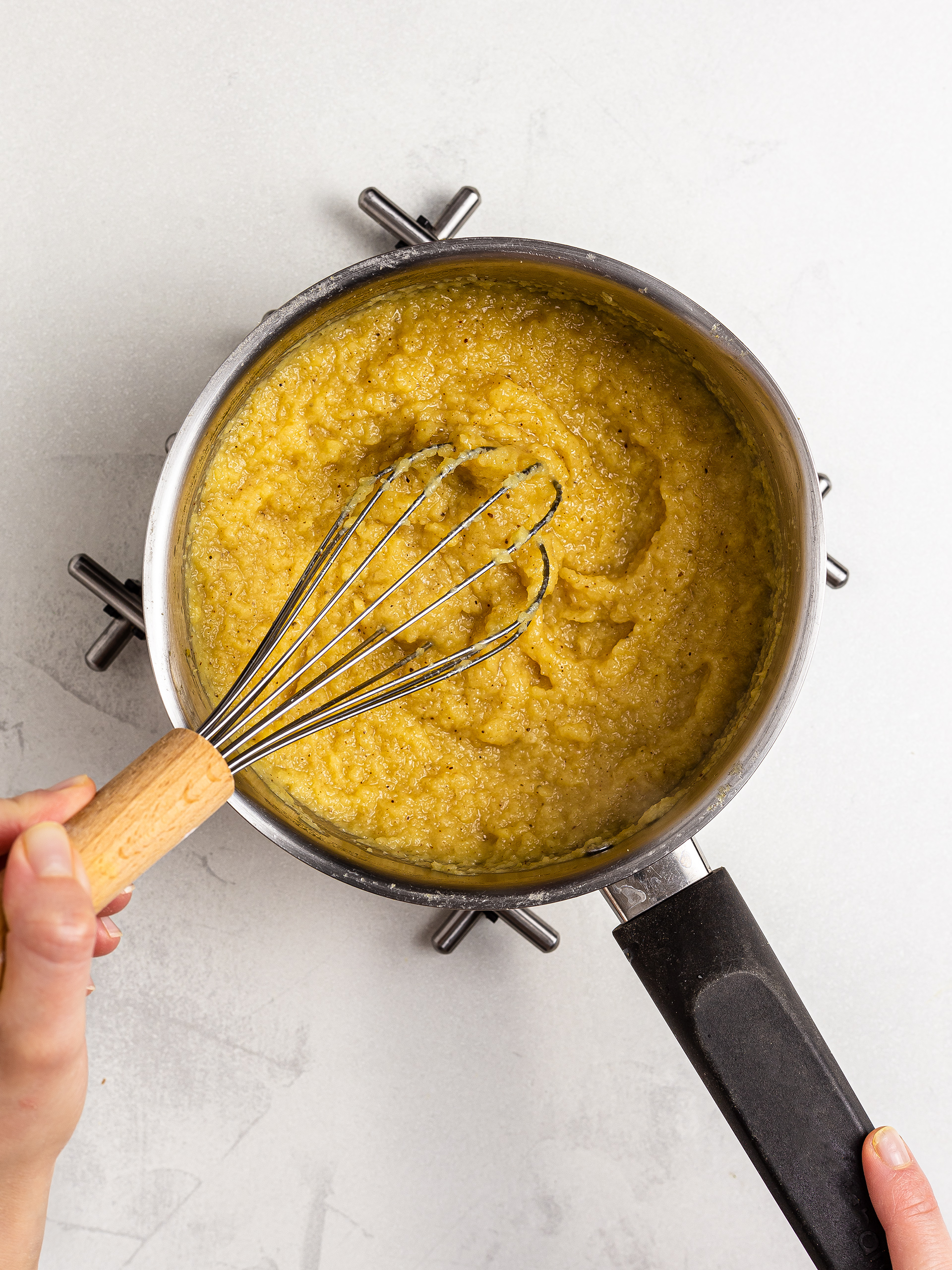 Step 4
Now let's move onto the vegan cookie dough.
Combine the flour with sugar-free applesauce and nut butter in a bowl (1). You can optionally add a pinch of ground turmeric to give the dough a lovely yellow tone.
You can use store-bought applesauce or make your own following our easy recipe here.
Work the ingredients with a spoon just until they come together and then transfer the mixture onto a lightly floured surface.
Knead it into a smooth, pliable, and slightly sticky dough (2).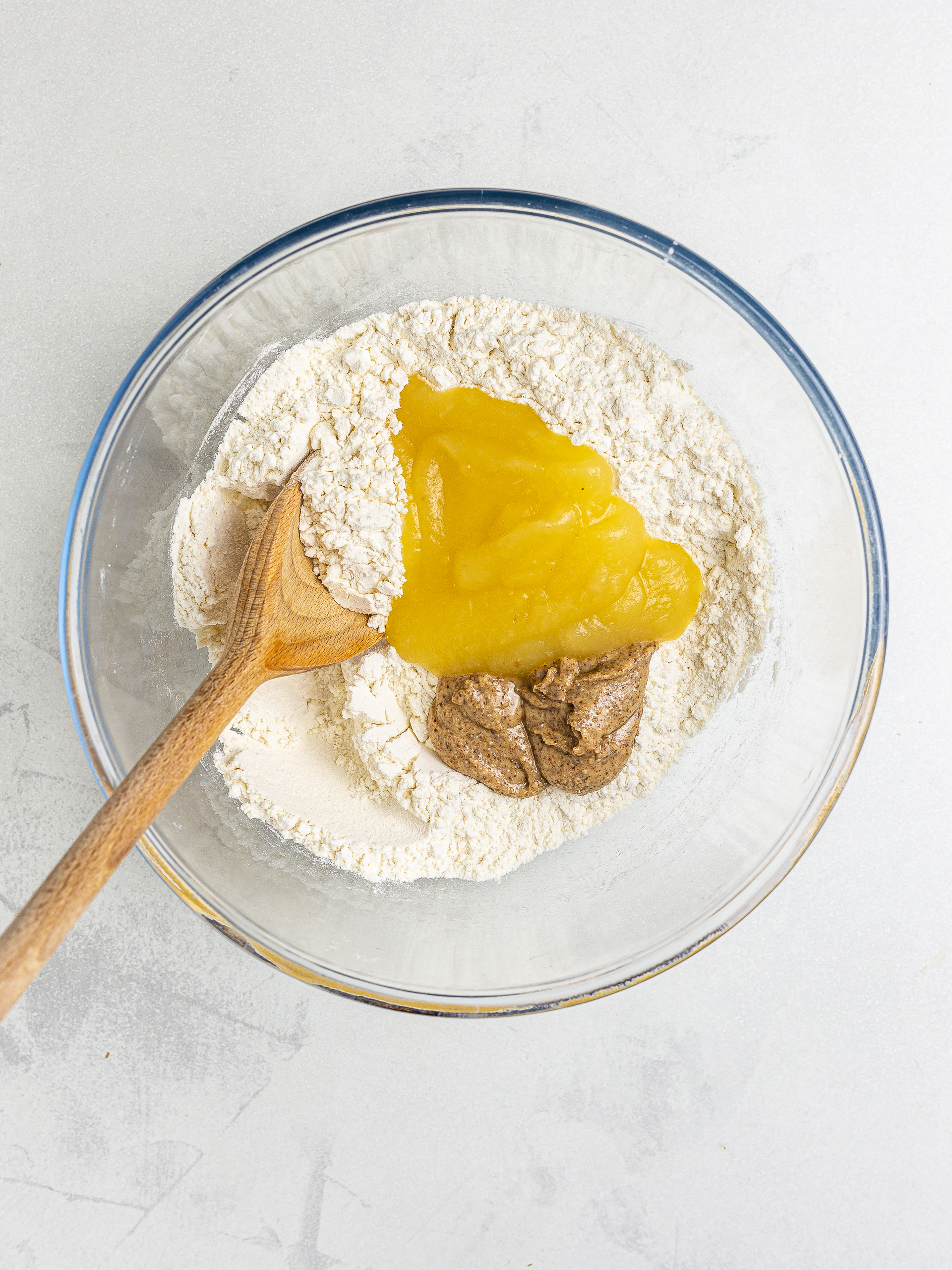 1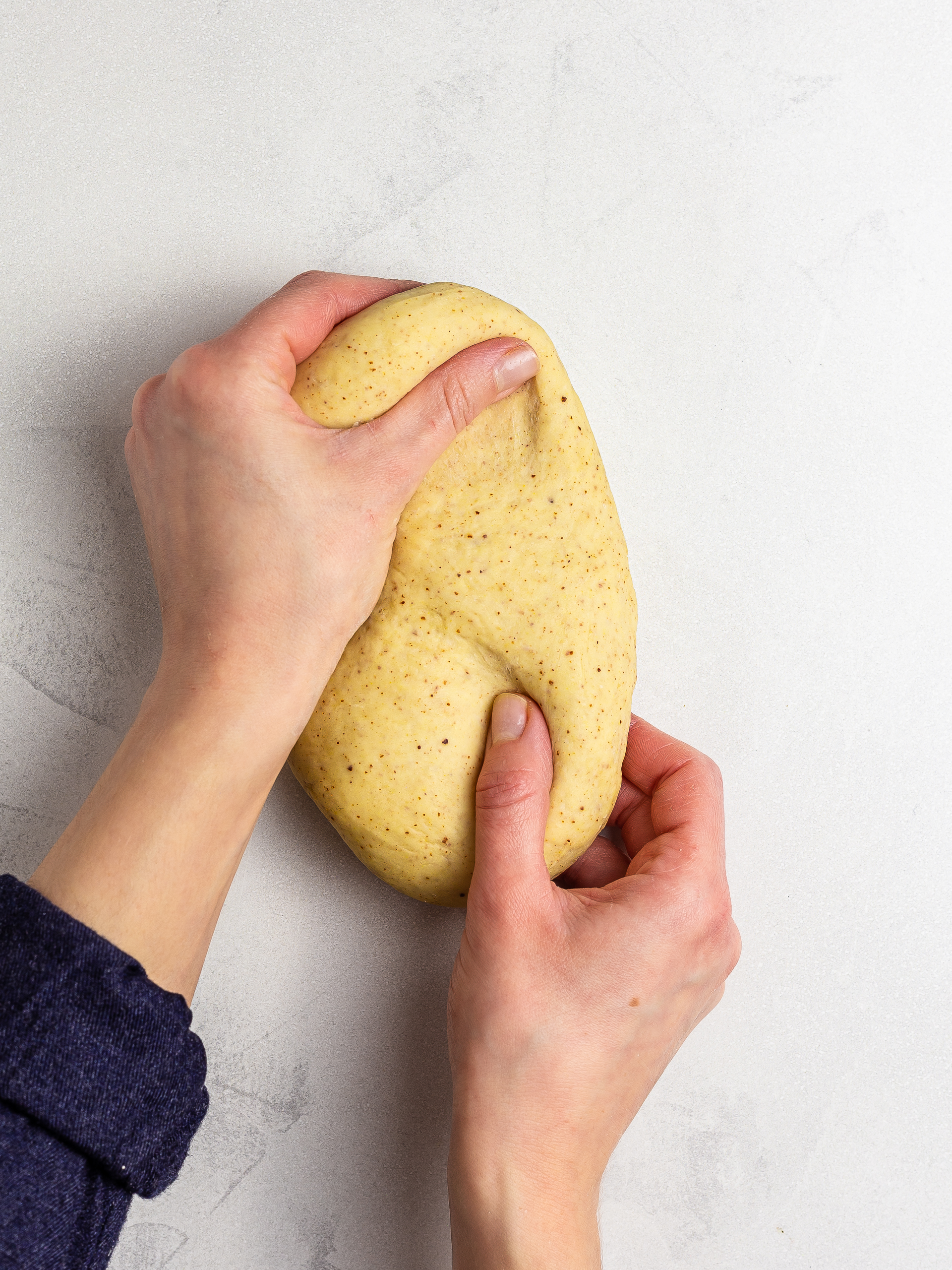 2
Step 5
Divide the dough into 30g (1 oz) pieces and keep them wrapped in cling film until you're ready to use them so they won't dry out and crack.
For each kue nastar cookie, roll one dough piece into a ball and flatten it down to an 8 cm (3 inches) disc (1).
Make sure the edges of the dough disc are thinner than the centre. This way, the dough wrapper won't tear while folded and you won't have a thick dough layer where the edges overlap.
Next, spoon about 10g (0.3 oz) of cold pineapple jam in the centre of the wrapper (2).
Then, fold the dough edges over the filling and pinch them together to seal the cookie (3).
Finally, place the nanas tart seam side down and gently press it down to give it a dome shape.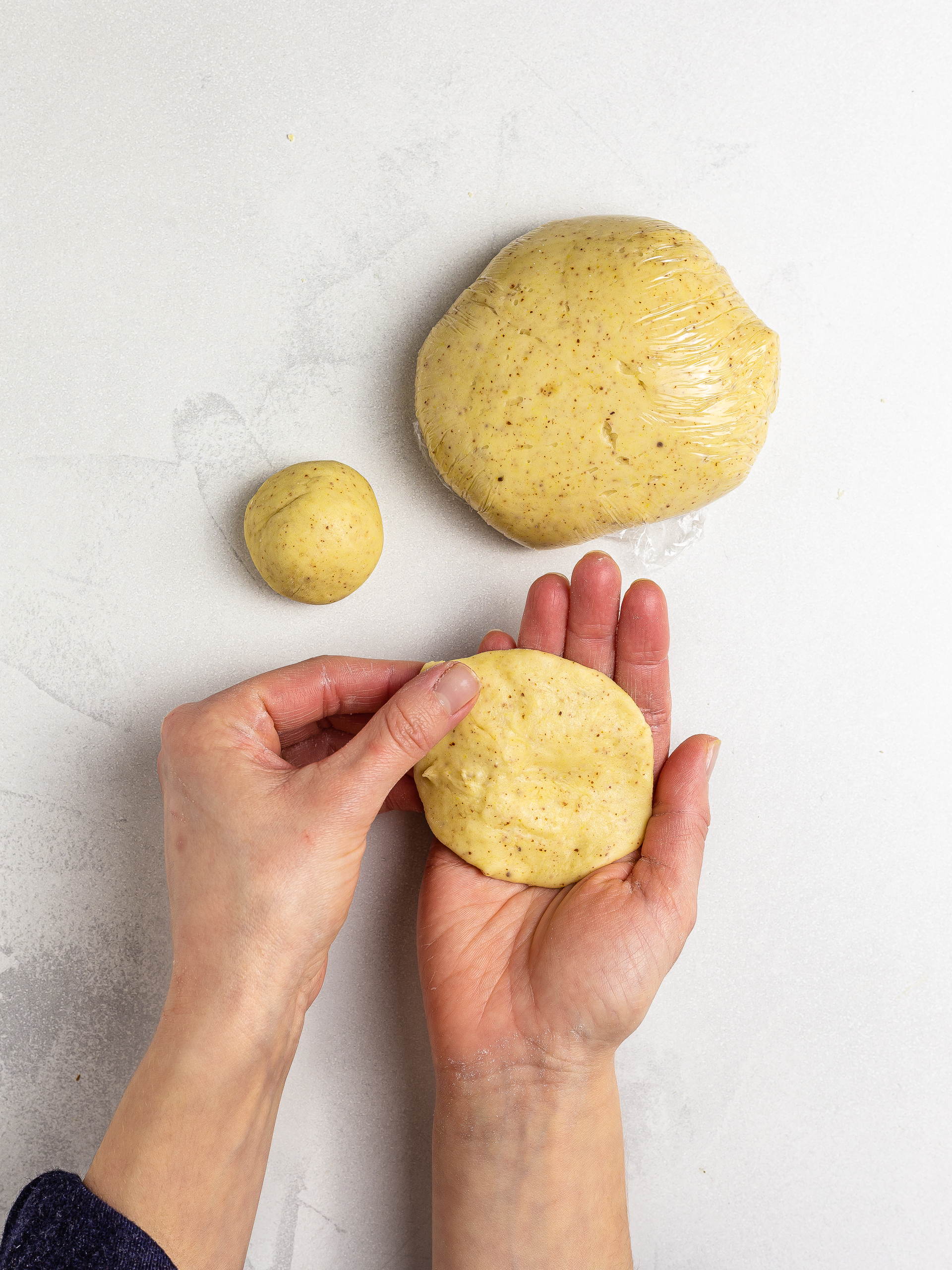 1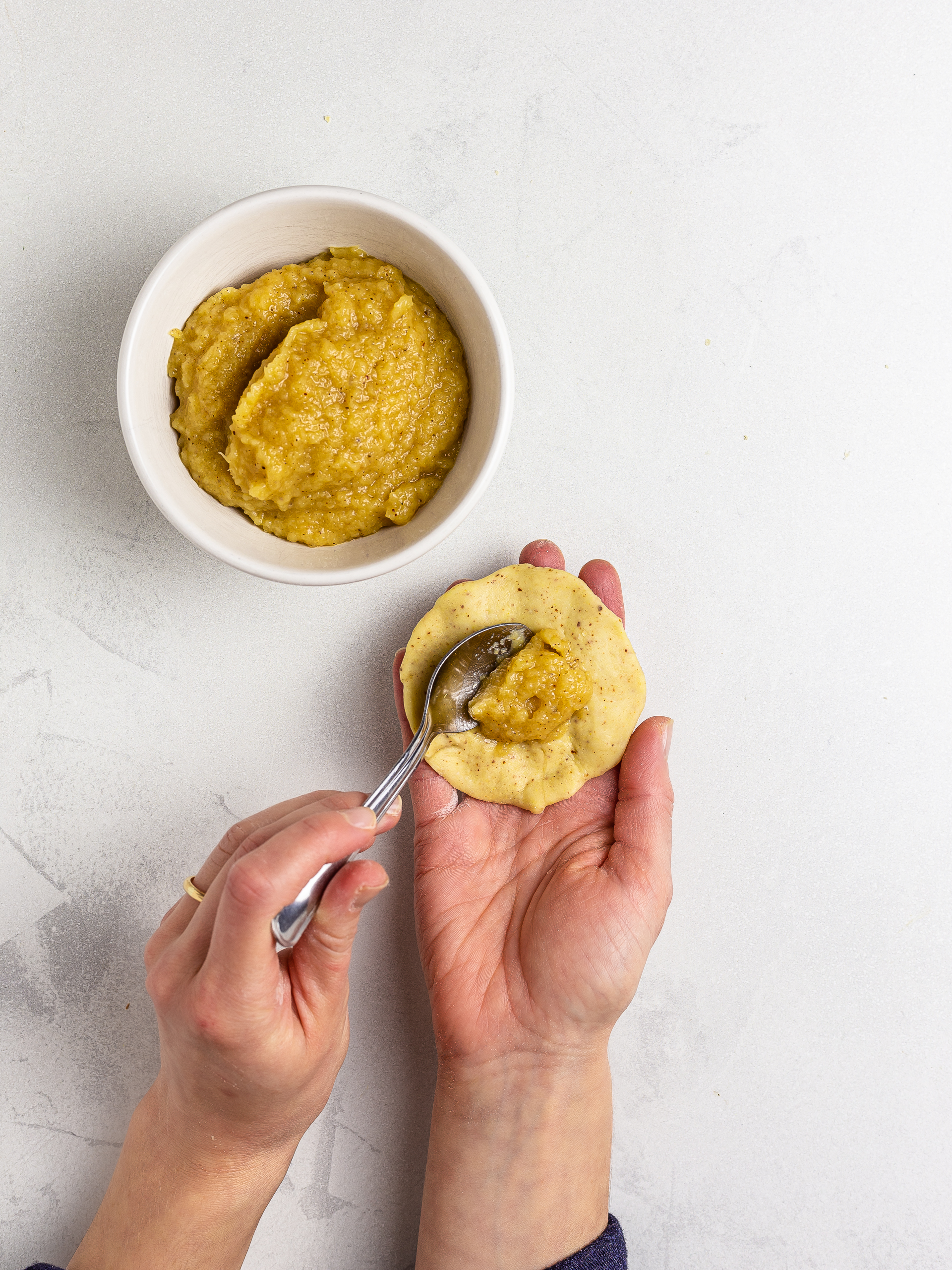 2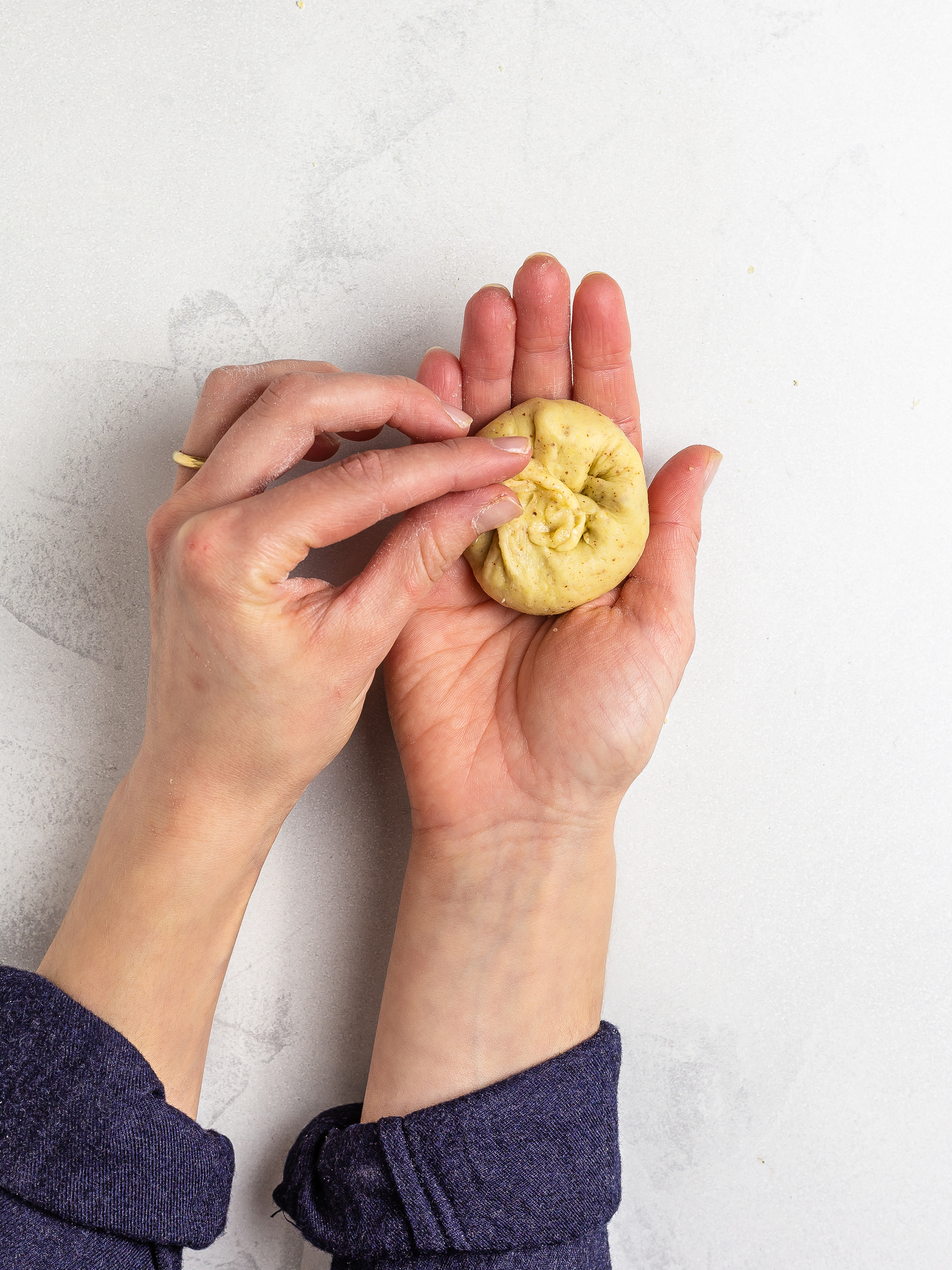 3
Step 6
We recommend keeping any prepared cookie wrapped in cling film while you finish shaping and filling the others. This way, they won't get dry and crack when baked.
Arrange the pineapple cookies onto a tray lined with parchment paper and bake them at 180°C (355°F) for 15-18 minutes (1).
Then, transfer them onto a wire rack to cool down evenly and harden (2).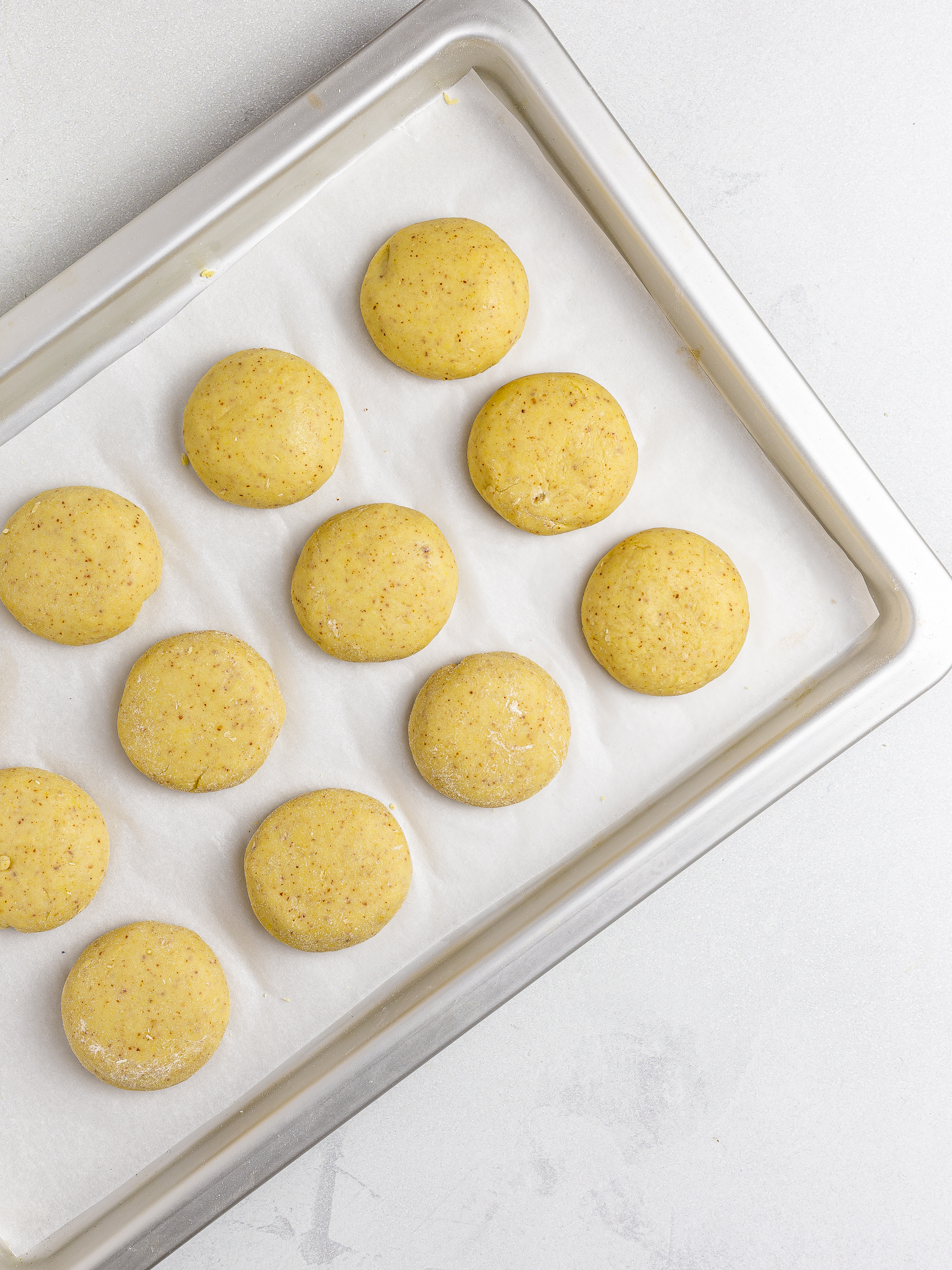 1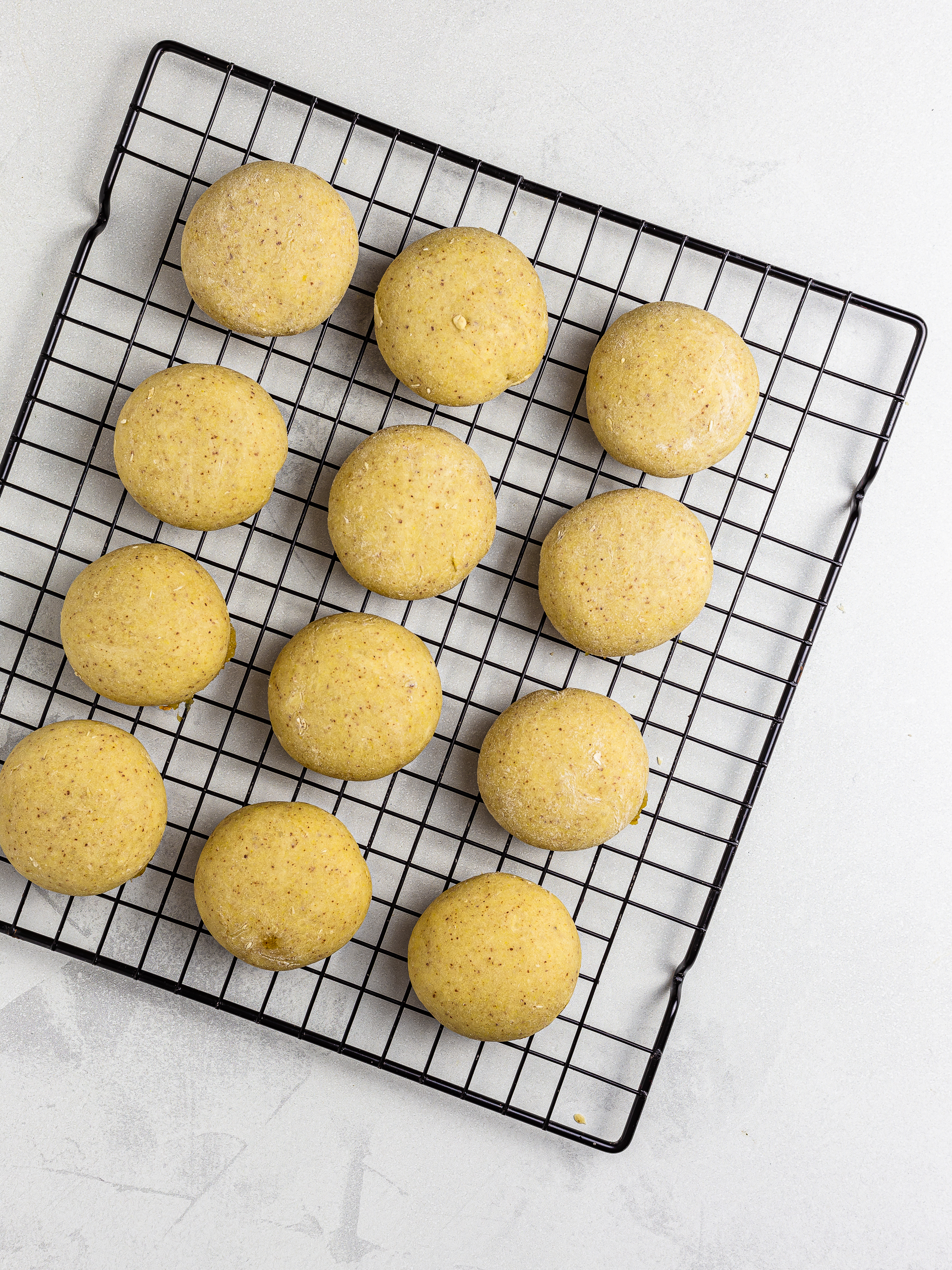 2
Step 7
This last step is optional.
Once the nastar cookies are cold enough to handle, brush the top with maple syrup (1).
Finally, dip them in a bowl with dry coconut flakes and coat them evenly (2).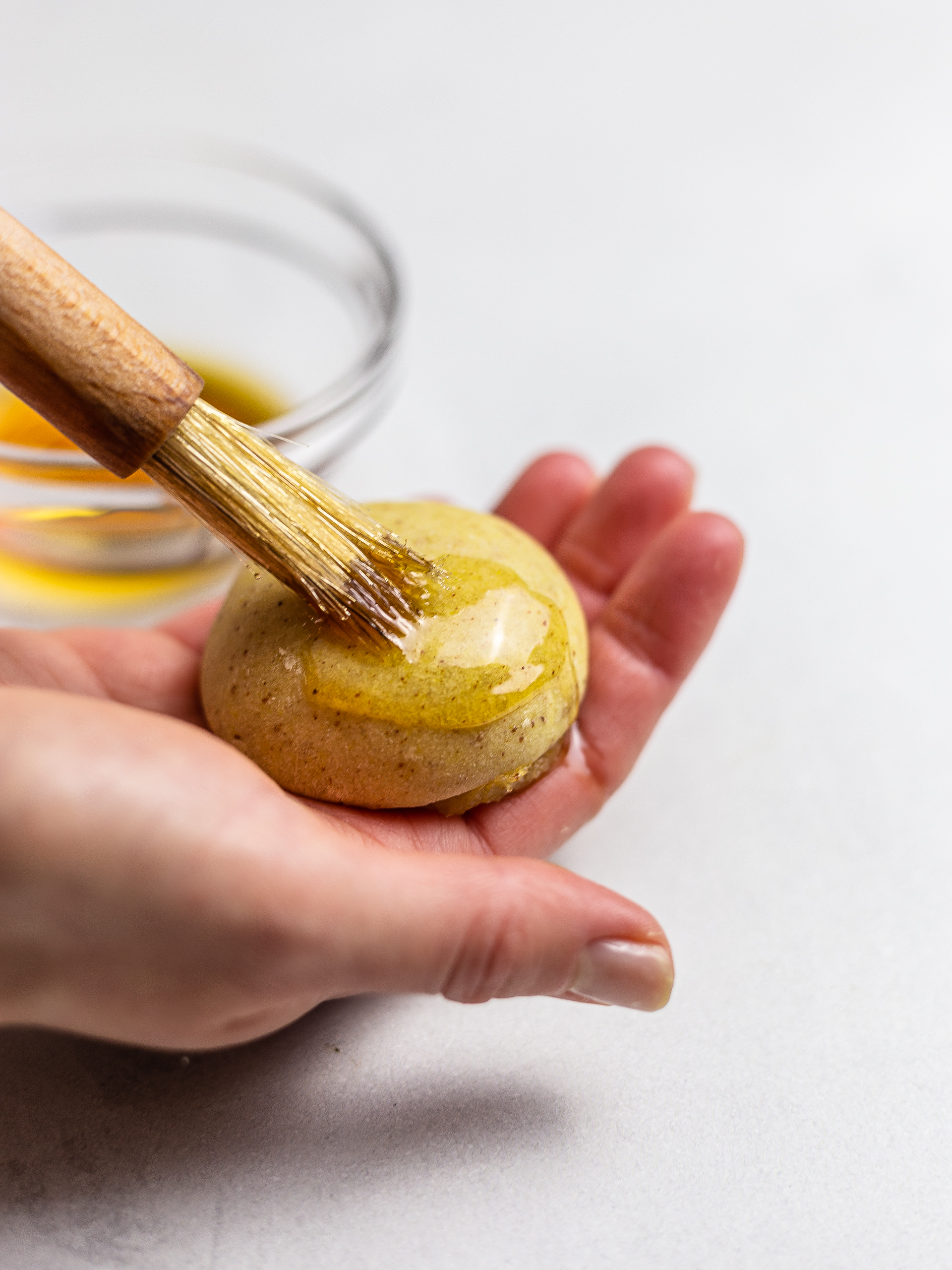 1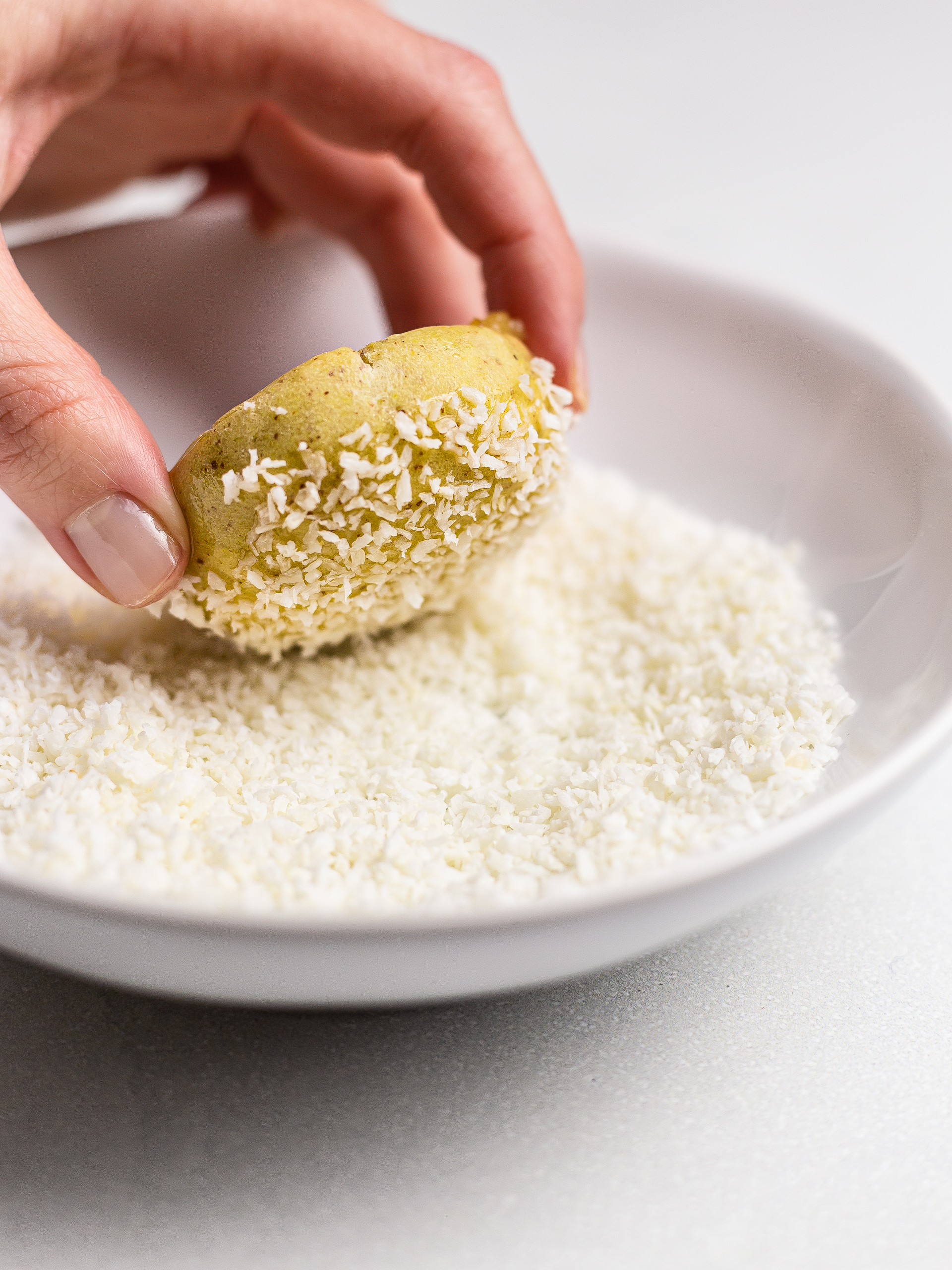 2
Tips
You can skip the last step and enjoy these pineapple cookies without toppings for even fewer sugars. But make sure you use very ripe pineapple. You can test the ripeness of pineapples by pulling the leaves. The easier they come off, the riper the fruit.

For a fun twist, you could swap pineapple jam with our sugar-free papaya jam or no-sugar jackfruit jam. Or try the famous Filipino purple ube filling or Chinese sweet mung bean paste!

Store the nanas tart in an airtight container at room temperature for up to 3 days.