This masala chai tea cake is a delicious vegan sponge infused with warming Indian spices. It's wonderfully aromatic, sweet, and fluffy. So, jump on board and let's make it together!
But first, what's masala chai?
The Indian terms masala and chai stand for "spice mix" and "tea" respectively.
So, masala chai (also called chai tea) is a spiced tea prepared with a special blend of Indian spices and Assam black tea, brewed together in milk or water.
And this masala chai cake too is made with both tea and spices!
For the recipe, we used convenient chai tea bags, which have black tea already mixed with chai spices, and made a chai milk tea with coconut milk to add to the cake batter.
On top of that, we tipped in a homemade chai spice mix.
That's to make the cake extra flavourful and ensure that the "chai flavour" really pops out with every bite!
For the chai spice blend, we used cinnamon, cardamom, clove, and ginger. Simply get the dry, ground spices and mix them together. Easy!
Combined with the tea bags, these spices add warmth, colour, and aroma to the cake — plus a nice energetic, spicy kick!
As for the other cake ingredients, we used coconut oil and coconut milk as a vegan alternative to butter and milk.
Then, we replaced eggs with starch, baking powder, baking soda, and lemon juice.
These ingredients work together to help the cake rise, hold together, and stay soft and fluffy.
As for sugar, we used regular caster sugar, but we halved the amount compared to a classic sponge cake recipe for a healthier take.
And if you want, you'll also have to option to use sweetener erythritol for a sugar-free cake!
Once ready, you can enjoy this wonderful chai tea cake as is or top it with our creamy peanut butter frosting — or you can find more decorating ideas below!
And if you'd like to discover more delicious recipe ideas with chai spices, check out this matcha chai latte, chai chia pudding, and chai hot chocolate. All a must-try for chai lovers!
Ingredients
Cake
Coconut Milk (canned)

380 mL

Chai Tea Bags

2

Self-Raising Flour

300 g

Starch (potato starch, cornflour, or arrowroot powder)

30 g

Sugar (or sugar-free erythritol)

150 g

Baking Powder

2 tsp

Baking Soda

1 tsp

Coconut Oil (softened at room temperature)

70 g

Lemon Juice

1 tbsp

Frosting (optional)
Thick Yogurt (coconut or Greek-style soy yogurt)

300 g

Smooth Peanut Butter

120 g

Syrup (maple, date, or golden syrup)

4 tsp

Masala Chai Spices
Ground Cinnamon

1 tsp

Ground Ginger

1/2 tsp

Ground Clove

2 pinch

Ground Cardamom

2 pinch
Step 1
Preheat the oven to 190°C (375°F) static.
Start by preparing the chai tea latte.
Bring the coconut milk to a boil in a pot, add the chai tea bags, and simmer for 1 minute.
Turn off the heat and leave to infuse for 5 minutes, stirring and squeezing the bags to release more flavour and colour.
Then, remove the tea bags and let the chai milk tea cool down until it's lukewarm — about 15 minutes.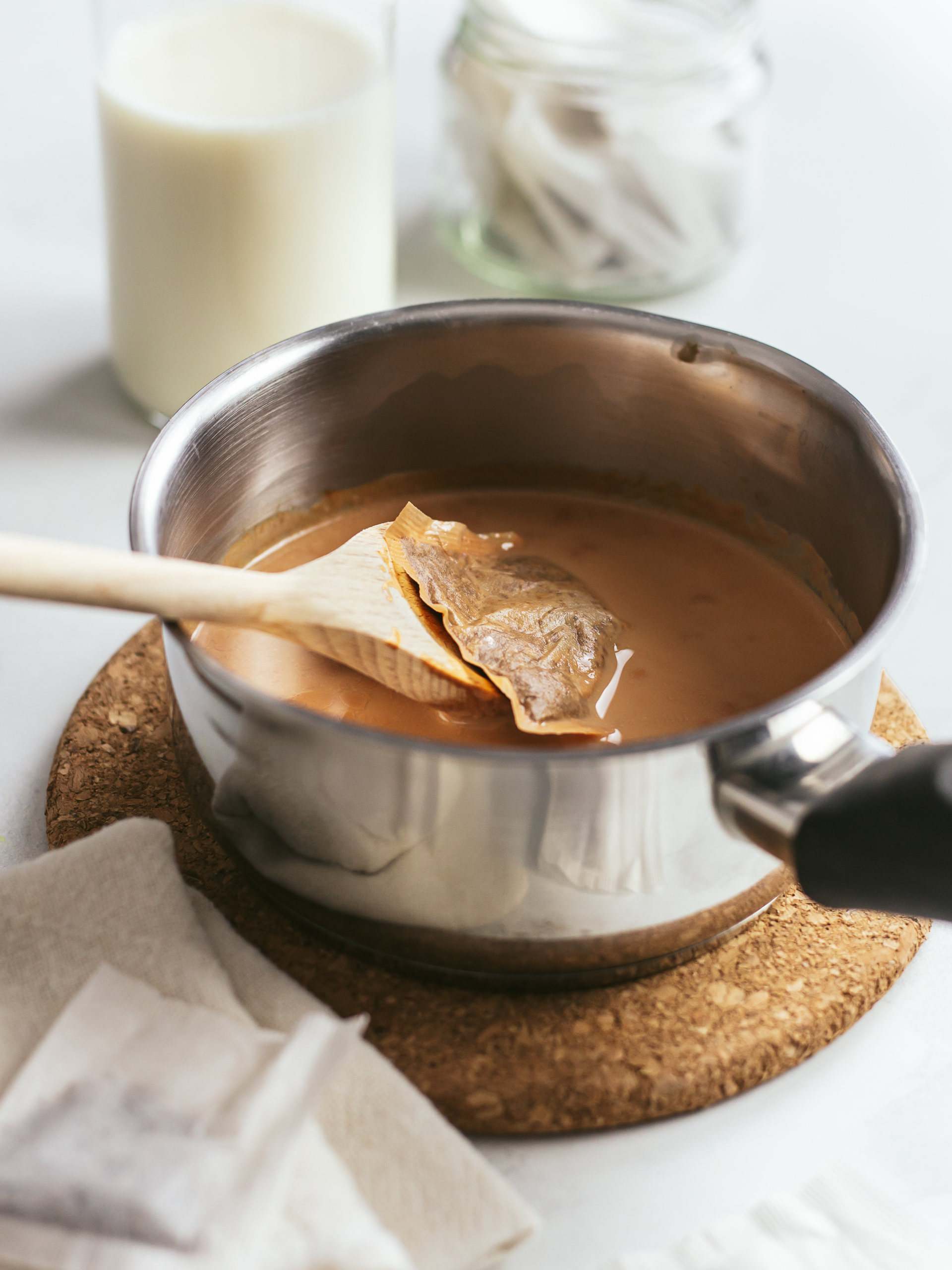 Step 2
Sift the flour and starch in a bowl, then add the sugar, baking powder, baking soda, masala chai spices, and a pinch of salt (1).
Mix the ingredients thoroughly to ensure the baking powder and soda are evenly distributed.
Next, add the chai-flavoured coconut milk, coconut oil, and lemon juice (2).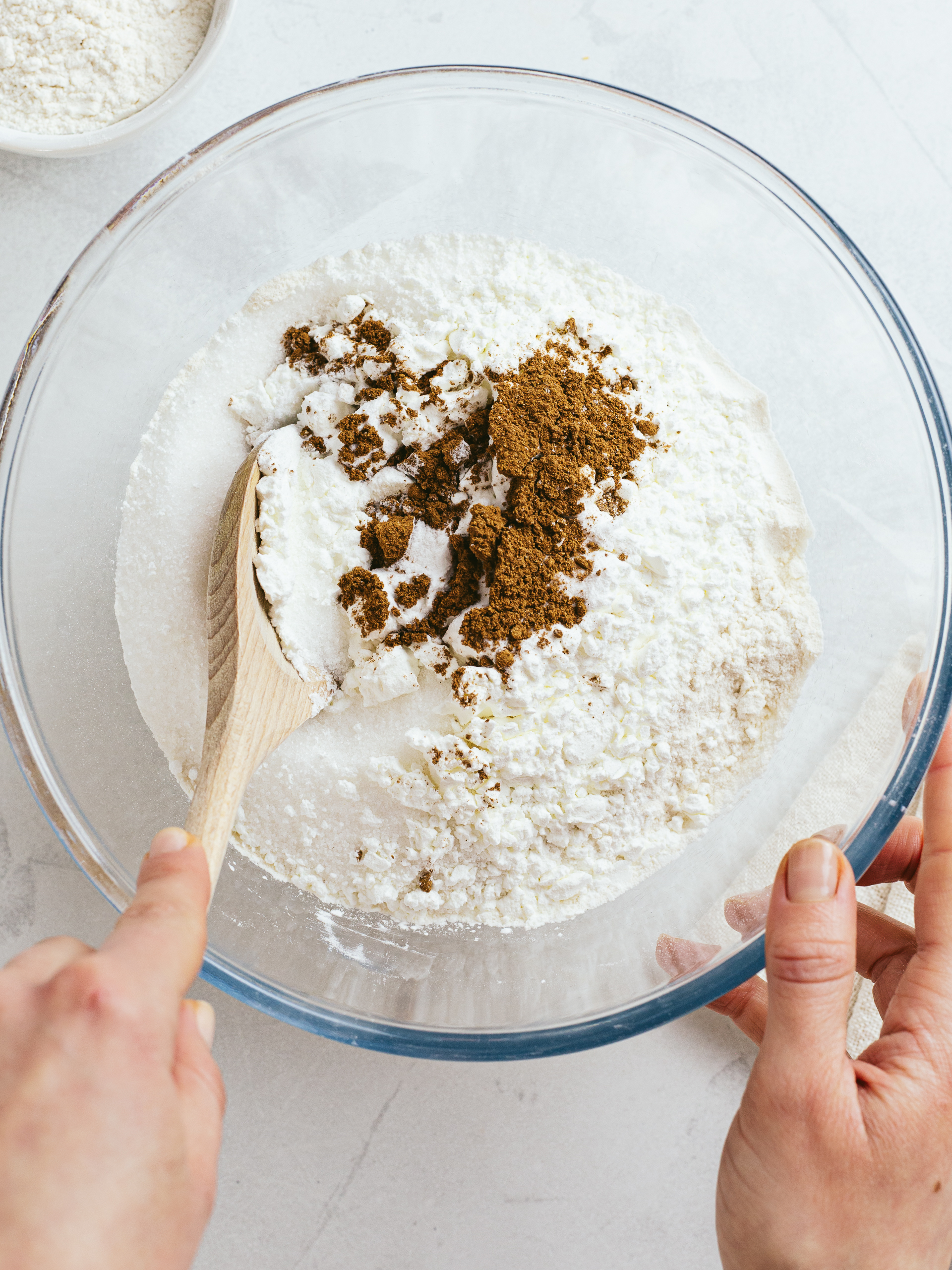 1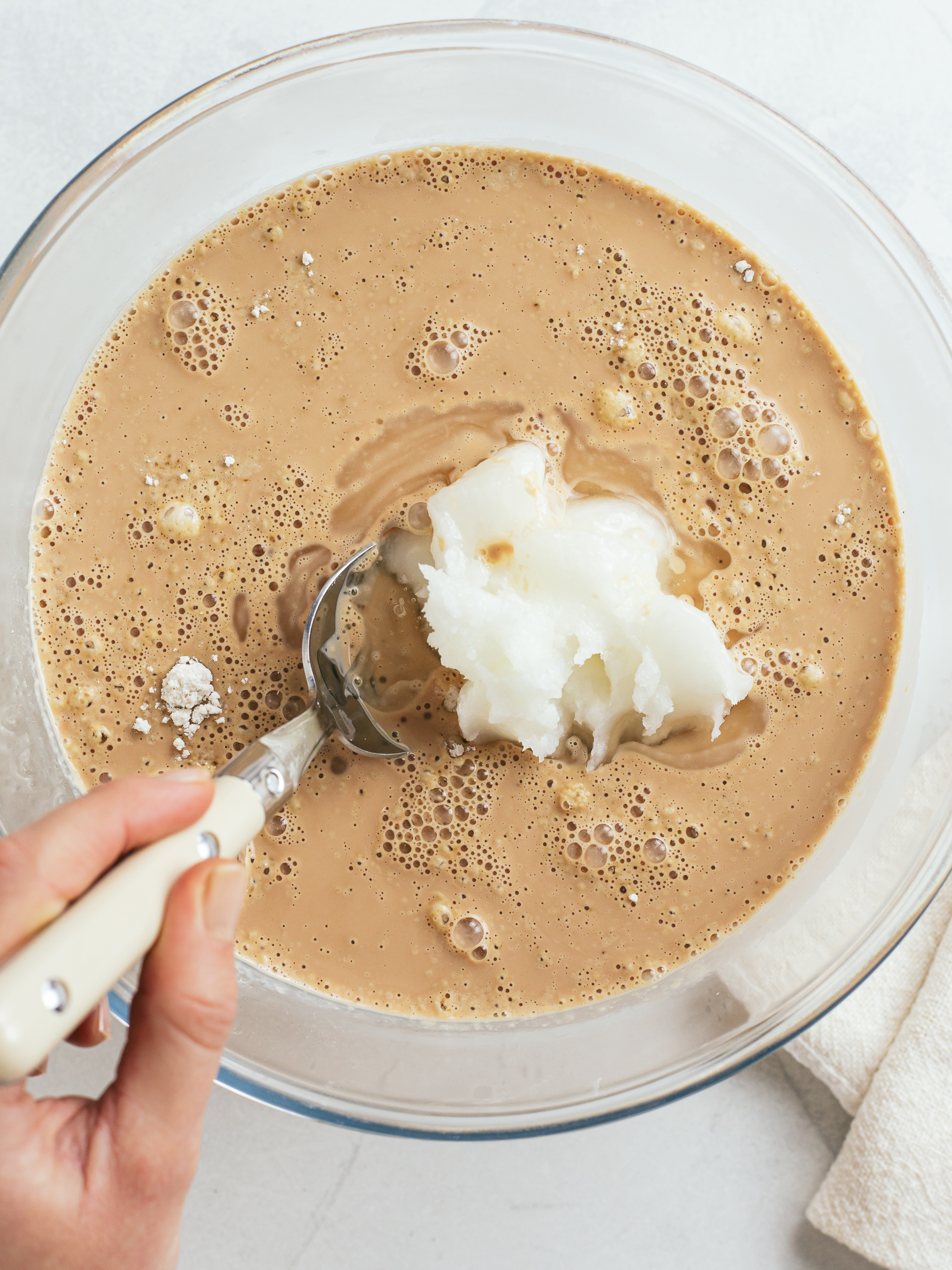 2
Step 3
Now, use a stand mixer or hand whisker to work the ingredients into a smooth, creamy cake batter.
Lightly grease a 20 cm (8 inches) cake tin and pour in the chai cake batter.
Use a loose-bottom or springform tin if you have one to pop out the cake more easily once baked.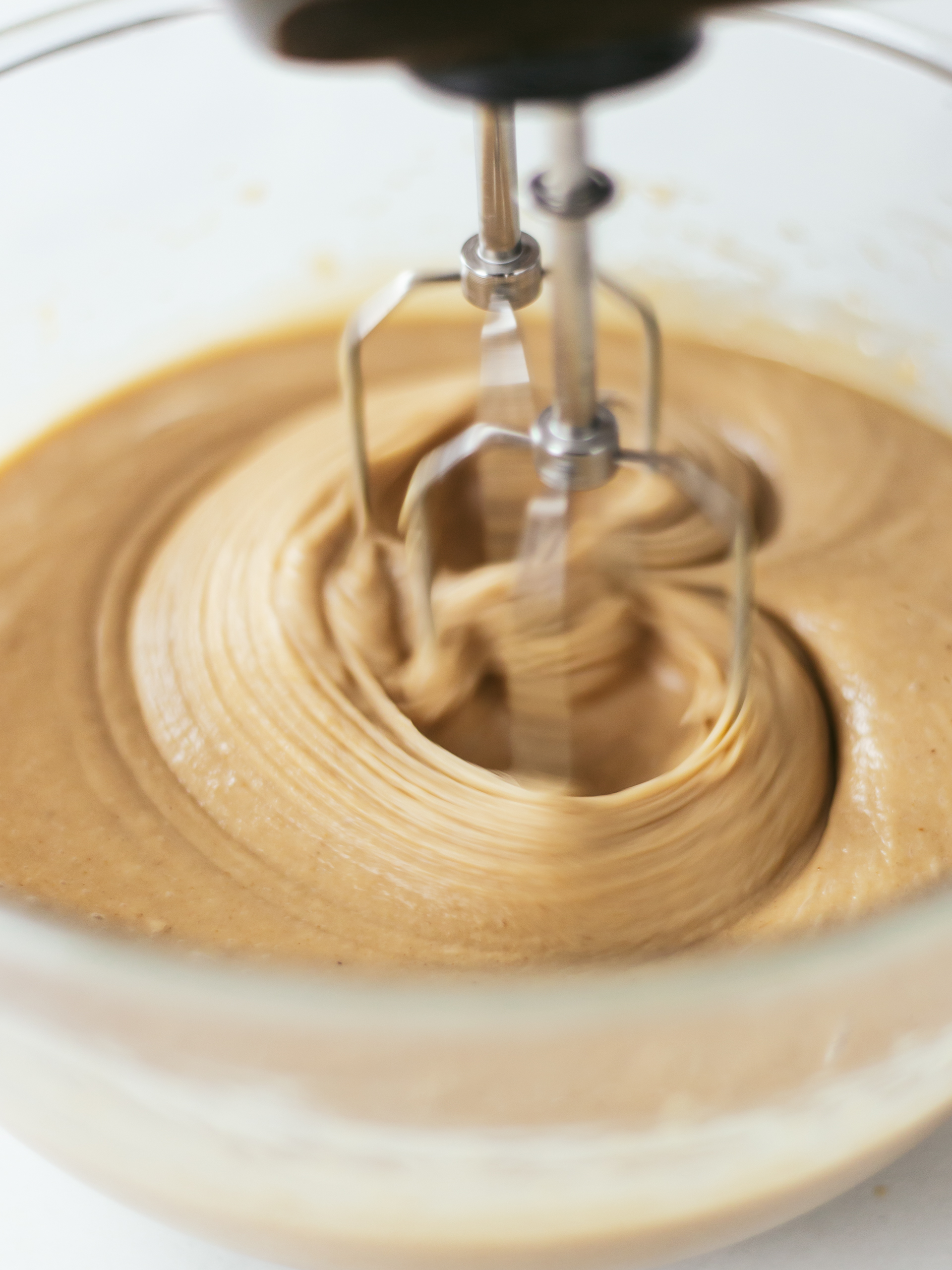 Step 4
Bake the chai-spiced tea cake for 40-45 minutes.
Check if the cake is done by inserting a thin skewer in the middle of the cake and pressing all the way through to the bottom: if it comes out clean, the cake is ready.
Step 5
Allow the cake to cool for a few minutes before popping it out of the tin.
Then, leave it to cool down completely on a wire rack.
Your delicious vegan masala chai cake is ready!
You can optionally top it with peanut butter frosting. To prepare it, mix yogurt, peanut butter, and syrup in a bowl until smooth and creamy.
Cover and refrigerate the frosting for 15-20 minutes until it's thick and spreadable before using it.
Alternatively, you can garnish the cake with our dark chocolate frosting (chocolate goes very well with chai spices) or fill it with homemade mango jam.
You can also decorate the cake with a dusting of icing sugar or cinnamon or drizzle it with syrup, caramel sauce, or white cake icing.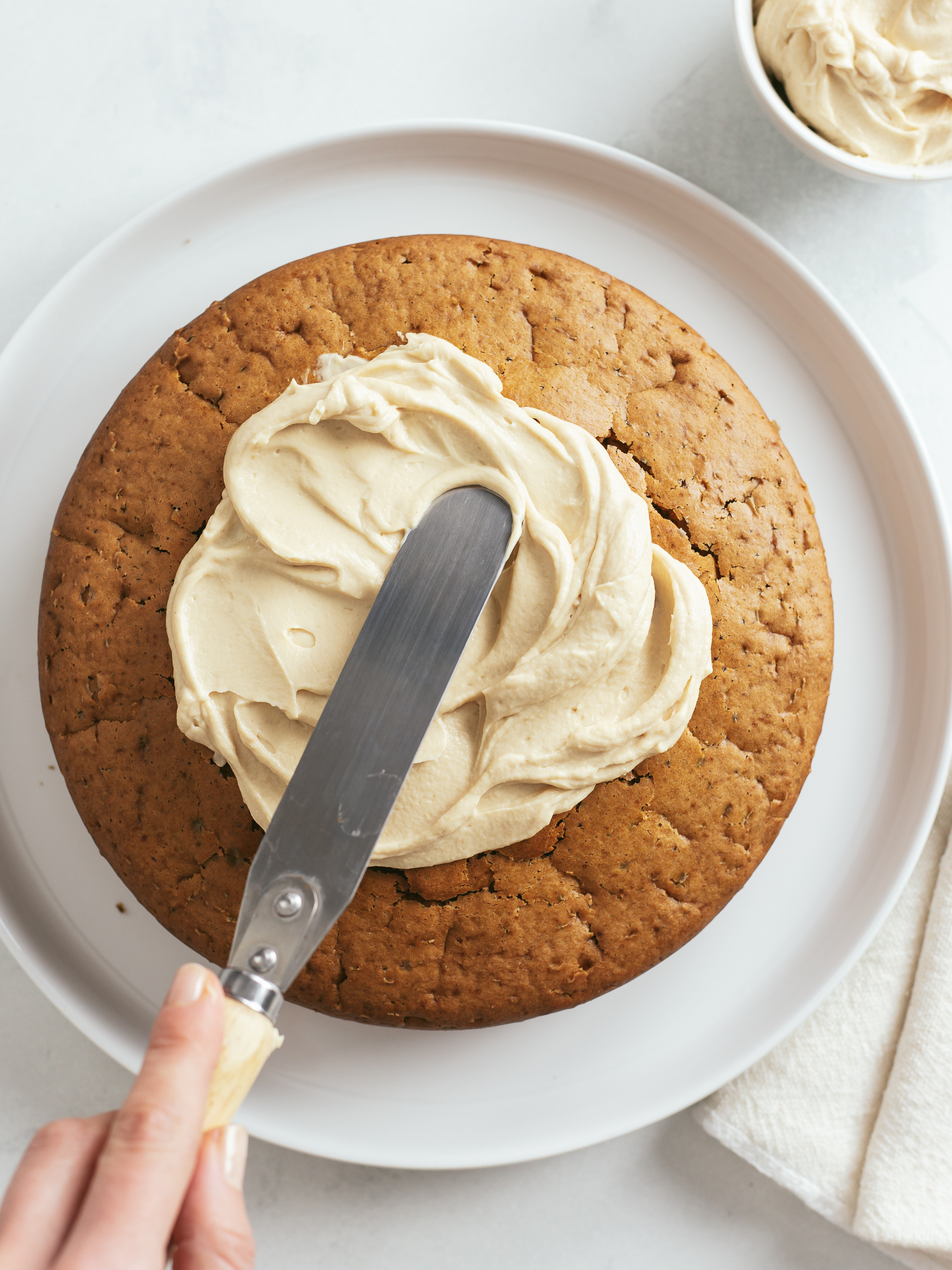 Tips
Store the cake in an air-tight container or wrapped in foil or cling film and keep it for 4-6 days at room temperature (or in the fridge if you frosted it); alternatively, freeze it for 3 months.