After our gluten-free chapati and quinoa flatbread, we are bringing you another alternative to the classic Indian roti bread. Say hi to avocado chapati!
This recipe is great if you want more nutritious roti and are not allergic to gluten.
By the way, our avocado chapatis are fully vegan, so most of you will be able to enjoy them regardless of your food allergies.
Our dear gluten-free readers can instead check out our other recipes!
Avocado is so wonderful. It's one of the few fruits to be rich in proteins, and it's a good source of plant-based omega-3 fats. It also bursts with precious antioxidants, vitamins, and fibres.
Thanks to its creaminess, avocado is a great butter replacement and binder for dough. So why not use it in bread? Well, that's what we are doing here!
Adding avocado to chapati bread is a sure way to improve the roti otherwise lacklustre nutritional profile.
After all, classic chapati is just water and flour.
By testing different ratios of solid-to-liquid ingredients, we found the perfect mix to make this avocado chapati as stretchy as the original but tastier (and greener!).
A tangible benefit of eating avocado vs regular chapati is the increase in fibre consumption.
One hundred grams of avocado has twice as many fibres as an equal weight of plain flour.
Eating more fibre is good because you'll feel full and satiated for longer, and by eating less — a great virtue for those on a diet. A single one of our avocado chapati has 16% RDI of fibres!
Finally, we used a special mix of Indian spices to make our roti super flavour.
Now you can enjoy these flatbreads on their own, topped with a little bit of oil and salt, or with your favourite Indian dish as you would with classic chapati.
And if you'd like to try other ways to use avocado to replace butter, check out these avocado waffles and avocado oatmeal cookies!
Frequently Asked Questions
Is chapati vegan?

Yes, Indian chapati bread is suitable for vegans as it's prepared with just two ingredients: flour and water.

However, the classic recipe often includes brushing these flatbreads with ghee before serving them. Ghee is a type of clarified butter and a traditional Indian ingredient often used as cooking oil. It's prepared by melting the butter and then removing the milk solids.

To keep your chapatis dairy-free and 100% vegan, you can brush them with vegetable oil, like canola, avocado, olive, or coconut oil, instead of using ghee.
How do I keep these avocado chapatis soft?

You can keep these homemade chapatis fresh for up to a week. Once cooked, brush them with a little oil, then wrap them in foil and store them in an airtight container. When you're ready to the eat, sprinkle the flatbreads' surface with water and then warm them in the microwave or a skillet.

Alternatively, you can freeze them for 2-4 months.

It's also a good idea to prepare a big batch of these avocado flatbreads and then freeze the uncooked, rolled out dough discs. When you're ready to eat, all you have to do is take them out of the freezer and quickly cook them in a skillet following our recipe.

This way, you'll have freshly prepared, soft chapatis every time.
What to serve with chapati?

Chapatis are a staple food in the Indian cuisine, and they often accompany curries, chutneys, and dal dishes.

If you're looking for inspiration, here are some tasty ideas for you:
Ingredients
Chapati
Wholemeal Flour

280 g

Salt

1/2 tsp

Large Avocado

1

Lemon Juice

1 tbsp

Lukewarm Water

100 mL

Optional
Cumin Seeds

1/2 tsp

Ground Coriander

1/2 tsp

Fennel Seeds

1/2 tsp

Black Pepper

to taste
Step 1
In a mixing bowl, combine wholemeal flour with salt. Then, tip in the cumin seeds, ground coriander, fennel seeds, and cracked black pepper.
These spices are optional, but they will make your flatbread even more flavourful if you use them.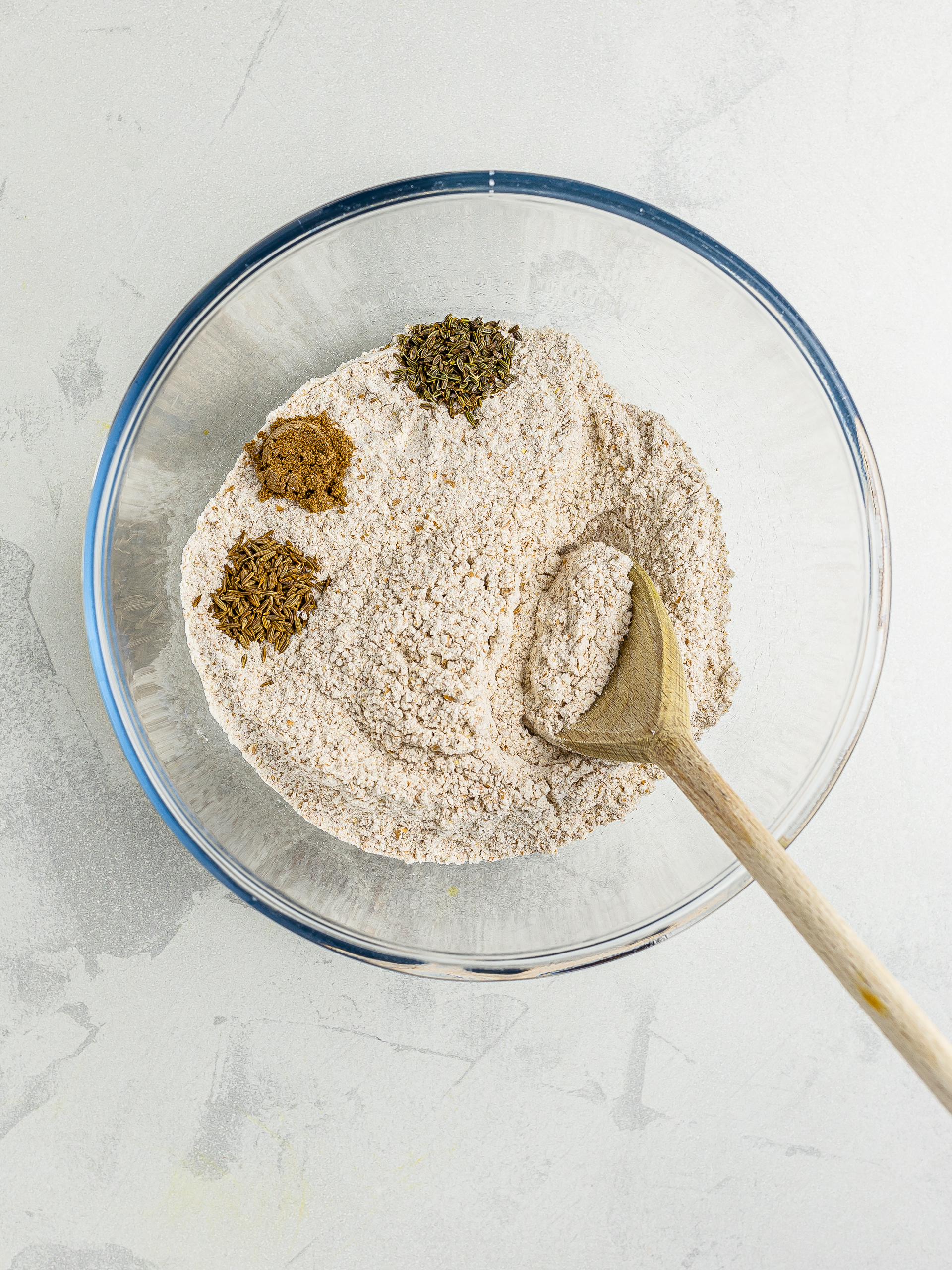 Step 2
Next, blitz the avocado with lemon juice until smooth and creamy.
Please note that we calculated one large avocado to weigh 220g/7.7 oz (skin and pit included).
Adding lemon juice is essential to keep the chapati dough from browning as the avocado oxides very quickly when exposed to the air.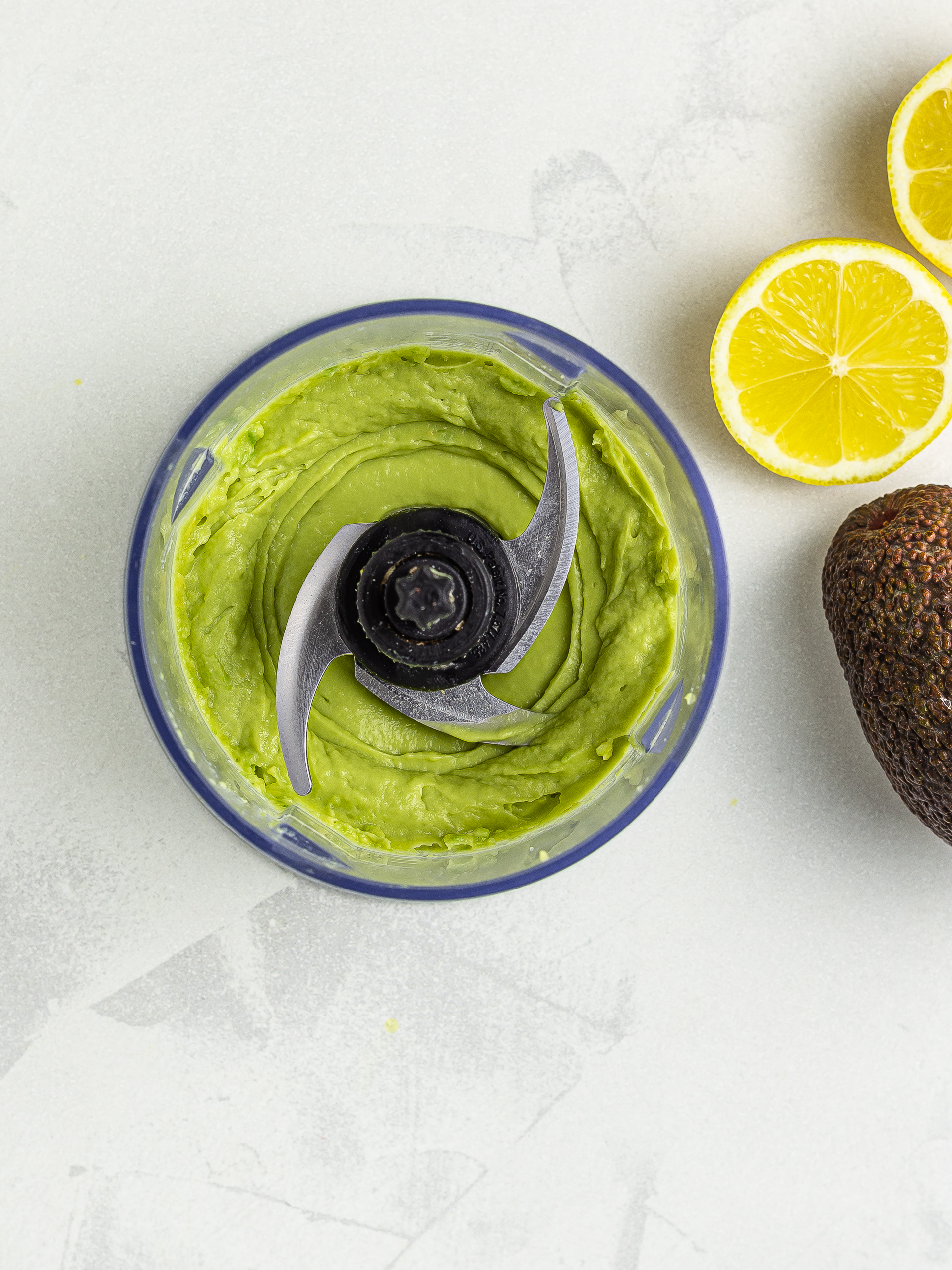 Step 3
Now, incorporate the avocado mash into the flour mix. Start kneading the ingredients and then pour in the lukewarm water a bit a time.
Work all into a smooth, elastic, and slightly sticky dough (1).
If the dough feels too dry, then add more water. If instead, it's too sticky, dust it with more flour.
Next, roll the dough into a ball, wrap it in cling film, and leave it to rest for 10 minutes on the countertop (2).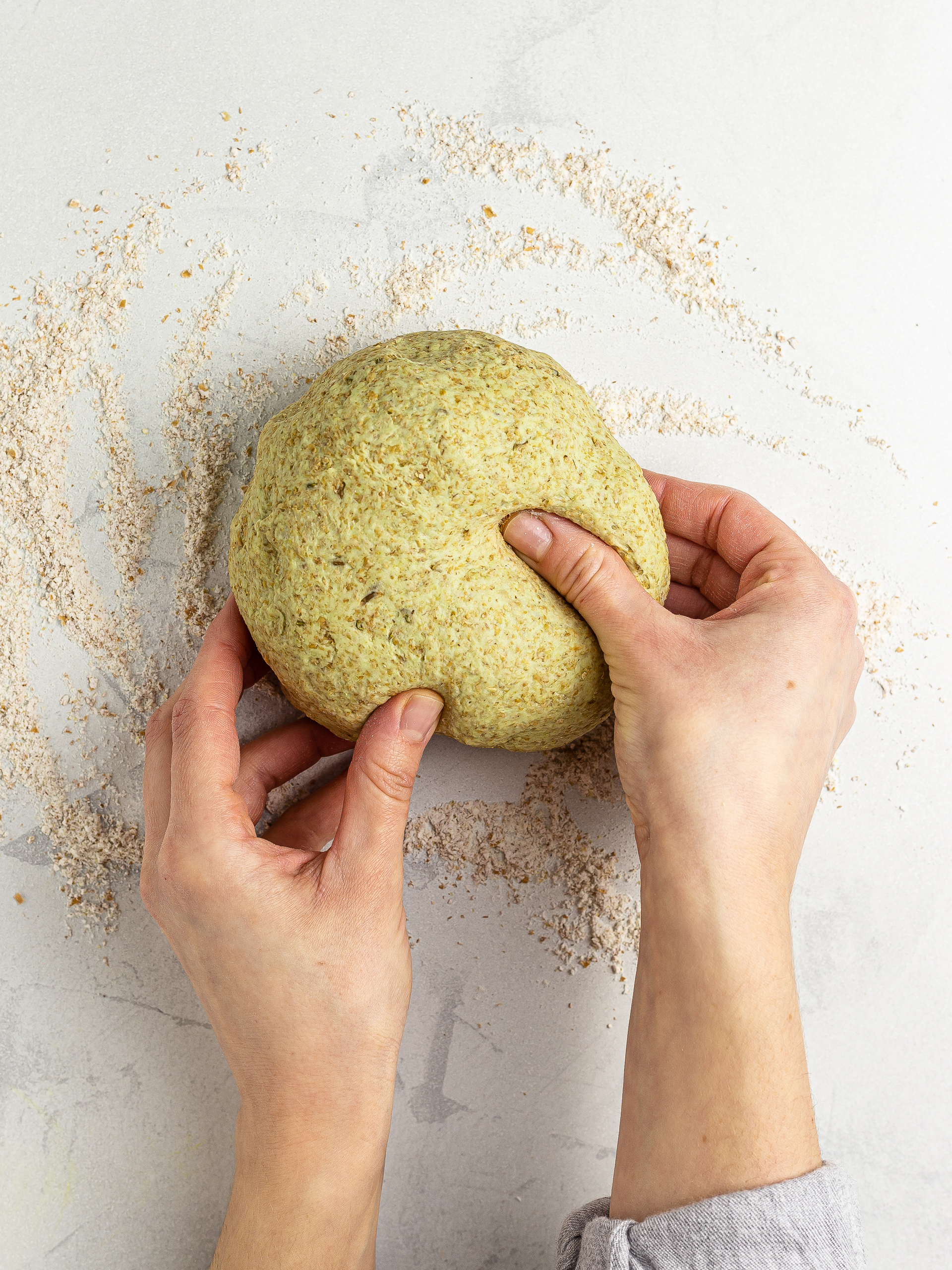 1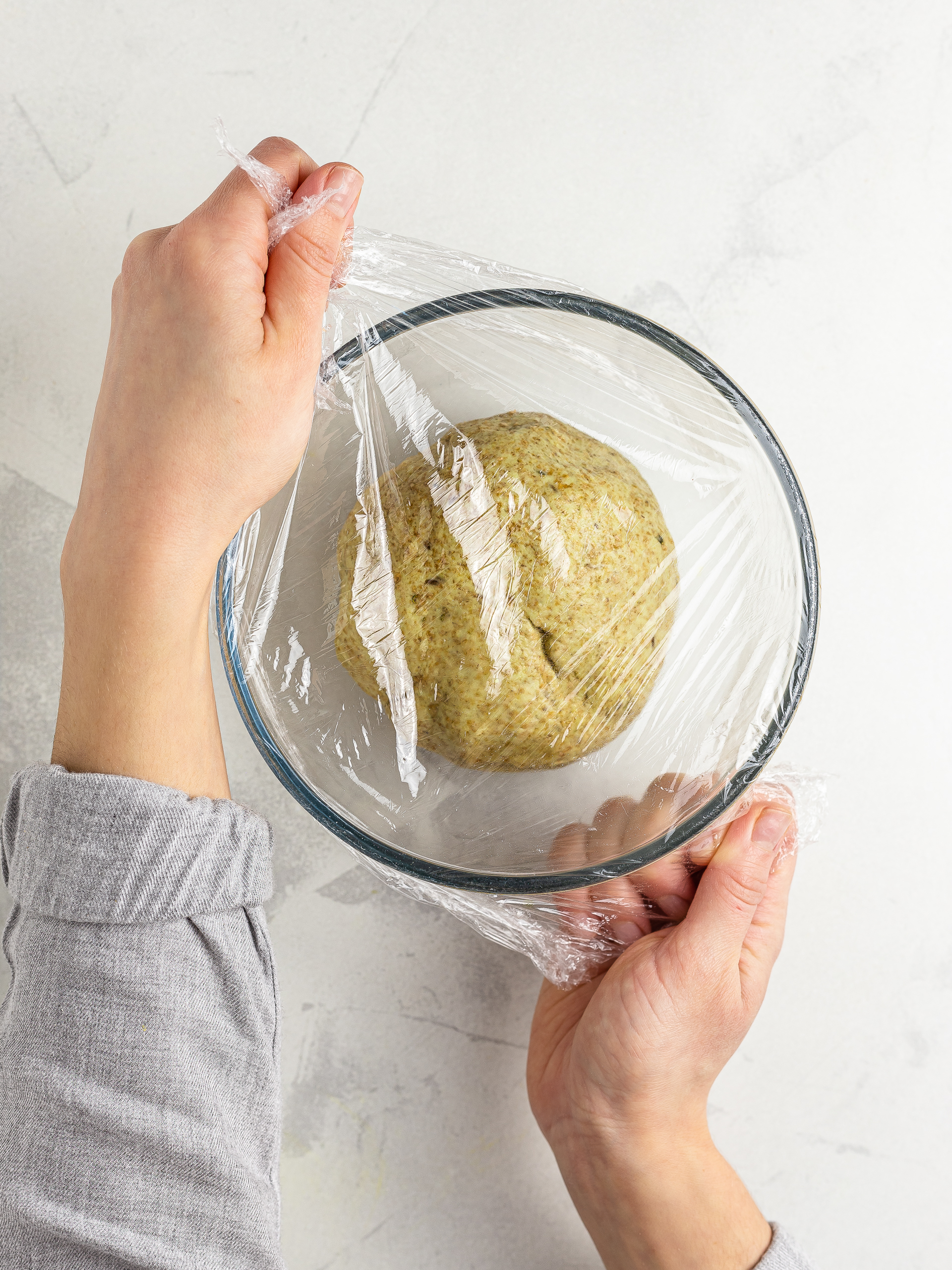 2
Step 4
Divide the dough into 50g (1.7 oz) pieces.
To shape the chapati, roll one piece into a smooth ball and then flatten it between your palms.
Next, dust your worktop with a bit of flour and roll out the dough thinly, about 2mm thick. We made our flatbreads about 15 cm (6 inches) in diameter.
Repeat this step until you have used all the dough.
Keep the unrolled dough pieces and the shaped chapatis wrapped in cling film to prevent them from drying out.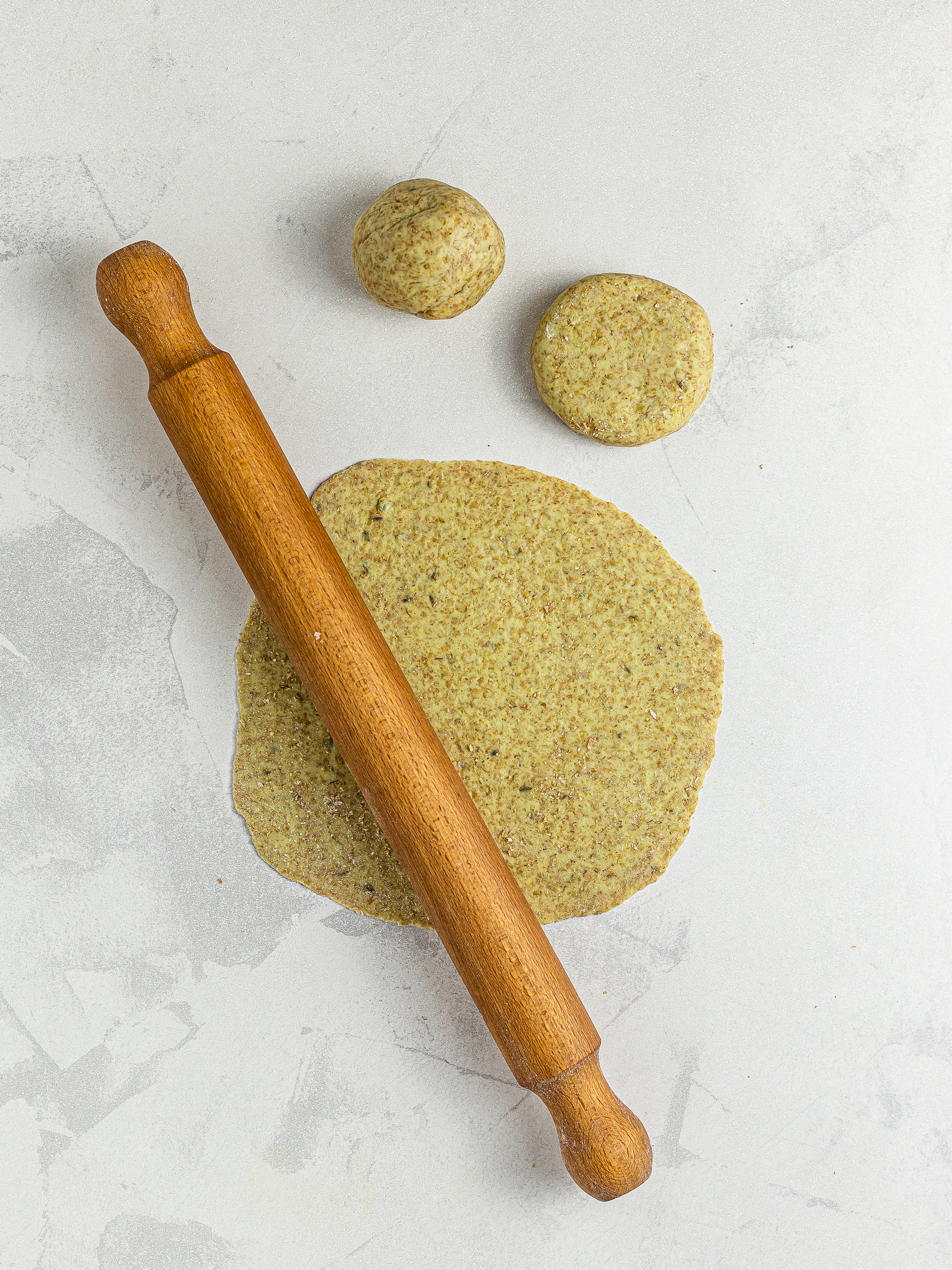 Step 5
Heat a non-stick skillet over high heat.
Start cooking one chapati at a time flipping it every 15 seconds and for no more than 1 - 1 and 1/2 min overall.
To make the chapatis puffier, press down on them with a spatula in the spots without bubbles for a few seconds, starting from the edges.
After 30-40 seconds of cooking time, you'll seed bubbles appearing and the chapati getting puffier.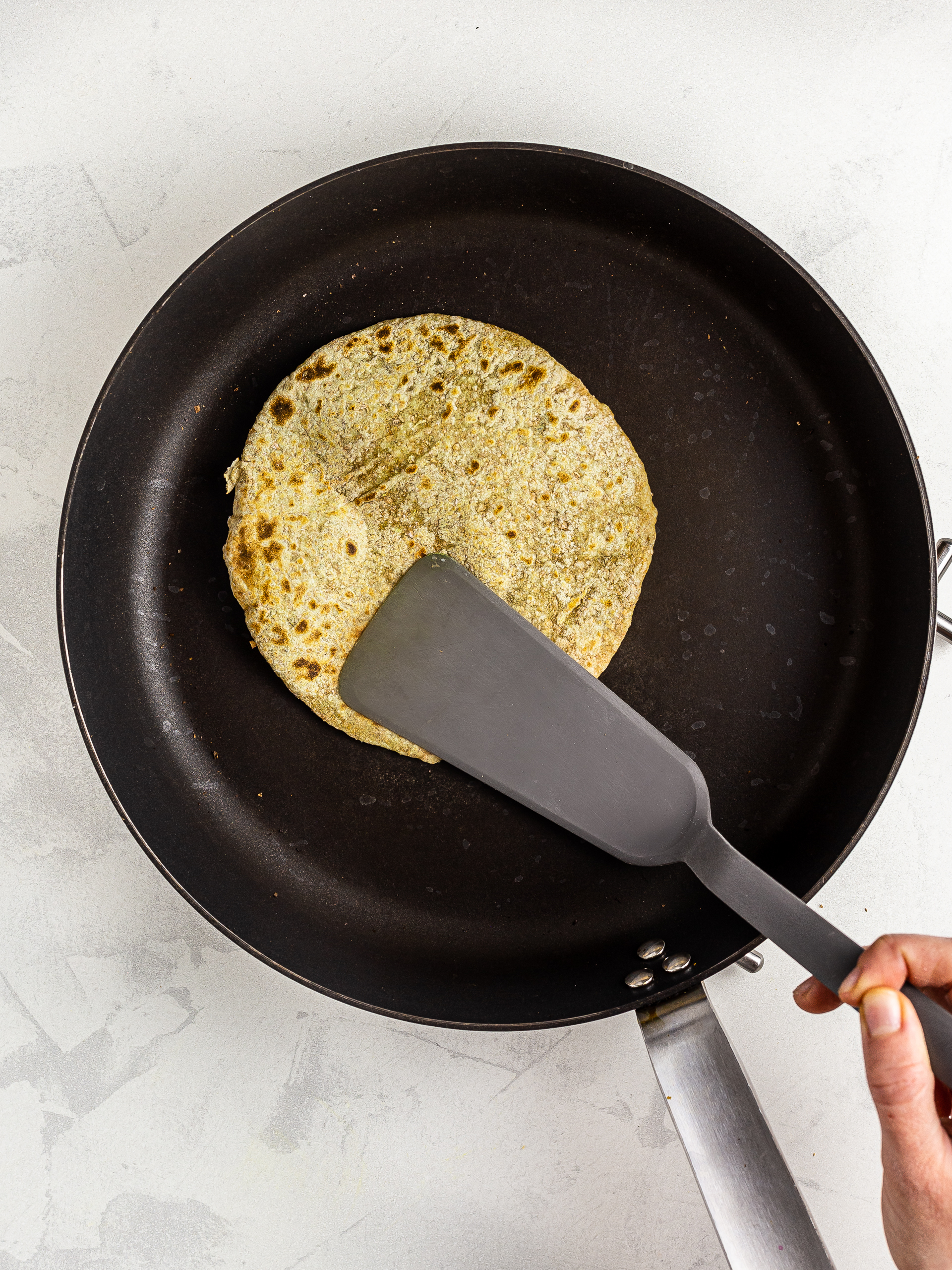 Tips
Once cooked, smear the chapatis with a little vegetable oil to keep them moist.