Do you like chickpeas and kale? Then you will love our creamy hummus pasta with spicy-garlic kale and black olives. This recipe is vegan, as we only used plant-based ingredients, and it's so effortless, taking less than 20 minutes, start to finish.
If you want to make hummus yourself, check out our homemade recipe, and prepare it before you start following the steps below. Alternatively, you should buy the low-fat variant, or use any leftover hummus you have in the fridge.
Hummus is a remarkable ingredient to make creamy pasta. If you are following a vegan diet, or are allergic to dairy, consider using this creamy chickpeas paste as a replacement in those recipes that use double cream.
Having Italian origins, and being at first quite conservative when it came to pasta, we didn't think of hummus as a suitable ingredient for this staple dish. But we were wrong, oh were we wrong! This delicate paste is just a blend of chickpeas, salt, oil, garlic, tahini, and lemon. All these elements can be used successfully in pasta, and so can hummus!
To innovate, we must first break away from traditions, treasuring experience but looking ahead to new ways to make healthy food. This vegan pasta is proof that keeping an open mind pays off.
The hummus sauce we will prepare below is wholesome and nutritious. Keep reading to learn more about the healthy ingredients we used, or scroll straight to the method below.
Hummus is a rich source of gut-friendly fibres, plant-based proteins, essential minerals, and vitamin B. The impressive trait of hummus as a dairy-free cream substitute in pasta is how simple it is to control the level of creaminess. Dilute it with more or less water and for a smoother or denser cream. You don't have to use starches or other additives, just hummus and some water. Brilliant!
Then there's kale. Maybe the most loved veggie in the vegan diet, this nourishing leafy green bursts with benefits. Kale is among the most nutrient-dense foods on the planet [1], with a single cup providing way more than 100% of your recommended daily intake (RDI) of vitamin A, K, and C, as well as boatloads of essential minerals. All packaged in less than 33 calories per cup. This veggie takes the podium in any healthy diet.
Finally, black olives are a tasty addition to this pasta. Beyond being so flavourful, they are one of the pillars of the Mediterranean diet, renowned for being among the healthiest in the world. Olives have healthy unsaturated fats and antioxidants that help ward our hearts from cardiovascular disease [2]. They are also a good source of fibres that facilitate and promote weight-loss.
This recipe is fun and simple to make, and we know you will love the results. Let's get cooking!
Frequently Asked Questions
What are all the types of hummus I can use to make a creamy vegan pasta?

Traditional hummus - the one we used in our pasta recipe - consists mainly of chickpeas and tahini. But there are so many other types of hummus out there, many of which would be a marvellous alternative in a creamy vegan pasta. Let's take a look at some ideas!

"Baba Ganoush" Roasted eggplant hummus. We love to use chopped aubergines in pasta, but why not turn them into a paste and use them as a creamy sauce? It's a great idea, and you can use any leftover eggplant hummus as a dipping sauce.

Avocado Hummus. Not quite the same thing as guacamole, this mix of chickpeas and avocado makes a smooth cream loaded with healthy fats and proteins.

White beans and beetroot hummus. Beetroot is a sweet and refreshing vegetable that makes a creamy and colourful hummus. We suggest you add this hummus to a pasta salad (cold pasta bowl) and enjoy it at a picnic on a sunny summer day. Maybe pack some grapefruit lemonade as well? Yum!

Black beans hummus. If you are after a more robust and earthy flavour for your vegan pasta, give black turtle beans hummus a try. To make it, follow our hummus recipe and replace 2/3 of chickpeas with black beans.

These are just some ideas to make a creamy dairy-free pasta using hummus. Take your pick or make up a new flavour using your favourite veggies!
What goes well with hummus in pasta?

Hummus is a versatile ingredient, used in hundreds of recipes, thanks to the delicate and supporting flavour of chickpeas. It's no wonder hummus itself comes in so many different variations: Roasted pepper, garlic, paprika, and black beans hummuses are all but a few examples.

The flexibility of hummus makes it an ideal creamy sauce for pasta - a base which we can enhance with our favourite veggies and toppings.

Here is a list of foods that go well with hummus in pasta.

For vegetarians:

Kale (what we used in our recipe).

Aubergines.

Zucchini.

Roasted sweet potatoes with garlic and chillies.

Tuscan cavolo nero.

Crispy "cauliflower rice".

Brussel sprouts roasted and glazed with lemon and honey, like in our recipe here.

For meat-lovers:

Spicy chorizo.

Smoked ham shredded in bits and crisped in extra virgin olive oil, chillies and garlic.

Crispy pancetta.

You can use these ideas as inspiration to craft a new and delicious dish. Have fun!
How can I make a high-protein, gluten-free pasta?

We have recently experimented with a gluten-free pasta that has low-carbs but is rich in proteins. What magical food is this, you ask? It's red-lentil pasta, where red lentils are crushed into a fine flour and then used instead of wheat flour.

If you add hummus to red lentil pasta, you will get a power-boosting dish that is loaded with proteins but has fewer carbs than any other pasta dish could ever have.

While the added proteins and lower carbs will satisfy many of our gym-goers readers, the gluten-free pasta will make our recipe suitable for our celiac friends as well. Everyone wins!

Making red-lentil pasta at home could be a fun weekend pastime, but it's easy to find it in a store as well. Take a look at the free-from aisle of a medium or large-sized supermarket, or try a wholefood retailer.
Ingredients
Extra Virgin Olive Oil

1/2 tbsp

Garlic Clove

1

Chillies

1 tsp

Kale

80 g

Kalamata Black Olives

35 g

Wholemeal Penne Pasta

150 g

Low-Fat Hummus

recipe

150 g

Lemon Zest

1 tsp
Step 1
In a skillet, heat the extra virgin olive oil and add crushed garlic and chilli flakes until they are fragrant.
Then, add shredded curly kale and black olives sliced in half.
Cook the ingredients for 5 minutes or until the kale leaves are softened.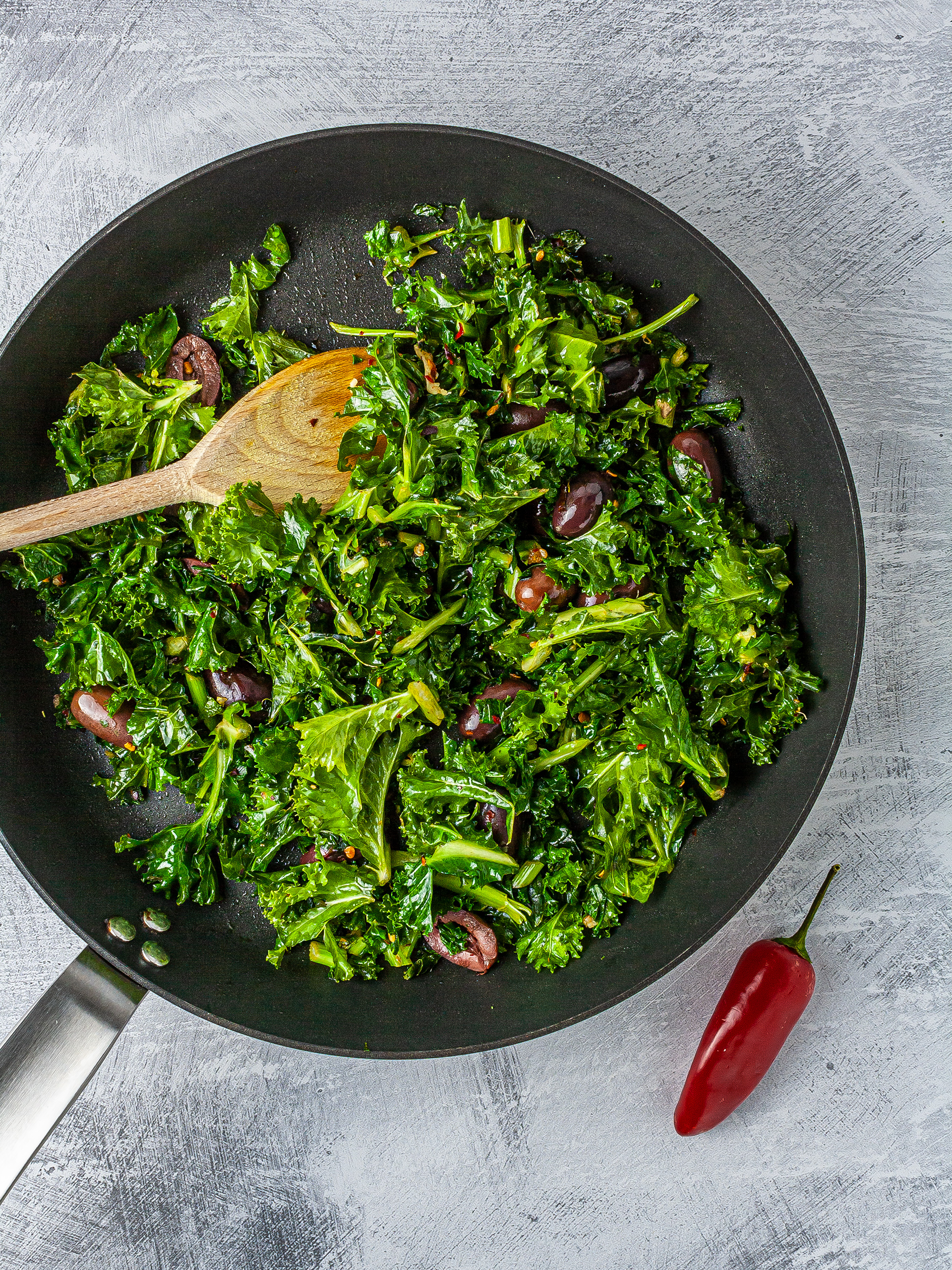 Step 2
In the meantime, bring water to a boil, and cook the wholemeal pasta according to the packet instructions.
Before you drain it, make sure the penne pasta is firm to the bite, or al dente, and save the cooking water for the sauce.
Add the low-fat hummus to the pan with the kale and stir in the cooking water a bit at a time to loosen up the hummus.
Cook for 5 minutes until you have a creamy vegan sauce and then remove from the heat.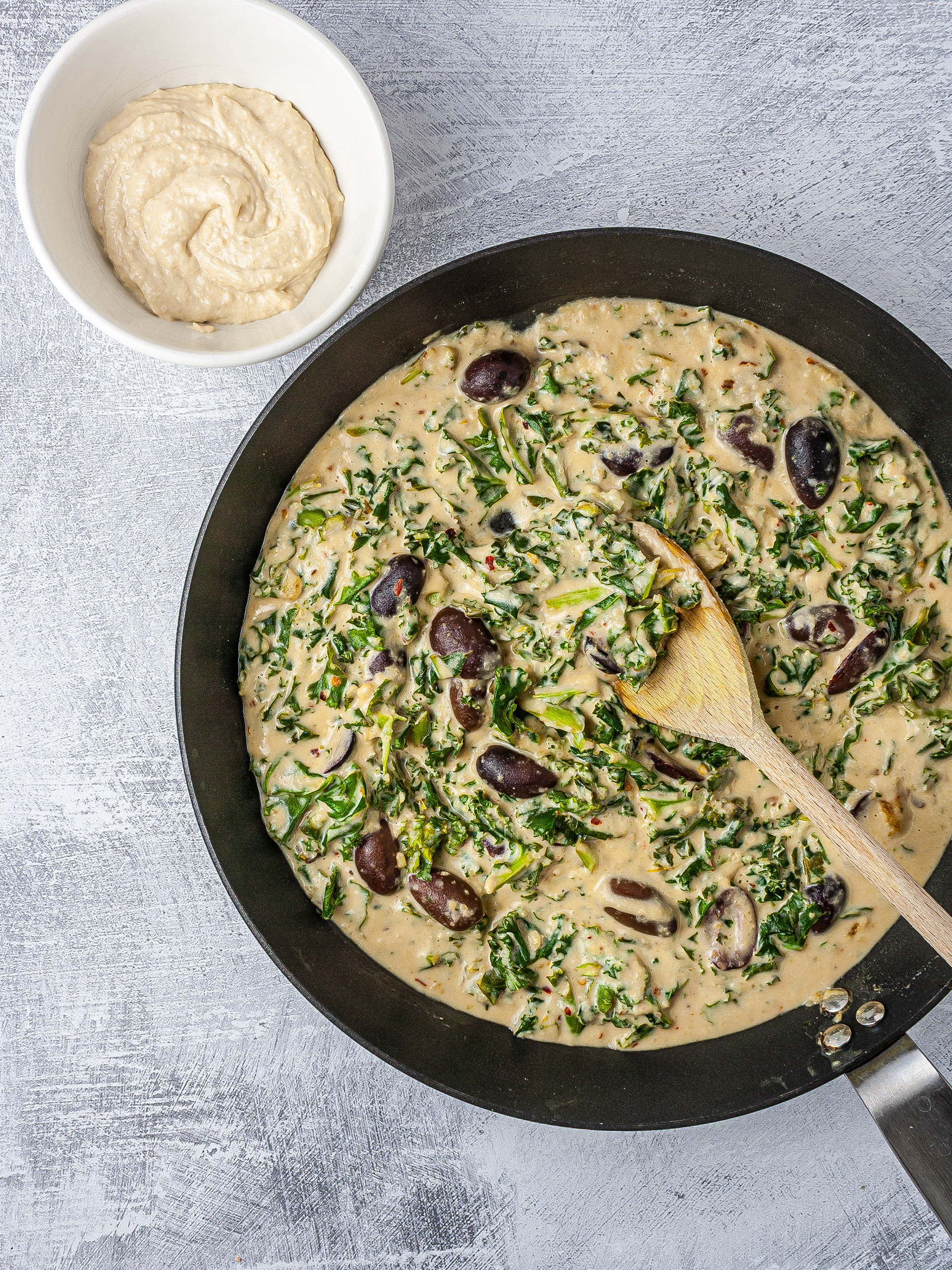 Step 3
Add the drained pasta to the hummus paste and stir well.
If the sauce is not runny enough to coat the penne, then add a splash of water.
Finally, divide the pasta among serving bowls and garnish with lemon zest and a sprinkle of chilli flakes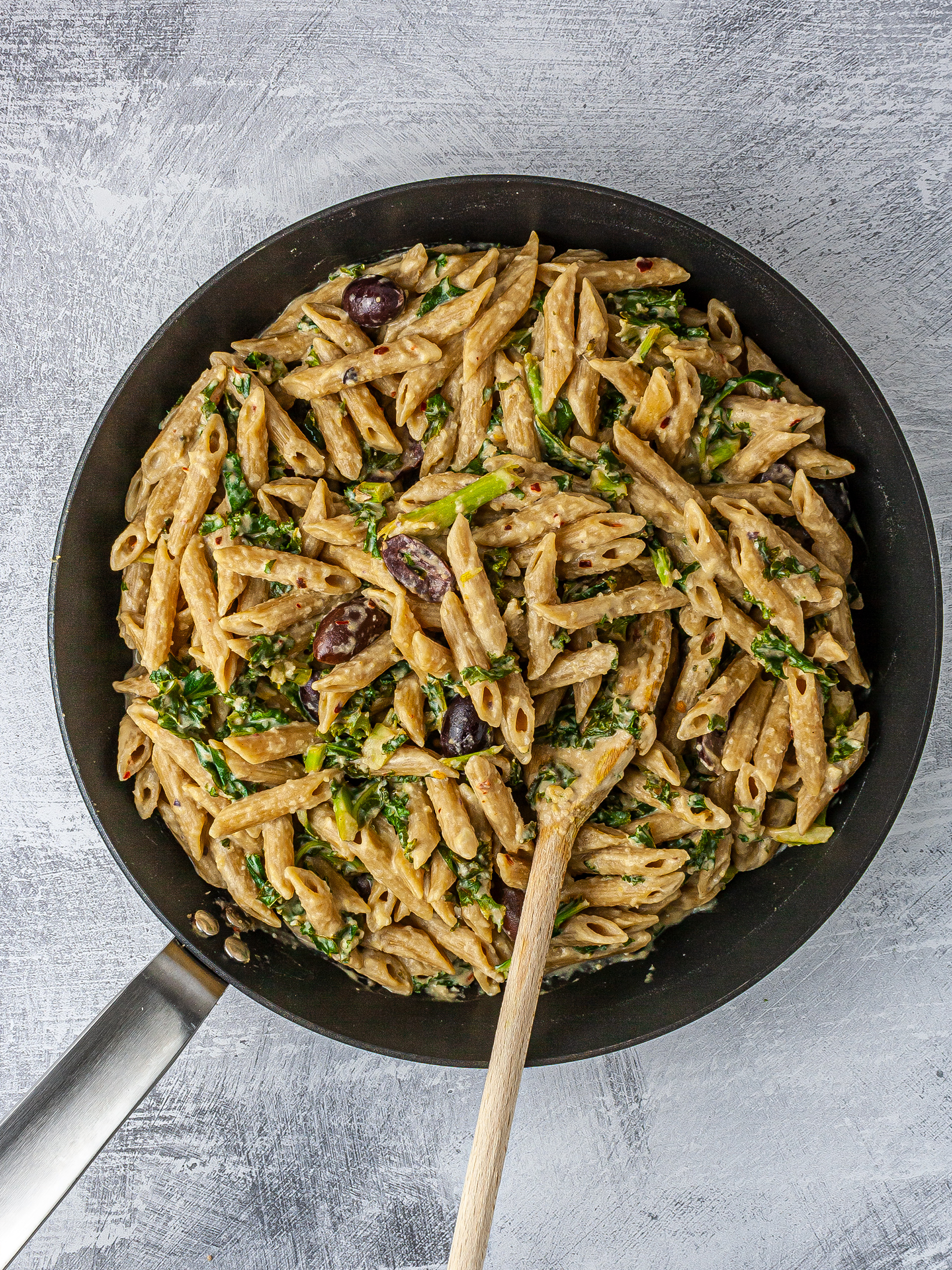 Tips
For a boost of plant-based B vitamins, you can add one or two tablespoons of nutritional yeast to the sauce.

You can roast half of the kale in the oven and then add these crunchy crisps when you are ready to serve the pasta. To do so, pat the shredded kale dry with a kitchen towel and toss it in a baking tray with little oil. Then bake the kale at 160°C (320°F) for conventional ovens or at 140°C (280°F) for fan ovens for 20 minutes or until the leaves are crispy. Finally, use them to top your hummus sauce pasta.