Just thinking about watermelons makes us dream about summer, basking in the sun on the beach with our faces dug into a big juicy slice. But if you're not savouring the joy of the summer holidays yet, don't worry! We have a fun watermelon arugula salad recipe that will bring the taste of summer right to your plate! It's a fresh, vibrant, and utterly delicious dish — not to mention ready in a flash!
All you need are five simple ingredients, cheap and easy to find in the summer season: watermelon, peaches, arugula, cucumber, and red onions. In as little as 10 minutes, you can put together a refreshing green salad, perfect as a side or a light bite. But, before we jump right into it, let's see what makes this summer salad so special:
Watermelon - It's the star of our recipe, tasty and refreshing, with a lovely red colour. This fruit is over 90% water, meaning it's low in calories and helps your stay hydrated [1]. It also contains powerful antioxidants like vitamin C and lycopene.

Arugula - Also known as rocket, rucola, or roquette, it's crunchy, peppery and slightly tart. It belongs to the brassicas family, like kale and broccoli, meaning it's a powerhouse of nutrients like calcium, folic acid, and vitamin K [2].

Peaches - You can use smooth-skinned nectarines or furry-skinned peaches. We recommend nectarines as you won't have to peel them. Instead of just adding them as they are, we sliced them into wedges and grilled them until charred. If you never tried grilled peaches before, you'll be thrilled by how good they are!

Cucumber - It's a low-calorie, fresh, crunchy addition that pairs wonderfully with the other ingredients. Pretty much like watermelon, it's 96% water, perfect for cooling down. Just remember to keep the skin on to get extra fibres.

Onions - Last but not least, a few red onion rings add colour, crispiness, and a pungent note to the whole dish.
As for the seasoning, we chose a simple dressing of extra virgin olive oil, lemon juice and black pepper. But you can also opt for apple cider vinegar or balsamic vinegar, or try our lime and tahini sauce for a richer dressing.
One serving of this watermelon salad has only 112 calories, so top it with a few homemade falafels or meat-free nuggets to make a full meal out of it. Or sprinkle it with some plantain croutons for a crunchy finish.
You can also bring it over to a picnic or BBQ and serve it as a fresh side dish — it will make everyone happy!
Ingredients
| | |
| --- | --- |
| Watermelon (without the rind) | 350 g |
| Large Cucumber | 1/2 |
| Peaches (or nectarines) | 2 |
| Red Onions | 1/2 |
| Arugula | 120 g |
| Juiced Lemon | 1/2 |
| Extra Virgin Olive Oil | 2 tbsp |
Step 1
Let's start by getting the fruit and vegetables ready.
Slice the watermelon, discard the green rind, and chop it into small triangles or cubes. Then, remove the seeds.
Next, trim off the ends of the cucumber, cut it in half lengthwise, and slice it into thin half-moons.
For the nectarines, cut flesh around the pit and then slice it into thick wedges. If you're using the peaches with furry skin, peel them first.
Finally, thinly slice the onions into rings or half-rings.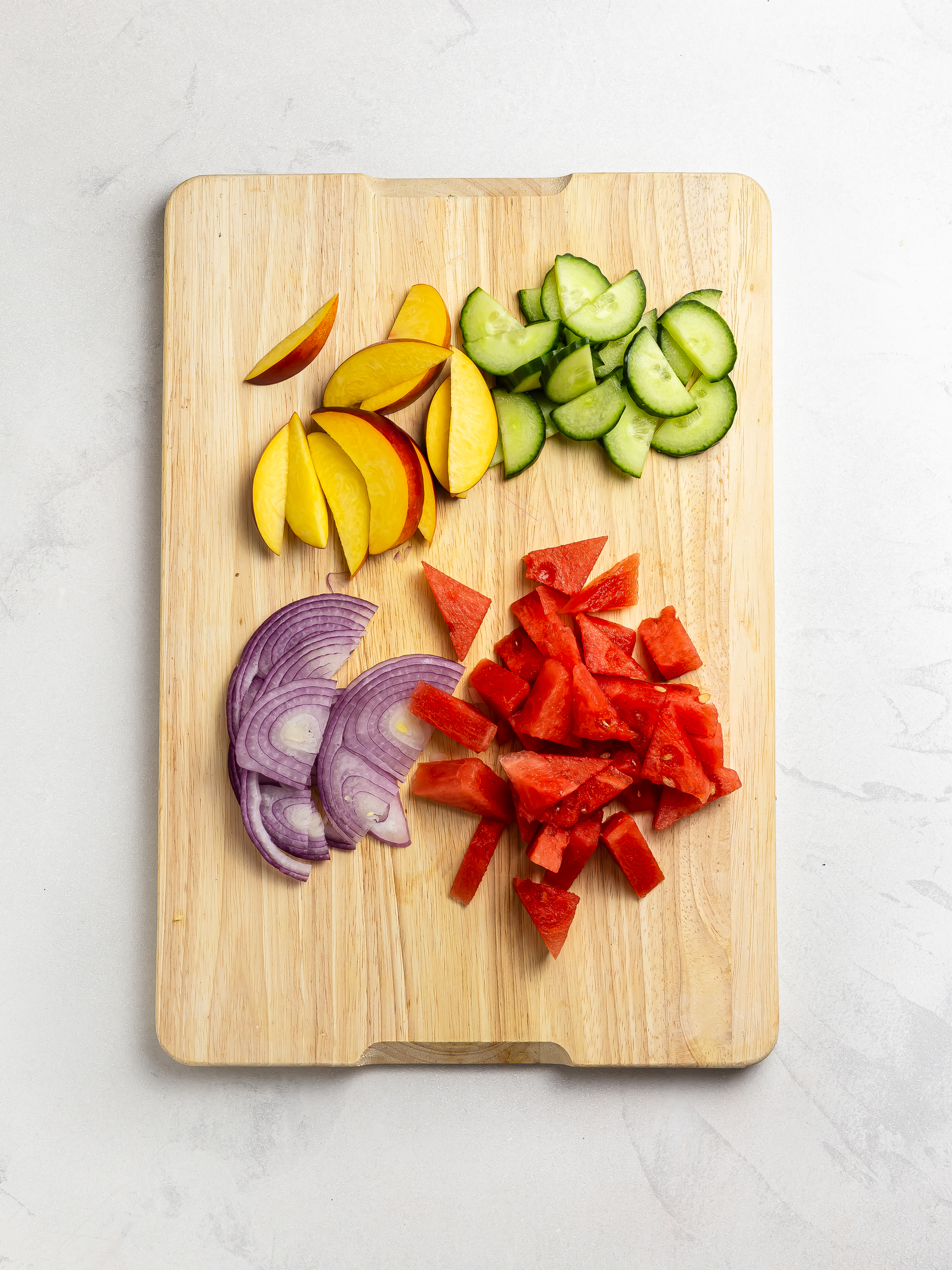 Step 2
Now, let's grill the peaches.
Heat a griddle pan, arrange the peach wedges flat onto it, and sear them for 3-4 minutes on each side over high heat.
They should be tender and charred.
If you don't have a griddle pan, you can use a standard non-stick skillet instead; the wedges won't have those nice grilled lines, but they'll still be delicious.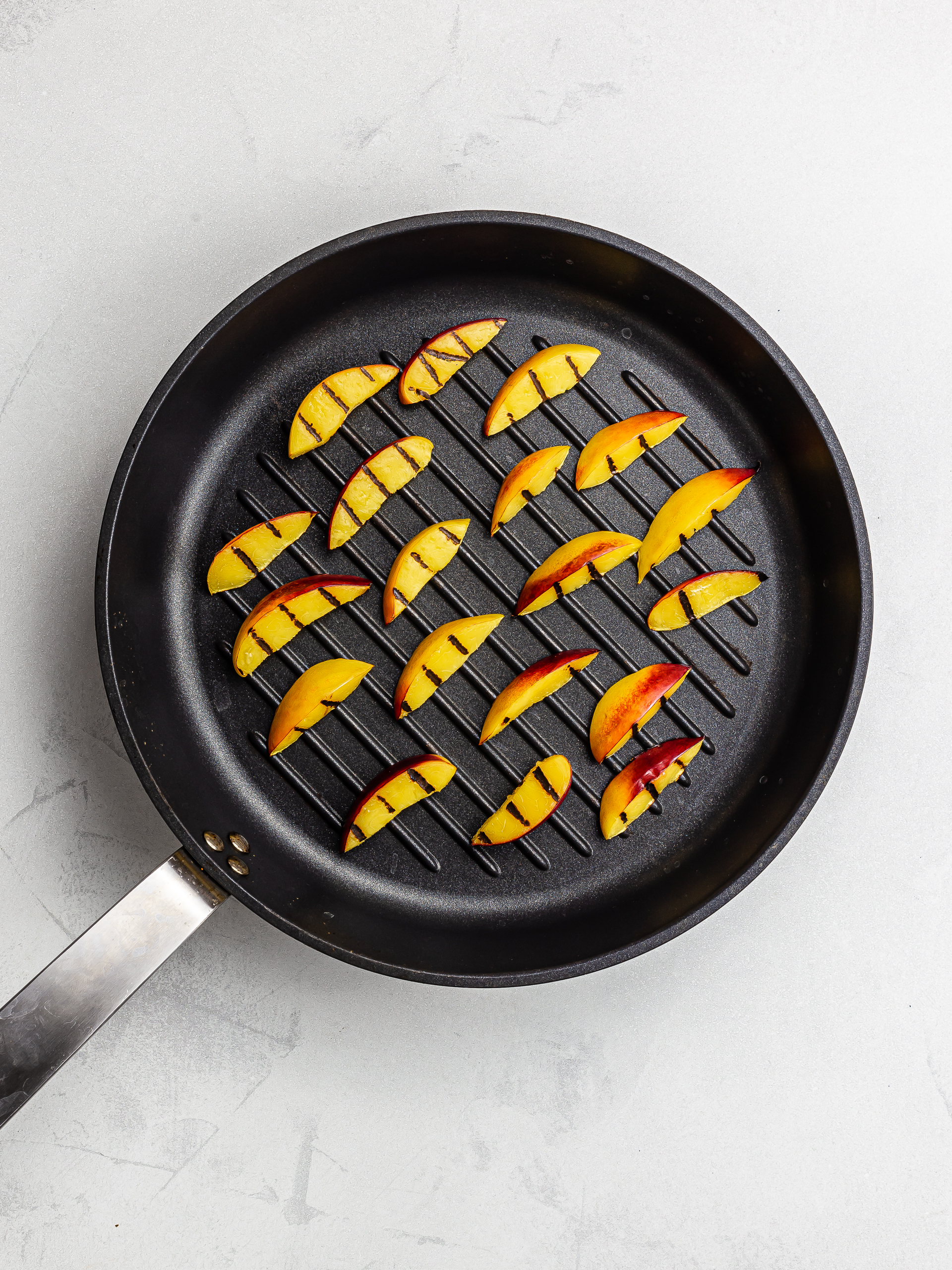 Step 3
Finally, grab a large salad bowl and add in the arugula, onions, cucumber, watermelon, and grilled peaches.
Season with salt, pepper, lemon juice, olive oil, and toss all until combined.
Enjoy!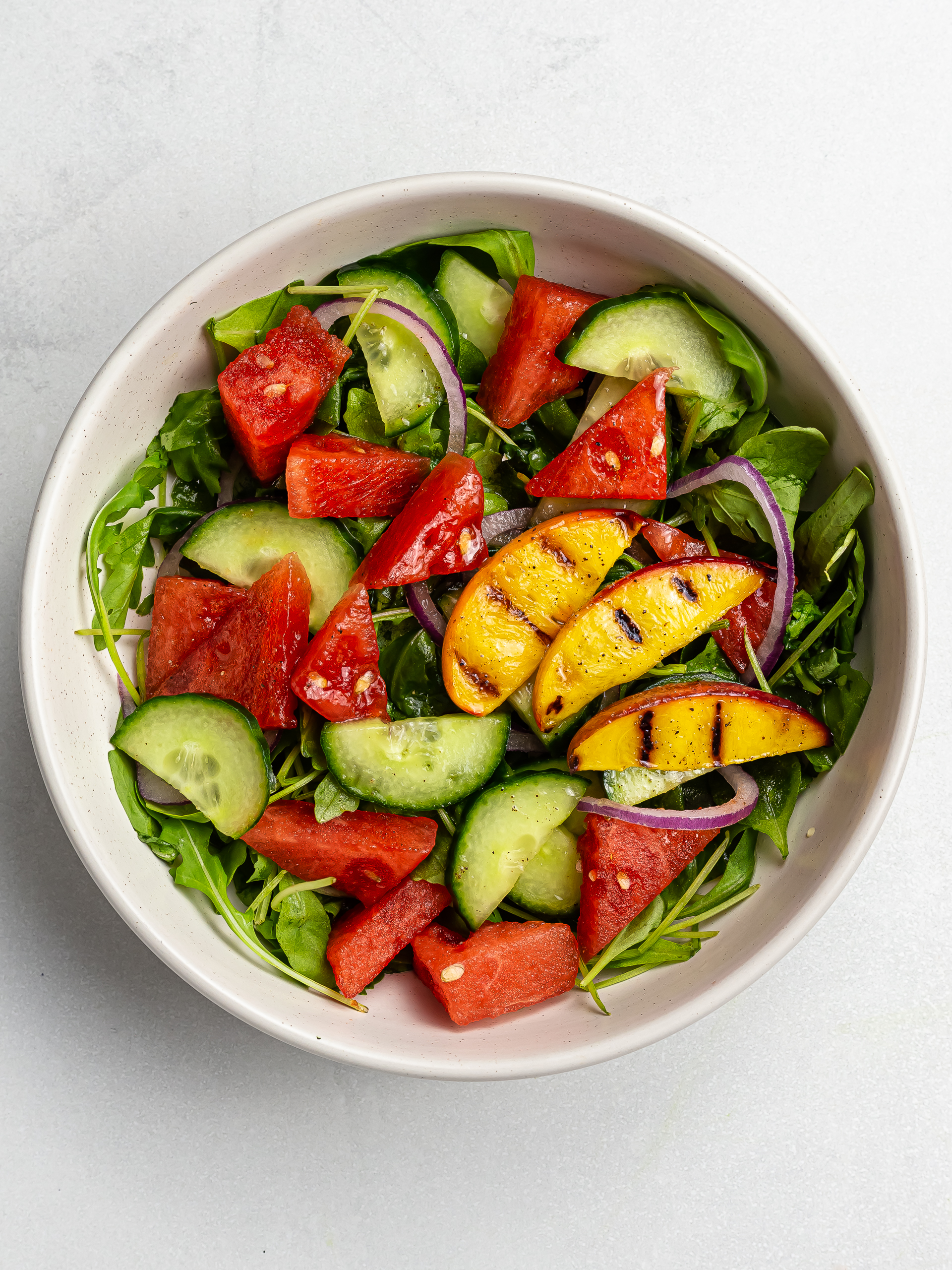 Tips
Try adding toasted walnuts and steamed edamame beans for a boost of plant-based proteins and omega-3.

Sprinkle the salad with chopped mint for extra freshness.

This watermelon salad is best consumed on the same day. If you want to prepare it ahead of time, mix all the fruit and vegs in a bowl but don't season them with oil, lemon juice, salt and pepper until you're ready to eat. This way, the rocket won't get soggy. Keep the salad in an airtight container in the fridge, and it will stay fresh for 3 days.
Watch on Youtube