We won't even ask if you like chocolate, but what about chillies? If you do, then you will love these hot chilli chocolate muffins. When the dark chocolate starts melting in your mouth, and chillies tingle your tongue, you'll wonder why you didn't try this before!
As usual, our recipe puts health and wholesomeness first. Our chilli chocolate muffins are vegan (so made without butter and eggs), fibre-rich, and have zero added sugars. We used 90% dark chocolate to minimize external sugars and fats, and we replaced white sugars with naturally-sweet dates.
Our muffins are friendly to weight-watchers too. A single portion will set you back only 210 calories but provide over 20% of your fibres RDI. Fibres are essential to weight-loss diets. They slow down digestion, making you feel satiated for longer with less eating, and keep blood sugar levels from spiking.
Because we used wholemeal flour, this chilli dessert is not suitable for celiacs. Luckily, we have lots of gluten-free muffins recipes, like this one. If you are intolerant to gluten, check out how to make a gluten-free muffin dough using oatmeal, and then come back to this recipe.
Dark chocolate is the perfect test subject for culinary experimentation. When eaten alone, its flavour is strong and overpowering; but blend it with other herbs or spices, and dark chocolate turns playful, absorbing the aroma of the accompanying ingredients, and transforming into something unique and special.
We tried dark chocolate with rosemary in our rosemary brownies recipe, and it was a huge success. Chillies are possibly an even better match, blending with chocolate to produce a potent and surprising flavour.
Finally, rejoice by knowing that these muffins are guaranteed to make you happy. Science says so! When we eat chocolate, our brain releases serotonin, which is the chemical factor that makes you feel satisfied and joyful.
So follow our recipe below, and in 30 minutes you'll have a belly full of chocolate, a happy smile, and lots of wholesome nutrients going around your body.
Frequently Asked Questions
What are other vegan alternatives to butter for chocolate muffins?

If you have been following us for a while, you know we love to design recipes that can be suitable for as many as possible. That's why most of them end up being dairy-free, egg-free, vegan, gluten-free, and low-sugar or all of these at once.

We've got a few suggestions for vegan butter alternatives for muffins or bakes in general. We will also share a recipe where we used one of these plant-based butter replacements, so you can quickly see them in action.

Here is the list:

Mashed ripe bananas. Mashed bananas are quite gooey and make an excellent binder for dough. We used it in our pineapple carrot cake, and it came out great. If you use ripe bananas, you also get a natural sweetener that can replace refined sugars.

Applesauce. This one is among our favourite solutions. Applesauce is not just a great butter replacement, but also a refined-sugar replacement. And the flavour is fabulous. Check out our recipe as an example.

Soy yogurt. This is what we used in our chili chocolate muffin recipe above. Yogurt is an excellent option if you are after a low-sugar alterantive to butter.

Nut butters, like almond or peanut butter. We use these butters all the times. They have loads of wholesome heart-friendly fats from the nuts and rich with vitamin E; quite the opposite of butter, right!? These apricot chocolate cupcakes is one of the many recipes where we used almond butter.

Vegetable oil. Rapeseed (canola) oil is a good choice. Check out our carrot muffins to see how much oil to use.

There are other ways to replace butter in vegan recipes, but this list should get you started. Have fun with your dairy-free bakes!
How can I get rid of sugars when baking muffins?

Our chilli-chocolate muffins are sugar-free, as in they don't have any added refined sugars. You only have very few sugars from the 90% dark chocolate and those naturally found in dates.

We often blend dates into a paste and use it a sugar replacement in muffins or cakes. We love dates because they are rich with vitamins and fibres and have a low glycemic index. To make a date paste, blitz soaked dates with water in ratio 2:1, so, for example, 100g (3.5 oz) of dates and 50 ml (1.7 fl oz) of water.

If you don't have dates at hand, or fancy using something else, here are a few naturally-sweet ingredients we use in our recipes:

Erythritol. This is our number one recommendation for keto diets and people with diabetes. Erythritol is a natural ingredient that has zero carbs and yet is 70% as sweet as white sugar. What magic is this? In simple terms, our taste buds feel the sweetness of erythritol, but our body cannot digest it. We use it in our keto pumpkin scones, among other recipes.

Applesauce. Take a few apples, cook them with water until they turn into a paste and voila, you have sweet applesauce. This ingredient is also excellent for fats replacement (oil and butter). Take a look at this recipe to see how we use it.

Ripe banana. Swap sugar with the same amount of mashed ripe bananas.

Grape juice.
If I have diabetes, can I eat chocolate muffins?

Our chocolate muffins with chilli powder have very few sugars. We used 70 g (2.5oz) of 90% dark chocolate, which only has only 5 grams of sugars.

Then we used dates, which have a low glycemic index (GI) and glycemic load (GL) and a lot of fibres. One cup of these fruits has 25 % RDI for dietary fibres.

Moreover, we opted for wholewheat flour which has more fibres than its white counterpart. Fibres will slow down the absorption of sugars in your body and prevent your sugar levels from spiking.

To improve blood sugar control, many people with diabetes follow a low-carb diet, which allows up to 100g of carbohydrates per day. This means an allowance of about 30g of carbs per each of three main meals. As one muffin serving has 28g of carbs and only 14 grams of sugars, you can eat one these chocolate treats if you have diabetes.

However, if you are following a very low-carb diet (under 50g of carbs per day), there are things you can do to make them even safer:

Replace date paste with 70g (2.5 oz) of Erythritol for a zero-sugar sweetener.

Use 99% dark chocolate.
Ingredients
| | |
| --- | --- |
| Chia Seeds | 2 tbsp |
| Water | 150 mL |
| Pitted Dates | 150 g |
| Soy Yogurt | 150 g |
| Coffee | 40 mL |
| Wholemeal Flour | 180 g |
| Baking Soda | 1 tsp |
| Cocoa | 30 g |
| Chilli Powder | 1/2 tbsp |
| Dark Chocolate 85% | 70 g |
Step 1
Let's start by preparing the 'chia egg'. In a bowl, combine chia seeds and 70 mL of water, stir well, and leave to soak for 10 minutes. The seeds will absorb water and form a thick gel-like mixture.
Meanwhile, pulse pitted dates with 80 mL of water until you have a smooth and creamy paste. If your dates are quite dry, you can soak them in water for 10 minutes before blending them.
In a mixing bowl, combine 'chia egg', date paste, soy yogurt, and cold coffee.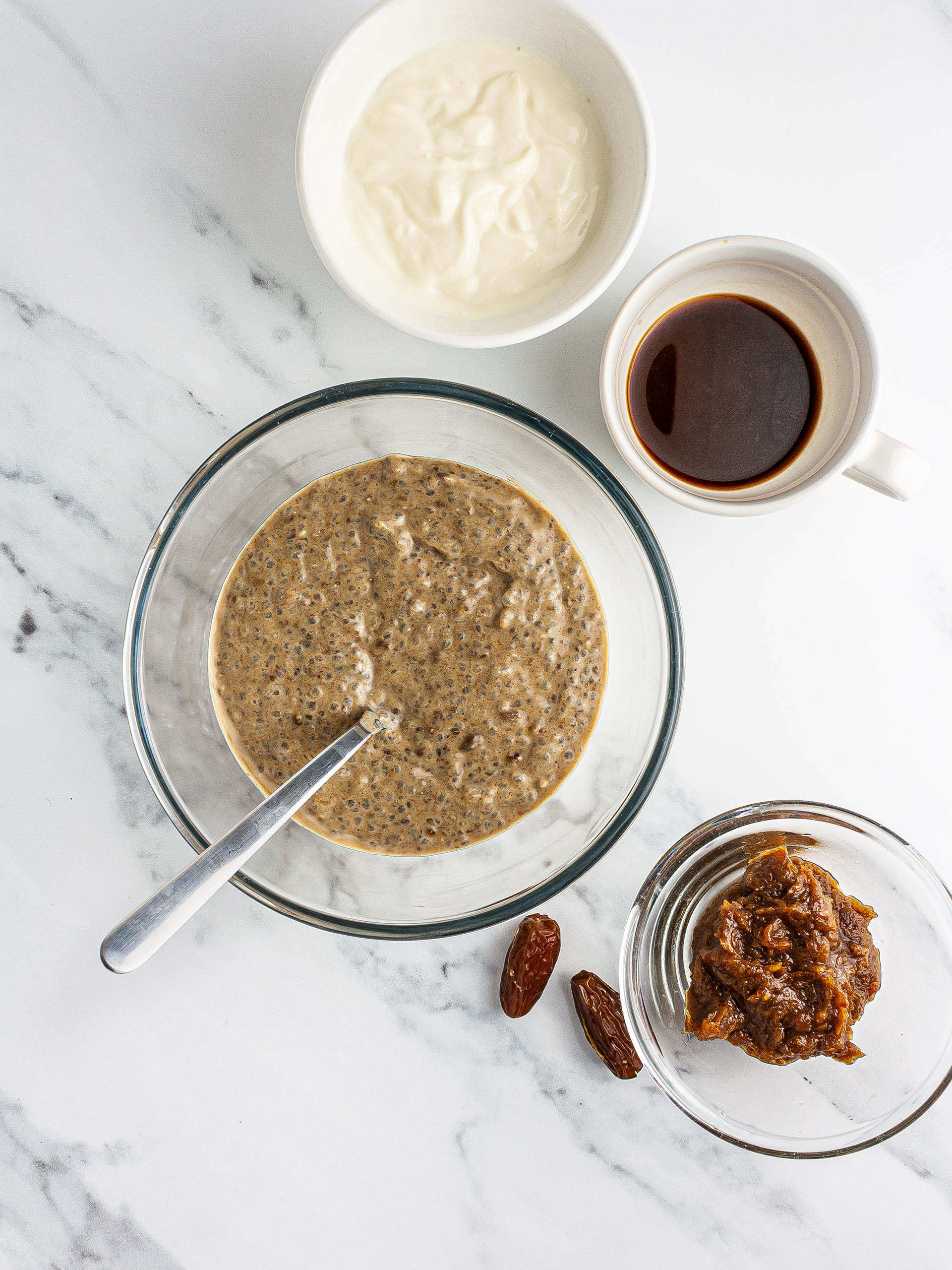 Step 2
Add wholemeal flour, baking soda, cocoa powder, and hot chilli powder. Stir until the ingredients are well incorporated but avoid over-mixing as this will result in chewy and hard muffins.
Finely chop the dark chocolate into chips and add them to the muffin batter saving some for garnishing.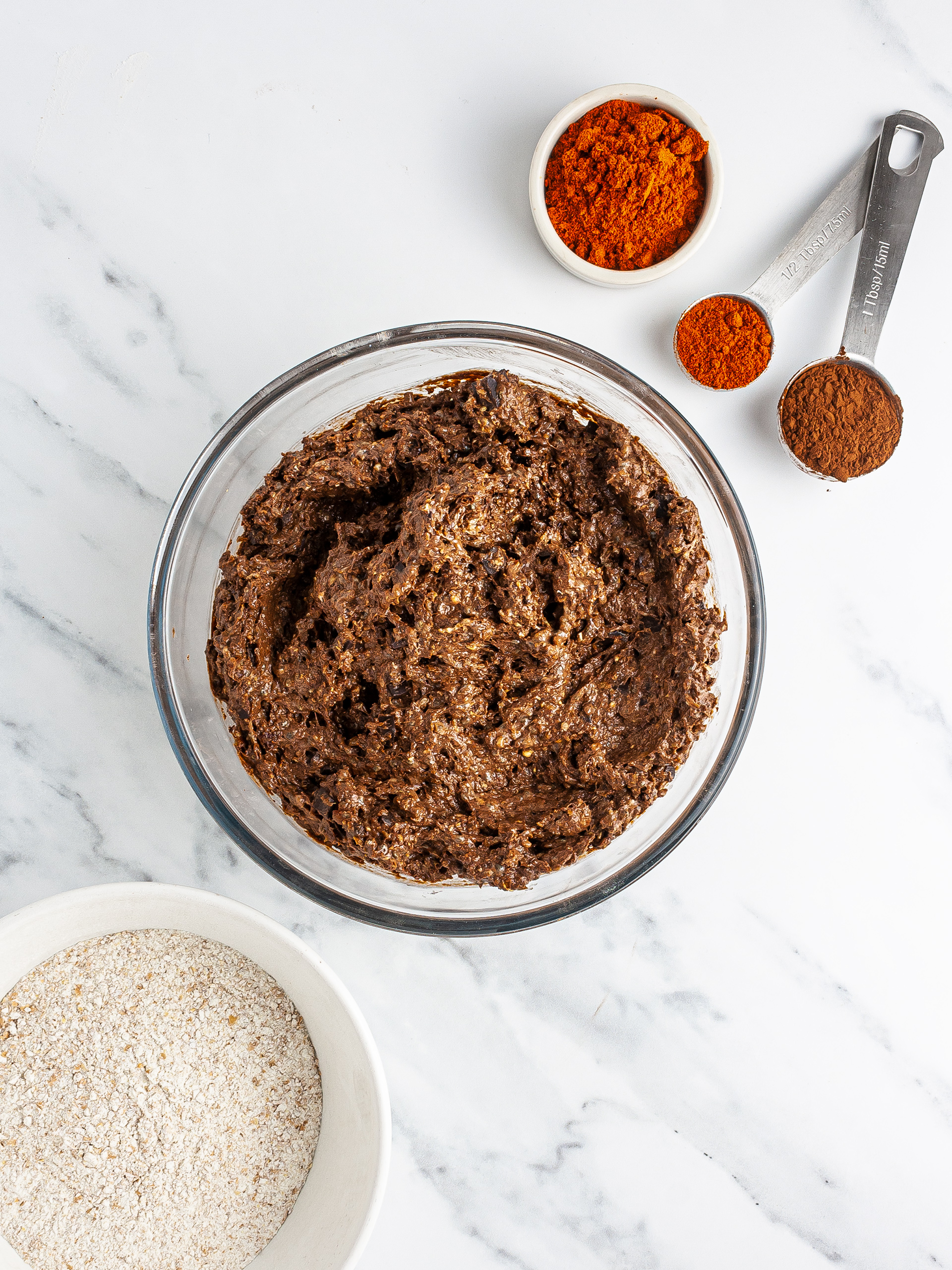 Step 3
Pour the chilli dough into a muffin tray filling the cases at two-thirds. If your tray isn't non-stick, then line it with muffin cases or grease and flour it before adding the batter.
Sprinkle the muffins with chocolate chips and bake for 15 minutes at 220°C (425°F) for static ovens or at 200°C (390°F) for fan ovens (1).
Allow to cool down for a few minutes before removing the muffins from the tray and sprinkle them with chilli flakes for an extra spicy kick (2).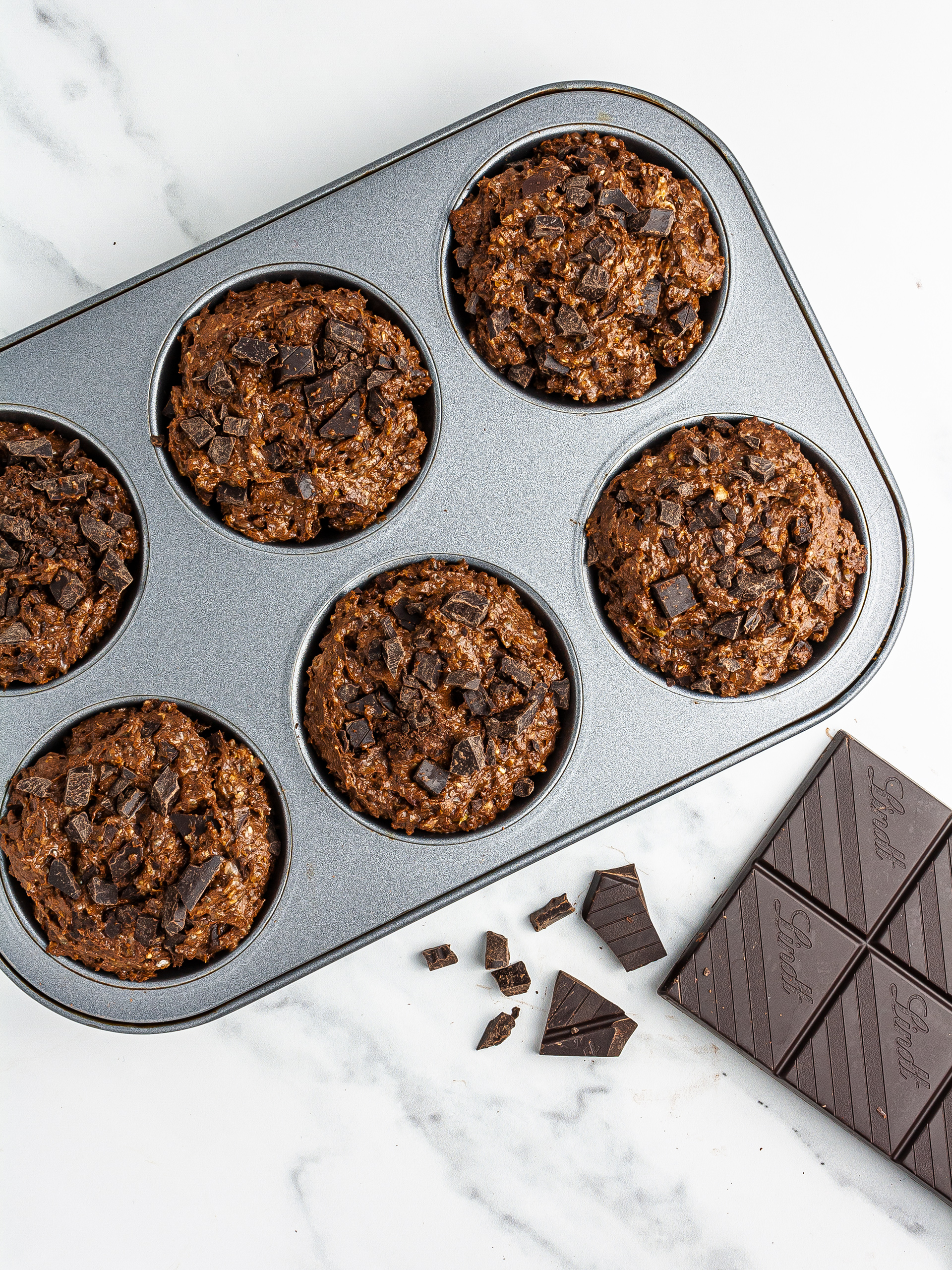 1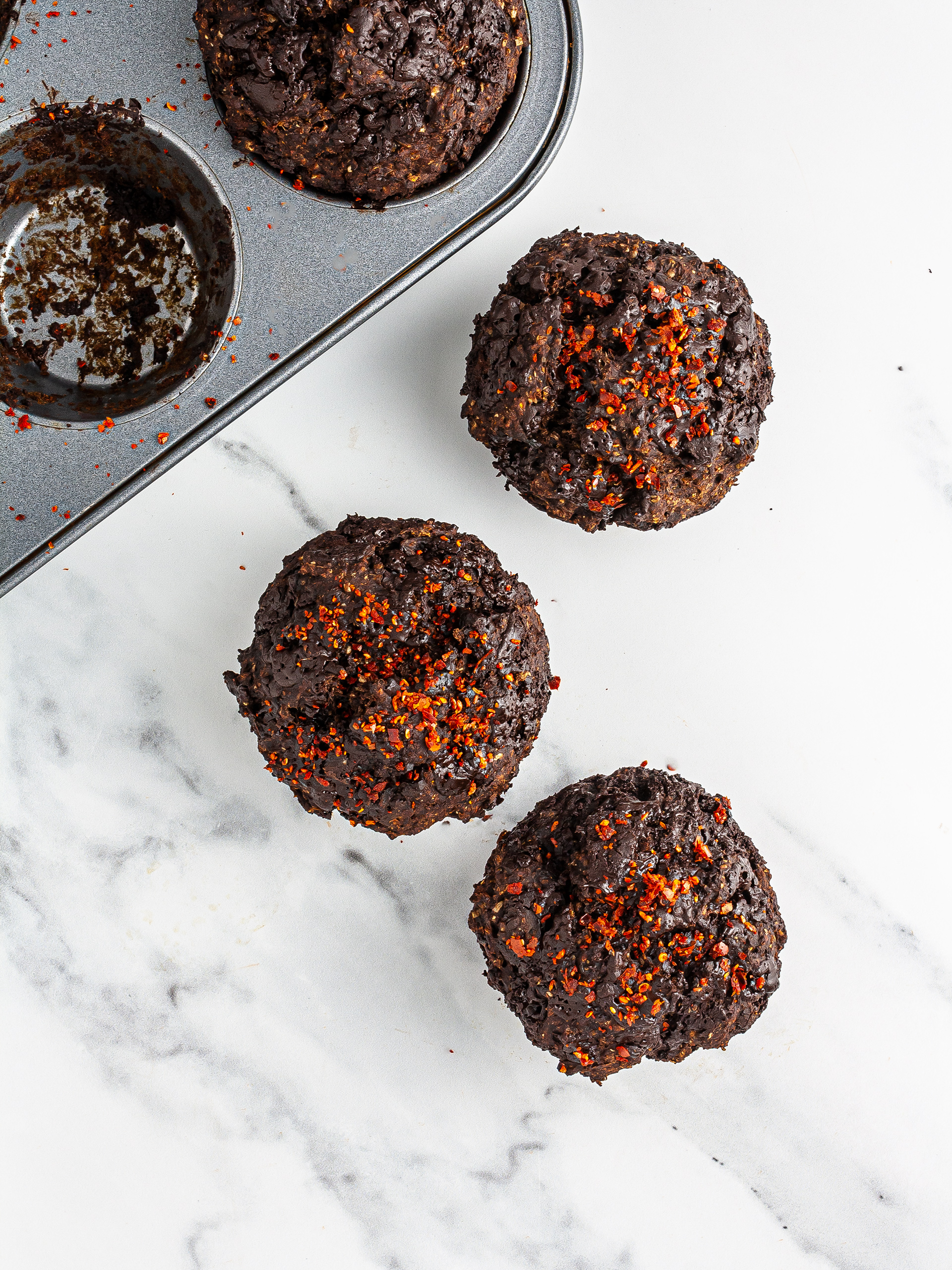 2
Tips
You can add 1/4 of tsp of cayenne pepper to the chocolate batter for extra flavour.